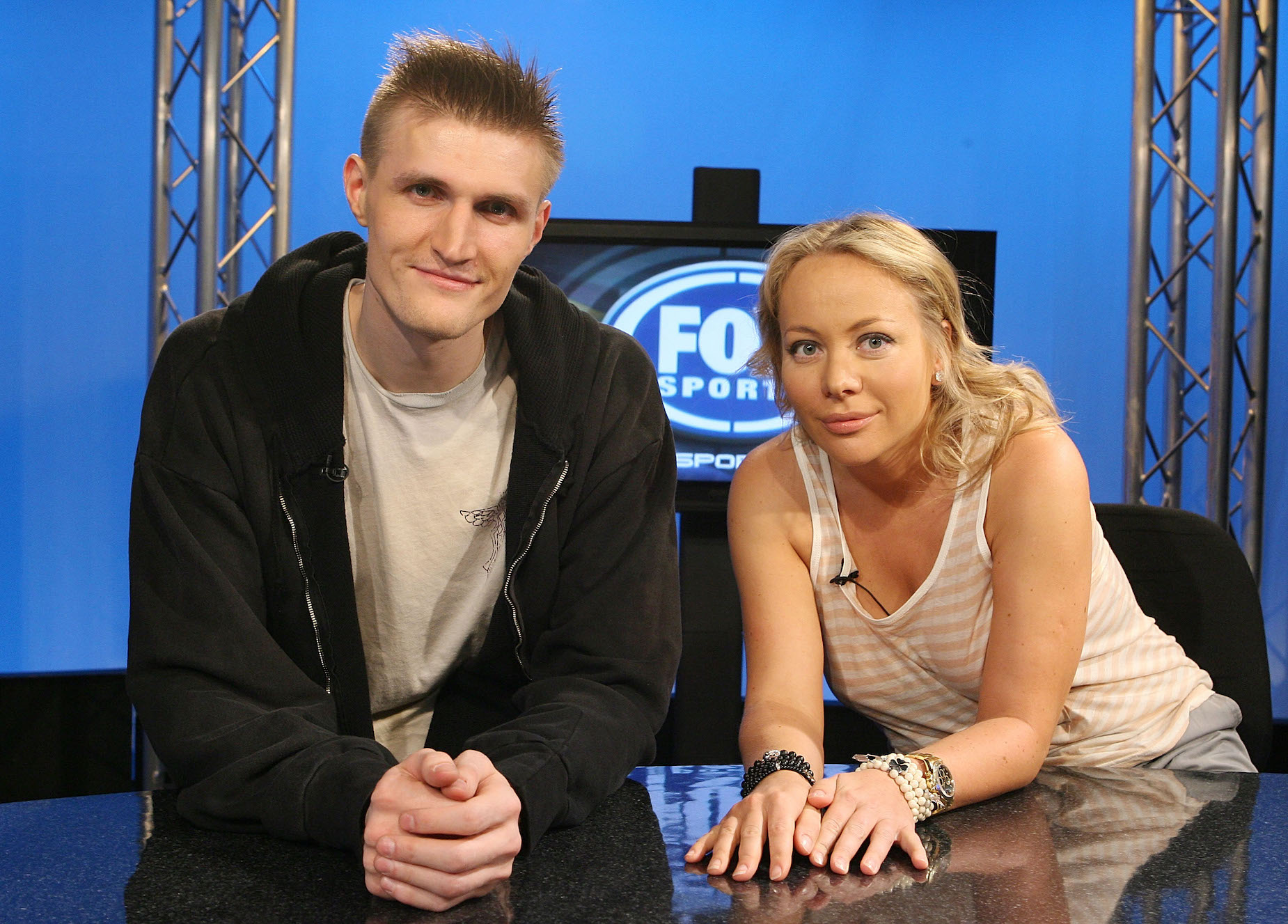 Former Utah Jazz Forward Andrei Kirilenko Has Permission To Cheat on His Wife Once per Year
Former Utah Jazz forward Andrei Kirilenko has a unique arrangement with his wife: he's allowed to sleep with another woman once per year.
While it's not always accurate, it is pretty easy to imagine professional athletes living the high life. Between their celebrity status and incredible earning power, you might think that NBA players can do more or less whatever they want. Former Utah Jazz forward Andrei Kirilenko, however, may have had a bit more liberty than most.
While Andrei Kirilenko is married with a wife and children, he's still afforded a unique perk. The NBA player's wife gave him permission to cheat on her once per year, although she says that it isn't cheating.
Andrei Kirilenko had a successful basketball career, both abroad and in the NBA
In recent years, basketball has become more and more of a global game. That reality set the stage for European players like Andrei Kirilenko to strut their stuff on the NBA stage.
Kirilenko grew up in what was then the Soviet Union and impressed with his athletic abilities from an early age. In 1997, he became the youngest player to ever appear in a Russian Super League game; before long, he was playing for CSKA Moscow and winning championships.
In the 1999 NBA draft, the Utah Jazz selected Kirilenko with the 24th-overall pick; the forward, though, remained in Russia for the next two seasons. By the time he arrived in North America for the 2001-02 campaign, though, he was ready to make an impact.
In the association, Kirilenko quickly established a reputation as a talented young player; during his first season in America, he earned a place on the NBA's All-Rookie Team while averaging 10.7 points and 4.9 rebounds per outing. While injuries would eventually prove to be an issue, the forward proved to be a versatile and effective player, capable of scoring, rebounding, and defending with equal ease.
By the time he called it a career, AK-47 had spent 13 seasons in the NBA and suited up for three separate stints in Russia. While Kirilenko never quite developed into a superstar, he still averaged 11.8 points, 5.7 rebounds, and 2.7 assists per game in North America, making one All-Star team.
Finding fame and fortune as a basketball player
While Andrei Kirilenko never dominated the NBA scene, he still spent plenty of time in the association. That reality helped the forward earn a nice chunk of change.
According to Spotrac's contract data, Kirilenko earned roughly $106 million in raw salary during his time in the NBA. Although that's not quite superstar money, it's nothing to sneeze at, either.
After his playing career came to an end, Kirilenko immediately took over as the commissioner of the Russian Basketball Federation. Not only does that position presumably provide him with a nice income, but it keeps him somewhat in the public eye; as probably the greatest Russian basketball player of all-time, he's pretty famous in his home country.
Andrei Kirilenko has permission to sleep with someone other than his wife once per year
Thanks to his basketball career, Andrei Kirilenko was able to achieve fame and fortune. Thanks to his wife, however, the former NBA player has another perk.
Kirilenko's wife, pop star Masha Lopatova has an arrangement with her husband. "She calls it Andrei's 'allowance," Chad Nielsen wrote in 2006 for ESPN. "Once a year he can have sex with another woman. One night. No affairs, no divided loyalty. She can live with that. It was her idea, offered as a gift."
"Male athletes in this country are extremely attractive," Lopatova said. "They get chased by women. It's hard to resist. It's the way men are by nature." She also added that "When [she's] aware and [she lets] him do it, it's not cheating."
For his part, though, Andrei Kirilenko hadn't taken her up on the offer.
"Of course, it was a surprise," he explained at the time. "I'm not planning to do anything. But she said if you want to do it, you can do it."
Stats courtesy of Basketball-Reference