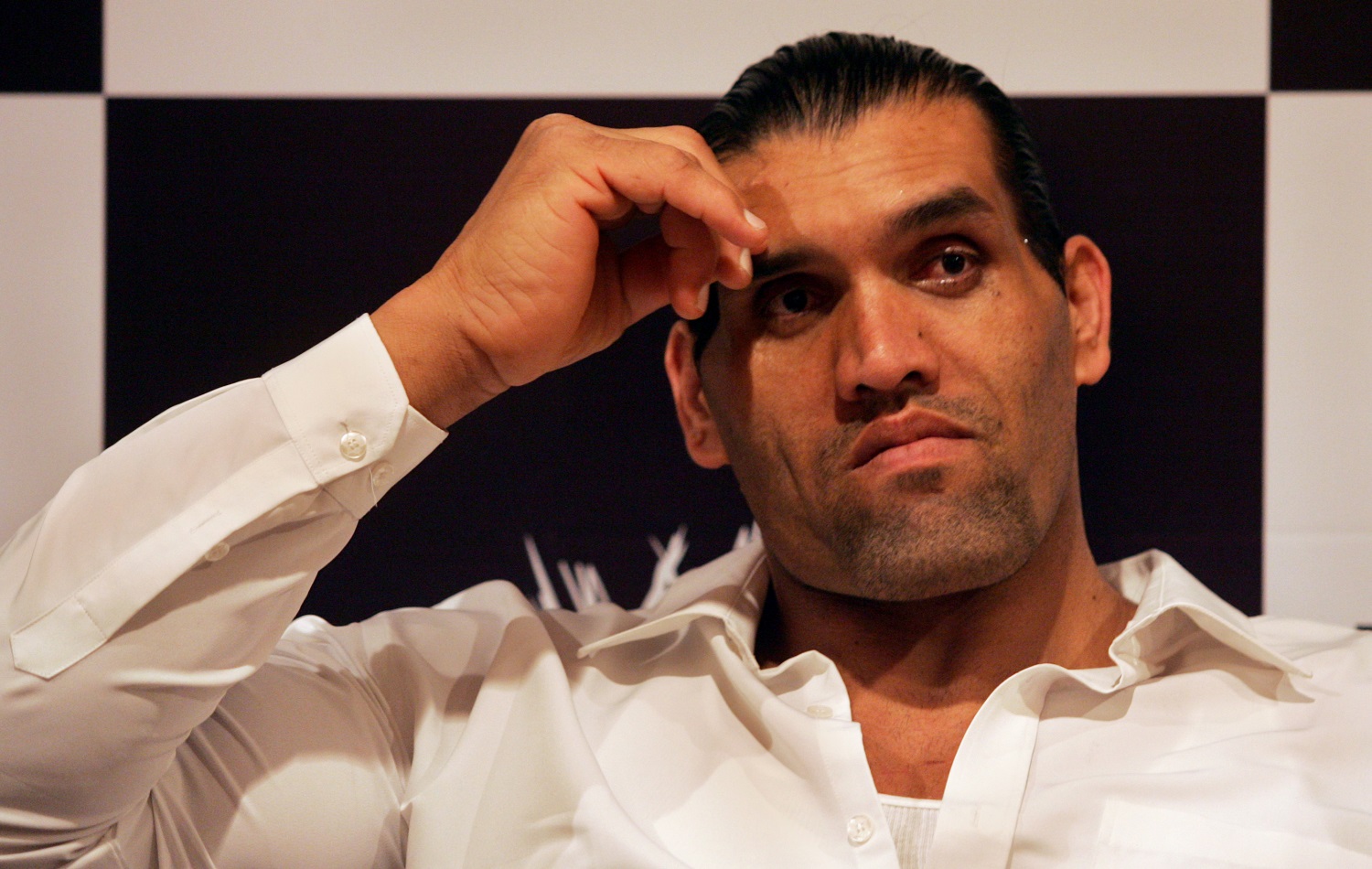 Former WWE Star The Great Khali Was Involved in a Botched Spot That Ultimately Killed a Man
Years before coming to WWE, The Great Khali was involved in a botched spot during a training session that ultimately killed a man.
One would be hard-pressed to find someone who ever thought that The Great Khali was a great professional wrestler. Regarded by most as one of the worst workers in WWE history, the man born Dalip Singh Rana was still given a run with the prestigious World Heavyweight Championship back in the day and had a lengthy career that many feel went on far too long.
Perhaps The Great Khali stuck around WWE for as long as he did because he was a giant of a man at over seven feet tall and somewhere in the neighborhood of 400 pounds. After all, we all know how much Vince McMahon likes his big guys. Or perhaps it's because his presence in WWE allowed McMahon to truly break into the market in India as he became arguably the most popular Indian-born star in the company's history.
But whatever the reason, Khali had an eight-year run in WWE (and that was before his unnecessary return in 2017) and likely made a ton of money.
But did you know that just as his professional wrestling career was getting underway that he was involved in an incident in which his opponent was killed as a result of a botched spot?
The Great Khali was a member of the Punjab Police before becoming a pro wrestler
The Great Khali was one of seven children and grew up very poor in India but stood out due to the fact that he had acromegaly, the same hormone disorder that caused famed WWE superstar Andre the Giant to grow as he did.
While working as a security guard in his early 20s, Khali was spotted by an officer of the Punjab Police, who was able to get him a job with the department in 1993. While serving in the department, Khali began training to be a professional wrestler and as the turn of the century neared, he was selected to travel to the United States for specialized training.
What's crazy is that even when The Great Khali became famous in WWE, he was still an official officer of the department but was just listed as "on leave without pay," according to the Times of India.
The Great Khali was involved in a botched spot that ultimately killed a man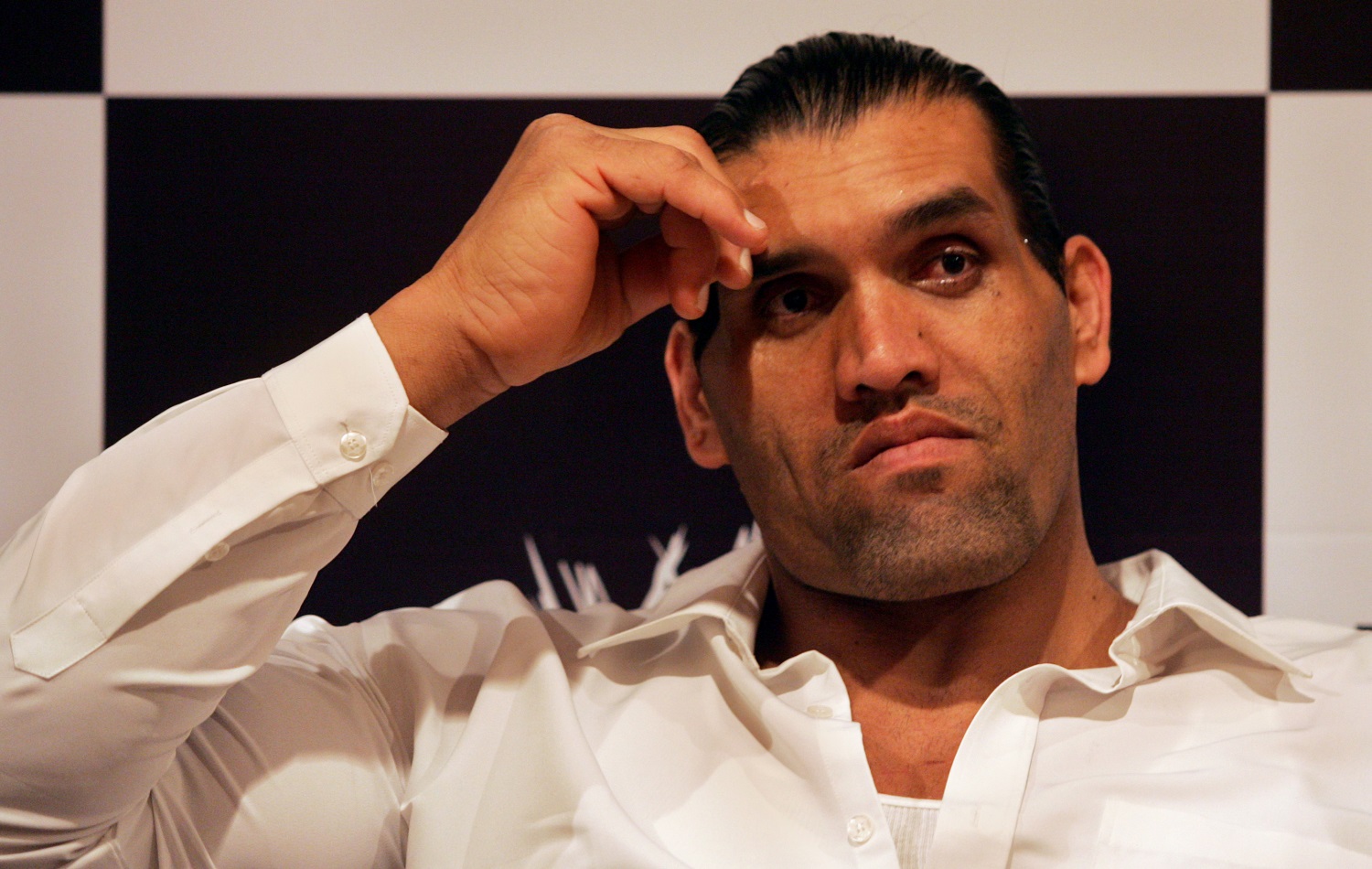 After immigrating to the United States in 1999, The Great Khali began working for the All Pro Wrestling promotion in northern California using the ring name Giant Singh.
During an APW training session in 2001, Khali was matched up against a wrestler named Brian Ong, who was apparently already suffering from the effects of a concussion. As he and Khali wrestled, Khali delivered two flapjacks, a move in which one wrestler picks up his opponent and falls backward, which makes his opponent land front-first onto the mat.
However, on the second one, as reported by the Times of India, the spot was botched and Ong's head crashed into the mat, causing another concussion as well as injuries to his spine and skull. He died at a nearby hospital a short time later. It was said that Ong had grabbed The Great Khali's shirt during the move, which he wasn't supposed to do, but his family sued APW for recklessness and was awarded $1.3 million in damages. Khali himself escaped charges but the stigma that he wasn't a safe worker followed him throughout his entire career.
He went on to a successful career in WWE
Despite the incident that ultimately killed Brian Ong, The Great Khali continued his pro wrestling career. He was signed by WCW but never made an appearance for the company before WWE bought out the promotion in 2001. He then made his way to Japan and also worked in Mexico before signing with Vince McMahon in early 2006.
After a short stint in Deep South Wrestling, he made his big debut for WWE that spring and was immediately thrown into a program with The Undertaker, which is quite the big deal for a rookie. He had a two-month reign with the World Heavyweight Championship in 2007 and was given multiple WWE Championship matches the following year.
He became more of a sideshow attraction in his later years in WWE before leaving the company in 2014. The Great Khali returned in 2017 to assist another Indian star, Jinder Mahal, in his WWE title feud with Randy Orton, and also made an appearance at the Greatest Royal Rumble event in Saudi Arabia in 2018.