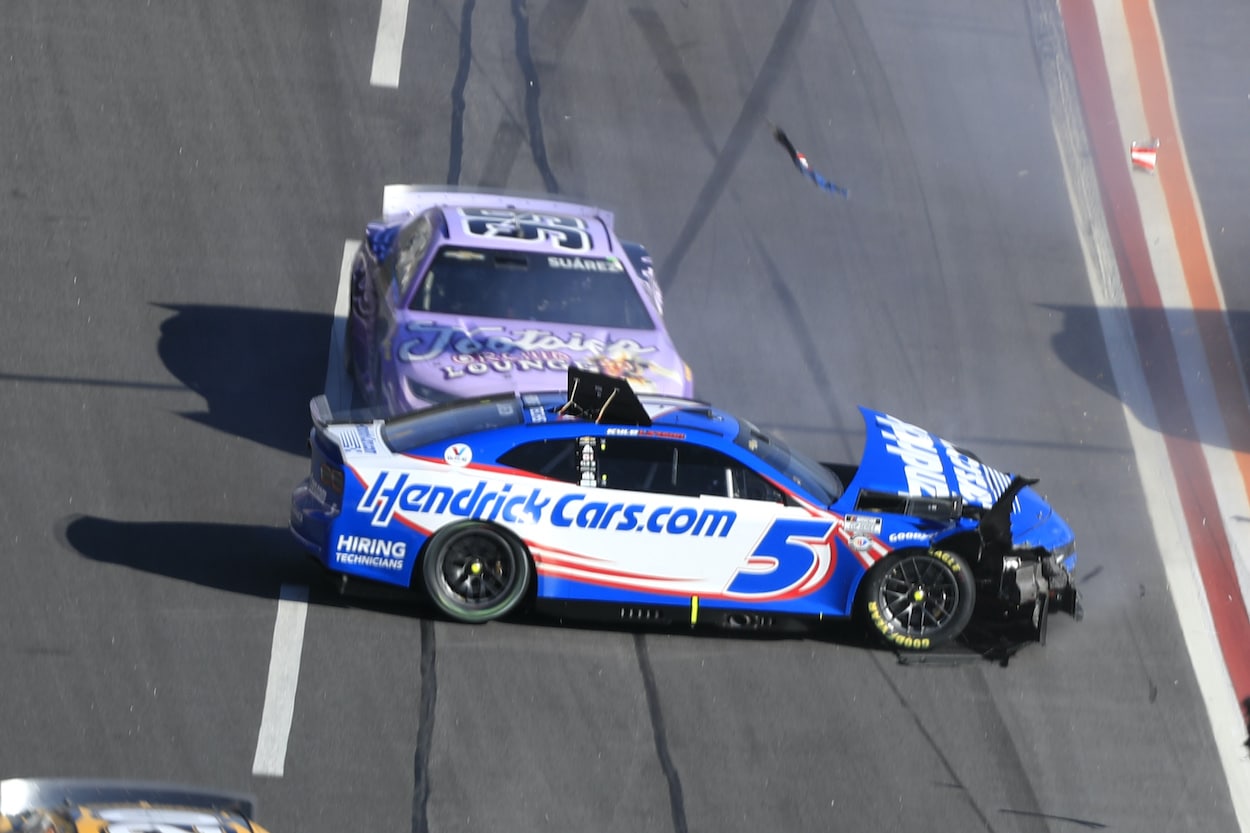 Frustrated Kyle Larson Doesn't Sugarcoat Remarks About Atlanta Cup Series Race and NASCAR Isn't Going to Like It
Kyle Larson didn't hold back after Sunday's Cup Series race in Atlanta, offering harsh criticism of the race that NASCAR officials won't want to hear.
It's hard to blame Kyle Larson if he's in a bad mood lately. The start to the 2023 NASCAR Cup Series season has been a rollercoaster of a ride with two DNFs and a pair of top-five finishes. On Sunday at Atlanta Motor Speedway, the 2021 champion was in contention late until he wasn't.
After visiting the infield care center, the Hendrick Motorsports driver met with reporters and didn't hide his thoughts about the race. And it's not anything NASCAR officials want to hear. 
Kyle Larson rollercoaster start to 2023
When you take a broad view of Kyle Larson and his first five races in the 2023 season, what sticks out are the two DNFs bookending the schedule, finishing 18th at the season-opener at Daytona and 31st this weekend at Atlanta. 
Sandwiched in between are a 29th place at Fontana and a pair of top fives at Las Vegas and Phoenix. While those three finishes of 18th or worse are undeniably disappointing, it's those two top-five results that are particularly agitating to the No. 5 driver. 
That's because both races could have easily translated into wins, as Larson led late in both. However, they didn't, and instead, he helplessly watched his fellow HMS teammate William Byron make back-to-back trips to Victory Lane. 
Knocked out in last-stage crash at Atlanta
Last year, Atlanta's first as a reconfigured 1.5-mile superspeedway, the reviews were generally positive as the races included a lot of passing and entertaining finishes. Larson finished 30th in the first trip to Georgia (Byron won) and 13th in the summer (Elliott won). 
The Chevrolets have dominated this year, winning the first four races, and going into Atlanta, many thought the streak would continue. After qualifying, it was clear the Fords were fast, with the top eight spots filled by blue ovals. 
That carried over into the race. Logano, who sat on the pole, led all the laps in Stage 1. He led the most laps in the second but finished second behind teammate Austin Cindric.
In the third stage, aggressiveness and action on the track picked up. Larson was among the movers and made his way into the top 10 halfway through the stage. However, on Lap 53, the HMS car, which was running in second, got caught up in Aric Almirola's accident after the No. 10 car, which was leading the race, blew a tire and went into the wall. 
Day over. Larson finished 31st.
Larson doesn't sugarcoat thoughts on race
Several minutes after the standard visit to the infield care center, the HMS driver met with reporters and talked about the incident that ended his day. 
"The 10 just blew a tire and I had nowhere to go," he said. 
When asked how he would characterize the race, Larson surprisingly didn't hold back.
"Yeah, it was extremely boring until the third stage, and then, for whatever reason seemed like the bottom lane was starting to make headway," he said. "I don't know what changed." 
When one of your champions publicly describes a race as "extremely boring," officials should take note. Yes, the ending was entertaining, but as the driver described, the first two stages lacked that same level of excitement. NASCAR needs to figure out why and attempt to correct it before the Cup Series returns in July.
If not, Larson will let everyone know about it.
For the latest breaking news and information about NASCAR's three national series, check out @kdsportswriter on Twitter.