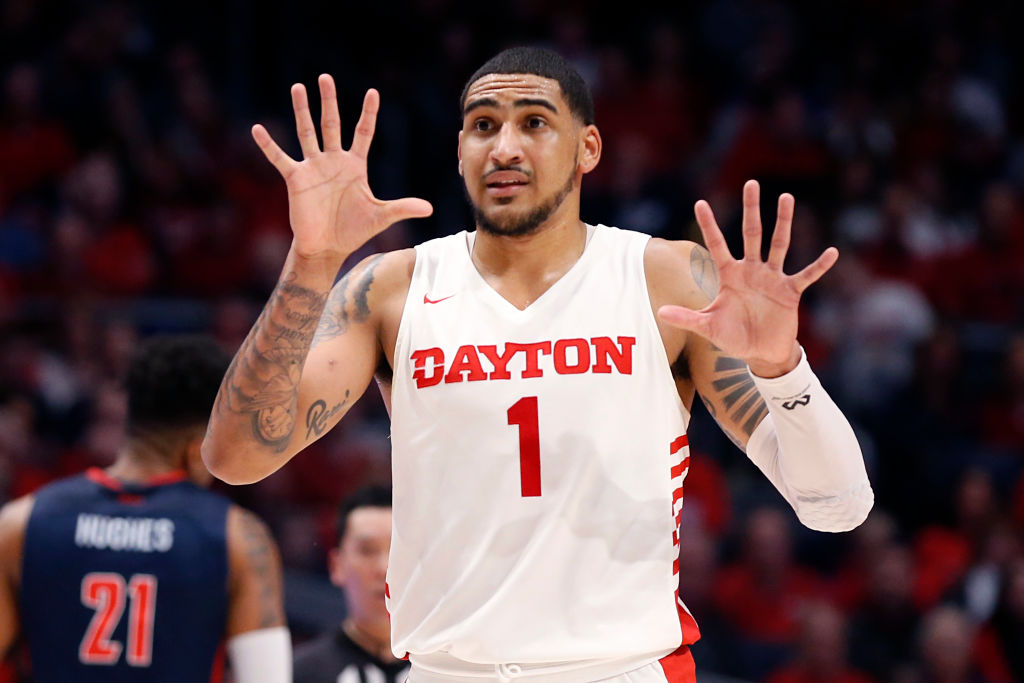 Future NBA Draft Lottery Pick Obi Toppin Wasn't Recruited as a Senior
Obi Toppin is positioned to be a top-five selection in this summer's NBA Draft, which isn't bad for a player who attracted almost no interest coming out of high school. The University of Dayton redshirt sophomore has declared for the draft for the second year in a row and will stay in this time, much …
Obi Toppin is positioned to be a top-five selection in this summer's NBA Draft, which isn't bad for a player who attracted almost no interest coming out of high school. The University of Dayton redshirt sophomore has declared for the draft for the second year in a row and will stay in this time, much to the delight of some NBA general manager holding a lottery pick.
Obi Toppin is projected as a high NBA Draft selection
Obi Toppin figures to be the first University of Dayton basketball player selected in the first round of the NBA Draft since guard Jim Paxson in 1979. He went from redshirting as a freshman to averaging 14.4 points a game in his first season on the court and then ramped up to 20.0 points and 7.5 rebounds this past winter to go along with 2.2 assists a game.
He's appealing to NBA general managers because of uncanny range for a 6-foot-9, 220-pound forward. He shot 63.3% from the field this season, including 39.0% from 3-point range. Throw in his willingness to rebound and ability to distribute the ball, and Toppin projects as one of the first big men to go in the draft.
The hurdle he'll have to clear is on the defensive end of the floor. Toppin has a relatively wiry frame that doesn't lend itself to adding the weight he'll need to battle power forwards down low. He's also long-legged, which will make it tougher to sit in a stance in front of small forwards on the perimeter.
Still, his positives outweigh the negatives, especially in an NBA Draft in which quality guards outnumber draft-worthy big men.
Obi Toppin wasn't always in such demand
The literal and figurative growth by Obi Toppin has been impressive since he moved from Florida to New York City's northern suburbs. After arriving in Ossining, New York, as a junior he grew nearly five inches heading into his senior season.
Though Toppin averaged 20.6 points and 7.8 rebounds as a senior, he weighed just 170 pounds and figured to be a project for at least his first year of college. With no Division I interest, he considered enrolling at a nearby junior college until his continued improvement over the summer earned Toppin some notoriety and he heeded the suggestion to go to prep school instead.
Toppin enrolled at Mt. Zion in Baltimore, where his transformation continued. He added 30 pounds through devoted work in the weight room and averaged 17 points, eight rebounds, and four assists while playing mostly on the perimeter.
Division I schools found Toppin and started making offers. He ultimately chose Dayton over the likes of Georgetown, Georgia, and Oklahoma. He sat out the first year at Dayton as an academic redshirt and then quickly adapted to the college game.
Who are the other big men in the NBA Draft?
James Wiseman, who had his career at Memphis derailed by the NCAA as a freshman, is the most discussed big man in the NBA Draft, though not necessarily the guy who'll go first. He's 7-foot-1 with a long wingspan. If NBA teams are hesitant it will be because they haven't seen him play inside against top talent.
Precious Achiuwa, also out of Memphis, is more of a known commodity. He's the same size as Obi Toppin and plays more physically while on the inside. The downside is that he's shown a preference for playing facing the basket.
USC forward Onyeka Okongwu enters the draft as a 19-year-old but has a big 6-foot-9 frame that suggests that he can play under the rim at either end of the court. He hasn't had to shoot a lot of jumpers yet but a smooth stroke from the free-throw line suggests he'll develop a touch.
Saddiq Bey of Villanova looks like he fits the Toppin model of forwards but that may be misleading. He plays like more of a 6-8 small forward for now but may still grow an inch or two.