Gabby Thomas Is a Harvard-Educated Neurobiologist and Now a Bronze Medal-Winning Sprinter
Qualifying for the Olympics is an awe-inspiring feat. For U.S. sprinter Gabby Thomas, though, her exploits on the track might not be as impressive as her accomplishments in the classroom. In addition to being one of the fastest women in the world, Thomas may also be one of the smartest, especially in neurobiology, public health, and epidemiology. 
Gabby Thomas' journey to Harvard then the Olympics was unique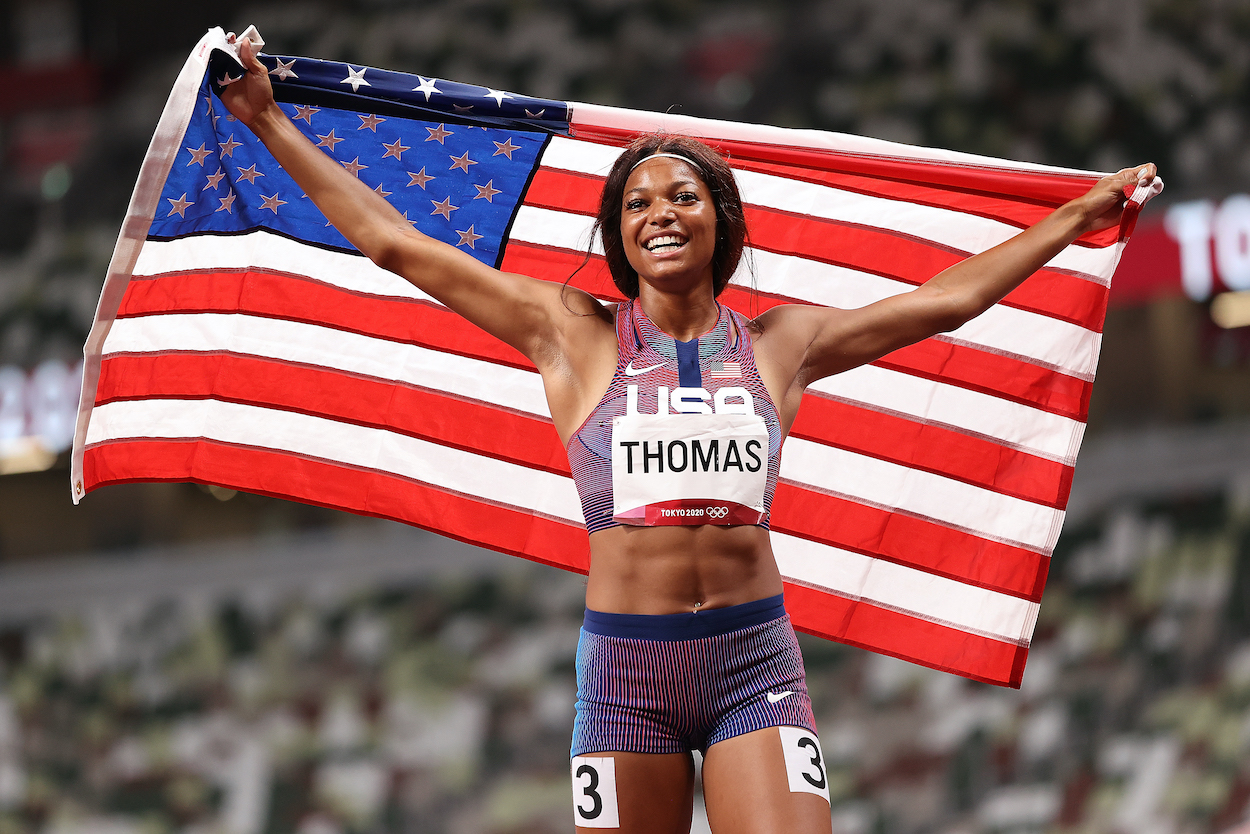 Gabrielle "Gabby" Thomas grew up in Georgia and moved to Massachusetts at the age of 10 after her mother, Jennifer Randall, earned a Ph.D. at Emory University and joined the faculty at UMass-Amherst, per the Washington Post. 
She attended Williston Northampton School prep school as a teen, where she played soccer and basketball. Thomas stood out on the track more than anywhere else, though. The future Olympian excelled in the classroom as well, and this combination was so impressive she got into Harvard University. 
At Harvard, Thomas studied neurobiology and eventually graduated with a degree in the field. However, during her time in Cambridge, she took classes about public health and the disparities Black Americans have historically faced in this area. 
After graduation, she moved to Austin, Texas, to work on her master's degree in public health and epidemiology at the University of Texas. She also trained for the Tokyo Olympics there at eth nearby Buford Bailey Track Club. Three-time Olympian Tonja Buford-Bailey leads this elite training center. 
Harvard is where she focused on track for real
After being a multi-sport star in high school, Gabby Thomas focused on track full-time for the first time at Harvard. The results were impressive. She finished third in the 200-meter dash at the NCAA Championships as a freshman and sixth at the U.S. Olympic trials for Rio. 
Following her sophomore season, Thomas's progress slowed, and she began feeling burnt out. With the ok from her coach, Kebba Tolbert, she moved to Dakar, Senegal, in the offseason. After that experience, Thomas came back with a much clearer mindset and dominated the 200, setting a new NCAA record in the event with a 22.38. 
Thomas was even better at the U.S. Olympic Track & Field Team Trials in June, heading into the reschedule 2020 Olympics. She ran 21.61 200, which is the third-best time in the event's history, per TIME. The only better marks were both set by the world record holder and one of the fastest women of all time, Florence "Flo-Jo" Griffith-Joyner. 
Gabby Thomas won the bronze medal in the 200m
In Japan, during qualifying for the 200 final, Thomas ran a 22.20. This got her into a loaded final where she faced off against some of the best sprinters in the world. In her qualifying heat, she came in third to Namibia's Christine Mboma and Jamaica's Elaine Thompson-Herah, who was coming off a 100-meter-dash gold. The final also included legendary Jamaican sprinter and seven-time Olympic medal-winner Shelly-Ann Fraser-Pryce. 
In the medal race, Thomas improved on her qualifying time with a 21.87. It wasn't quite fast enough to beat Mboma (21.81) or Elaine Thompson-Herah, though, who bested Thomas' Trials time with a 21.53 to take home gold. 
Gabby Thomas might not have got the result she wanted, but adding "Olympic Bronze Medalist" to her already lengthy list of accomplishments is still incredibly impressive. 
Like Sportscasting on Facebook. Follow us on Twitter @sportscasting19