Usain Bolt Reveals Why He Never Tried to Play in the NFL: 'We Talked About Football for a While'
Whenever you hear the word "speed," there's probably only one name that comes to mind: Usain Bolt.
Throughout his Olympic career, Bolt was one of the fastest humans to ever live, which potentially opened some doors for him in several other sports on top of track and field. However, despite receiving offers from NFL teams, Bolt never played pro football, and he recently revealed why.
Usain Bolt's speed would have been incredible in the NFL
Bolt had a legendary sprinting career. He won eight Olympic gold medals, and he still holds the world records for the 100- and 200-meter dashes.
He then later used his speed to try out a career in soccer, as Bolt ultimately trained with the Central Coast Mariners in Australia in 2018. However, he turned down a pro contract and later retired from sports in 2019. 
In addition to soccer, the legendary sprinter could have also tried to launch a pro football career in the NFL. He told the Los Angeles Times in 2019 that he received multiple offers to play wide receiver in the league following the 2008 and 2012 Olympics. He then ran a 4.22 40-yard dash in shoes (not cleats or running spikes) and sweatpants in 2019, which tied the NFL record for the fastest 40, per Bleacher Report.
But Bolt never chose to show off his skills on the football field, and he recently revealed why.
He discussed why he never played in the NFL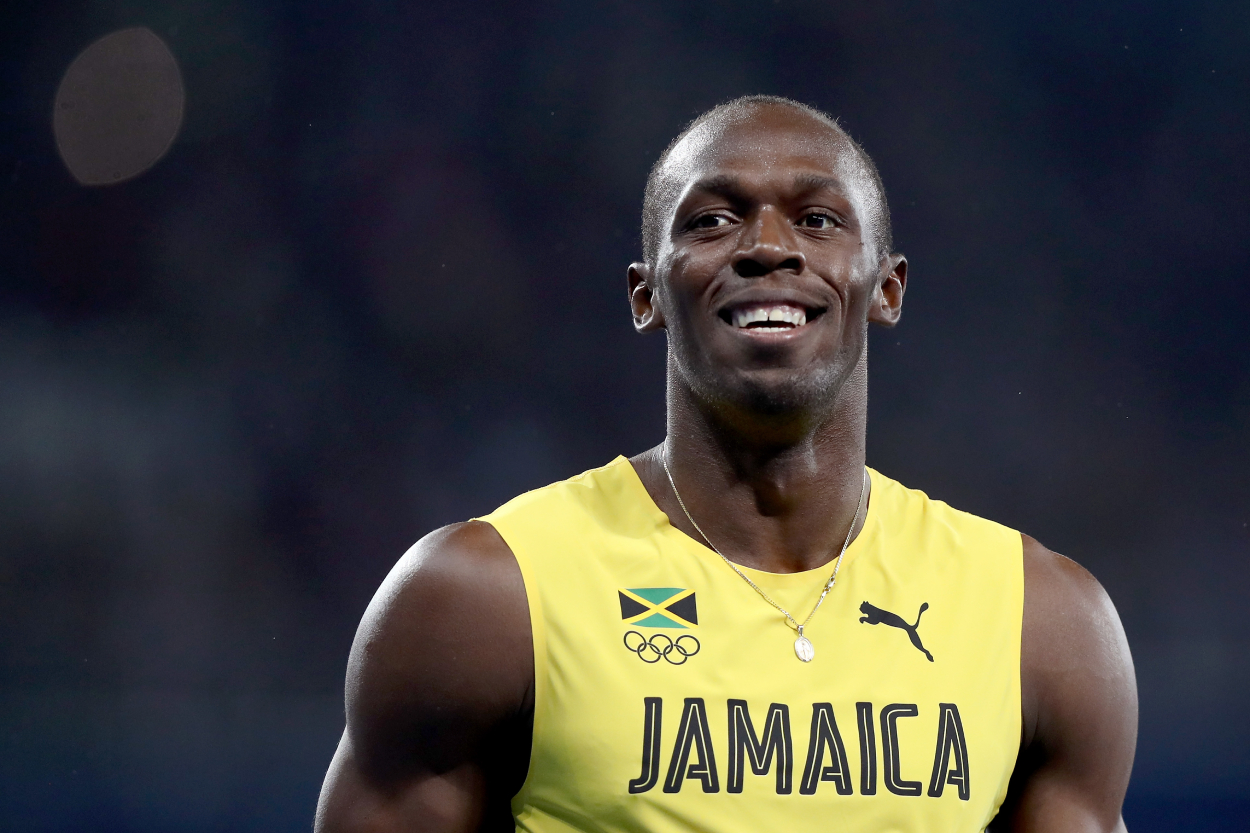 As Bolt watches the Tokyo Olympics with the rest of the world, he appeared on The Pat McAfee Show and discussed why he never played in the NFL.
"We talked about football for a while, but back then, it was a vicious sport," he said on the July 29 episode. "People were taking people out left, right, and center back then. And I knew if I showed up with my speed, that's what's gonna happen. These guys are going to be waiting to take me out, so I was like, 'You know what? I don't want to try that.'"
So, the only reason Bolt chose to not launch an NFL career was because of how violent the sport was when he received offers in 2008 and 2012.
What if he wasn't currently retired, though, and received an offer now?
Usain Bolt would play in the NFL now if he weren't retired
Bolt seems to have moved on from his athletic endeavors, as he has three kids. If he were to receive NFL offers today (and if he weren't retired), though, the former sprinter would absolutely try to play football now.
"If it was now, I would have tried because it's not as crazy as it was back in the day," he said to McAfee.
He also revealed that Kansas City Chiefs wide receiver Tyreek Hill — one of the fastest players in the NFL — talked trash to him in the past. But Bolt knows that he would beat Hill in a race, given that his 40-yard dash time (in sneakers) is tied for the NFL record.
"Me and Tyreek Hill got into it because he's a Gatorade-sponsored athlete also, so we got into it one time," Bolt said. "We were sitting down, we were talking. He [said] he could take me, and he was talking, 'blah blah blah,' but then I went to the combine one year, and if you go on the [internet] right now, I ran 4.22 in my sweats and some shoes. Come on, Tyreek Hill, you got no chance. None whatsoever."
After those comments, Hill then quote-tweeted McAfee's post of Bolt's interview and said, "Line up then, stop hiding." It's unclear, though, if Bolt would actually ever race Hill.
Bolt may be retired from sports, but with his favorite NFL team being the Green Bay Packers, Aaron Rodgers would probably love to see him in Green Bay if he were to ever change his mind. That, however, doesn't seem too likely.
Although we never got to see it, we all know that Usain Bolt's speed would have been electric in the NFL. He is potentially the fastest man to ever live.