Patrick Mahomes Tells 'Madden NFL 22' Creator It's Time to Get Up to Speed on Tyreek Hill's Greatness
Patrick Mahomes isn't the only observer who'll tell you that receiver Tyreek Hill did everything imaginable to bring the Kansas City Chiefs to their second consecutive Super Bowl last season. However, Mahomes' stature as one of the best players in the NFL gives him the bully pulpit when it comes to getting the point across.
Some might see it as bias, but Mahomes is lobbying on social media to get Hill a tiny bit more respect. Call it gamesmanship aimed at a game manufacturer.
Tyreek Hill has established himself as elite
Hill is batting 1.000 in earning Pro Bowl selections through five NFL seasons, and the wideout from West Alabama has also landed first-team All-Pro recognition three times.
Hill played his way into the rotation with 61 catches and six touchdowns as a rookie, but the Chiefs really turned him loose over the past four seasons, leveraging his speed to decimate secondaries across the league.
He is averaging 15.6 yards per reception in that time, scoring 41 touchdowns in 58 games. He set or matched career highs in catches (87) and TDs (15) in 2020. Then, he tacked on 24 catches for another 355 yards in three postseason games.
At just 27 years old, Hill has a lot of tread left on those tires, which has to make Mahomes one happy quarterback.
Patrick Mahomes tells 'Madden NFL 22' creator it's time to get up to speed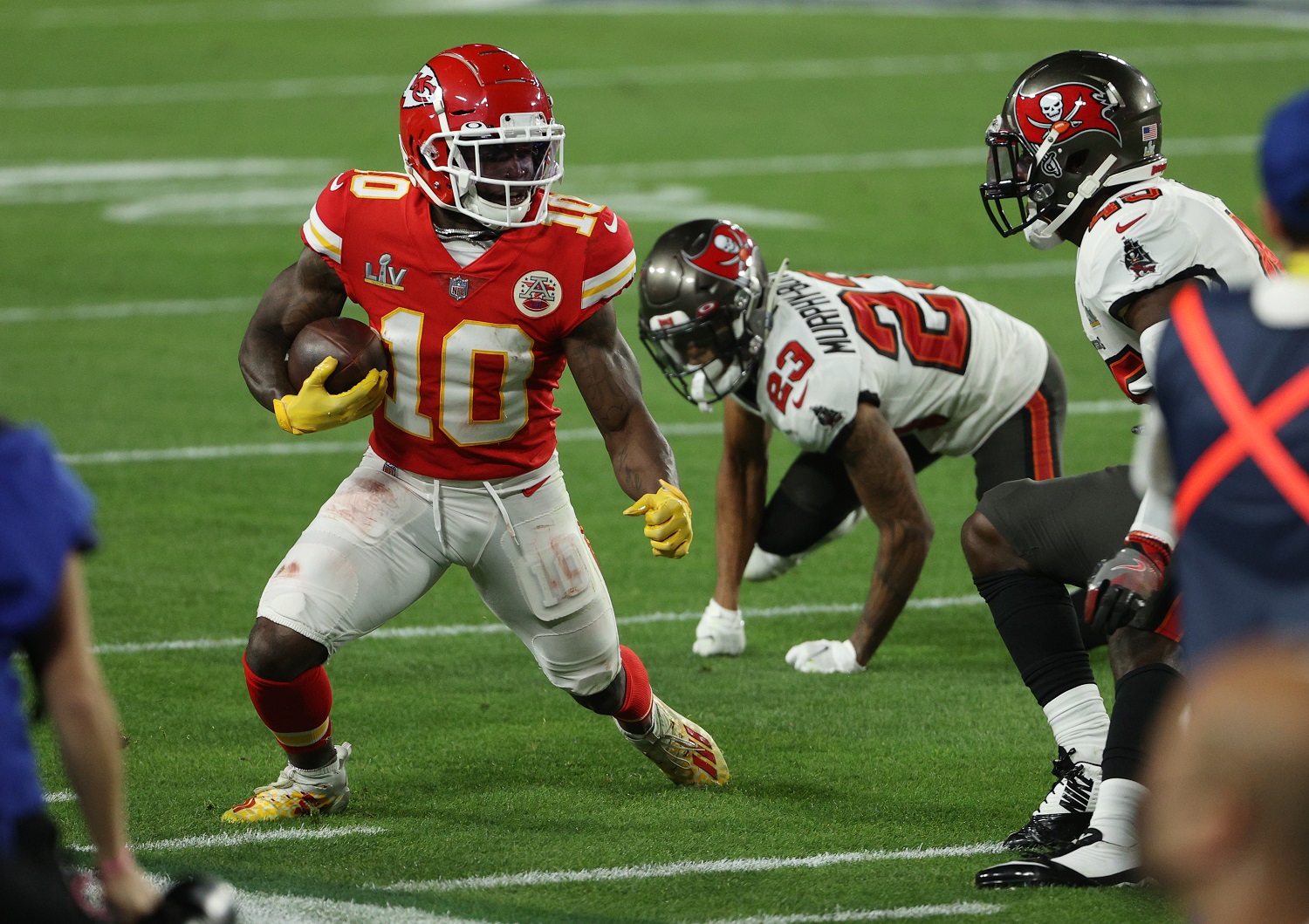 There are three primary sources of pride for NFL players: the number of Super Bowl rings they own, the number of times they're earned postseason honors, and their rating in Madden NFL, the popular home video game.
EA Sports releases new versions of the game each summer, adding enhancements to the look and feel to make each edition more realistic than the preceding one. But the change that gamers and actual NFL players care most about is the annual revision of player ratings.
The manufacturer starts teasing its Madden NFL ratings around the opening of NFL training camps to generate interest for the release of the new edition. They gave fans a look at some data on receivers to kick off this week, and Mahomes was disappointed by what he saw: Only Green Bay Packers star Davante Adams pulled down the coveted 99 score for receivers. Hill missed the highest honor with a 98 rating.
"Give that man his 99 rating!!!" Mahomes tweeted, with the triple exclamation marks obviously indicating the importance of the matter.
Tyreek Hill narrowly misses earning a top 'Madden NFL 22' rating
EA Sports awarded Adams (99), Hill (98), and DeAndre Hopkins (98) the top three receiver ratings. Nitpicking is easy — and likely even encouraged by EA Sports as a means to promote the product. But it's hard to differentiate between three outstanding receivers.
Hill rightfully earned 99s for his speed and acceleration, plus a 98 for agility. If not for slightly low strength and injury ratings, he almost certainly would have garnered the overall 99 score.
Hill seemed to take it all in stride, just like a Mahomes strike to him over man coverage, and saw the positive side after notching a 97 rating a year ago.
"That's one step closer to where I want to be!" Hill said.
Count on Mahomes to make the throws this fall that will help his favorite deep threat get to where he wants to go.
All stats courtesy of Pro Football Reference.