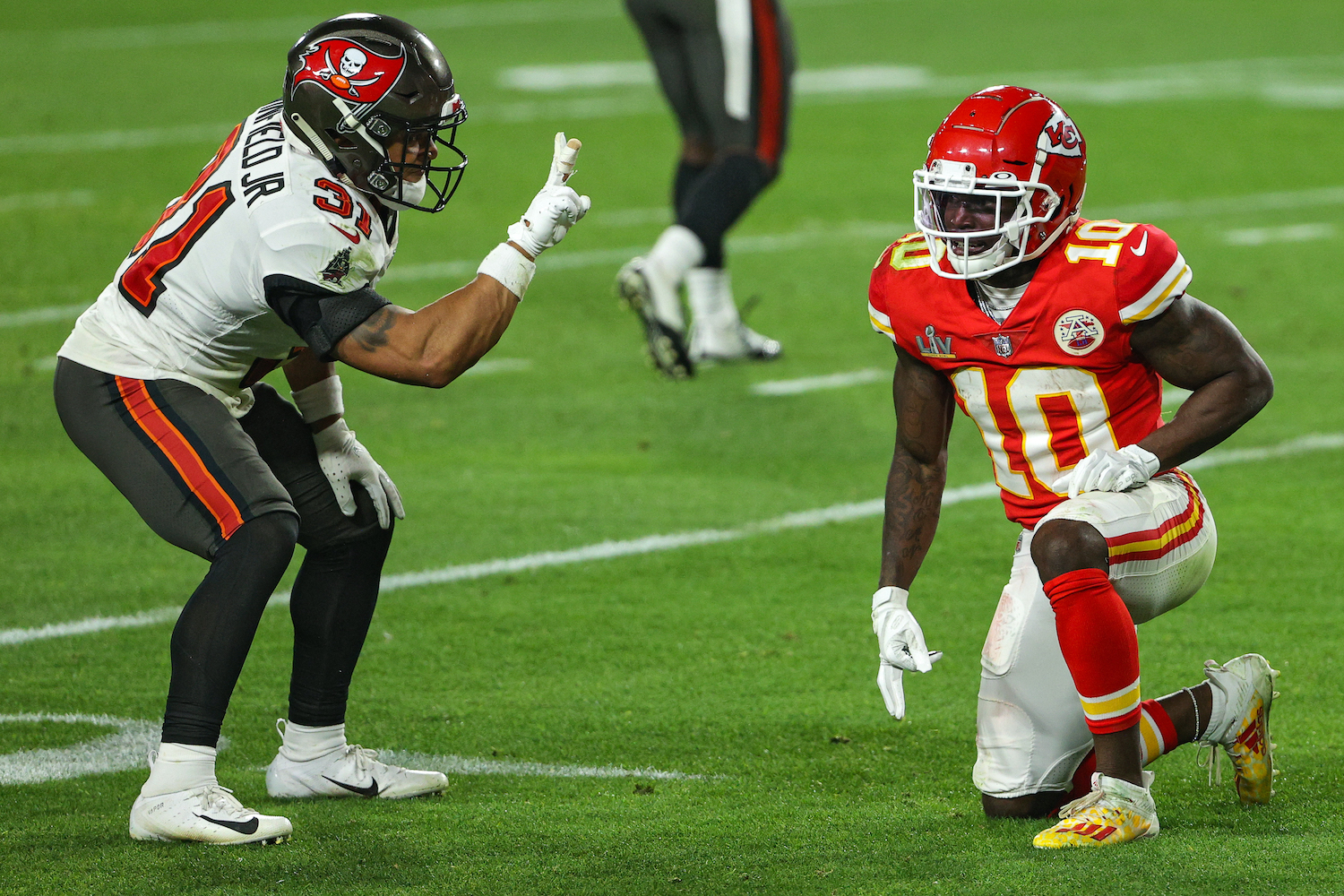 Chiefs Receiver Tyreek Hill Just Sent a Scary Message to the Rest of the NFL: 'We'll Be Back'
After a tough end to the 2020 season, Kansas City Chiefs receiver Tyreek Hill just put the rest of the NFL on notice.
Under normal circumstances, facing the stacked Kansas City Chiefs offense is a tough enough task. But when the 2021 NFL season begins, opposing defenses may be in for an even bigger challenge. Just ask star receiver Tyreek Hill.
During a recent interview with TMZ Sports, Hill confirmed that he hasn't forgotten the embarrassment of Super Bowl 55 and is using that defeat as motivation. If the Chiefs return to the gridiron "hungrier" in 2021, the rest of the NFL could be in for a long season.
Tyreek Hill and the Kansas City Chiefs were humbled by the Buccaneers in Super Bowl 55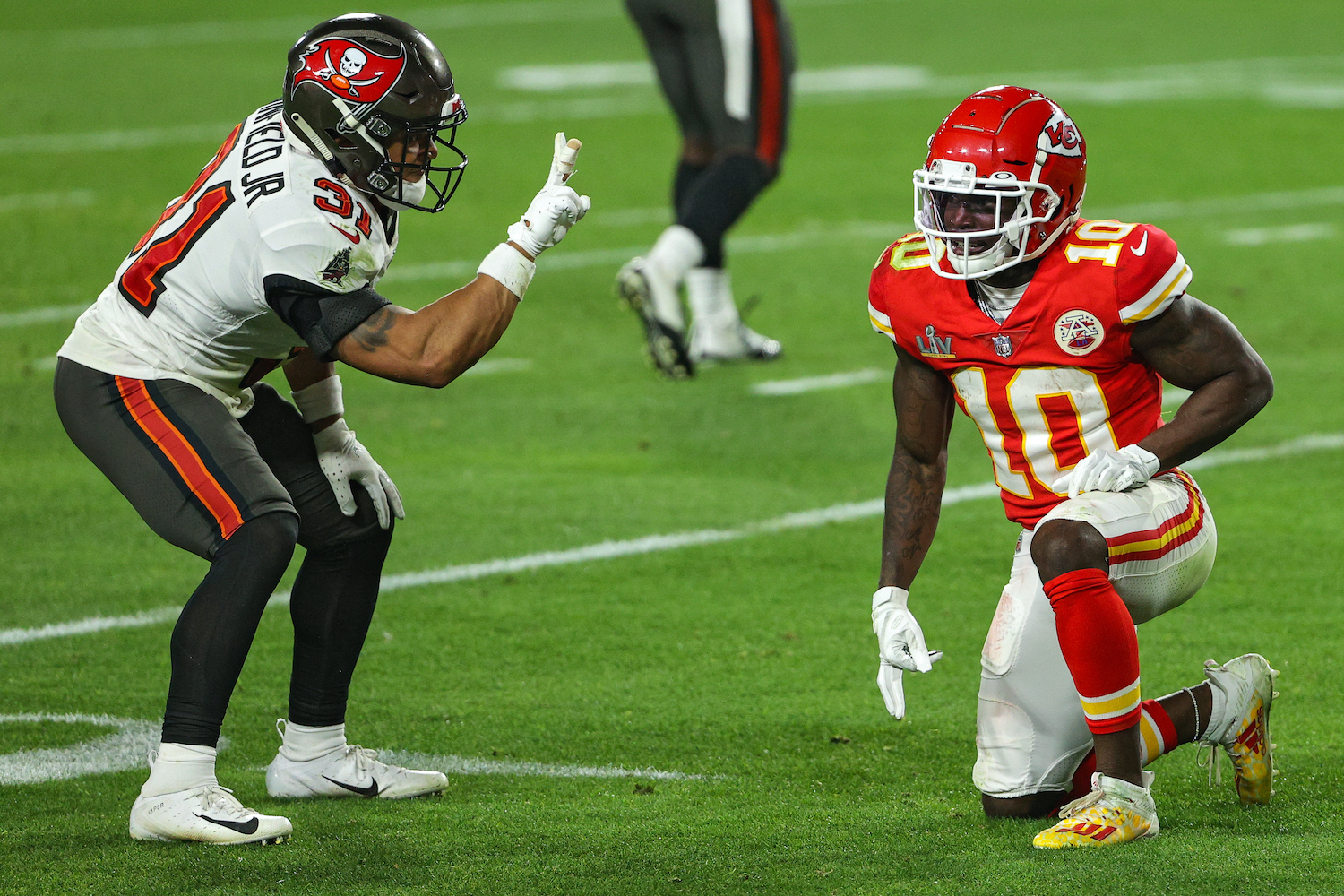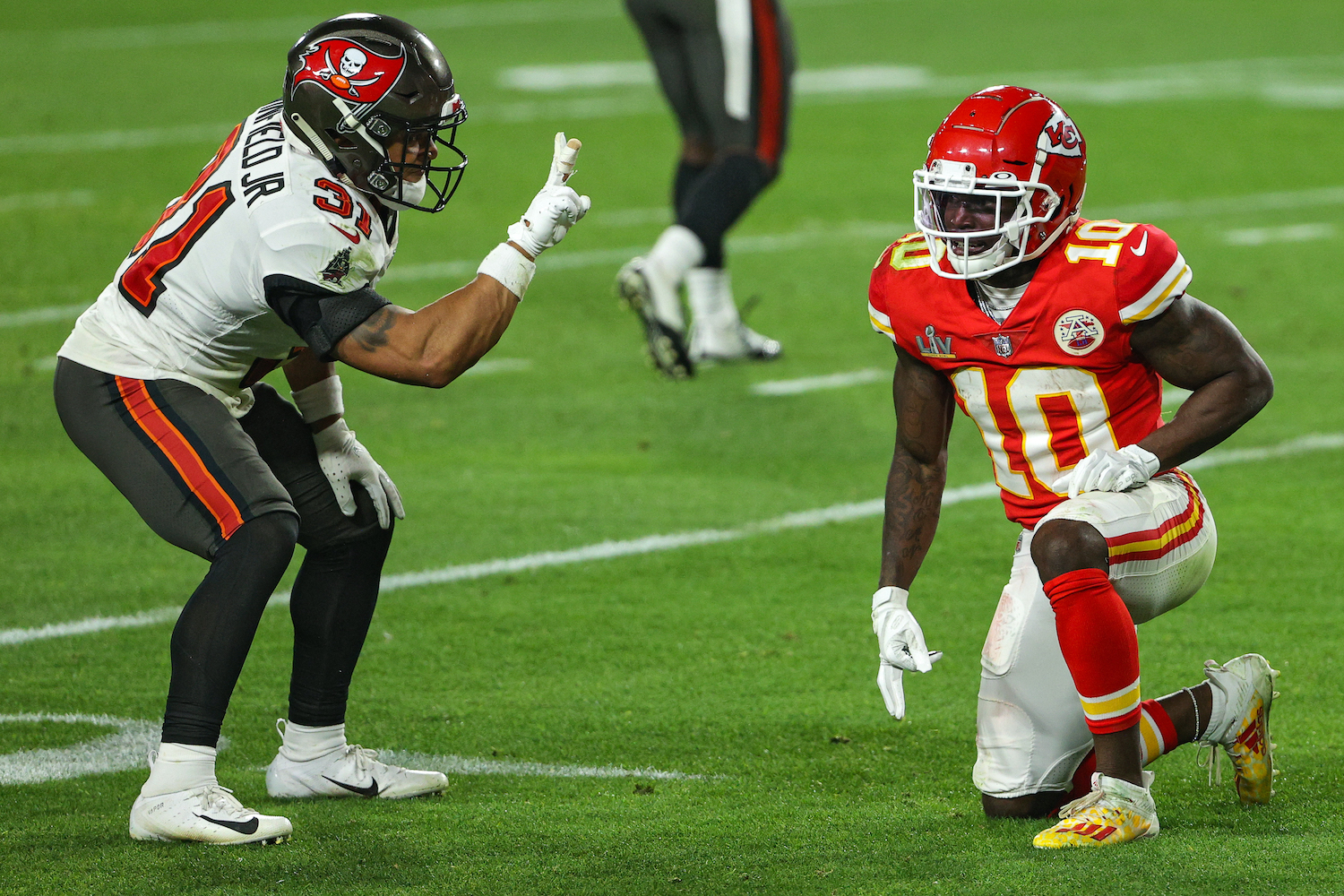 Usually, making it to the Super Bowl is a pretty positive experience. Losing may sting, but, on the whole, getting to the Big Game means a team had a great, if not entirely successful, season. The Kansas City Chiefs, however, didn't have much room for moral victories in February 2021.
While going against Tom Brady in a big spot is never easy, the Chiefs suffered through one of the worst Super Bowl experiences in recent memory. Thanks to a patchwork offensive line ravaged by injuries, Patrick Mahomes' high-flying unit couldn't get off the ground. Unable to score, Kansas City started chasing big plays. When those passes couldn't connect, Tampa got the ball back and marched back down the field, causing the nightmare scenario to snowball.
Tyreek Hill's evening proved to be an encapsulation of the Chiefs' struggles. During the club's regular-season victory over Tampa, the receiver pulled in 13 catches for 269 yards and three touchdowns. On that fateful night in February, though, he caught seven passes for 73 yards without scoring. He was also on the receiving end of a taunt from Antoine Winfield Jr., who mimicked Hill's peace sign from the Week 12 game, adding a bit of insult to injury.
Tyreek Hill hasn't forgotten about that Super Bowl embarrassment
For some players, the best course of action after an embarrassing defeat would be to simply turn the page and move on. Hill, however, is taking a different approach ahead of the 2021 NFL campaign.
"I've been grinding my tail off, man, ever since that loss," Hill told TMZ Sports. "I take losing like kind of hard so, you know, I mean me being me man, and I know my teammates being my teammates, Pat [Mahomes], [Travis] Kelce, you know, and the rest of the guys, Tyrann [Mathieu], Chris [Jones], you know they want to get back to that stage, you know. So I know they're grinding just as hard as I am, you know, because you know, like I feel like we was kind of embarrassed, you know, like on national TV during the biggest game. … We definitely don't want to go down that route again, you know. So we'll be back."
The receiver also confirmed that Kanas City's painful defeat was keeping him motivated ahead of the new campaign.
"Exactly," Hill added. "Makes me hungrier."
A motivated and improved Kansas City Chiefs team could be the NFL's worst nightmare
As Hill noted, he's not the only Kansas City Chief pushing to ensure that the 2021 season has a different ending. Kelce expressed a similar sentiment, and Mahomes has said that he's ready to win the Super Bowl again.
From a cynical perspective, it's easy to write off comments about motivation and inspiration as meaningless platitudes. Every team, after all, enters the campaign striving to win the Super Bowl. It is worth noting that Kansas City is already a talented team hoping to make it over the hump. They aren't a borderline playoff team hoping some extra inspiration will magically make them championship contenders.
Furthermore, the Chiefs won't simply be reliant on intangibles when it comes time to chase another AFC title. Instead, the club's brass spent the spring addressing a glaring on-field weakness.
As we all saw during Super Bowl 55, Kansas City's explosive offense was hamstrung by a weak offensive line. General manager Brett Veach clearly got the memo and spent the offseason rebuilding the unit. While things may be different when the rubber actually meets the road, acquiring Orlando Brown Jr., Joe Thuney, and Kyle Long should only help the Chiefs this year. The club also scored a couple more linemen in the draft and will have both Laurent Duvernay-Tardif and Lucas Niang returning after opting out of the 2021 campaign.
Although there are some question marks remaining — the Chiefs defense still isn't the league's toughest unit, and Mecole Hardman might not be the ideal receiver to fill the second position on the depth chart — it's impossible to argue that Kansas City didn't improve on their biggest weakness from 2020. If you combine that with the natural talent that's already present on the roster and then add a bit of extra motivation from Super Bowl 55, the rest of the AFC could be in for a long season.
Stats courtesy of Pro-Football-Reference