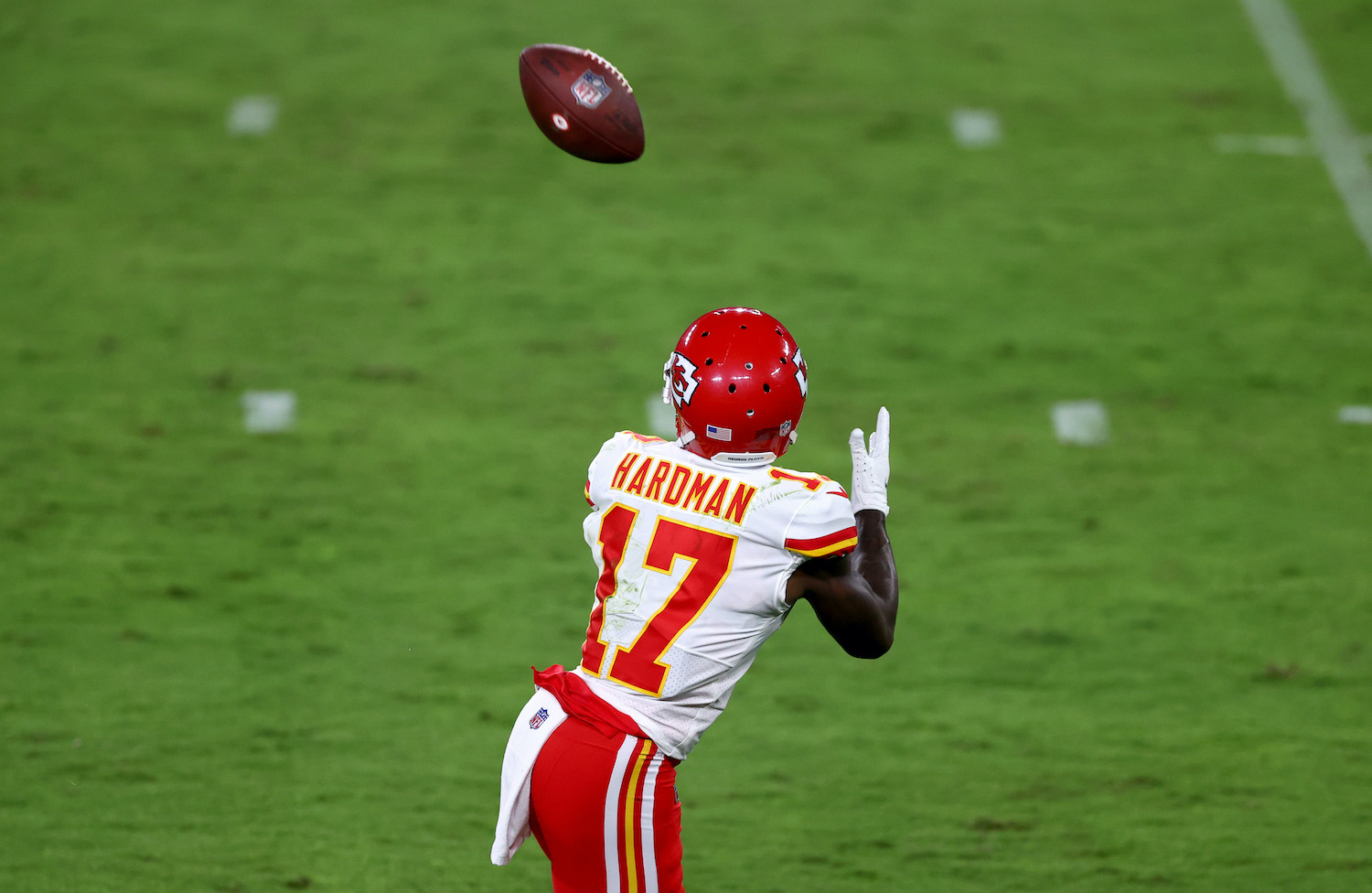 The Kansas City Chiefs Are Entering Camp With a Risky Weak Link in Their Otherwise Explosive Offense
While the Kansas City Chiefs are pretty stacked on offense, Mecole Hardman's position on the depth chart could quietly be a probem.
When you think about the modern Kansas City Chiefs, it's hard to focus on anything other than their explosive offense. Andy Reid is one of the top offensive minds on the gridiron. Patrick Mahomes can throw a deep bomb with a mere flick of his wrist. The unit boasts the likes of Travis Kelce and Tyreek Hill and, during the 2021 offseason, general manager Brett Veach rebuilt the offensive line on the fly. What's not to like?
If you can look past all of those admittedly massive pluses, though, there is one potential weakness. The Chiefs are poised to enter training camp with Mecole Hardman as their number two receiver, which, given football's standing as a weak-link sport, could be quite the gamble.
The Kansas City Chiefs spent their offseason upgrading their offensive line at the cost of the wide receiver position
At the highest level of professional football, conventional wisdom dictates that you win and lose games in the trenches. Based on their 2021 offseason, the Chiefs' brass has a pretty firm grasp on that concept.
After their patchwork offensive line collapsed in Super Bowl 55, Kansas City set out to ensure that wouldn't happen again. The club signed Joe Thuney away from the New England Patriots, lured Kyle Long out of retirement, and traded for Orlando Brown Jr. Those moves, combined with the return of Laurent Duvernay-Tardif, and drafting both Creed Humphry and Trey Smith, mean Patrick Mahomes should be safe and sound this season.
While it's completely logical that Veach made the offensive line his focus — and, speaking candidly, it's impressive to see a general manager target an area of improvement and follow through immediately — that rebuilding effort came at the cost of another positional group: wide receivers.
During the 2021 offseason, Sammy Watkins left K.C. in free agency. Although you could argue the wideout was too inconsistent to be a legitimate loss, his departure does push everyone further up the depth chart. Without the salary cap space to make any offseason receiving acquisitions beyond drafting Cornell Powell in the fifth round, the Chiefs are poised to enter the new season with Mecole Hardman as their number-two receiver. Nate Taylor of The Athletic reported that the third-year receiver would probably fill Watkins' old role, with Byron Pringle and Demarcus Robinson battling for the third and fourth positions.
Mecole Hardman is talented but, in a weak-link sport, he's a risky number-two option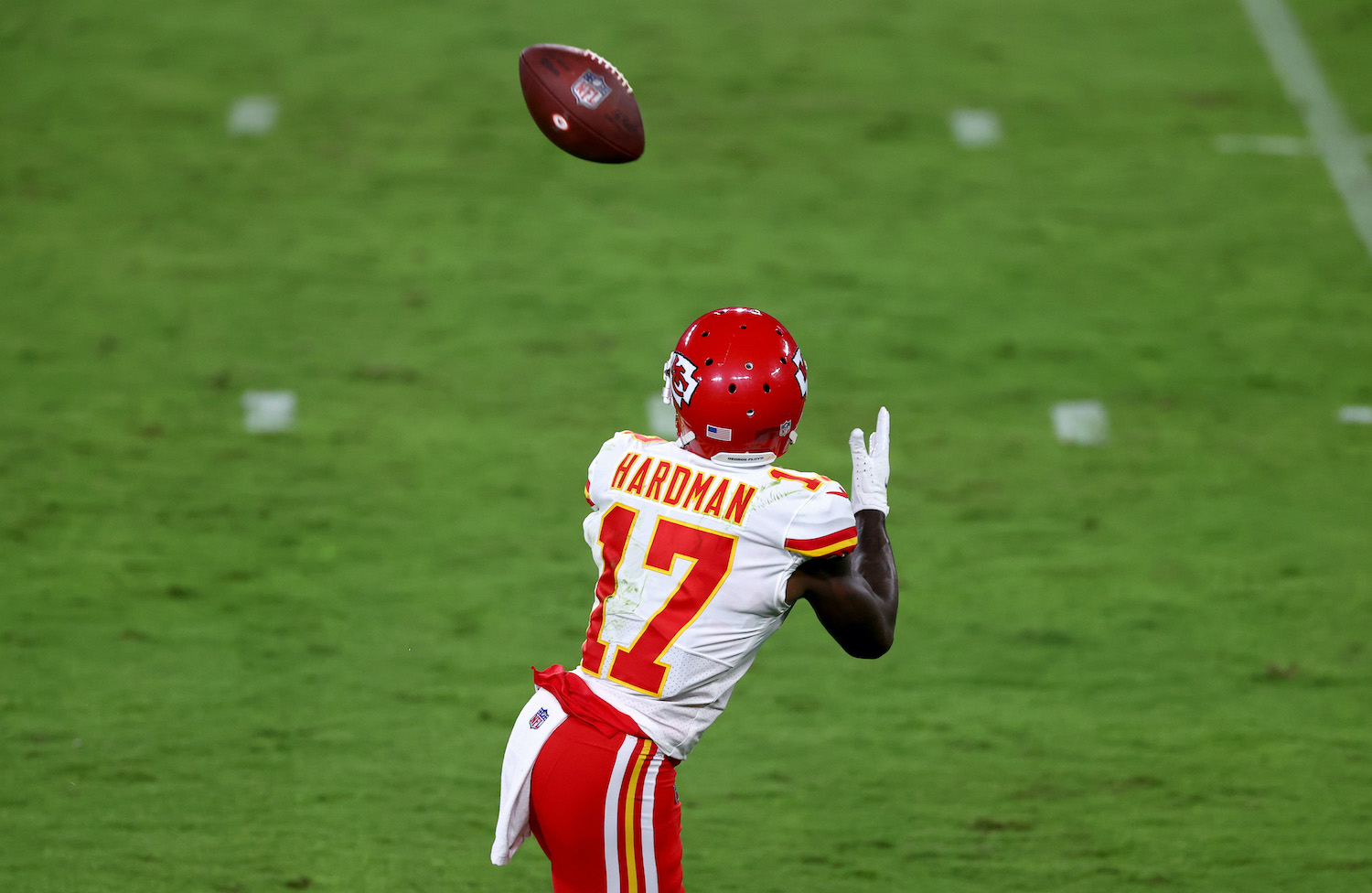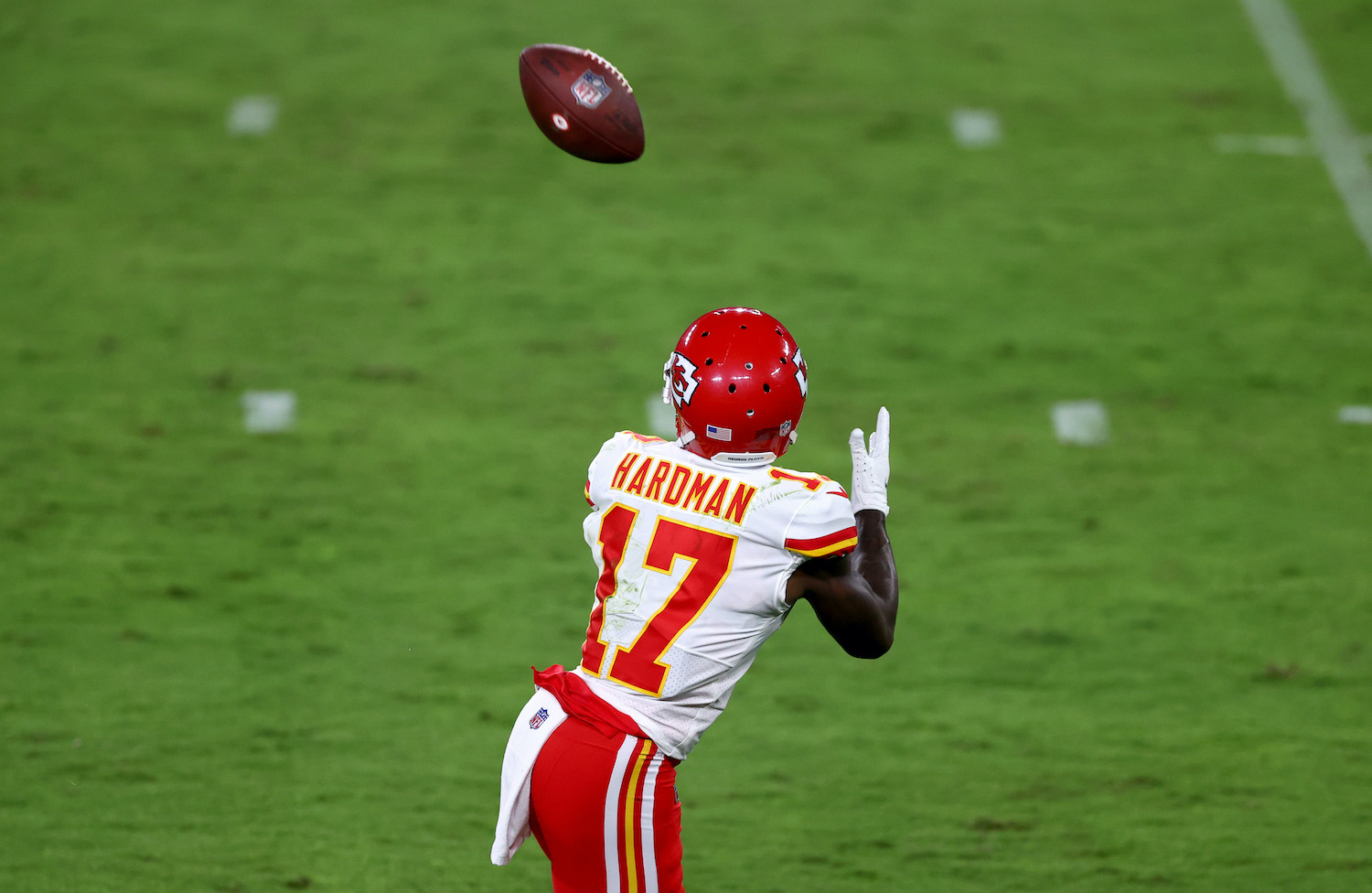 Before going any further, it's worth noting that having Mecole Hardman as your second receiver, when Hill and Kelce are on the roster, is the definition of a champagne problem. For a team who's fighting for the Lombardi Trophy, though, any weakness could be the difference between a championship and a mere conference title.
As any Chiefs fan can confirm, Hardman is an explosive player with athleticism to burn. While you'd think that would make him a perfect compliment for Hill — covering two speedsters, especially with modern pass interference rules, is a tough ask for any defense — the receiver has struggled to take the next step. From a counting-numbers perspective, his second NFL campaign didn't show any real improvement over his rookie outing; to make matters worse, his drop rate jumped from 2.4% to 12.9%.
Again, it's easy to say the number-two receiver's struggles don't really matter. Kelce and Hill are the Chiefs de facto first and second options, bumping Hardman a bit further down the pecking order. With that being said, though, his position on the depth chart could still be problematic.
On the whole, football is considered a weak-link sport, meaning that a team (or, in this case, a unit) is only as strong as its weakest member. For the Chiefs' top offensive group, that would place Hardman in the spotlight. It's easy to say that he'll be irrelevant, given the overall strengths of his peers, but no team wants to enter a season with a potentially unreliable target getting regular snaps. By now, defenses are well-aware of what Kelce and Hill can do; they'll dare someone else to beat them, placing Hardman firmly in the spotlight. At that point, him dropping almost 13% of his targets would be nothing short of a disaster.
There are some X-Factors that could help Mecole Hardman, though
Now that we've spent some time looking at the potential problem with having Hardman as your number-two receiver, it is worth noting that there are some potential x-factors that could mitigate the risks.
First and foremost, it's possible that the receiver will simply improve. He only started playing wide receiver in college, and grappling with the ins and outs of Andy Reid's playbook can be daunting for even the most seasoned player. It's also worth noting that the word out Kansas City's offseason workouts is that Hardman has taken a step forward and, according to Tyrann Mathieu, is hungry to make an impact in 2021.
Beyond his own improvements, it's also worth remembering that Hardman will be catching passes from Patrick Mahomes. Without getting too far down the Mahomes vs. Tom Brady rabbit hole, TB12 made a habit of turning no-name receivers into legitimate threats. We know that the Chiefs' signal-caller has the raw talent and improvisational ability to put the football exactly where he wants it to go. That means Hardman can simplify his game and focus on his route-running and, perhaps more importantly, securing the ball when it arrives.
Again, the Chiefs are clearly a talented team and have all the pieces required to make another run to the Super Bowl. When you're fighting to be the best team in the entire NFL, though, any potential weakness could be the flaw that causes you to come up short. At this point, winning the divisional title and reaching the AFC Championship game isn't going to get anyone in Kansas City too excited. That's where Mecole Hardman comes in. If he struggles in 2021, he could be the weak link that throws off an otherwise explosive offense; if he puts everything together, though, he'll give opposing defenses nightmares and make K.C. that much more dangerous.
At this point, the entire NFL will just have to hold their breath and see which version of the receiver shows up.
Stats courtesy of Pro-Football-Reference