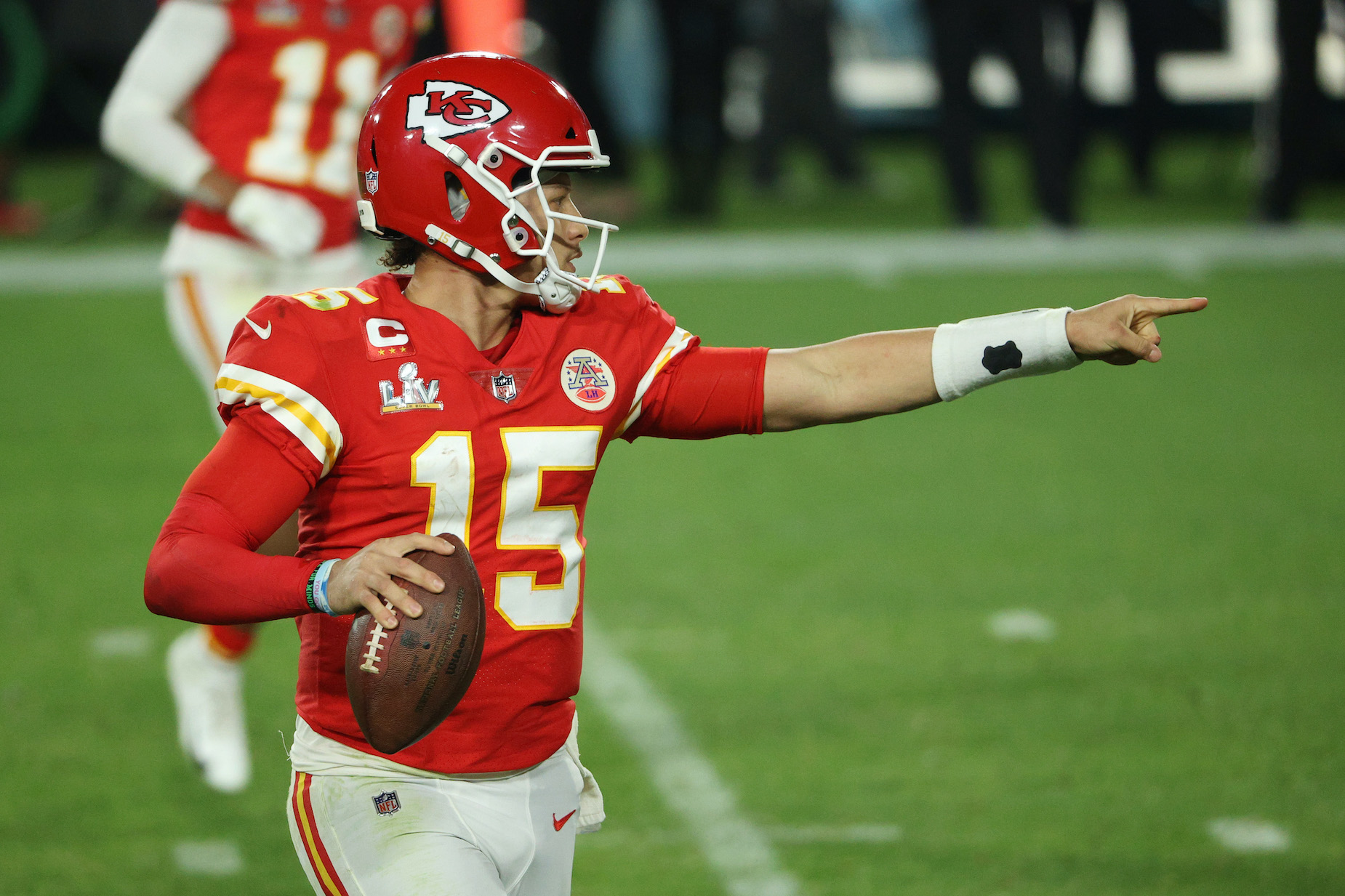 Patrick Mahomes Has a Scary Update About the Kansas City Chiefs' New-Look Offensive Line: 'The Chemistry That They've Built Already, It's Tremendous'
If you take Patrick Mahomes at his word, the Kansas City Chiefs' new-look offensive line is already in good shape.
During Super Bowl 55, the Kansas City Chiefs learned a harsh lesson on football's biggest stage. No matter how talented your quarterback may be, his skills are meaningless if the offensive line is made of wet cardboard. After watching Patrick Mahomes run for his life during the big game, general manager Brett Veach set out to make things right.
Now, with the 2021 NFL season inching closer, Mahomes has gotten his first look at his new-look offensive line. In an update that will get Chiefs fans dreaming of another successful season, the quarterback already sounds pretty impressed with his bodyguards.
The Kansas City Chiefs spent their offseason acquiring protection for Patrick Mahomes
Under ordinary circumstances, most NFL fans won't get that excited about an offensive line. Those who follow the Chiefs, though, have enjoyed what Kansas City has pulled off this spring.
As mentioned above, KC's injury-ravaged line collapsed during Super Bowl 55, leaving Mahomes to worry about avoiding sacks rather than dissecting the Buccaneers' defense. On the back of that brutal defeat, the Chiefs' brass made sure to address their most obvious weakness.
Veach cut Eric Fisher and Mitchell Schwartz and lured Joe Thuney away from the New England Patriots with a sizable contract. The general manager also brought Kyle Long out of retirement and signed Austin Blythe to a one-year deal.
While those moves, combined with the returns of Laurent Duvernay-Tardif and Lucas Niang, were already a step in the right direction, Kanas City wasn't done yet. Ahead of the 2021 NFL draft, the defending AFC champions traded for Orlando Brown Jr., theoretically finding their long-term left tackle. Once the main event began, the club also selected two more linemen, Creed Humphrey and Trey Smith, providing a bit of extra depth.
Patrick Mahomes doesn't foresee any chemistry problems within the new-look unit
Based on the fact that a capable offensive line makes his life easier, it was always safe to assume that Mahomes would think highly of his new teammates. With OTAs underway, we've now heard the quarterback weigh in on the matter. Unsurprisingly, he shared nothing but praise.
"Yeah, I mean, obviously they're super talented," Mahomes said via Chiefs Wire. "You know that from the places that they've been, all of them. We have a lot of depth and a lot of guys that can fill in here and there. We have guys who can play, which is always good. I think the biggest thing is that if you didn't know and you just walked into this locker room and saw those guys, you would think that they grew up together."
While noting that the line looked like they grew up together may seem a bit hyperbolic, Mahomes doubled-down on those chemistry comments.
"The chemistry that they've built already, it's tremendous," the quarterback continued. "It seems like they're all best friends, they've known each other forever, and, whenever you look at great offensive lines, I feel like you have to have that type of aspect of guys that are going to put complete trust in each other and go out there and get after it every single play."
A strong offensive line could make the Kansas City Chiefs even scarier
Given the way their 2020 season ended, it's understandable that the Chiefs have lost a little bit of their luster. One game, however, shouldn't overshadow three years of strong football, especially given the club's offseason improvements. If Kansas City's offensive line can come together, the rest of the AFC will want to take notice.
Based on conventional football wisdom, the easiest way to slow down Kansas City's offense is by disrupting Mahomes. While the Super Bowl is an obvious example, other opponents have found success with a similar playbook. Take the Los Angeles Chargers, for example. While their defense isn't particularly aggressive from a blitzing perspective, they do make an active effort to take away the deep ball. That, combined with Joey Bosa's pass-rushing ability, forced Mahomes to make multiple short throws every drive, increasing the opportunity for a defensive stop.
While an improved offensive line won't exactly force defenses to change their scheme, it does theoretically start a domino effect in the Chiefs' favor. If Kansas City is confident that their five blockers can hold down the fort on their own, that gives Andy Reid more options. Maybe he can float a second tight end into the flat instead of keeping him in to block. Perhaps Clyde Edwards-Helaire can run a wheel route since he doesn't have to chip an onrushing defensive end. If nothing else, better protection will give KC's receivers more time to work their magic. No defensive back, regardless of how much help they have, wants to chase Tyreek Hill for five seconds.
In the world of sports, chemistry can be a touchy concept. While just about everyone can agree that it exists and matters, it can be easy to fall down the rabbit hole and start basing decisions on intangibles. That's how you end up with bad contracts and guys tying up roster spots simply because they're good in the room. In the Kansas City Chiefs' case, though, chemistry could be the cherry on top of the sundae.
We already know that Patrick Mahomes and his offense can score. We know that, on paper, the Chiefs have brought in some capable linemen during the 2021 offseason. If everything comes together, as the quarterback suggests it has, Kansas City could be even scarier this fall. Depending on your rooting interests, that's either amazing or awful news.