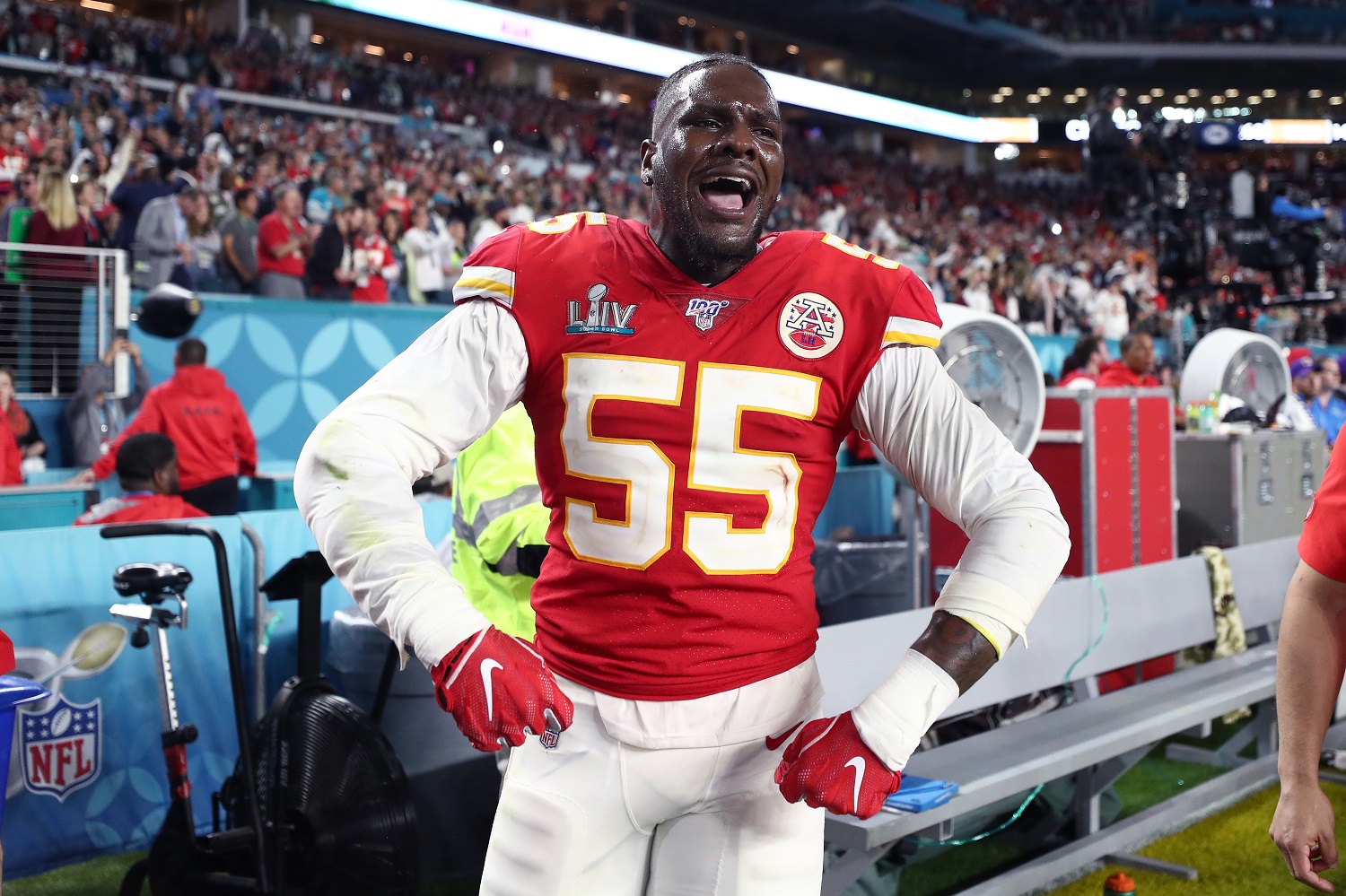 The Kansas City Chiefs Need To Start Planning To Fill a Major Hole in Their Defense
Frank Clark of the Kansas City Chiefs was arrested on gun charges twice in three months. Now, one of those charges has been confirmed as a felony carrying a sentence of up to three years if Clark is convicted.
Frank Clark's situation is likely to get worse before it gets better, and that's bad news for the Kansas City Chiefs. A team with relatively few weaknesses suddenly faces the prospect of losing its only reliable edge rusher because Clark's legal issues are more serious than originally thought.
Chiefs defensive end Frank Clark faces a felony charge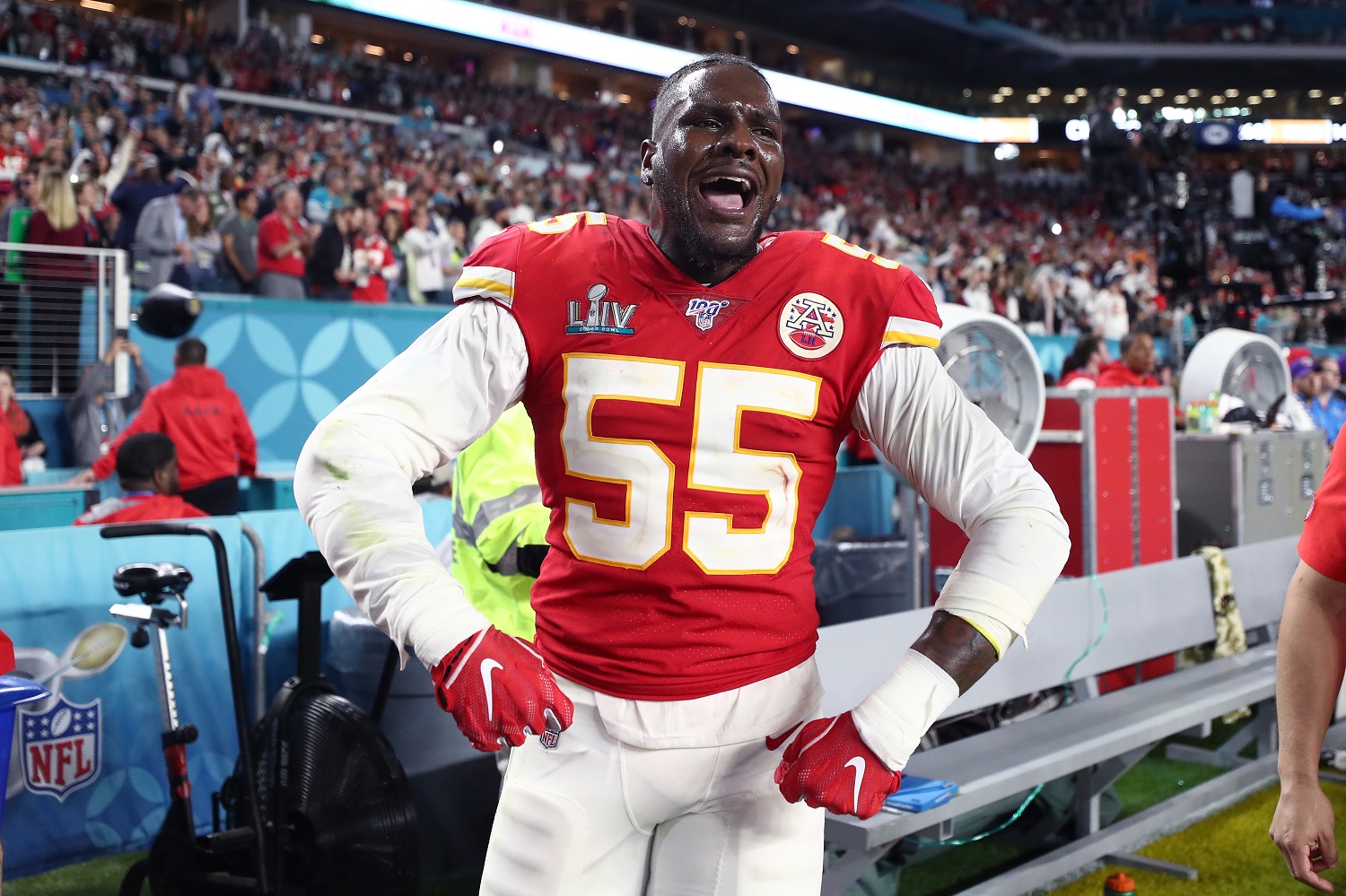 Police in Los Angeles pulled over Clark's car on June 20, at which time officers found an Uzi submachine gun sticking out of a bag in plain sight, ESPN reported. They arrested the sixth-year NFL defender on suspicion of possessing a concealed firearm in a vehicle, and authorities released him the following day after Clark posted a $35,000 bond.
That incident was Clark's second gun-related arrest in three months. In March, Clark and a second man were pulled over by California Highway Patrol officers who subsequently found two loaded guns in the car.
That earlier arrest already figured to be problematic with respect to Clark's status with the Chiefs, and now we know the extent. Los Angeles prosecutors on Friday charged Clark with one felony count of possession of an assault weapon, according to The Kansas City Star. His arraignment for that charge is on July 14, two weeks before the start of the Chiefs' training camp. If convicted, Clark could face up to three years in prison.
Frank Clark is in a tenuous position
Clark's attorney, Alex Spiro, said at the time of his June arrest that the submachine gun belonged to Clark's bodyguard. While not necessarily inaccurate, that explanation is only going to go so far in light of the fact that the weapon was found in the football player's car. Additionally, the situation grows exponentially worse if the second arrest results in a felony charge.
While there is a presumption of innocence in the American legal system, commissioner Roger Goodell is under no such constraints. Remember, the speculation all offseason has been that Houston Texas quarterback Deshaun Watson, who is under investigation but has not been charged, will miss all of the 2021 season.
The Kansas City Chiefs need to start planning to fill a major hole
Clark played his first four NFL seasons for the Seattle Seahawks before arriving in Kansas City in a trade and recording eight regular-season sacks and five more in the playoffs as the Chiefs won Super Bowl 54. Last season, he finished with six regular-season sacks and three in the postseason.
Tackle Chris Jones (7.5) was the only other Chiefs defender with more than three sacks in 2020, so losing Clark would be a concern. Taco Charlton, who appeared in seven games last year and made two sacks, expected to compete with undrafted free agents Tershawn Wharton and Tim Ward for the spot on the other end of the line. Now, two of the three could be starters.
If Goodell hands down a punishment in time for the upcoming season, the Chiefs will probably only need a solution for three to five games. A big free-agent investment, like Melvin Ingram, isn't viable if coach Andy Reid is comfortable moving Jones to the edge position with greater frequency than the Chiefs were already considering.
Still, the Chiefs will have to think about the longer term. Clark faces the possibility of two trials, either of which could result in incarceration that takes him out for some or all of the 2022 season.
Of equal concern, however, is whether the Chiefs should be concerned about Clark experiencing future brushes with the law.  ESPN reported that police arrested him in 2014 on suspicion of domestic violence while attending the University of Michigan. He eventually pleaded guilty to disorderly conduct.
Everything against him in the two pending cases is only an allegation. But it's fair to question Clark's judgment after an arrest on one gun charge while his case in another from just three months earlier was pending.
All stats courtesy of Pro Football Reference.
Like Sportscasting on Facebook. Follow us on Twitter @sportscasting19.