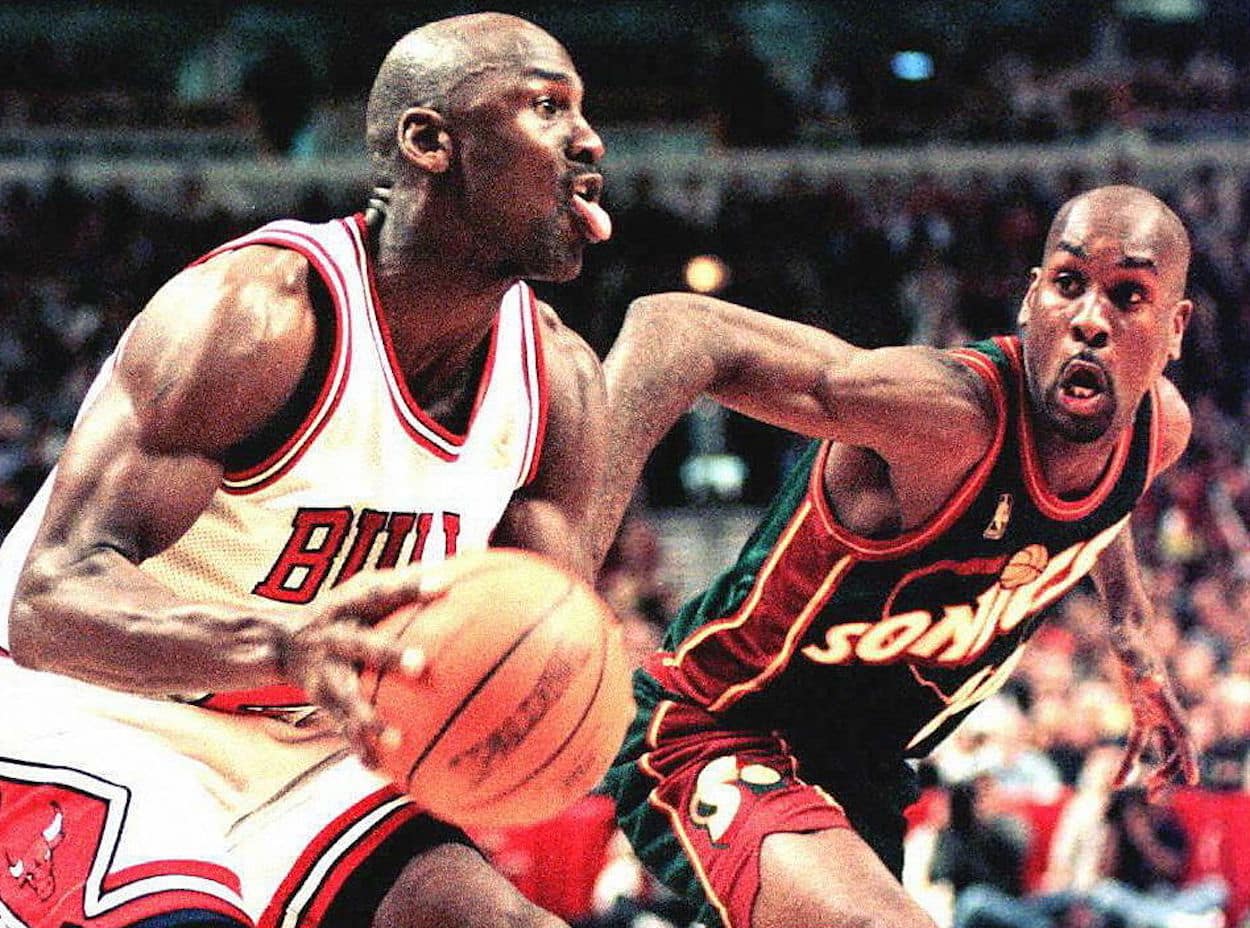 Gary Payton Remembers the Performance That Earned Him His Iconic Nickname: 'Like a Baseball In a Glove'
It's common knowledge that Gary Payton's nickname refers to his tight defense. But do you know which performance earned him the the title of "The Glove."
Over the years, countless NBA players have earned nicknames. Some, like calling Harold Miner "Baby Jordan," ended up falling flat. Others were logical, if boring, like "D-Wade" and "T-Mac." Then, at the top of the heap, are the genuinely good nicknames. Take, for example, calling Gary Payton "The Glove."
And while it's common knowledge that moniker refers to the guard's legendary defense, how did it exactly come to be? Allow Payton himself to explain.
Why is Gary Payton called 'The Glove'?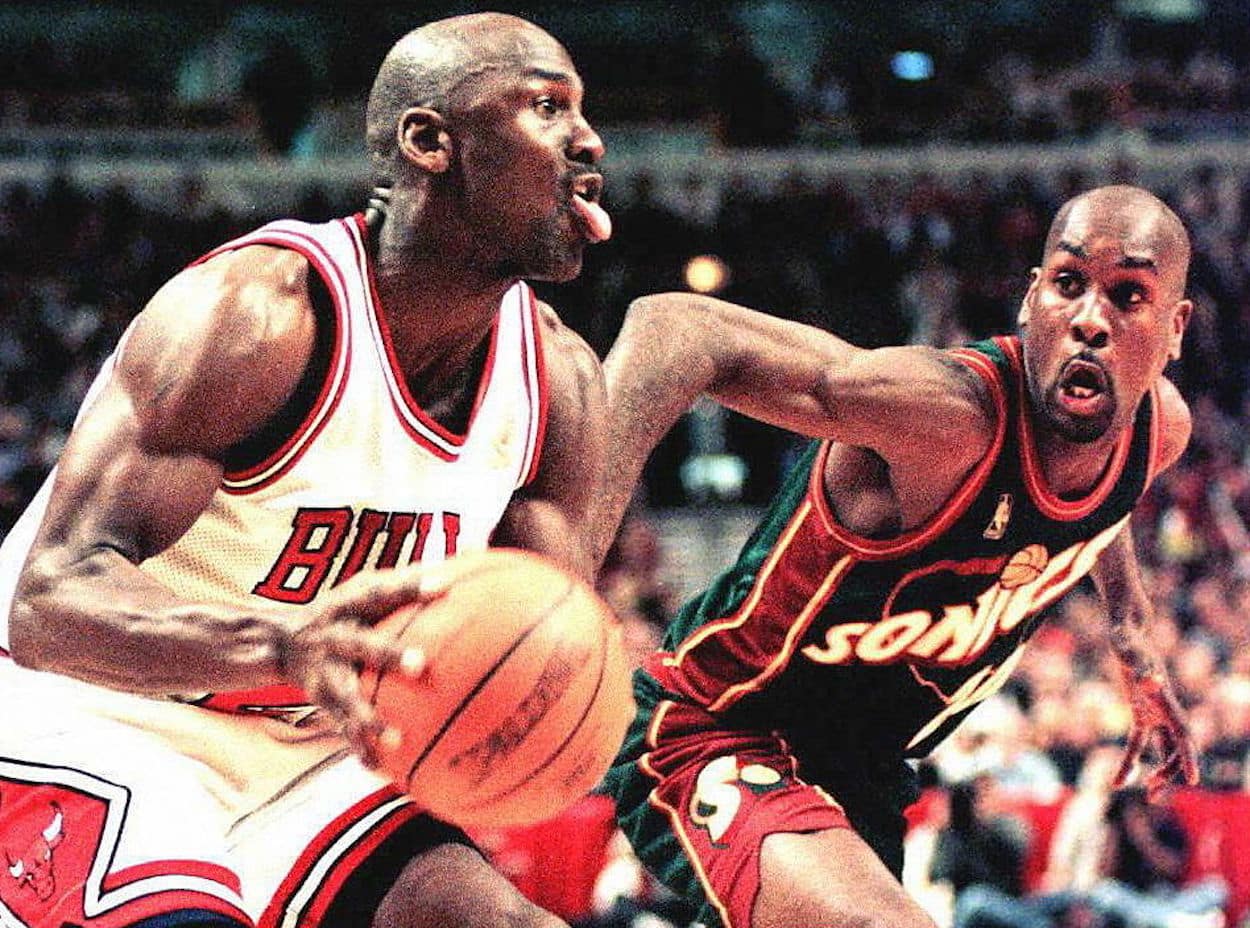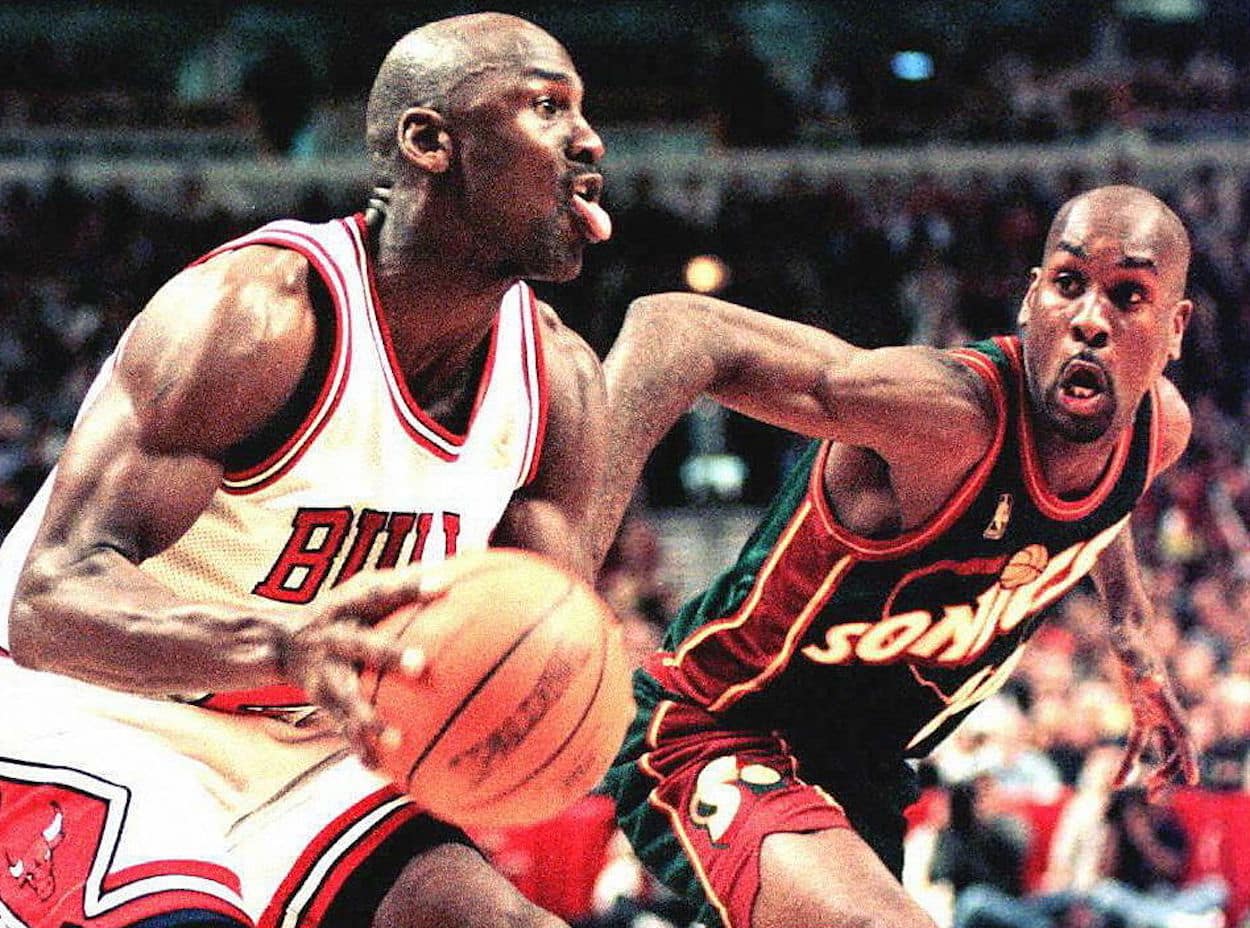 Upon first glance, calling Gary Payton "The Glove" makes perfect sense. The guard was known for his tight defense, and a glove (usually) envelopes a hand rather snuggly. But where did that nickname originate?
As you might expect, there was a specific origin point where everything began. During the 1993 NBA Playoffs, Payton impressed a family member with his efforts on the hardwood.
"We were playing the Phoenix Suns in the Western Conference Finals," the guard told Kevin Garnett on Showtime Basketball's Youtube channel. "At that time, Kevin Johnson was the premier point guard. Remember he was averaging 27. He had just gotten first-team all-league. He was doing his thing, averaging like 10 assists."
Faced with that challenge, Payton was tasked with slowing Johnson down. That plan worked, and the series swung back and forth.
"I'm killing Kevin Johnson," The Glove continued. "Holding him to like 14, 12 points. So we go and win Game 6 and force a Game 7."
The series, of course, ended in Phoenix's favor as Charles Barkley dominated the deciding game. Payton's overall performance against the Suns, however, still earned him an iconic nickname.
I'm eating [Johnson up], and the TV's talking about it. And my cousin called me like, "Glove. Glove." I'm like, "Man, what the heck is this, man," and hung up the phone. He called me right back like, "Don't hang up the phone, man. It's your cousin, Glen." I said, "Man, what's up? Why are you calling me The Glove? Glove." And he was like, "Man, me and my frat brothers sitting over here, and they say, man, you got Kevin Johnson like a baseball in a glove. So tight around that he can't even move." And I said, "Man, that's how good my D is really, though, cause I do get on people, and they do get like that." And ever since then, they ran with it.

Gary Payton
As GP said, the rest is history. Today, virtually any basketball fan will know who you're talking about if you mention "The Glove."
Gary Payton's defense did more than inspire a nickname
While The Glove's defensive efforts earned him an iconic nickname and ensured he had a successful career, that wasn't their only impact. Payton also shared his insights with Kobe Bryant and Kevin Garnett, helping to further the next generation of NBA talent.
As the story goes, GP took some time with Bryant and Garnett during 2000's NBA All-Star Weekend. Kobe had asked for some tips, and the veteran, appreciating his humility and desire to improve, provided a bit of a crash course. At the end of that year, all three of those men were named to the NBA All-Defensive first team.
Would Kobe and KG have had legendary careers without Payton's help? It's quite possible, given what we know of their raw talent and relentless work ethics. With that being said, though, it's tough to put a specific value on a coaching session from one of basketball's elite defenders. Especially at the highest level, knowledge is power.
And while it's impossible to know what basketball would have looked like without Gary Payton's lockdown defense, one change is certain: He would have a worse nickname.
Why is Gary Payton called "The Glove?"
During the 1993 NBA postseason, Payton played tight defense against Kevin Johnson. The guard's cousin started calling him "The Glove," since his efforts kept Johnson from moving, "like a baseball in a glove."