Gary Payton's Legendary Competitive Edge Ultimately Came Back to Bite Him in Retirement: 'That's a Bad Thing to Have Hanging Over You'
While every NBA player hits the hardwood trying to win, Gary Payton pushed things a bit further than most. The guard possessed a blazing inner fire, which meant he was always running hot. Whether that entailed talking trash to the opposition, fighting with his own teammates, or butting heads with his head coach, the Glove was willing to do whatever it took to chase NBA greatness. And while he eventually got there, his approach wasn't 100% perfect.
In retirement, Payton has gotten real about the implications of his behavior. While his style helped him thrive in the dog-eat-dog NBA, it also meant people weren't exactly chomping at the bit to be his friend.
Gary Payton ultimately faced some personal consequences for his NBA actions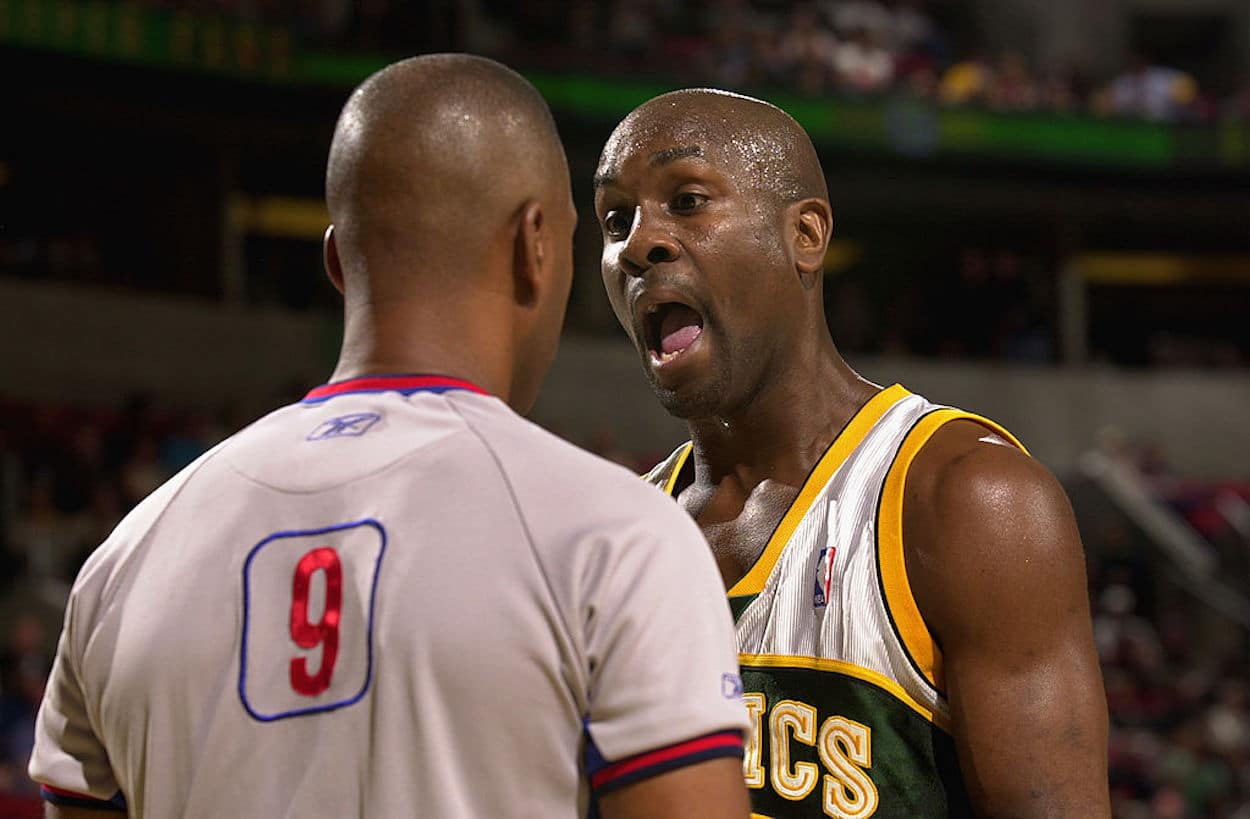 As the cliche says, all's fair in love and war. Basketball, however, isn't mentioned. And while you're free to push the envelope in terms of your behavior, that doesn't mean there won't be consequences. Just ask Gary Payton about that.
During his time in the Association, the Glove proved to be a fighter. He wanted to win every game and demanded that everyone around him give their all in pursuit of that goal. Whether that manifested in more benign ways — like giving his all in the gym — or more problematic choices — Payton's trash talk occasionally crossed the line — he wasn't going to back down.
During his playing career, that made the guard a respected locker-room presence. While he wasn't going to be your best friend, he was the sort of player who'd push everyone, including himself, to be the best. In retirement, though, there was a problem. No one wants to hang out with a jerk.
"When he retired in 2007, Payton learned the consequences of his singular focus," Jerry Brewer explained in a 2013 Seattle Times story ahead of the guard's Hall of Fame induction. "He heard that people didn't want to deal with him because he was perceived as a headache. It was a cruel twist. Payton was finally ready to open up like never before, but everyone else was closed and on edge. He has regrets, but he also found another place to focus his competitiveness."
The Glove also explained his side of the story and tried to differentiate between his true character and what manifested on the court.
"The thing that I regret is not having better relationships with a lot of people," Payton explained. "Being the hard-nosed guy that I was, I think I could've come off a little bit better in my relationships with a lot of people, and I didn't. Right now, it's coming back to me because people haven't seen me in six years in the NBA, and now they're understanding what Gary is about in here [pointing to his heart] instead of what you saw out there and how I was acting.
"And I have to tell them now, I was 24, 25, 26 years old being a superstar, making millions of dollars. I didn't understand the game. I talk to my agents now, and they say a lot of people don't want to mess with me because they think I'm arrogant, and they think I'm this type of person. That's a bad thing to have hanging over you. And now, I'm improving more of my relationships, and people are starting to see it."
Ironically, Payton's experience is reminiscent of Michael Jordan's comments at the end of 'The Last Dance'
During their time on the NBA hardwood, Gary Payton and Michael Jordan engaged in some memorable battles. Things then sparked back to life during The Last Dance, when His Airness (indirectly) laughed in the Glove's face before insisting he was untroubled by the Sonic's defense. In an ironic twist, though, that series also revealed a commonality between the two men.
In an emotional moment, at the end of Episode 7, Jordan addressed his reputation and how viewers might not think he was a "nice guy."
"I wanted to win, but I wanted them to win and be a part of that as well," he explained. "Look, I don't have to do this. I'm only doing it because it is who I am. That's how I played the game. That was my mentality. If you don't wanna play that way, don't play that way."
And while that's not to excuse behavior that crosses the line, whether it's MJ punching a teammate or Payton threatening to kill someone's family, hearing the two men speak on their competitive fire does add a slightly different wrinkle to the conversation. In a way, it's almost tragic. These were two men who gave their all to reach the top of the metaphorical mountain and live the dream, who faced some personal consequences in retirement. Could you argue being viewed as a jerk is a small price to pay for fame, fortune, and basketball immortality?
Sure, but you can't be friends with a trophy and a check.