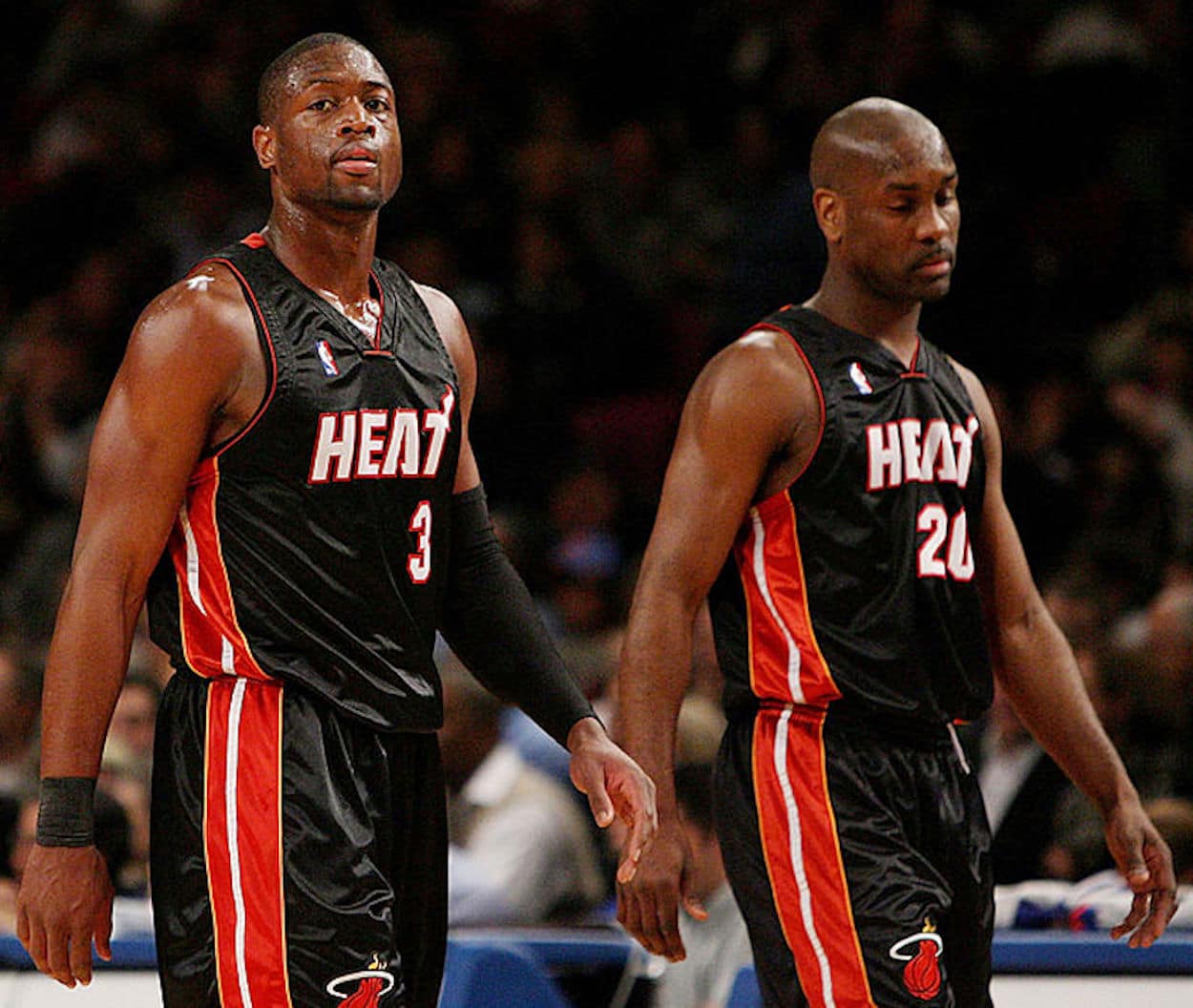 Gary Payton Gave Dwyane Wade the Ultimate Vote of Confidence En Route to the 2006 Title
During his brief time with the Miami Heat, Gary Payton made sure his teammates knew just how special D-Wade was.
In terms of modern guards, it's tough to overstate Dwayne Wade's talent. The Chicago native entered the Association as part of a star-studded 2003 draft and quickly made an impact. He would have claimed the Rookie of the Year title if not for LeBron James and Carmelo Anthony, but, even without that silverware it was clear that the Miami Heat had landed someone special.
During the 2006 NBA postseason, that reality became abundantly clear to Gary Payton, too. In fact, the Glove was so impressed by Wade that he went as far as telling Shaquille O'Neal that they needed to back off and let the young star run the show.
Gary Payton recognized D-Wade's greatness and told the team to back off
While he was yet to win an NBA championship entering the 2005-06 campaign, Gary Payton had still been around the block and encountered plenty of professional talent. Through that lens, his reaction to Dwayne was even more impressive.
"Well, D-Wade, you know, when I first went to Miami, and I heard about this kid, Shaq had called me and said, 'Come on down to Miami, I got a kid here who can play,'" Payton explained in an NBA 75 Stories segment. "Then, when we got in the season, his determination and his ability to score the basketball and do the things he did with the ball was amazing to me."
As things progressed, though, Payton's opinion of his teammate grew even further. At one point, he even told Shaq and the rest of the Heat that it was time to back up and let the Flash take over.
"What was even more amazing to me was when we got to the [2006 NBA Finals] with Dallas, and he took over the whole championship series," Payton continued. "He averaged like 35, he was making incredible shots. And I just went to the whole team, and I said, 'Look here, this young kid has a lot of talent and ability, and I think he's gonna be a good one. We gotta let him take over the game and do it. Shaq, you gotta step back, you know what I'm saying? We gotta get this kid the ball.'"
For his part, Shaq reportedly conveyed a similar message. The big man, who was facing multiple defenders, apparently asked Wade to take some weight off his shoulders.
While it's not exactly clear when the Glove's conversation happened — Payton's recounting makes it sound like it was during the series against Dallas, but logic would suggest that the Heat would know how good Wade was by then — things worked out for the best. Miami won the title, and Wade claimed MVP honors after averaging a shade under 35 points per game.
For basketball fans, getting some perspective on that passing of the torch is pretty cool
When we look at sports from a big-picture perspective, it's easy to view things in eras. Behind the scenes, though, there are plenty of interpersonal relationships that play out. Payton's story provides an interesting perspective on that.
D-Wade, of course, had entered the league in 2003 and had already proven himself to be a capable player by the time Payton moved to Florida. Part of Shaq's pitch, after all, was that the young guard was talented. The club then put together an impressive 2005-06 campaign en route to the NBA Finals.
If we concluded that Payton spoke up during the postseason about getting Wade the ball, it does raise some questions — shouldn't the rest of the team have realized the dynamic by that point? — but also provides a glimpse at a moment in (NBA) time.
Payton had already established himself as one of basketball's great guards and, after winning the championship, played one additional season before retiring. Shaq, even though he hung around a bit longer, was already a living legend at that point. Imagining them realizing that it was Wade's time to shine probably as close to a "passing of the torch" that we're ever going to see outside of an Olympic ceremony.
If you're a Dallas Mavericks fan, reliving that ill-fated series might not be the most pleasant experience. For everyone else, though, it's a cool perspective on how things work from a player's perspective. Wade might have proven himself, but Payton's vote of confidence probably made a big difference in the locker room.
Like Sportscasting on Facebook. Follow us on Twitter @sportscasting19 and subscribe to our YouTube channel.