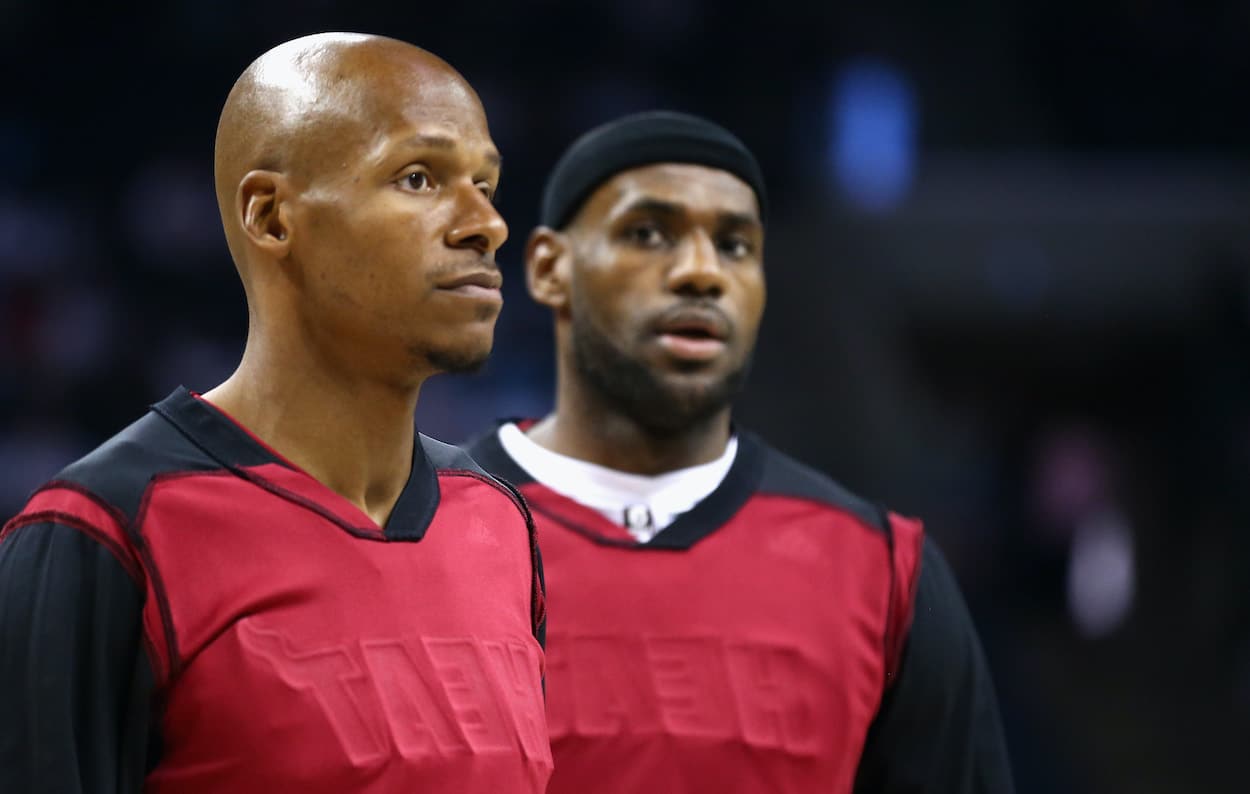 Ray Allen Completely Dismisses LeBron James as the GOAT: 'He Ain't Even Great In All Those Categories'
LeBron James' former Miami Heat teammate Ray Allen made an odd case as to why the superstar isn't the best NBA player of all time.
Hall of Famer Ray Allen won an NBA title playing with LeBron James in 2013. Don't tell Allen his former Miami Heat teammate is the GOAT, though. A group of teenage kids tried to recently, and Allen shut them down, albeit with a strange argument against James' all-time greatness.
Is LeBron James or Michal Jordan the GOAT? 
For the better part of two decades, it was nearly inarguable that Michael Jordan was the greatest NBA player of all time.
However, as LeBron James won championships, compiled incredible numbers, and physically dominated the league for longer than anyone else in history, a segment of NBA fans (many on the younger side) made the case for LeBron as the GOAT.
Here is how the two stack up statistically and awards-wise:
| | | | | | | | | | | | |
| --- | --- | --- | --- | --- | --- | --- | --- | --- | --- | --- | --- |
| PLAYER | GMS | PTS* | ASST* | REB* | STL* | BLK* | ALL-NBA | ALL-DEF | NBA MVP | FINALS MVP | TITLES |
| Michael Jordan | 1,072 | 30.1 | 5.3 | 6.2 | 2.3 | 0.8 | 11 | 9 | 5 | 6 | 6 |
| LeBron James | 1,366 | 27.1 | 7.4 | 7.5 | 1.6 | 0.8 | 18 | 6 | 4 | 4 | 4 |
*per game
There is a statistical case for both players. Jordan was the better scorer and defender, while James' passing and rebounding were superior.
Being the GOAT goes beyond pure numbers, though.
James supporters will talk about his physical dominance at 6-foot-9, 250-plus pounds. His longevity (especially at his size) is also incredible. Heading into year 20 LeBron is 14th all-time in games played. With just 30 appearances next season, he'll move into the top 10.
For Jordan, that extra special something is harder to explain unless you lived through his era. Although, many younger fans learned about it in The Last Dance. Call it competitiveness, will to win, or killer instinct, but whatever it is, Jordan had it more than anyone else in basketball history.
James needed to team-hop and team up with other stars to win his four championships. Jordan won his with one team and one true superstar teammate (apologies to Horace Grant and Dennis Rodman).  
This makes Jordan the GOAT over James for the majority of NBA fans, and while NBA legend Ray Allen agrees, it's not for any of the reasons above.
Ray Allen doesn't think LeBron James is the GOAT
Ray Allen started his NBA career in 1996, so he's played against some of the best players in history, like Michael Jordan, Kobe Bryant, Shaquille O'Neal, and Tim Duncan.
Allen knows what NBA greatness looks like, but, apparently, he doesn't think his former championship-winning teammate, LeBron James, measures up. Oddly, though, it's not because of James' scoring or passing or even his championship pedigree that Allen doesn't support LeBron as the GOAT.
A TikTok video from a user named tyriekweeks recently went viral that shows Allen schooling some (what looks like) high school-aged basketball players on why James isn't the greatest of all time. After one person in the video says, "He can score and pass it," Allen responds:
Is he a great free-throw shooter? Is he a great 3-point shooter? Is he a great dribbler? So, you're saying the GOAT, but he ain't even great in all those categories. You see what I mean?

Ray Allen on LeBron James
It was a strange argument for Allen to make as to why LeBron isn't the GOAT.
Sure, free throws and 3-point range, and dribbling are important, but these aren't the biggest keys to winning championships. Plus, while James might not be the best-ever in these three categories, he absolutely is the best 6-foot-9, 250-plus-pound player in these areas.
Allen mentioned three things he is among the best at to discredit his former teammate's GOAT case. This shouldn't come as a total surprise, though, as Allen doesn't seem to be the most likable former teammate.
Allen has a history of rubbing former teammates the wrong way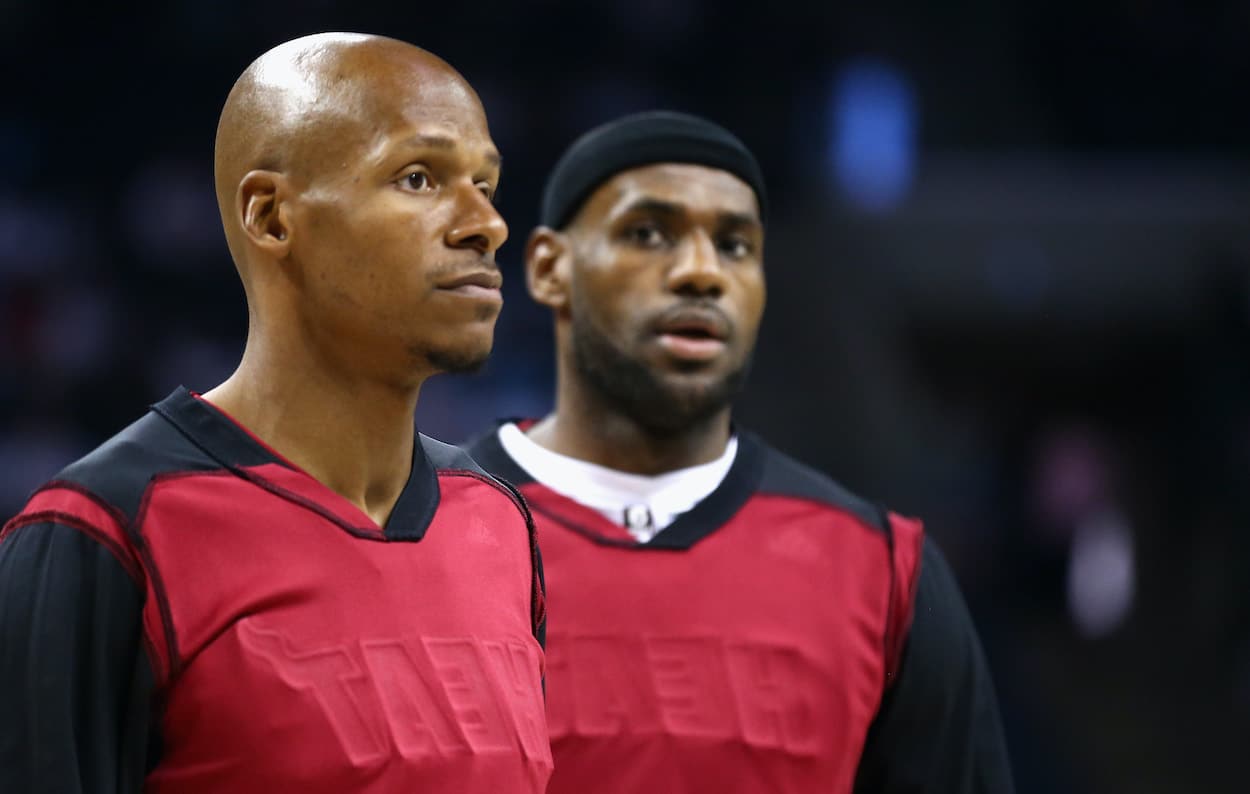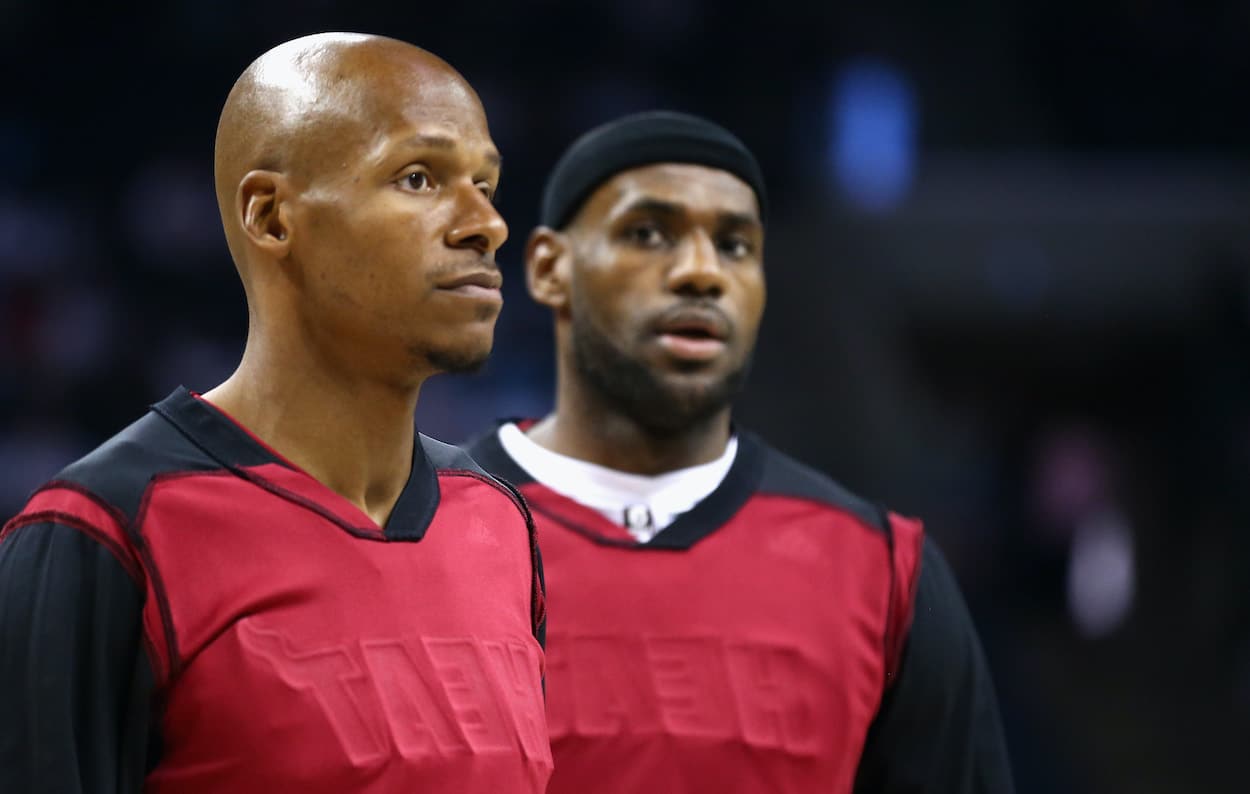 Former UConn standout Ray Allen played 18 NBA seasons. He was with the Milwaukee Bucks for six seasons and made the playoffs once. With the Seattle Supersonics for the next five campaigns, he again made the playoffs once.
A move to the Boston Celtics to team with Paul Pierce and Kevin Garnett followed, and the trio won a championship in 2008. He then jumped to the LeBron James/Dwyane Wade/Chris Bosh Miami Heat and won another Larry O'Brien in 2013.
His tenure in Boston didn't end well, though.
In 2012, Allen balked at the fact that the Celtics offered him $12 million to stay with the team but possibly see a reduced role in favor of Rajon Rondo. Instead, he took $6.3 million to sign with the Celtics' Eastern Conference rival Miami Heat, seemingly out of spite.
Garnett, Pierce, and especially Rondo publically made no secret of their distaste for this move. According to a 2019 Halley O'Shaughessy piece for The Ringer, Pierce, and Allen have since made up, but Rondo and Garnett are still apparently at odds with the sharpshooter.
LeBron James might now be the newest member of the Ray Allen anti-fan club.
All stats courtesy of Basketball Reference