Michael Jordan Once Taught a Young Gary Payton a Lesson About Trash Talk: 'Welcome to the NBA, Little Fella'
During his time on the NBA hardwood, Michael Jordan proved to be a fearless competitor, capable of taking anything personally and using it as motivation. While popular culture is now filled with stories about His Airness' revenge-based exploits, that didn't stop some players from going after the Chicago Bulls star. Take, for example, Gary Payton.
As a rookie, the Glove decided to give MJ a taste of his own medicine and unleashed a bit of trash talk during a preseason game. Jordan, unsurprisingly, didn't forget those remarks and eventually put Payton in his place.
Both Michael Jordan and Gary Payton know a thing or two about trash talk
Looking at the big picture, both Jordan and Payton earned a place in basketball history with their on-court performances. The two men, however, were also masters in the art of trash-talking.
As mentioned above, MJ's verbal exploits have become a part of NBA lore. The Chicago Bulls star needed to win and was willing to do whatever it took to get an opponent off their game. No one — including his own teammates and Bill Clinton — was safe from Joradan's wrath.
While Payton's trash talk may be a little less famous, the guard also had a knack for getting under other's skin. On one occasion, for example, he called an opposing coach a "smurf." On another, he threatened to kill his own teammate's family.
The Glove, it seems, was also afraid to go after anyone. During his rookie year, that anyone included the big man on the NBA campus: His Airness.
Getting a lesson in trash talk from Michael Jordan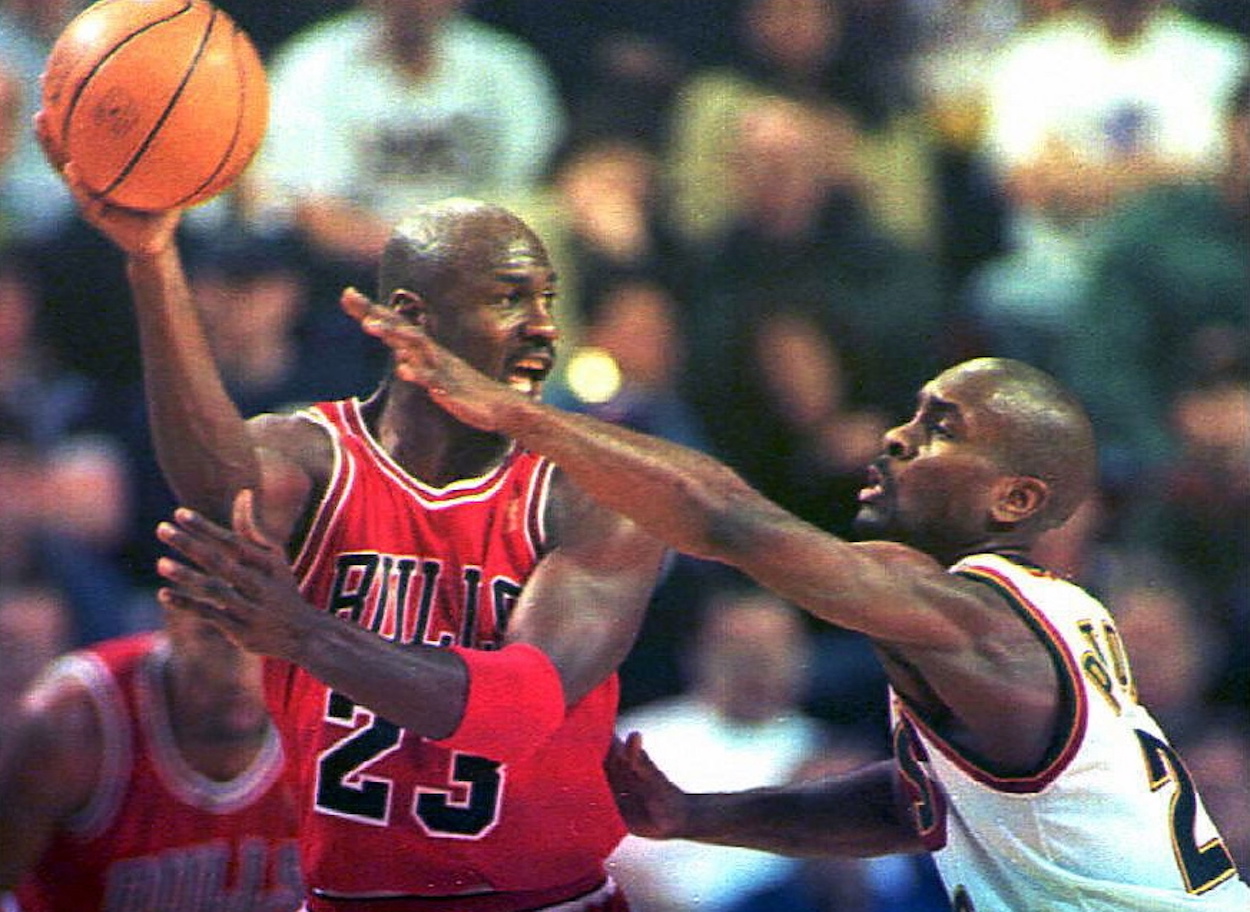 If movies and TV shows are to be believed, the way to make an impact in prison is to pick a fight with the toughest guy on the yard. During his rookie year, Payton decided to do that, albeit from an NBA perspective.
As explained in a Players' Tribune story quoted by For The Win, Payton played well during a preseason game against the Bulls. With MJ sitting on the sidelines, the Glove ran by the Chicago bench and uttered a few choice words. Jordan, unsurprisingly, took notice.
When the two teams met during the regular season, Jordan refused to shake Payton's hand and told the Bulls that the rookie was his for the night. While the Glove found himself in foul trouble and didn't play much, His Airness still lived up to his word.
In addition to dropping 33 points, MJ passed by the Sonics bench and returned Payton's trash talk.
"Looks right at me. 'That (expletive) you talking in preseason," the guard recalled. "The wild thing is, MJ isn't even mad or nothing. He's chewing his (expletive) gum. 'This is the real (expletive) right here. Welcome to the NBA, little fella.'"
That wasn't the last time Gary Payton tangled with His Airness
For some players, being welcomed to the NBA by Michael Jordan would have prevented them from ever stepping to His Airness ever again. Payton, however, didn't back down.
"A lot of people backed down to Mike. I didn't," Payton said of the 1996 NBA Finals during The Last Dance. "I made it a point, I said, tire him out. Tire the f*ck out of him. You just gotta tire him out. And I kept hitting him and banging him and hitting him and banging him, it took a toll on Mike."
Jordan, however, wasn't impressed. When he saw that of Payton, he famously burst out laughing.
Even in retirement, Jordan (literally) got the last laugh agasint the Glove.