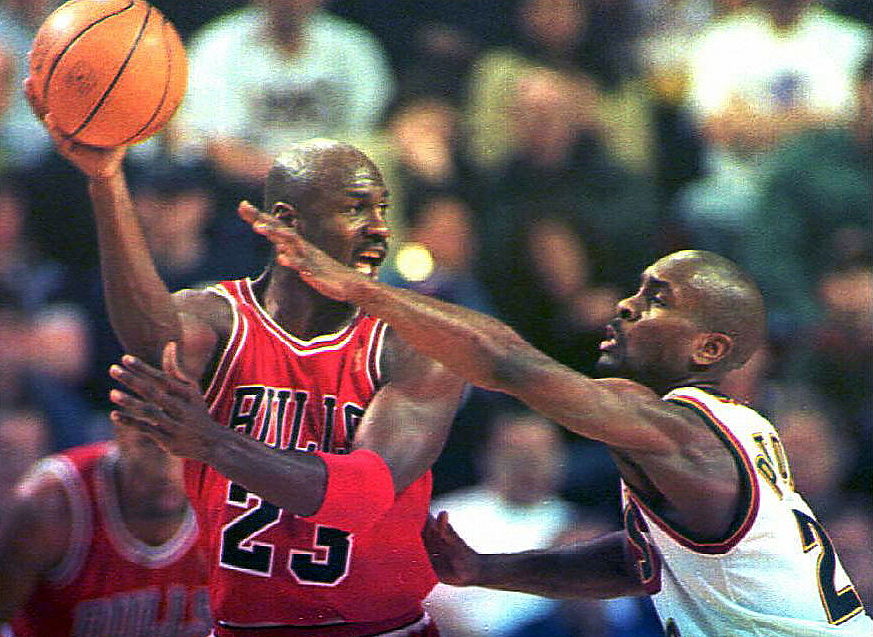 Gary Payton Actually Earned $10 Million More Than Michael Jordan in the NBA
Michael Jordan might have beaten Gary Payton and the SuperSonics in the 1996 NBA Finals, but The Glove earned more money than His Airness during their respective careers.
During his playing career, Michael Jordan developed plenty of rivals. He squared off with Isiah Thomas and his Detroit Pistons. He battled Larry Bird and outdueled Patrick Ewing. And, while it might not reach the magnitude of the others, he squared off against Gary Payton in the 1996 NBA Finals.
While Jordan beat Payton on the court and dunked on him during The Last Dance, the Seattle SuperSonics guard wasn't completely overshadowed. Believe it or not, The Glove actually earned more money than Michael Jordan during their respective NBA careers.
Michael Jordan and Gary Payton's famous battle in the 1994 Finals
During Michael Jordan's reign atop the NBA, plenty of players tried to stop him from scoring. Gary Payton didn't succeed, but he did come closer to most.
When the Chicago Bulls and the Seattle SuperSonics met in the 1996 NBA Finals, no one expected much of a series. Chicago had only lost 10 games during the entire regular season; after cruising to the championship round, they jumped out to a 3-0 lead.
At that point, George Karl let Gary Payton guard Michael Jordan. Payton, nicknamed The Glove for his tenacious defense, stepped up to the plate; using a mix of physicality and trash talk, he seemed to slow His Airness down. While the Bulls eventually won out in the end, Seattle managed to push the series to six games. Jordan, for what it's worth, dropped off statistically once he had to contend with Payton.
The Last Dance, however, may have brought that battle back to life. After watching a clip of Payton explaining how his defense changed the series, Jordan literally burst out laughing. "I had no problem with The Glove," His Airness simply said.
Believe it or not, Gary Payton earned more than His Airness
During the 1996 NBA Finals, Michael Jordan and his Chicago Bulls overpowered Gary Payton and the Sonics. The Glove, however, eventually came out on top in one metric: total NBA salary.
In total, Payton played 17 professional seasons; he spent most of those in Seattle, before bouncing between the Bucks, Celtics, Lakers, and Heat. He took home just over $104 million in salary during that time.
Jordan, on the other hand, earned a little less than $94 million during his 16 season NBA career. Most of that money, however, came during his last two years with the Bulls; His Airness earned over $60 million from those consecutive one-year contracts.
While Payton does come out on top, it is worth noting a few factors that contributed to his financial victory. First, The Glove entered the NBA later, which increased his earning power. He was making more than a million per season when he came into the league; His Airness didn't make seven figures until his fifth professional season. Jordan also retired at the peak of his earning power. Had he played one more $30 million campaign in the late 1990s, that would have pushed him ahead of Payton's all-time earnings.
As always, Michael Jordan got the last laugh
While Michael Jordan isn't completely unbeatable, he generally gets the last laugh. His Airness did just that against Gary Payton.
The Glove might have taken home more salary than His Airness, but few men can compete with Jordan's sheer financial might. Today, Payton's net worth is estimated at $50 million; while that's nothing to sneeze at, it pales in comparison to $2.1 billion fortune. Unsurprisingly, being the most famous basketball player on the planet—and the owner of the Charlotte Hornets—has its advantages.
Gary Payton had a great career, earned plenty of money, and rightfully has a place in the Basketball Hall of Fame. No one, however, can compete with the one and only Michael Jordan.