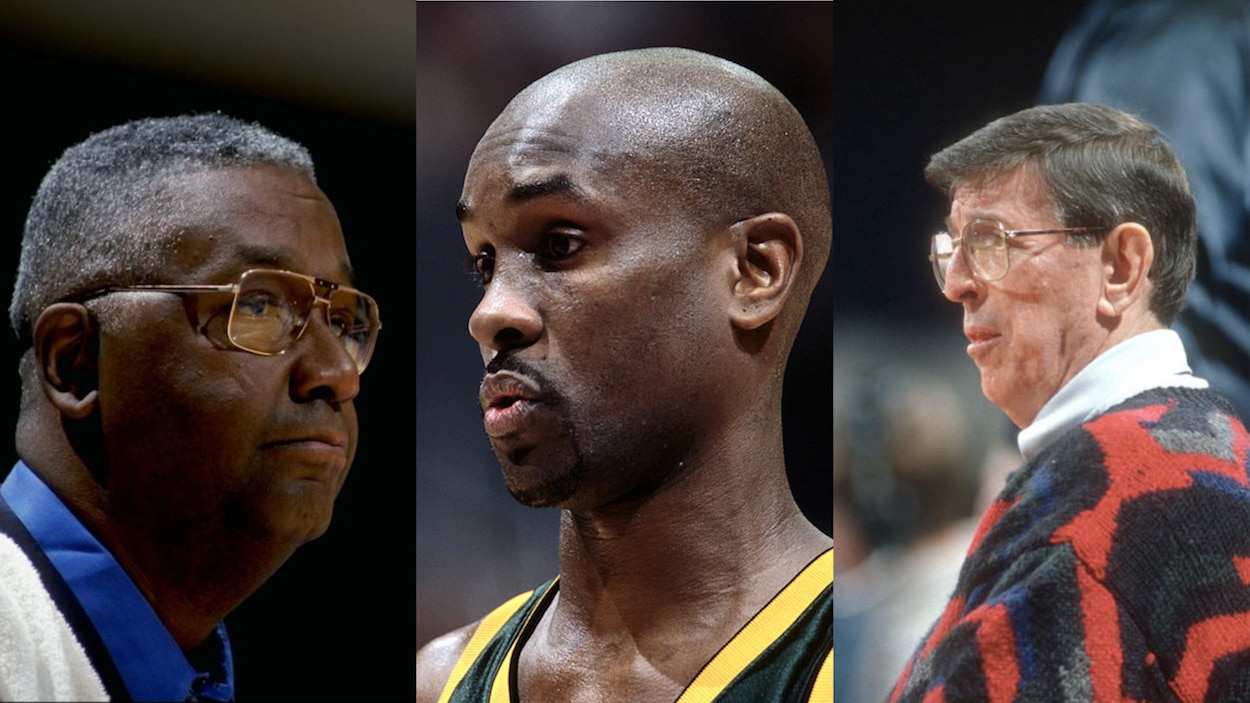 Gary Payton Was Snubbed By Both Lou Carnesecca and John Thompson Before Turning Pro
Although Gary Payton eventually grew into a legendary NBA guard, he was still passed over by two of college basketball's biggest names.
NBA players, on the whole, are a confident bunch. You can't make it to the pinnacle of any job, let alone one as competitive as professional sports, without having supreme confidence in your abilities. That doesn't mean that everyone's road to the top is completely smooth, though. Just ask Gary Payton about that.
While the Glove ultimately became a successful pro, he was snubbed by two big-time coaches before he ever reached the Association. And Payton, who was a fiery competitor, wasn't going to forget about Lou Carnesecca and John Thompson.
Gary Payton could have played at St. John's and gone to the 1988 Olympics if not for Carnesecca and Thompson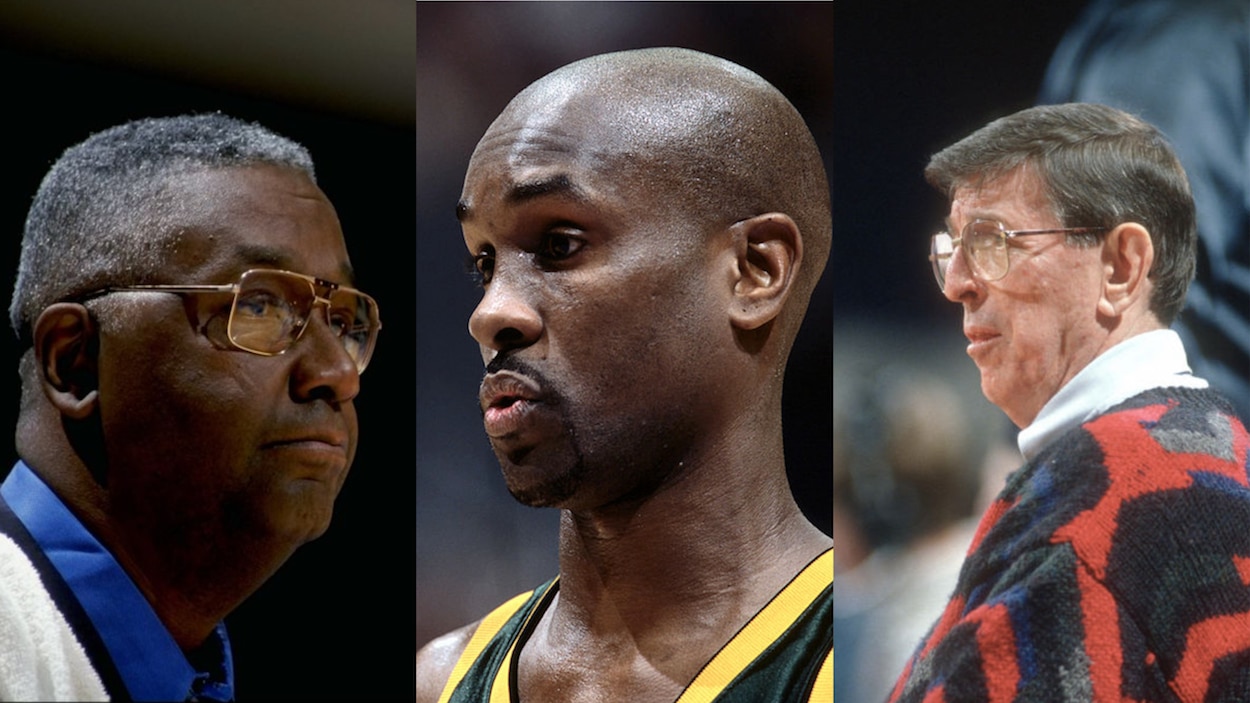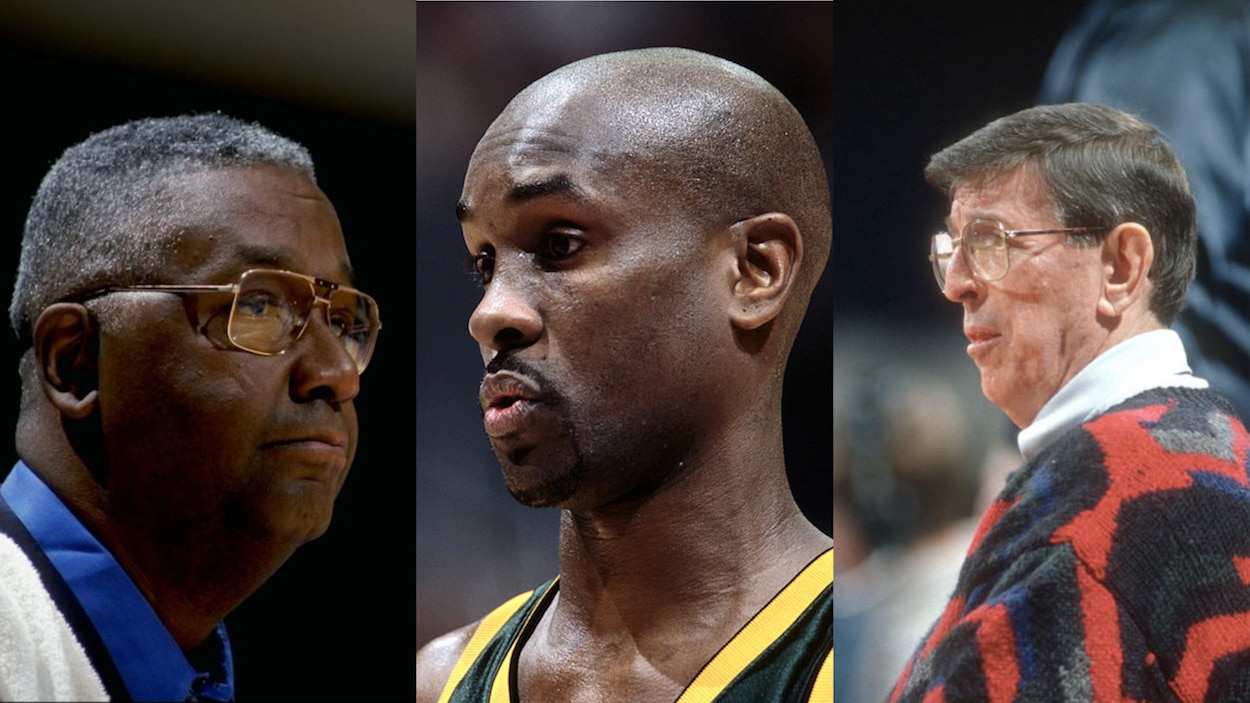 If you're a college basketball fan, then you'll remember Lou Carnesecca and John Thompson as two of the best coaches ever to prowl the sidelines. In the late 1980s, though, they both made the same mistake: overlooking Gary Payton.
First comes Carnesecca. Payton wanted to attend St. John's, and the coach was apparently keen on bringing him to campus.
"Payton had dreamed of attending St. John's, where he could bask in the national limelight," Chris Baker wrote in a 1989 LA Times story. "He even made an oral commitment to St. John's after visiting New York, where he toured Manhattan in a limousine. Lou Carnesecca, coach at St. John's, closed the deal with Payton's parents."
Ultimately, though, things changed. The coach landed another guard, and Payton wasn't needed.
"It kind of shocked me that they had set me up like that," the Glove said. "They were running a game." Carnesecca, for his part, later admitted that he made a mistake passing on Payton.
Then, during his time at Oregon State, the guard had a less-than-ideal encounter with John Thompson, who was coaching the 1988 United States Olympic team. As the story goes, Payton was invited to try out but failed the physical with an irregular heartbeat. Further testing didn't show any problems, but, in the words of Baker, "Payton thought he'd be able to return, but Coach John Thompson wouldn't allow it."
Allow the Oakland native to explain.
"That was the weakest excuse for me to go home," he explained in the LA Times piece. "I had a chest cold and told our trainer. I didn't think it was serious, but they took it in a big way. They put me through all sorts of tests, like the treadmill. And I had a tingling sensation when I got off."
Those setbacks didn't slow Gary Payton down long-term
When you consider a young player trying to make their way in the world, a single setback, let alone two, could be crushing. Gary Payton, however, wasn't an ordinary point guard.
As mentioned above, the Glove enrolled at Oregon State and made a name for himself. He averaged 12.5 points and 7.6 assists per outing as a freshman and slightly improved as a sophomore. After being snubbed for the Olympic team, however, he took his game to the next level.
"I don't know that it hurt us that he didn't make the team because he still had a lot of proving to do this season," Beavers coach Ralph Miller said at the time.
And Payton certainly did prove himself. During the 1988-89 campaign, he posted an eye-popping 20.1 points and 8.1 assists per game. That scoring average climbed to 25.7 points as a senior, which set Payton up to become the second overall pick of the 1990 NBA draft.
Once in the pros, things only kept rolling. While it took the Glove most of his career to win a championship, he proved to be a standout individual performer each step of the way. He could score, pass, and, most notably, defend. Payton could cross the line, but he was the sort of winner who could push a team beyond its supposed ceiling.
In basketball lore, everyone's heard the story about Michael Jordan failing to make his high school's varsity team and how that (theoretically) set him on the path to success. Who knows, perhaps we wouldn't have seen the same fiery Gary Payton without his two snubs.