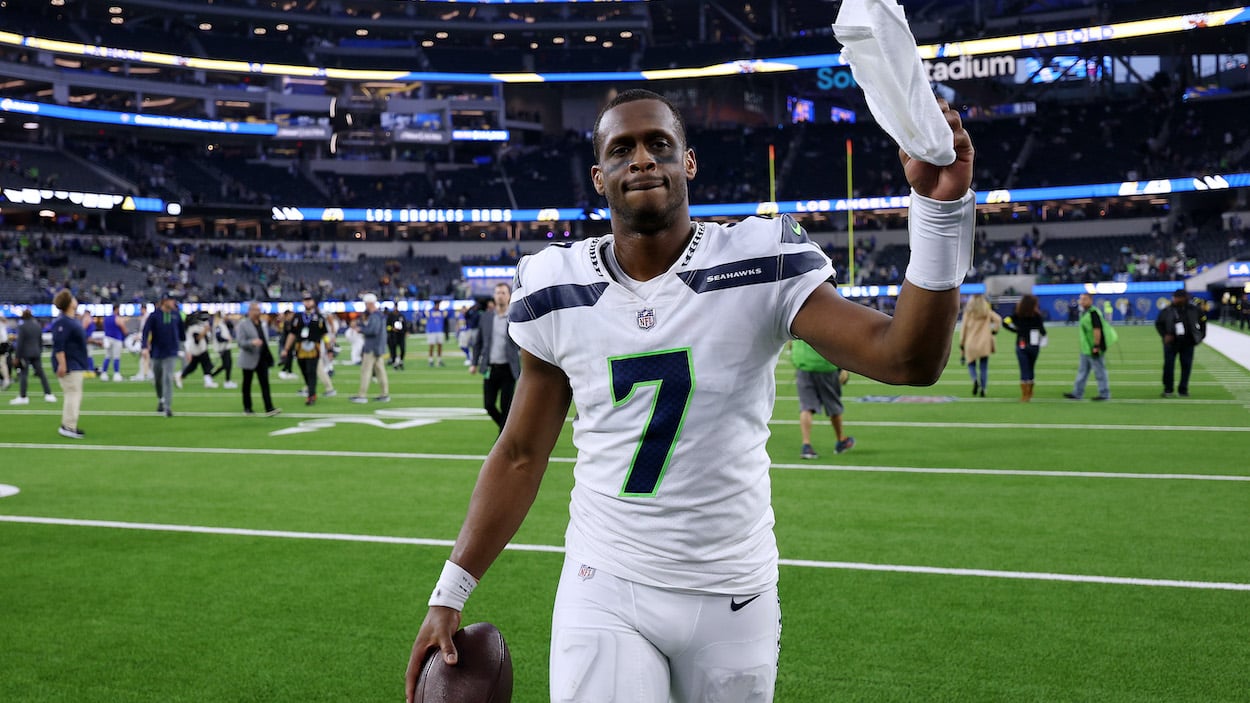 Geno Smith Contract: Does the Upcoming FA Deserve Top-10 QB Money
After an incredible season with the Seahawks, the next Geno Smith contract should more than double his entire NFL career earnings.
Admit it. When the Seattle Seahawks traded Russell Wilson to the Denver Broncos and then announced they were happy with Geno Smith and Drew Lock as their quarterbacks, you laughed. Or at least smirked or chuckled or shook your head in disgust. How could you not have? Geno Smith had a 13-21 record as a starter coming into this year, and he is the better of the two Seahawks QBs. Despite this fact, Smith has been a revelation this season, and it couldn't have come at a better time for the 32-year-old. He is heading into free agency this offseason and just made himself a ton of money that will make the Geno Smith career earnings go through the roof. But should the next Geno Smith contract be on par with the top-10 highest-paid QBs in the NFL? Let's discuss.
The Seattle Seahawks QB Is having a breakout 2022 season
Ten years and nine seasons into his career, Geno Smith finally became the quarterback the New York Jets hoped he would be when they picked him in the second round of the 2013 NFL Draft out of West Virginia.
Prior to this season, Smith had thrown for 6,917 yards in 45 career appearances with 34 touchdowns, 37 interceptions, and a 58.8% completion rate. That led to the 38.2% career winning percentage as a starter.
This season with the Seahawks, the team is 7-5 with Smith under center, and the QB is leading the league with a 72.7% completion rate and has 3,169 yards with 22 TDs and just six INTs. It is truly a remarkable turnaround/breakout season for Smith in his early 30s.
What makes this even more fascinating is that Smith is in his third one-year deal with the Seahawks, which is paying him $3.5 million this season. While that is a nice number to add to the Geno Smith career earnings, the next Geno Smith contract could be game-changing.
Could the next Geno Smith contract be for top-10 QB money?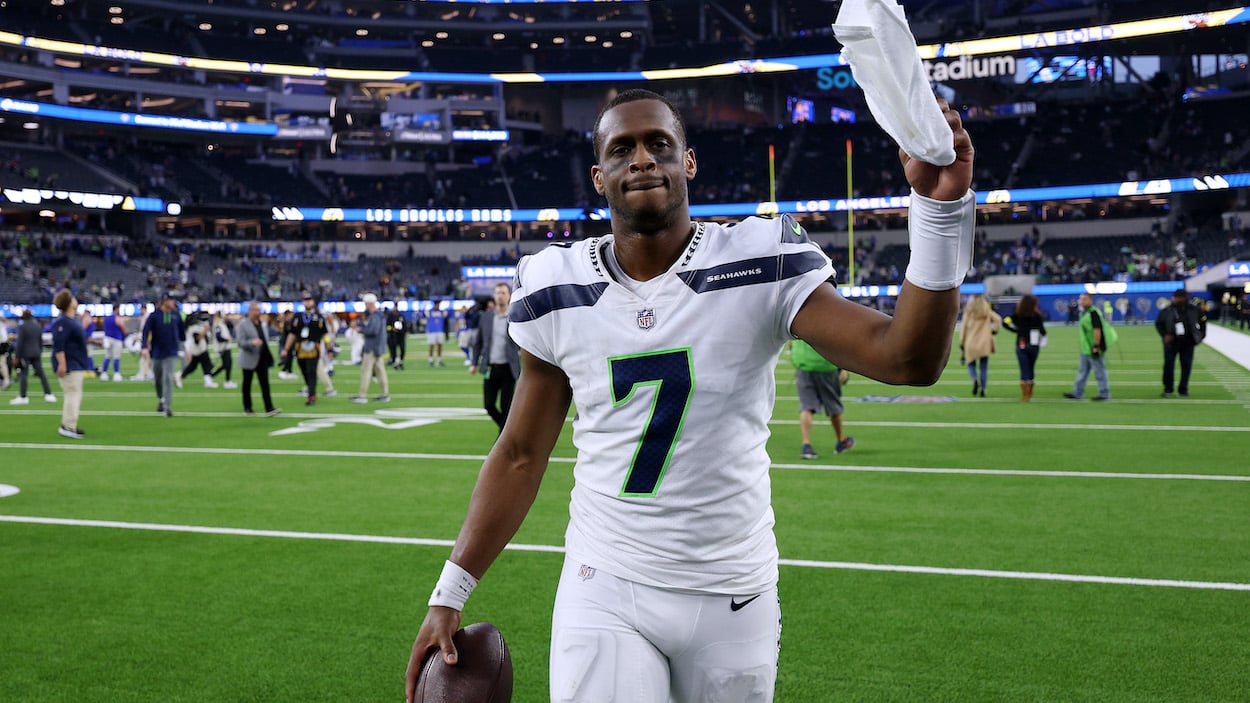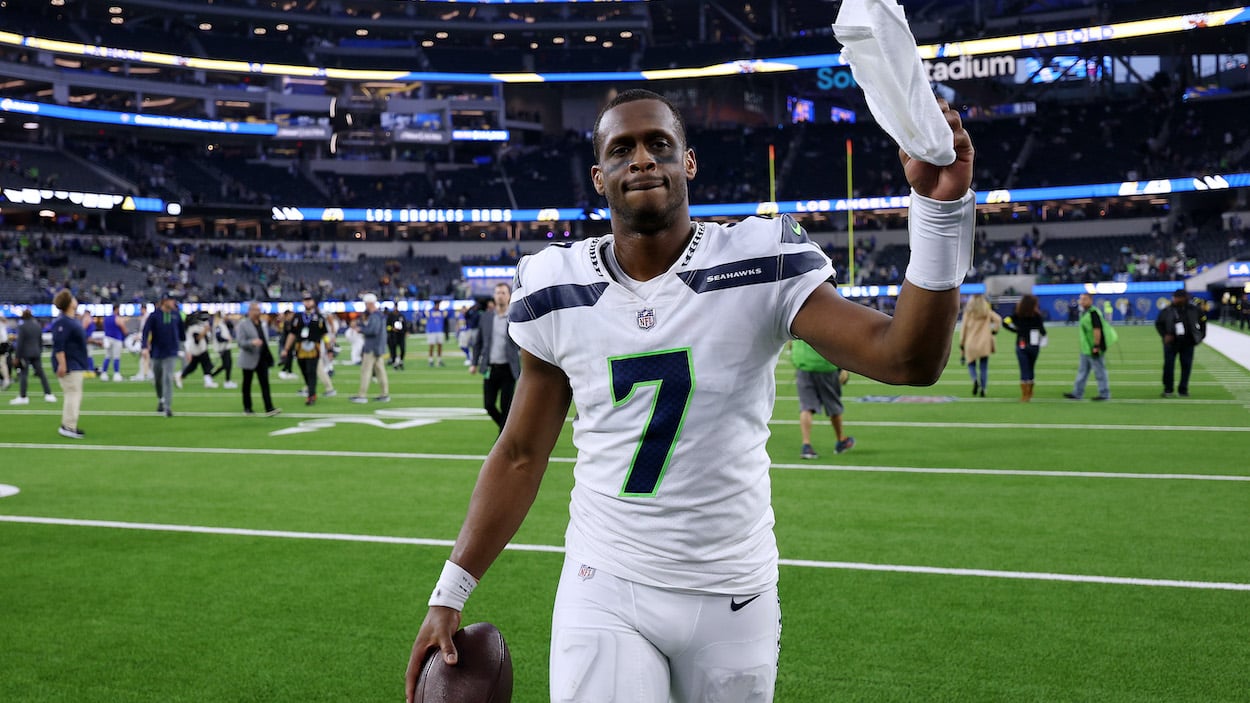 What is a playoff-caliber quarterback worth in the NFL?
Well, judging by the current top 10 QBs (by the average annual value of their contracts) who make $35-$50 million a season, making the playoffs isn't one of the biggest standards.
Of the top 10, four will definitely make the 2022 NFL playoffs (No. 5 Patrick Mahomes, No. 6 Josh Allen, No. 8 Dak Prescott, and No. 10 Kirk Cousins). No. 7 Derek Carr is on the bubble, No. 8 Matthew Stafford is definitely out, and Nos. 1-4 (Aaron Rodgers, Russell Wilson, Kyler Murray, and Deshaun Watson) are all either out or long shots for a postseason berth at this point.
These players got to be top-10-paid QBs because of career accomplishments (Rodgers, Wilson Stafford), their age and talent (Mahomes, Allen, Murray, Watson, Prescott), or a combination of longevity and desperation from their organizations (Carr, Cousins).
The next Geno Smith contract could fall into this last category, but let's assume the Seahawks are a little smarter than that.
Smith's offseason deal will likely fall into the 11-15 range. Below that, you get the recent high first-round picks, and below that are your borderline starters and high-end backups (Jameis Winston, Marcus Mariota, Mitchell Trubisky, Teddy Bridgewater). The 11-17 range looks like this:
11. Jared Goff, S33.4M
12. Carson Wentz $32M
13. Matt Ryan, $30M
14. Ryan Tannehill, $29.5M
15. Tom Brady $15M
The next Geno Smith contract should be at least 15th or higher. After this season, he deserves more than Winston and Mariota, and after $332.9 million in his career, Brady's current contract has no bearing on anything.
This next deal will likely be a shorter-term one for top-15 quarterback money for Smith. A fair deal for the team and the player after last season and looking at the next few years in the Pacific Northwest is a Geno Smith contract for three years with an AAV of $20-$25 million with an out for the team after two seasons.
Geno Smith career earnings
A Geno Smith contract of $20-$25 million is well-deserved after the season that he had, and each year he makes that, it will surpass his career earnings through nine seasons as an NFL signal–caller.
Through his first nine seasons, Smith played for the New York Jets, New York Giants, Los Angeles Chargers, and Seattle Seahawks. The Geno Smith career earnings for those nine seasons combined are $13.9 million.
Smith initially signed a four-year $5.01 million contract with the Jets as a second-round pick. After the team decided not to re-sign him when the four years were up, the QB walked across the hall at MetLife Stadium and signed a one-year, $1.2 million deal with the Giants.
Smith's following five contracts were all one-year pacts. In 2018, he got $1 million from the Chargers, and in 2019, he only earned $25,000 of his $895,000 deal with the Seahawks after they cut him. Pete Carroll brought Smith back in 2020, and the team gave the QB $1.18M, $1.2M, and $3.5M for the next three seasons.
That's how you get to the Geno Smith career earnings of $13.9 million and why the next Geno Smith contract will blow that figure out of the water in 2023 alone.