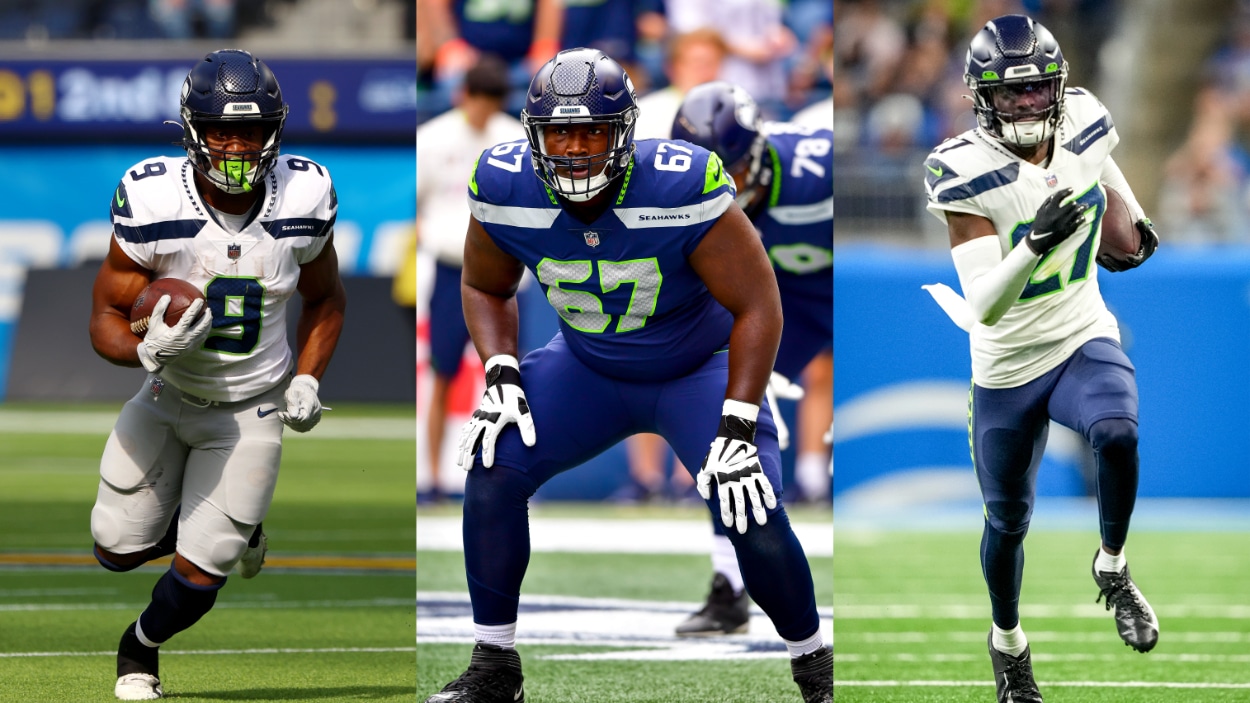 Seahawks May Have an All-Time Great Draft Class on Its Hands
Seattle is 4-3 and in first place after seven weeks and a big reason for that is the immediate success of the 2022 Seahawks draft class.
The 2022 NFL season is just eight weeks old, but we are learning more and more about certain teams as the season chugs along. The Bills and Chiefs are undoubtedly good, Tom Brady and Aaron Rodgers might be done, and the Jets and Giants could be for real. Another team we're learning about is the Seattle Seahawks. Through Week 7, Geno Smith is one of the most efficient quarterbacks in the league, and it looks like the team got the better end of the Russell Wilson trade. One more thing we're learning about the 2022 Seahawks draft class has a chance to be one of the best in the last two decades.
The Seattle Seahawks draft class of 2022 looks incredible so far
The 2022 Seattle Seahawks draft class was good from the jump. With nine picks in seven rounds, the franchise came away as the No. 5-ranked draft in Sportscasting's final 2022 team grade point averages with an 87.08 GPA. The class looked like this:
Rd.1, No. 9 Overall: Charles Cross, OT, Mississippi State
Rd. 2, No. 40 Overall: Boye Mafe, LB, Minnesota
Rd. 2, No. 41 Overall: Kenneth Walker III, RB, Michigan State
Rd. 3, No. 72 Overall: Abraham Lucas, OT, Washington State
Rd. 4, No. 109 Overall: Coby Bryant, CB, Cincinnati
Rd. 5, No. 153 Overall: Tariq Woolen, CB, Texas-San Antonio
Rd. 5, No. 158 Overall: Tyreke Smith, DE, Ohio State
Rd. 7, No. 229 Overall: Bo Melton, WR, Rutgers
Rd. 7, No. 233 Overall: Dareke Young, WR, Lenoir-Rhyne
As of Week 7, this class has produced 2,111 snaps (h/t NFL's Andrew Grover on Twitter), which is the most in the league to this point.
First-round pick Charles Cross and third-round pick Abraham Lucas have started every game at either tackle spot, and cornerbacks Coby Bryant and Tariq Woolen have played a combined 779 snaps this season. And Woolen had our interception in his last five games.
Also, with injuries in the Seahawks backfield, Kenneth Walker has taken the NFL by storm, leading the league in total rushing yards the last three weeks with 357 yards. Second-round edge-rusher Boye Mafe has contributed with 23 tackles and a sack on 39% of the team's offensive snaps, and wide receiver Dareke Young hasn't made a catch yet but has been on the field for 50 snaps between offense and special teams.
These rookies are a big reason the Seahawks are 4-2 and in first place in the NFC West.
And the even better news is that despite their lofty spot in the standings, Seattle has the No. 5 pick right now in next year's draft vis Denver and the Russell Wilson trade.
The best NFL draft classes of the last 10 years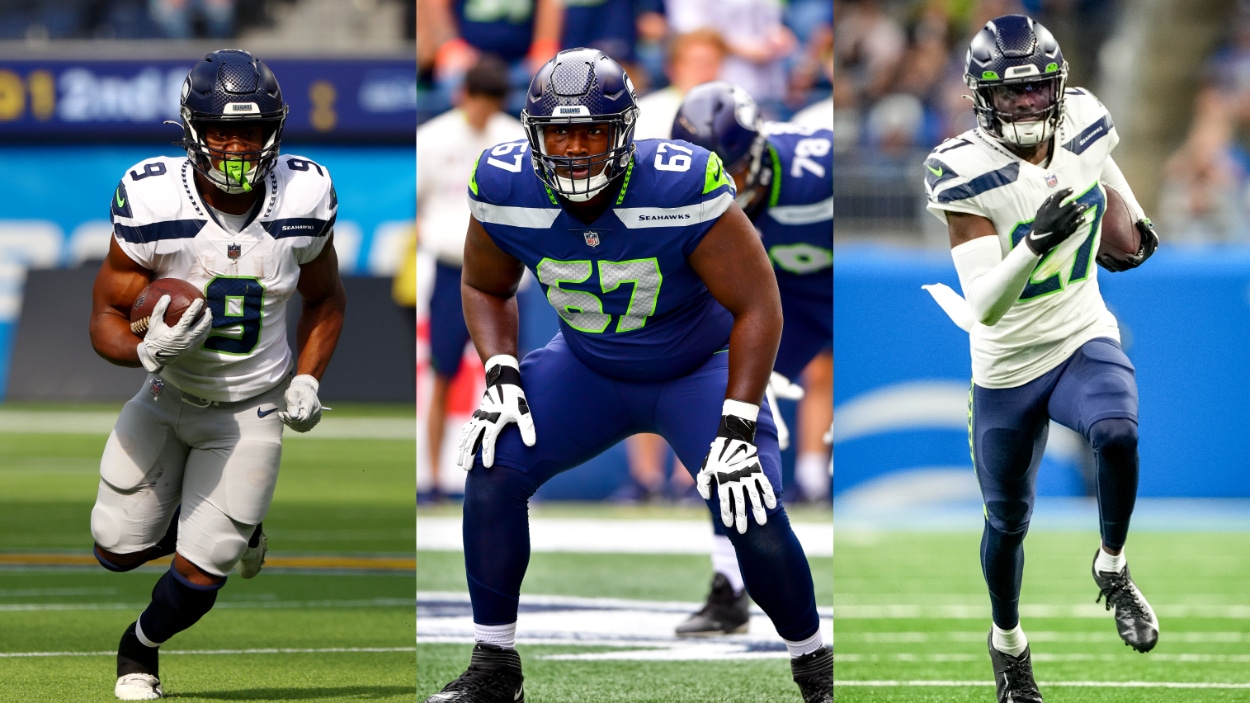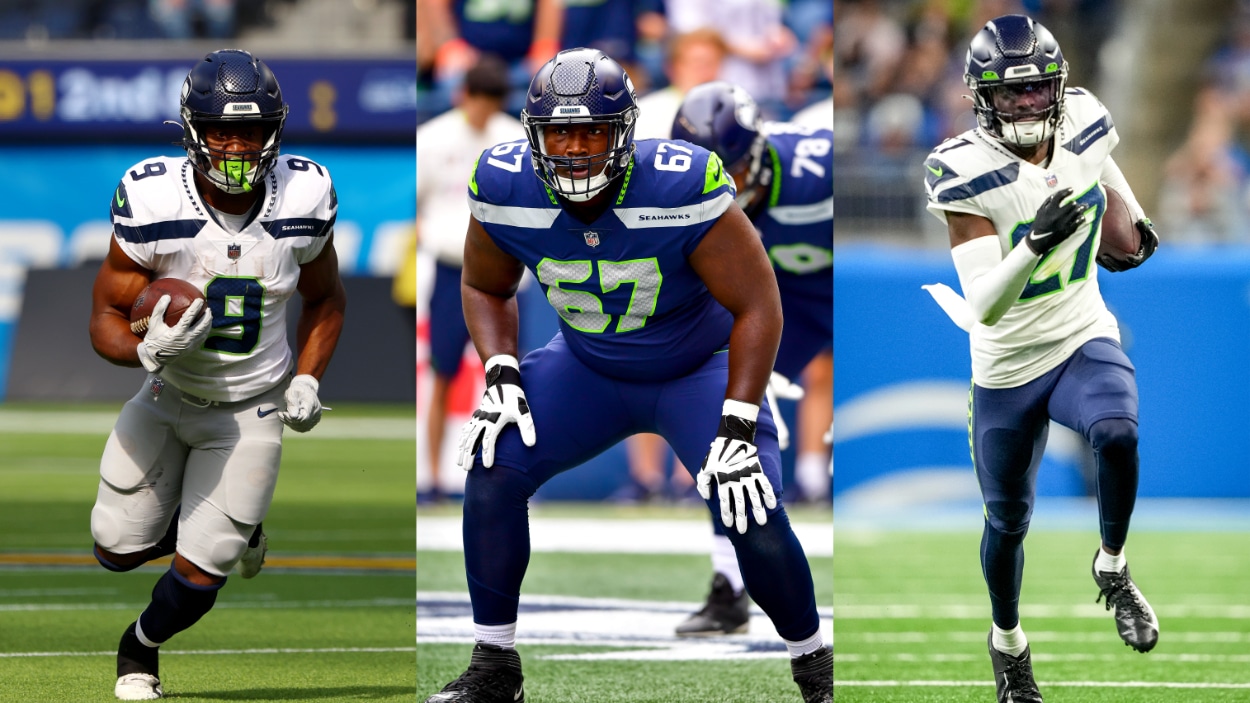 We have a ways to go before we close the book on the 2022 Seattle Seahawks draft class. Even if the early returns are promising, plenty can happen between now and when the group gets added to the list of best draft classes of the 10 years.  
The last decade has brought some incredible talent into the NFL. Sometimes teams get one All-Pro player, and that can make an entries draft. However, every once in a while, a team absolutely knocks it out of the park in a single draft.
A perfect example of this is the 2020 Cincinnati Bengals draft which produced the bones of last year's Super Bowl team. On that year's selection weekend, the Bengals picked up QB Joe Burrow (No. 1), WR Tee Higgins (No 32), LB Logan Wilson, and OL Hakeem Adeniji (No. 180).
In 2018, two teams got multiple starters in the same year. If the Cleveland Browns didn't whiff on the quarterback at No. 1 overall, they might have had the best all-around draft that year with Baker Mayfield (No. 1), CB Denzel Ward (No. 4), C Austin Corbett ( No. 33), RB Nick Chubb (No. 35), and LB Genard Avery (No. 150).
Instead, the top 2018 draft class went to the Baltimore Ravens. John Harbaugh and company brought in TE Hayden Hurst (No. 25), QB Lamar Jackson (No. 32), OL Orlando Brown Jr. (No. 83), TE Mark Andrews (No 86), CB Anthony Averett (No. 118), S DeShon Elliott (No. 190), and C Bradley Bozeman (No. 215).
The only other class that could be close to that Ravens' group is the 2016 Dallas Cowboys draft class. That year featured RB Ezekiel Elliott (No 4), LB Jaylon Smith (No. 34), DT Maliek Collins (No. 67), QB Dak Prescott (No. 135, and CB Anthony Brown (No. 189).
If the 2022 Seahawks draft class gets anywhere close to the cohorts listed above, the franchise will be in great hands for a long time to come.
Have thoughts on this topic? Keep the conversation rolling in our comments section below.