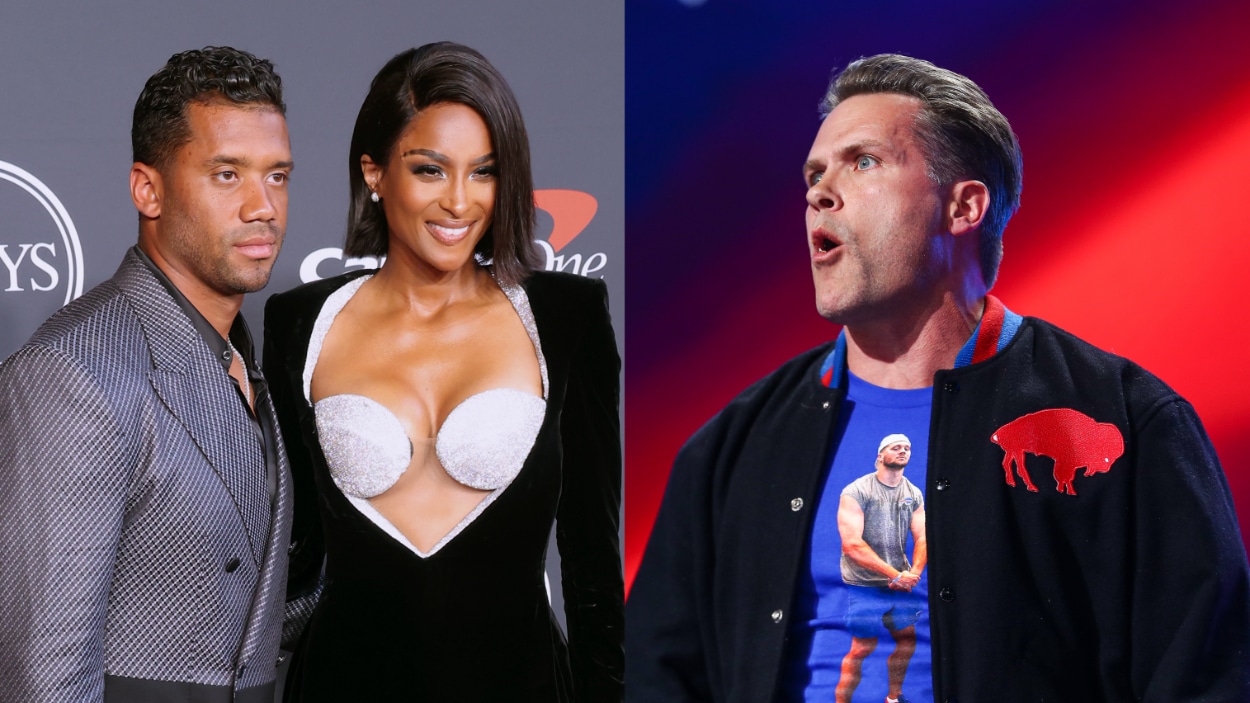 'Russell Wilson is a Poser,' According to GMFB Host Kyle Brandt
NFL Network's Kyle Brandt has a rough assessment of Russell Wilson and his personality after a bad red carpet experience.
Since Peyton Manning retired in 2016, 11 quarterbacks have taken snaps for the Denver Broncos. This list includes mostly uninspiring names like Trevor Siemian, Paxton Lynch, Brock Osweiler, Case Keenum, Joe Flacco, Drew Lock, Brandon Allen, Jeff Driskel, Brett Rypien, Teddy Bridgewater, and for one game in 2020 due to COVID-19 complications, wide receiver, and former college QB Kendall Hinton. Trading for nine-time Pro Bowl signal-caller Russell Wilson was supposed to fix the position for the Broncos. Thus far, it hasn't, as the Broncos went 5-12 in Wilson's first season. Good Morning Football host Kyle Brandt has a simple (but damning) explanation why: He's "a poser."
Kyle Brandt isn't a fan of Russell Wilson
Despite all the pos-Russell Wilson trade excitement, the Broncos had a terrible 2023 season, going 5-12 and finishing dead last in scoring offense. Some games were so bad, they gave his former teammate Richard Sherman "flashbacks" to Super Bowl 44.
Making matters worse for Wilson, his teammates didn't seem to like or respect him all that much. After a 12-9 Week 5 overtime loss to the Indianapolis Colts, WR K.J. Hamler seemed disgusted with his QB on the final play. The receiver flashed open on Wilson's right before the interception, and the QB didn't see him.
The fourth-year pass-catcher slammed his helmet to the ground, screamed, and starred daggers at his veteran QB.
On the morning following that Week 5 Thursday Night Football game, Good Morning Football host Kyle Brandt had a harsh assessment of Wilson as a player and as a person.
"I don't know when Russell Wilson turned into Mitch Trubisky," Brandt joked. "But I wish he would turn into Geno Smith so [the Broncos] can win a game. Because Geno makes that play 10 times out of 10."
"I think Russell Wilson is one of the least authentic personalities we have in this league," Brandt continued. "I think Russell Wilson is a poser. And that doesn't mean he's a bad person. Actually, he's a good person. I think he tries to be something that he's not. And when you make the $245 million, you gotta either be a really great guy with the locker room who loves you, or you gotta be an amazing player."
Brandt then went through the list of NFL QBs who fit that profile. "[Tom] Brady — who makes half of what Russell's making — is both. [Aaron] Rodgers, MVP. Patrick Mahomes, both. [Josh] Allen, people love him. He's amazing. Kyler [Murray], we'll find out."
The host then shared an anecdote about working the red carpet at the NFL Honors awards show.
"Russell Wilson shows up with his sunglasses and his wife [Ciara], and I think they think they're Jay-Z and Beyoncé," Brandt recalled. "They will literally put their hand up and say 'no, we're not talking.' Why?" Because you think you're that cool and you're that famous and you're that amazing and everything is so perfect. That does not work in a locker room unless you're really good or a really, really good guy."
Now, Brandt obviously had a tough experience with Wilson on the red carpet. So, you can take some of this with a grain of salt.
However, his point is right on. In sports, as in life, people will let you get away with a lot if you are great at what you do. The problem is, the moment you become not as great, the act wears real thin, real quick.
It seems like that's where Wilson was at the end of his Seattle Seahawks tenure and where he now finds himself at the beginning of his Broncos career.
The Broncos brought in seasoned, Super Bowl-winning coach Sean Payton in during the 2023 NFL offseason to try and fix Wilson's issues, on and off the field. However, if the veteran QB doesn't respond and improve quickly, look for Payton to have a quick hook for backup Jarrett Stidham.