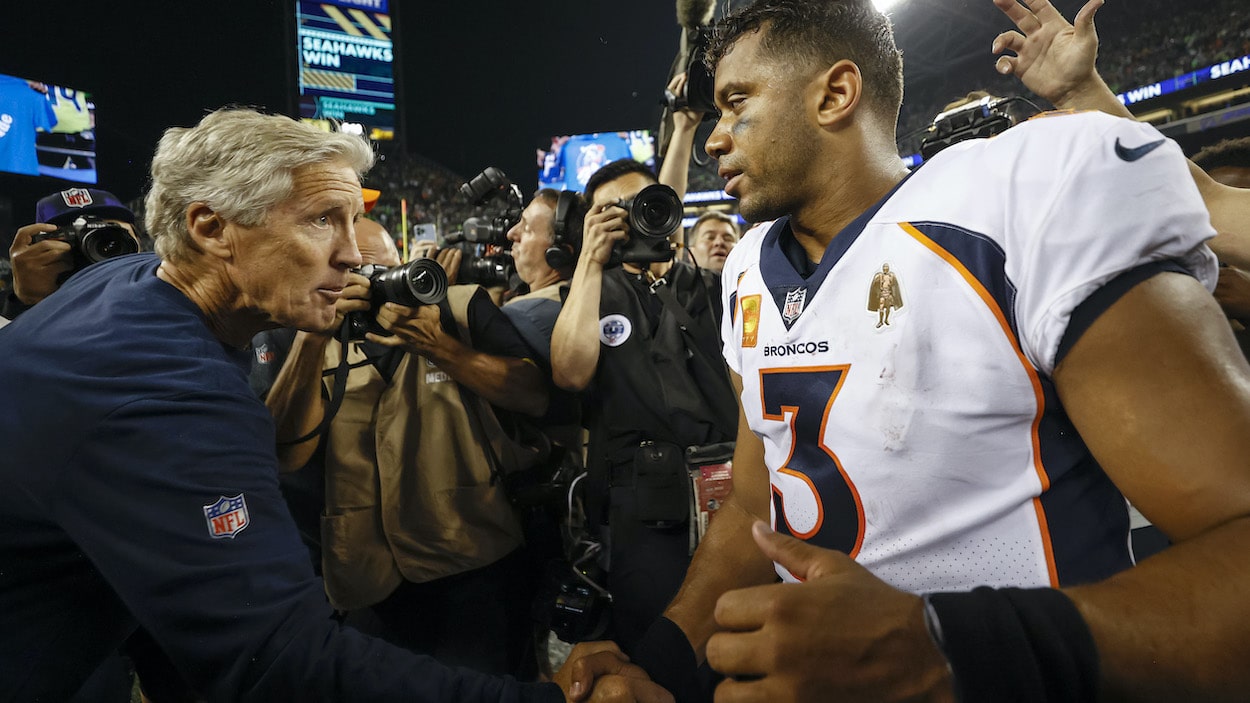 Pete Carroll Drops Major Hint That Ex-Seahawks Don't Like Russell Wilson: 'You Figure That Out'
Pete Carroll didn't outright come out as say former Seahawks don't like Russell Wilson, but he strongly implied it and explained why.
Seattle Seahawks head coach Pete Carroll is extremely happy that his team beat Russell Wilson and the Denver Broncos on Monday night. He's happy for his player, he's happy for the fans, and he seems especially happy for his former players. In interviews during the week following the game, Carroll dropped hints (and even strongly implied) that he's happy for this last group because these former Seahawks do not like their former QB, Wilson, at all.
Pete Carroll suggests former Seahawks don't like Russell Wilson
Any time a former superstar who has moved on returns to his old stomping grounds, it makes the game a little bigger. Usually, these stars get a nice video tribute and a respectful ovation before the game.
This didn't happen for Russell Wilson in his return to Seattle.
Wilson got boos from the fans, barbs from former teammates on Twitter, and, after taking a terrible loss to a less-talented team, even his old head coach jumped up and down on him.
In an interview on Seattle Sports 710 AM's Brock & Salk show, Mike Salk asked Pete Carroll if he felt "validation" beating his old QB.
"I didn't need the validation. I just wanted it. I just wanted to win," Carroll said. "I wanted to in for all the reasons that come along with this one. Maybe as much as anything, to represent the guys that came before. It meant a lot to those guys."
Salk then asked, "Why did it mean so much to them?" And Carroll cryptically replied, "Eh, you figure that out."
The answer drew a big laugh and grin from co-host and former Seahawks QB Brock Huard.
Why former Seahawks don't like their Super Bowl-winning QB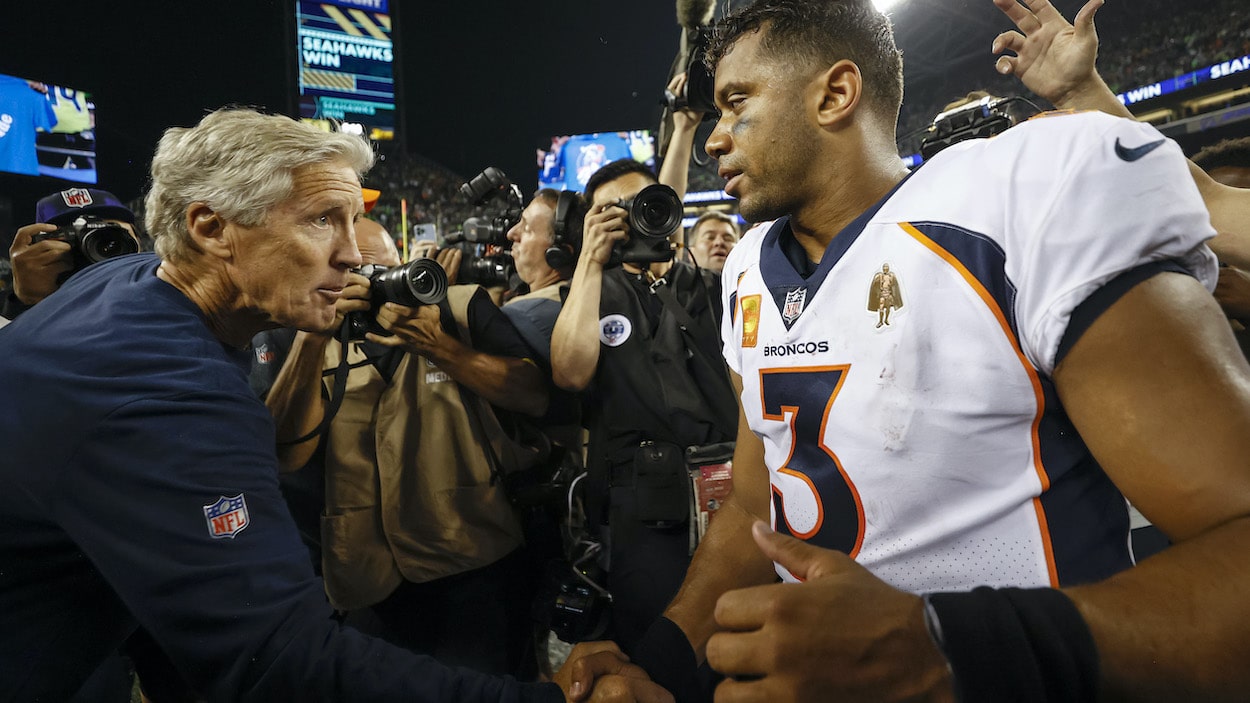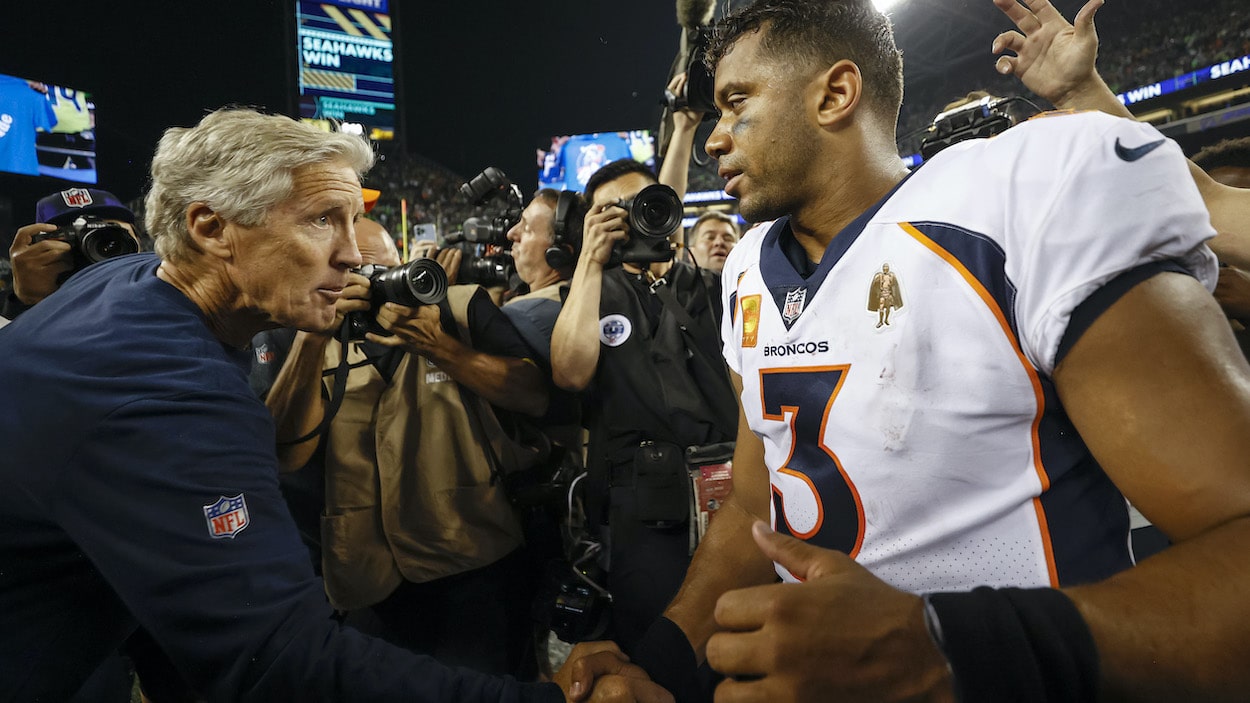 After dropping the hint about former Seahawks not liking Russell Wilson, Pete Carroll gave even more clues about why the rift between former teammates exists.
"[Former Seahawks] loved playing here, and they love seeing us play well. In this night, they realized there was a big opportunity and a big statement to be made. The game isn't about an individual player here or there. It's about team. This is the ultimate team sport," Carroll said. "And sometimes, when so much focus goes — it just rubbed guys wrong, I guess. Whatever."
The day after the bombshell Carroll interview, Brock & Salk welcomed former Seahawks linebacker K.J. Wright to the program.
Brock Huard noted the conversation on Twitter from former Russell Wilson teammates (like Richard Sherman and Doug Baldwin) that implied, "it's tough to like a guy that constantly needed and got special treatment from the coaching staff."
The Pro Bowl LB admitted that "this is another thing that divided us" during his time in Seattle.
Wright shared stories of how after bad games from Wilson, Carroll would get in front of the team and dress down the defense, imploring them to play harder. The response from the defense would then be, "but Coach, [Wilson] threw like three interceptions." Wright said this led to a situation where "the accountability wasn't even."
The former player explained that a lot of this started because of Wilson's role (and success) as a young player. The QB started from day one of his NFL career and won a Super Bowl in year two.
Wright also said this changed as Wilson matured and got older, but it seems the damage was already done after those early years.
As all the drama surrounding Russell Wilson in Seattle comes out, it seems like the QB leaving the franchise for the Denver Broncos was best for everyone involved. And now that the Seahawks vs. Broncos game is over and Pete Carroll and company got a measure of revenge on a player many obviously can't stand (even though he brought them a Super Bowl), maybe everyone can start to move on.
Like Sportscasting on Facebook. Follow us on Twitter @sportscasting19 and subscribe to our YouTube channel.