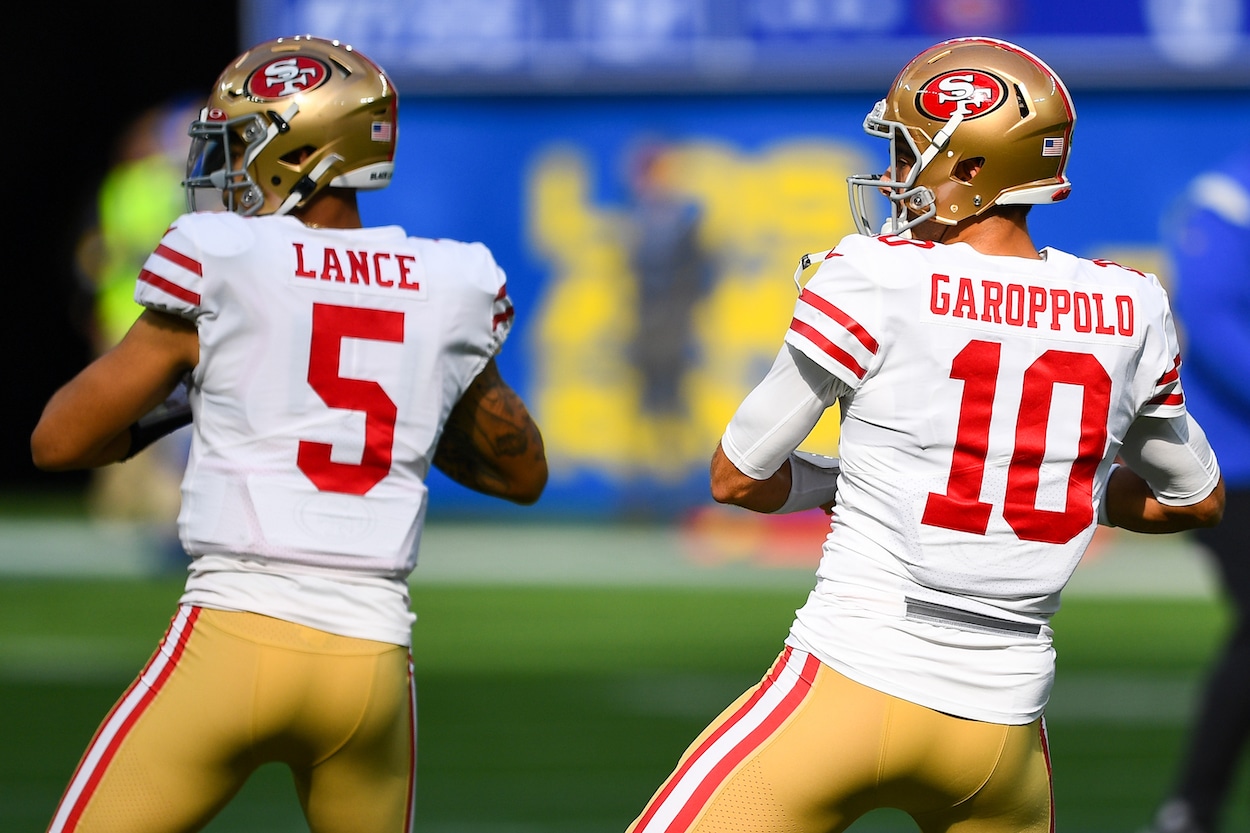 George Kittle Reveals It's 'Awkward' Between 49ers QBs Trey Lance and Jimmy Garoppolo
George Kittle admits that it was 'awkward' last year after the San Francisco 49ers drafted quarterback Trey Lance to replace Jimmy Garoppolo.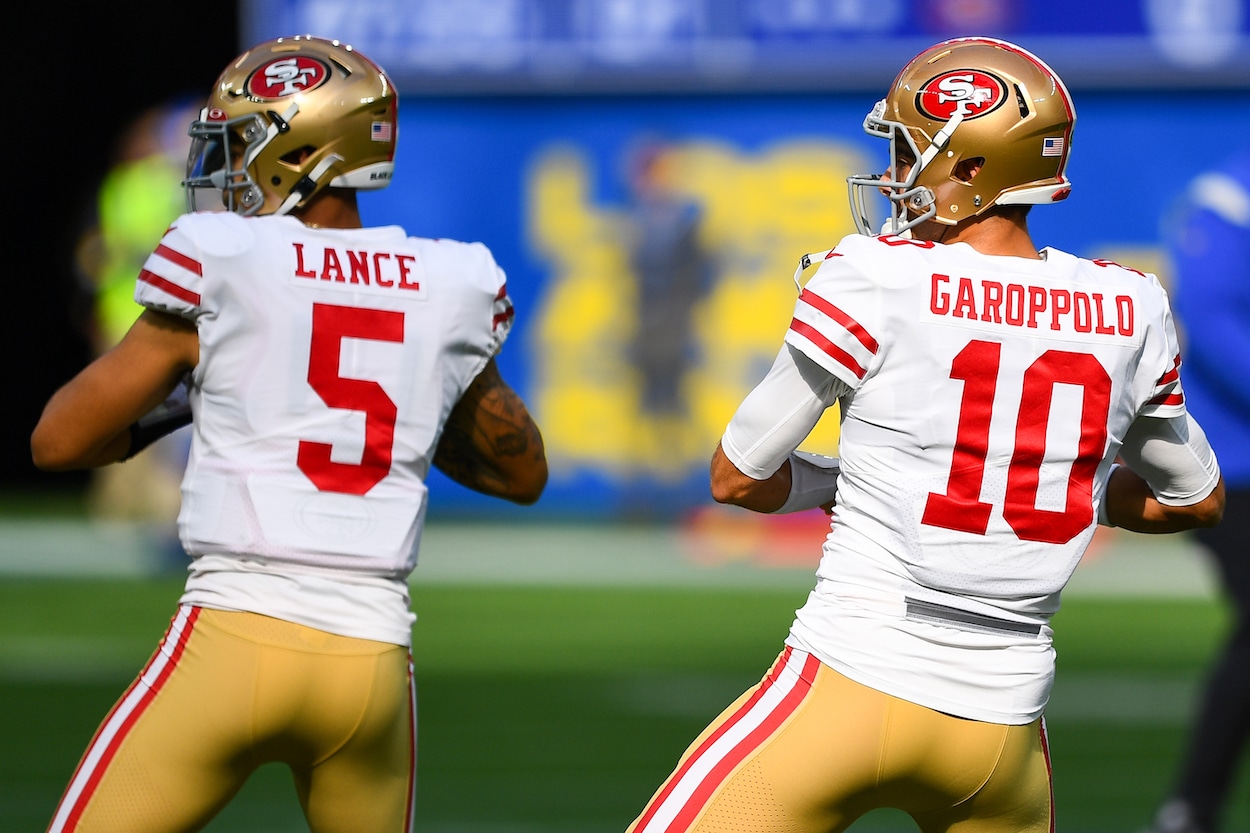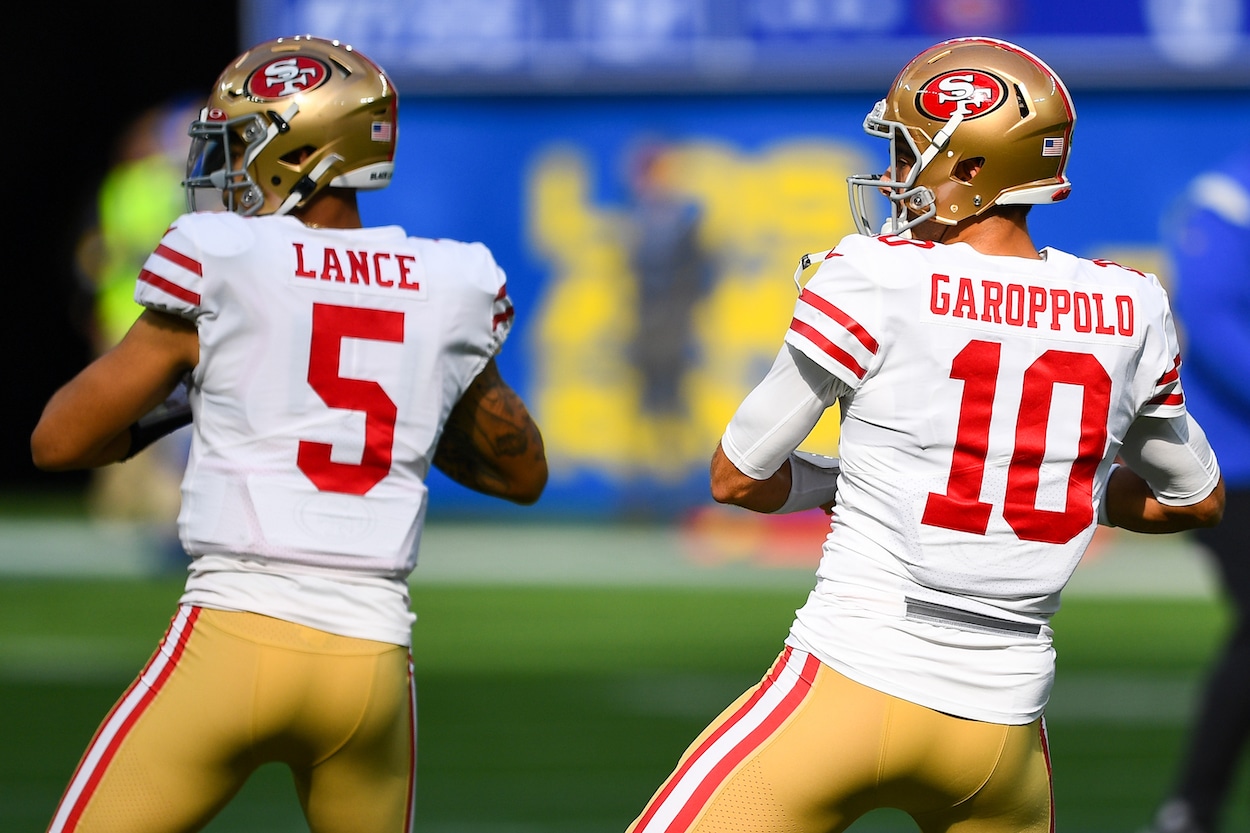 During an NFL season, teams tell the media that everything in the locker room is fine, no matter what is actually happening. In the offseason, though, players are more likely to tell the truth. For example, San Francisco 49ers tight end George Kittle admitted that the team's quarterback situation last season was a bit "awkward" after the franchise drafted Trey Lance to replace Jimmy Garoppolo.
The San Francisco 49ers gave up a lot to draft North Dakota State QB Trey Lance
In October of 2017, after Week 8 of the season, the San Francisco 49ers traded a 2018 second-round pick to the New England Patriots for then-backup QB Jimmy Garoppolo.
After two weeks in San Fran, Jimmy G got under center and then took over as the starting QB for the final five games of the season. In his six appearances in SF, Garoppolo went 5-0 as a starter and threw for 1,560 yards with seven touchdowns and five interceptions.
Following that excellent (yet small-sample) run as the 49ers starting QB, the franchise rewarded Jimmy G a five-year, $137.5 million contract.
Over the next three seasons, Garoppolo put up an impressive 17-8 record as a starter while throwing for 5,792 yards with 39 TDs and 21 INTs. Despite the solid stats and winning ways, the biggest issue was that Garoppolo couldn't stay healthy.
In 2018 and 2020, the former Eastern Illinois Panther played just nine of a possible 32 games.
That's the biggest reason the 49ers general manager John Lynch and head coach Kyle Shanahan gave up a king's ransom to go up and get North Dakota QB Trey Lance in the 2021 NFL Draft. The organization gave up three first-round picks (2021, 2022, 2023) and a third-round pick (2022) to move from No. 12 to No. 3.
When a team gives up that much to go get a QB with another signal-caller on the roster, the quarterback room is bound to get a little "awkward."
George Kittle says there was 'awkwardness between Lance and Jimmy G
All-Pro San Francisco 49ers tight end George Kittle recently joined the Pat McAfee Show to discuss his tight end summit and a host of other offseason topics. During the interview, though, Pat McAfee couldn't help but ask about the Trey Lance/Jimmy Garoppolo situation.
"Isn't it a kind of awkward situation going on over there?" McAfee asked Kittle about the quarterback competition in San Francisco. Kittle responded with a smile:
I mean, some would say it's definitely awkward. You trade three first-round picks for a quarterback, there's writing on the wall. It is what it is. It's the NFL profession. Everyone is trying to bring in younger, better, cheaper players. That's just the way the league is. So, there is an awkwardness to it, I guess.

George Kittle on Trey Lance vs. Jimmy Garoppolo
Despite admitting to at least some sense of tension surrounding the team's QBs, Kittle also said that there is a great locker room culture, and the whole squad is focused on winning a Super Bowl.
Furthermore, the tight end also told McAfee that while "Jimmy G could have been a d***" about the whole situation, he handled it like a total professional.
Who will start at quarterback for the 49ers during the 2022 NFL season? 
The San Francisco 49ers didn't have a first-round pick in this year's draft and won't have one next year either because they wanted Trey Lance. That's a big deal and puts pressure on the organization and on Lance for him to become a starting QB ASAP.
Last season, Lance didn't look ready. He made some big plays in the preseason, but Kyle Shanahan went with Jimmy Garoppolo to start the season, and the veteran got the team to the NFC Championship Game.
Lance did see some action in 2021. He made two starts for an injured Garoppolo and went 41-of-71 (57.7%) for 603 yards with five TDs and two INTs. He also added 38 carries for 168 yards and a score.
This offseason, the speculation was that the 49ers would trade Garoppolo before the draft. However, it's now late May, and Jimmy G is still a Niner.
Some of this could be because of Garoppolo's offseason shoulder surgery, but it could also be because the 49ers' brain trust still doesn't trust that Lance will be ready for Prime Time in September.
As for George Kittle, he seems to feel relatively good about Lance. He told Pat McAfee that Lance just needs "a lot of reps," and he thinks the young QB could turn into a legit starter in the league.
Whether that will happen in 2022 or not remains to be seen.
All stats courtesy of Pro Football Reference