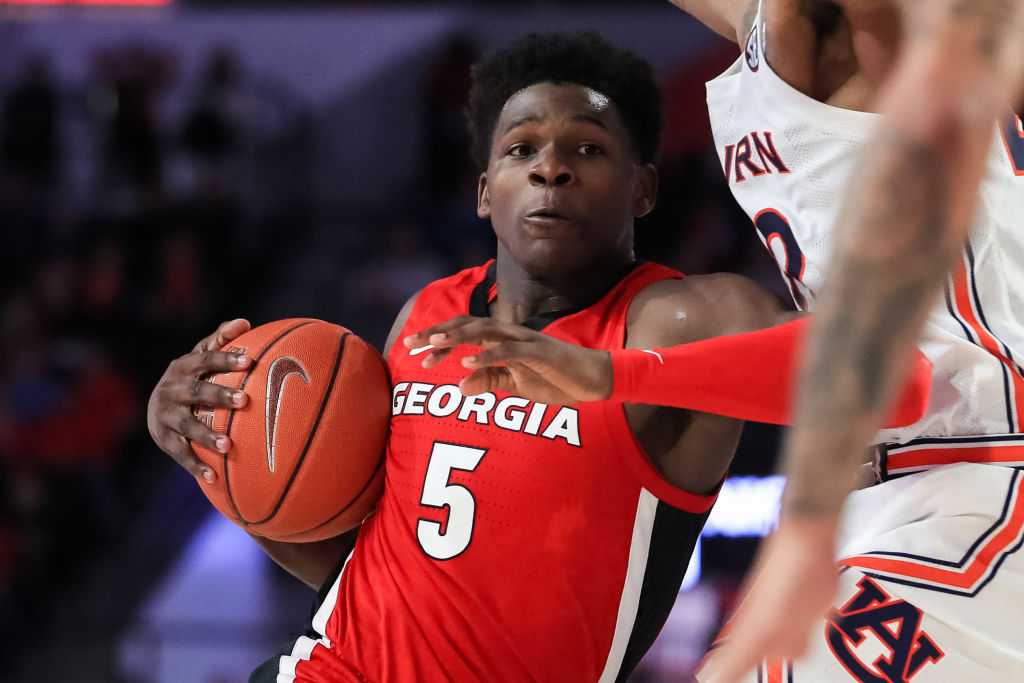 Georgia Freshman Gives NBA Draft New No. 1 Candidate
Anthony Edwards was a top prospect coming out of high school a year ago and now is the early favorite to go No. 1 in the NBA draft.
The NBA draft has a new leader in the clubhouse among candidates to be selected No. 1 overall. That's because University of Georgia wing Anthony Edwards revealed on Friday that he is a one-and-done and will turn pro.
NBA draft prospect Anthony Edwards had a strong season
Anthony Edwards was viewed as one of the three best college prospects coming out of high school last spring, so it's not surprising that he is regarded as an NBA draft lottery pick and also a contender to be selected first overall.
Edwards is a 6-foot-5 wing who averaged 19.1 points, 5.2 rebounds, and 2.8 assists for a .500 Georgia squad in the rugged Southeastern Conference.
Edwards shot only 40.2% overall and 29.4% from beyond the arc in his only college season, but those numbers are skewed by the fact that he drew disproportionate attention from defenses and the Bulldogs needed him to be more of a high-volume shooter – he was third in the conference in attempts – than he will be in the NBA.
It's also worth keeping in mind that Edwards is only 18 years old, having reclassified as a senior late in high school in order to move into the college ranks a year sooner and move that much closer to the NBA draft.
The NBA draft doesn't look like a deep one
The abrupt cancellation of the college conference tournaments and the NCAA Tournament reduced the number of opportunities available for NBA scouts to assess top draft prospects while matched up against other standouts.
Combined with the fact that the normal postseason showcases and team workout schedules could fall by the wayside because of the coronavirus pandemic, very little might happen between now and the NBA draft to change the way teams feel about top candidates.
That puts Anthony Edwards and former Memphis freshman James Wiseman in position to remain at the very top of the draft. The selection order will be the final determining factor, though the Golden State Warriors could conceivably go with either player if their NBA-worst record results in them getting the No. 1 pick.
The rest of the draft class behind Edwards and Wiseman lacks any upperclassmen of note and will need more than the usual boost from early entries for teams beyond the first 20 picks to get any value. Big men Obi Toppin out of Dayton, Isaiah Stewart of Oregon, and Onyeka Okongwu from USC would generate interest if they declare for the draft, as would North Carolina freshman guard Cole Anthony.
Among international players, forward Deni Avdija of Maccabi Tel Aviv and American guards  LaMelo Ball and R.J. Hampton, playing in Australia and New Zealand, respectively, are also contenders to go in the lottery end of the draft.
What's ahead on the schedule
Officially, the NBA Combine has not been canceled and remains on the schedule for May 21-24, with underclassmen able to withdraw until May 29.
Of all the potential underclassmen, only Edwards and Wiseman have declared and are viewed as lottery picks. Cam Mack of Nebraska and Nico Mannion of Arizona have also said they're in ahead of the April 21 deadline to file with the NBA but are less likely to go near the top.
The two-round NBA draft is scheduled for June 20 at Barclays Center in New York City.