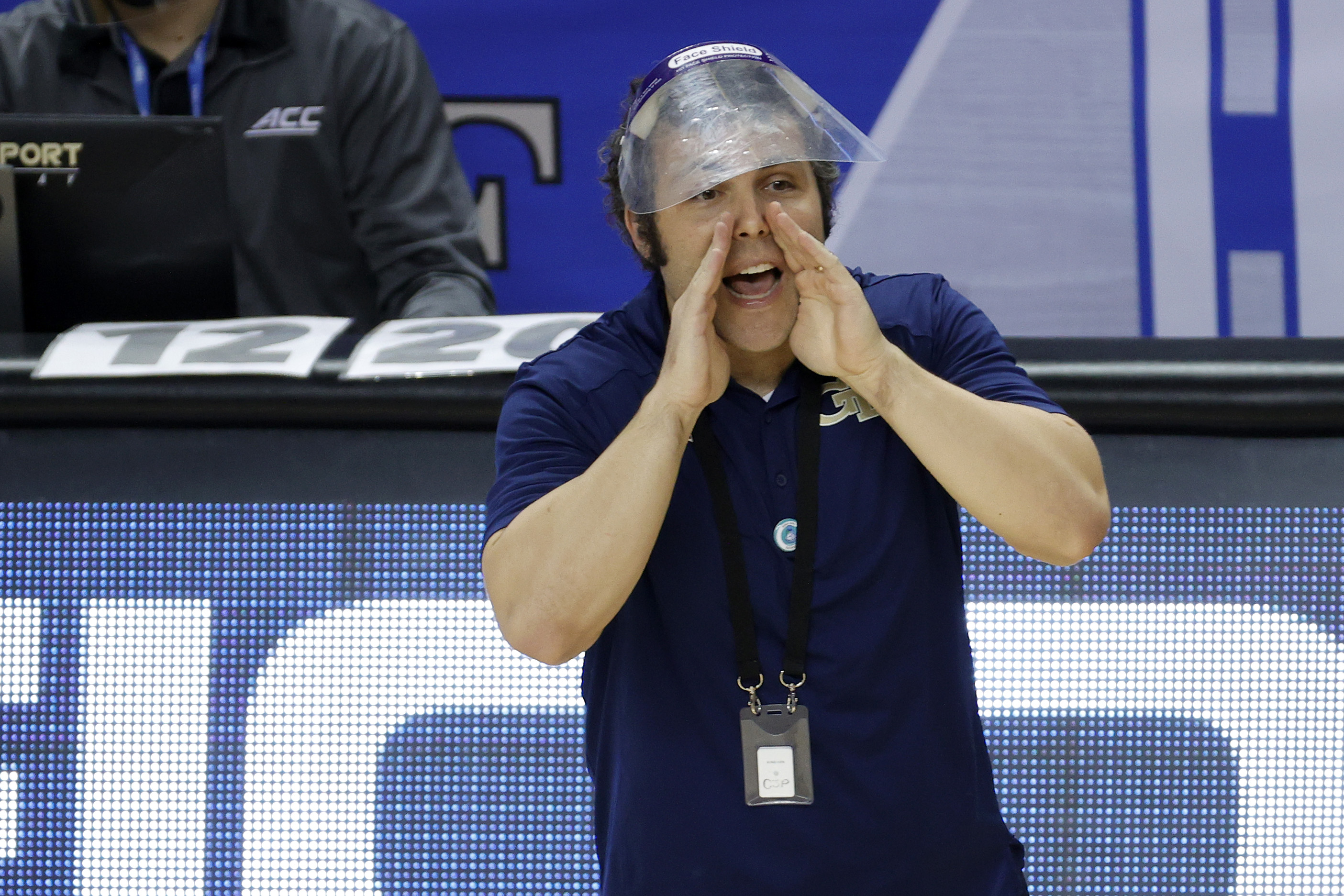 Georgia Tech Coach Josh Pastner Was Years Ahead of His Time at 13
Josh Pastner knew at a young age, he'd likely be on the sidelines than on the court.
Georgia Tech will certainly have its hands full Friday when the Yellow Jackets take on Loyola-Chicago as March Madness begins. Loyola was the talk of the nation in 2018 when it made an improbable run to the Final Four. Georgia Tech coach Josh Pastner lives for moments like these and he's been prepping himself for them since he was 13.
Who is Josh Pastner?
Josh Pastner has been the head basketball coach at Georgia Tech since 2016. Prior to becoming the leader of the Yellow Jackets, Pastner was the head coach at Memphis. In 2009, Pastner, at 31 years old, replaced John Calipari to take the Memphis job. He had been an assistant with Memphis for one season.
His coaching career began in 2000 when he was a graduate assistant under head coach Lute Olson at Arizona. Pastner had strong ties to Olson after playing for him for four seasons. He walked on as a freshman and was a member of the Wildcats' national championship team that year. He didn't get a whole lot of playing time in his four years. Pastner knew back then that playing basketball wasn't a career option.
"I was going to give all the effort that I could possibly give to play at that highest level, but there's limitations," Pastner said in 2008, according to InterviewBasketball.com. "I just was not good enough to play in the NBA or professionally overseas. So I always said to myself, 'the next best thing to playing is coaching.' I channeled a lot of my efforts and energies towards that goal."
Pastner nearly played for Loyola coach Porter Moser in college
Josh Pastner has his work cut out for him as his Georgia Tech team gets ready to face a red-hot Loyola-Chicago team. Loyola was the 2018 NCAA tourney darlings as they came out of nowhere to reach the Final Four before falling to Michigan. Loyola is coached by Porter Moser, who turned down multiple offers from bigger schools after that run three years ago to remain with the Ramblers.
Moser and Pastner have a small connection. When Moser was an assistant coach at Texas A&M, he was trying to recruit Pastner to come play for the Aggies as a walk-on. Moser wound up playing under Lute Olson as a walk-on at Arizona. As a freshman, he was part of the Wildcats' championship team in 1997.
"And there was a point where (Pastner) was possibly going to come play at Texas A&M," Moser said, according to The Atlanta Journal-Constitution. "And then, he built his relationship with Lute Olson, he went out there. It was a great move."
Pastner was always well ahead of his time
Josh Pastner took playing basketball as far as he could. He played at a high level, although he didn't play much. It was apparent from a young age that Pastner's future in basketball was either going to be in the scouting or coaching department. At 13, while many of his friends were trying to master a jump shot, Pastner was busy putting together a 100-page area scouting report.
"I was doing the Josh Pastner Scouting Service at 13," Pastner said in 2008, according to InterviewBasketball.com. "Some coaches loved it. I was sending it out to all the schools in the country just because I wanted to get my name out there and I also enjoyed doing it. I enjoyed going to these national tournaments and AAU national events. After our team was done playing, I liked to watch the other teams and follow these kids when they are younger. So early on, I was on the kids who would be good.
"I've always loved the game of basketball. I didn't have a chance to play in the NBA, and I blame that on my parents because they blessed me with poor athletic skills. I figured the next best thing to playing is coaching."