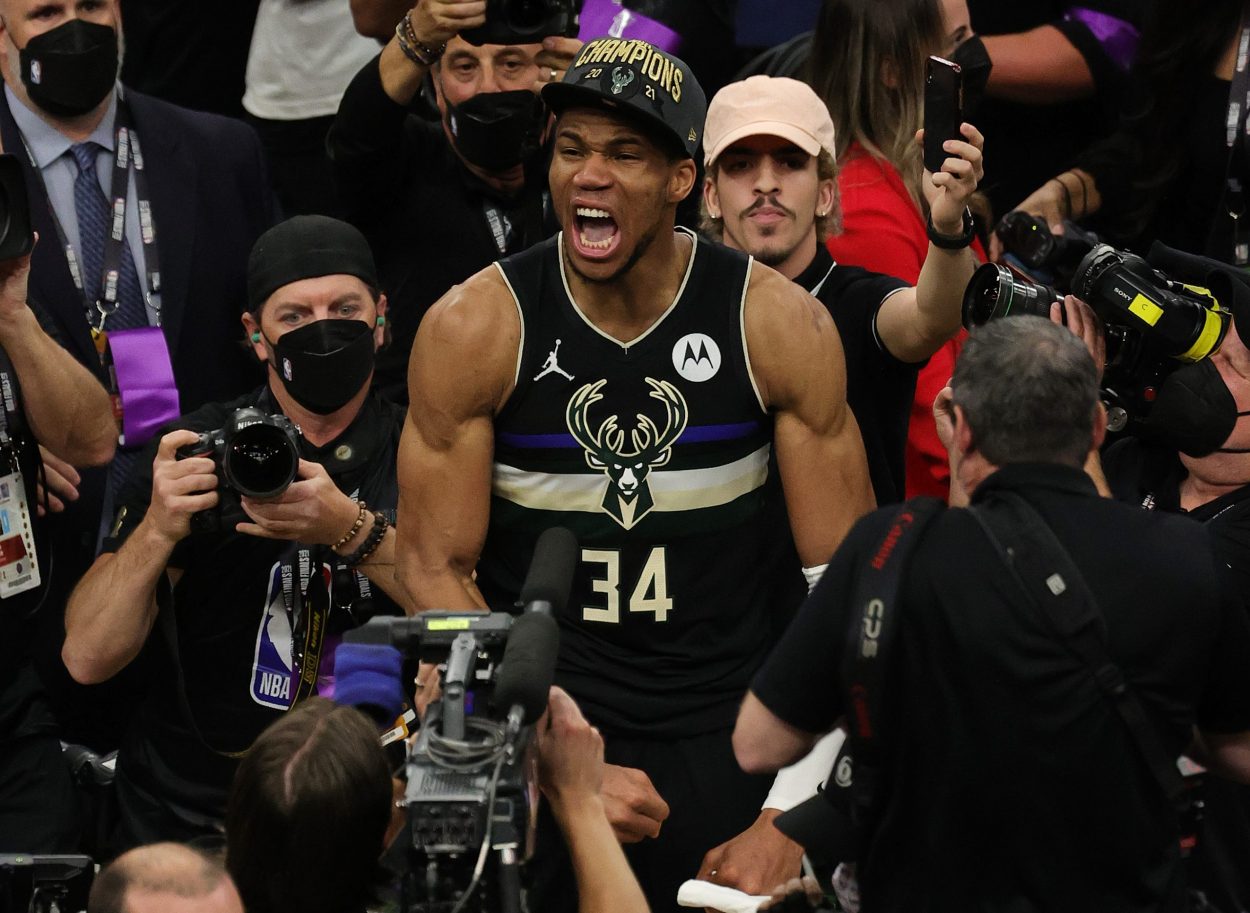 Giannis Antetokounmpo Hilariously Demanded a Trade After Helping the Bucks to an NBA Title
Milwaukee Bucks superstar and Finals MVP Giannis Antetokounmpo jokingly demanded the team trade him after Game 6.
Milwaukee Bucks superstar and NBA Finals MVP Giannis Antetokounmpo wanted to keep his promise to the city and the franchise. He did so in spectacular fashion on Tuesday, clinching the team's first NBA title in 50 years.
Antetokounmpo was named Finals MVP after averaging 35.2 points, 13.2 rebounds, 5.0 assists, 1.8 blocks, and 1.2 steals. He capped his phenomenal series with an otherworldly, 50-point performance in Game 6.
It was a euphoric moment for Antetokounmpo and the Bucks, a team that has been desperate to get over the hump amid past playoff failures. Antetokounmpo seemed to find levity in winning the title. In fact, the Greek Freak mused during his postgame presser he has nothing left to accomplish in Milwaukee.
Giannis Antetokounmpo committed to the Bucks by signing a supermax extension
Perhaps the craziest part about Milwaukee's title run, and Giannis' Finals MVP performance, is that there were some doubts Antetokounmpo would be with the Bucks for years to come at the start of the offseason last year.
Antetokounmpo gave an exclusive interview to the Swedish outlet Aftonbladet last November, putting a bit of pressure on the Bucks to upgrade the roster in pursuit of a title. He even said the money did not factor into his decision to sign a supermax with Milwaukee.
The ball seemed to be in the Bucks' court. General manager Jon Horst answered the bell.
Milwaukee went out and acquired Jrue Holiday from the New Orleans Pelicans. Though the Bucks' plans to orchestrate a sign-and-trade for Bogdan Bogdanovic fell through, they pivoted by inking key depth players like Bobby Portis, Bryn Forbes, and D.J. Augustin, among others.
The Bucks had added some impact players, and Horst had done enough to convince Antetkounmpo to buy into the process. Antetokounmpo signed the supermax in December, officially tying himself to the franchise.
Antetokounmpo jokingly demanded a trade during his postgame press conference
One reporter referred to Antetokounmpo's decision to sign the supermax during his postgame press conference.
The reporter in question noted Antetokounmpo's assertion that he would not leave Milwaukee until he brought the city a championship. Antetkounmpo hilariously interjected by saying, "I'm out now. Can I leave now? I want a trade."
This was not a serious demand. If anything, Antetokounmpo seems to poke fun at all the pundits who suggested he would demand a trade or needed to leave the Bucks to win a title.
The 26-year-old already appears to be relishing his status as an NBA champion. He was beaming and celebrating to the fullest extent on Tuesday night. Is there more to come for Antetokounmpo and the Bucks?
Milwaukee's future outlook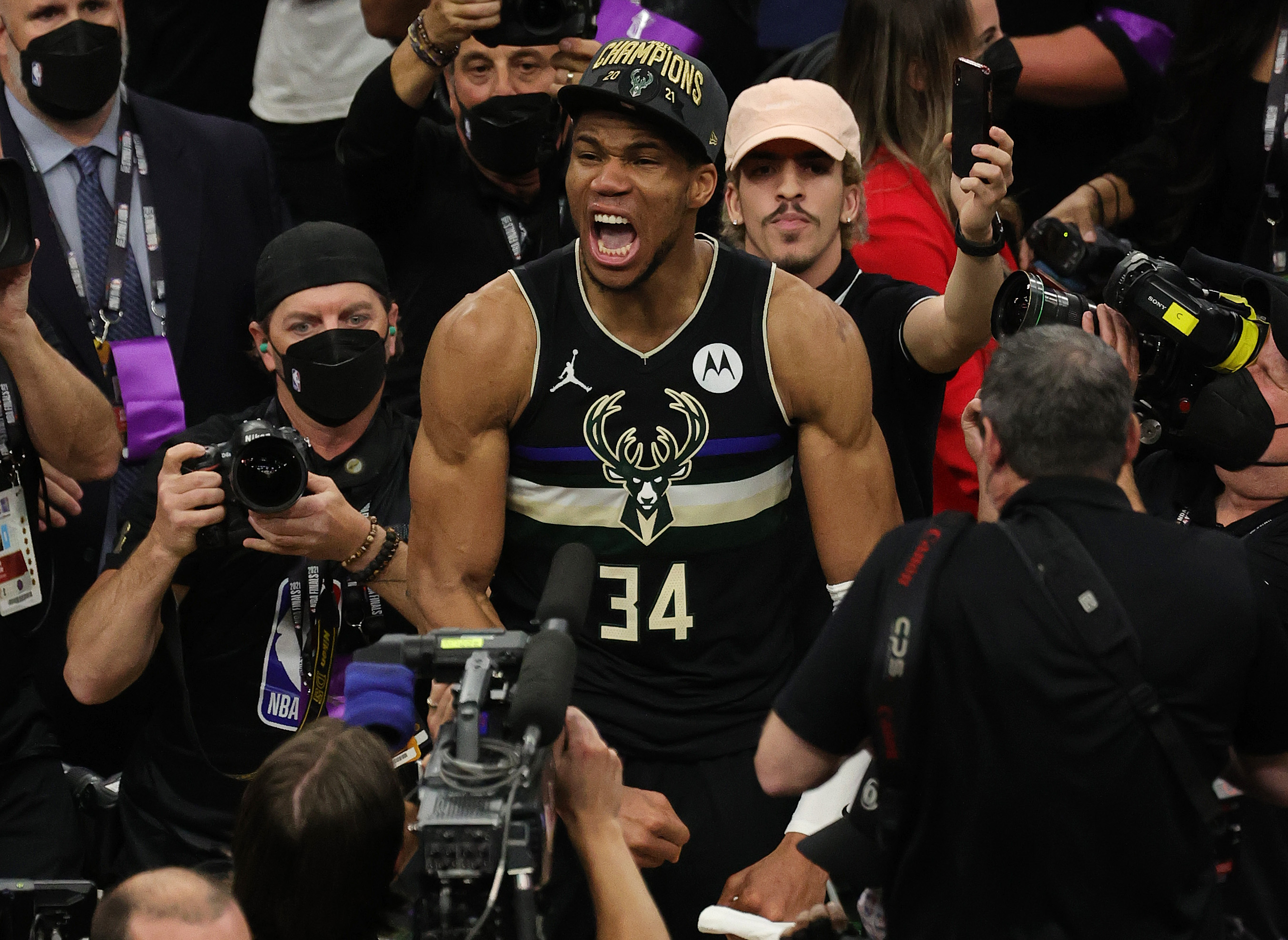 The Bucks are set up for future success.
Milwaukee's entire starting five, save for P.J. Tucker, is under contract through next season. Truthfully, though, the Bucks essentially get all five back, considering Donte DiVincenzo will be returning after missing most of the playoffs with an injury.
The Bucks undoubtedly will face some challenges in the offseason. Portis and Forbes could decline their respective player options. Portis would seem more likely to do so after his impressive Finals showing. Milwaukee will need to build out its bench. Still, the foundational pieces are all there, with Antetokounmpo at the very center of that foundation.
Needless to say, Antetokounmpo isn't going anywhere.
Stats and contract information courtesy of Basketball Reference.