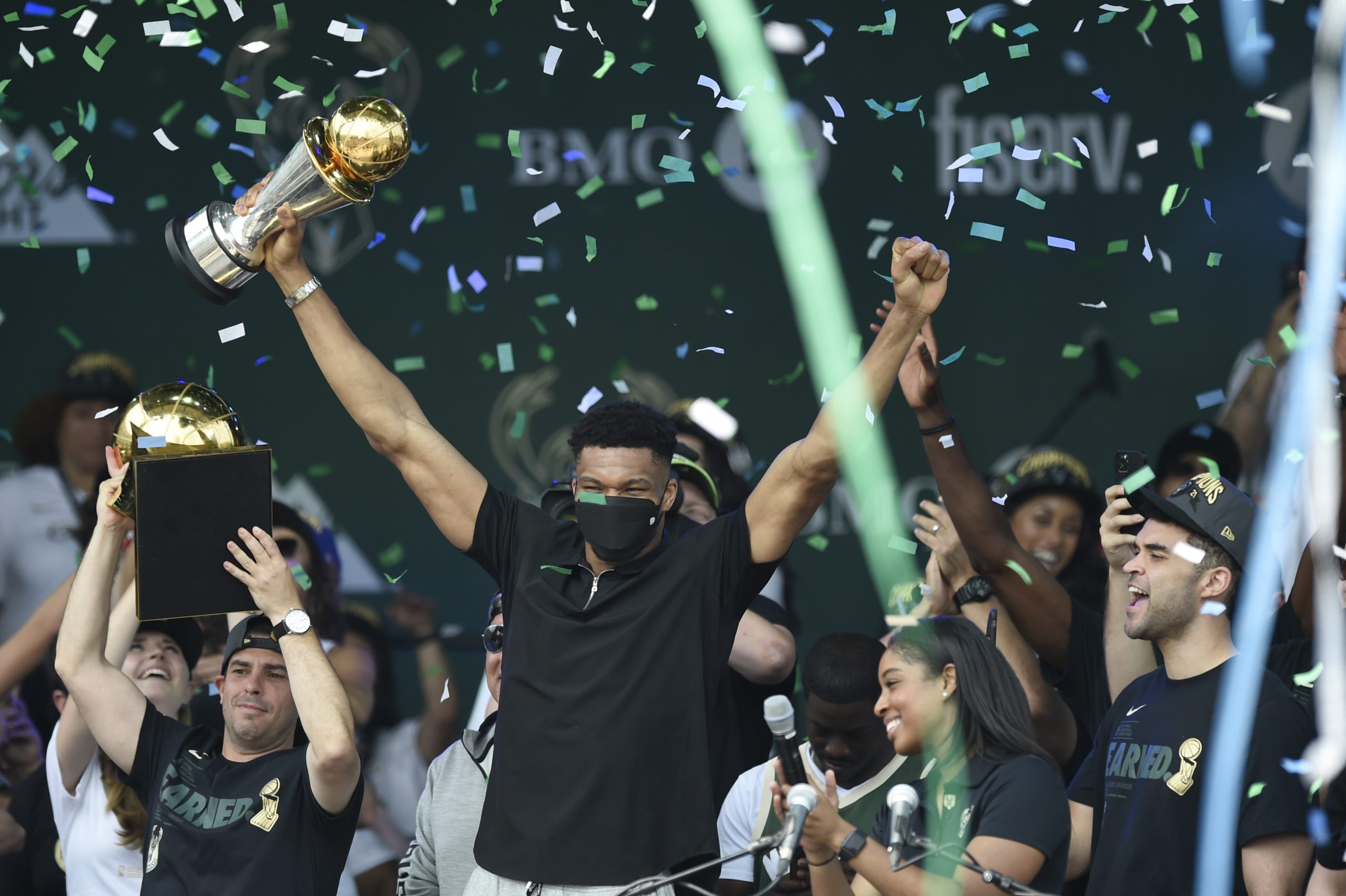 Giannis Antetokounmpo Reveals Why He Doesn't Train With Other Players 'I Can't Be Fake'
Giannis Antetokounmpo recently revealed why he won't train with players on opposing teams.
What you see with Milwaukee Bucks star Giannis Antetokounmpo is what you get. It's tough to find any NBA player who's worked as hard at his game to get where he is today. He's turned himself into a scrawny kid from Greece into the Greek Freak and two-time MVP. He can also call himself a champion.
Don't look for success to get to his head. Antetokounmpo recently revealed he's the same person he's always been, saying, "I can't be fake."
Giannis Antetokounmpo isn't comfortable with being called a champion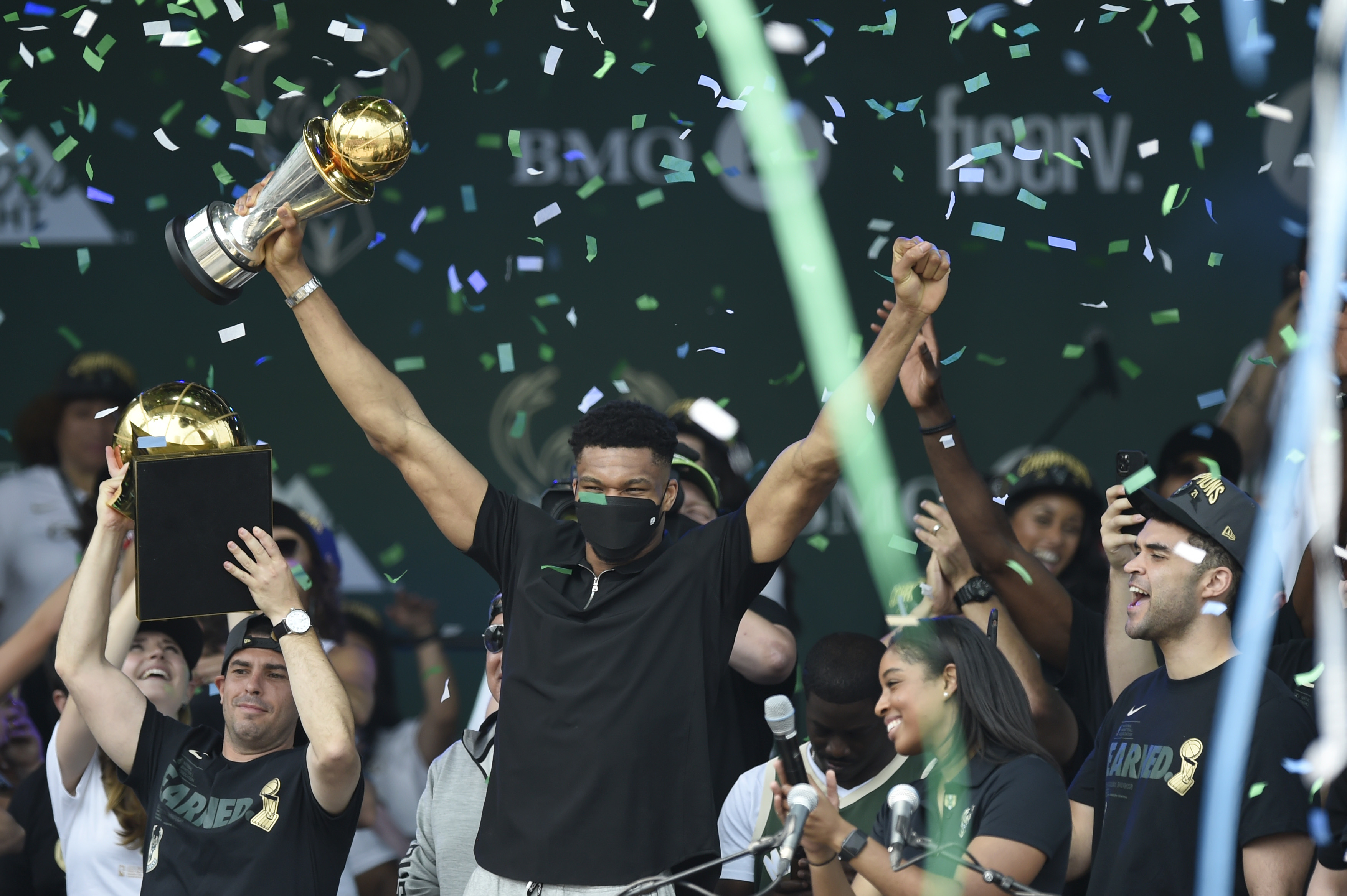 Antetokounmpo won his first NBA title last season, and you can bet he won't be letting up this year. There's a hunger inside the Greek Freak that's been with him since he made his way into the NBA. In 2013, the Bucks selected him with the 15th overall pick. Since then, he's grown physically and mentally, and he's not about to stop.
He's already showing he has a short memory. Antetokounmpo earned that first championship when his Bucks topped the Phoenix Suns in six games. He cradled that trophy like it was his own child, beaming with pride. Now, it's on to the next season.
He's been called a champ. He's been called MVP. While he's grateful for the honors, there won't be any head-swelling with him.
"Don't call me champ," he recently said, according to Euro Hoops. "If you hear only compliments, you relax and this is something I don't want."
Giannis Antetokounmpo said he won't train with players on opposing teams because he 'can't be fake'
Off the court, Antetokounmpo has shown his personal side with his corny jokes and his interactions with fans. He has not changed since he came into the NBA. Although he jokes with fans in person and on social media, he's got a serious side he sticks to when it comes to basketball.
He's serious to a point where he won't mix his basketball business with personal pleasure.
 "I can't be fake," he said. "I am Giannis. But calling me MVP, calling me champ, calling me the best player in the world, is something that might hold me back. And I don't want anything holding me back. I want to look forward and be better.
"That's why I don't train with other players. I don't want to be buddy with them. If we do this and then drink a coffee with them, can I go in the court and use my elbow against them? Can I block or dunk on them? I can't cause I am authentic. If I love someone, I love him also on the court. I am fully aware of that, and I don't want to put myself in this position."
Antetokounmpo has turned himself into one of the NBA's finest
Although he doesn't believe he's the best player in the NBA, the numbers might tell a different story. Antetokounmpo has averaged a double-double the last four seasons and has been an NBA All-Star the previous five.
He's done it all for the Bucks. At 6-foot-11, 242 pounds, his versatility on the court has him positioned everywhere, including point guard. In addition to his two MVP honors, he was also named Defensive Player of the Year for the 2019-20 season.
He put up an average of 28.6 points and 13.0 rebounder per game during his two MVP years. Last year, he averaged 28.1 points and 11 rebounds and won the championship.
Antetokounmpo is here to stay. One championship isn't enough for the Greek Freak. Just don't call him champ.
All stats courtesy of Basketball Reference.