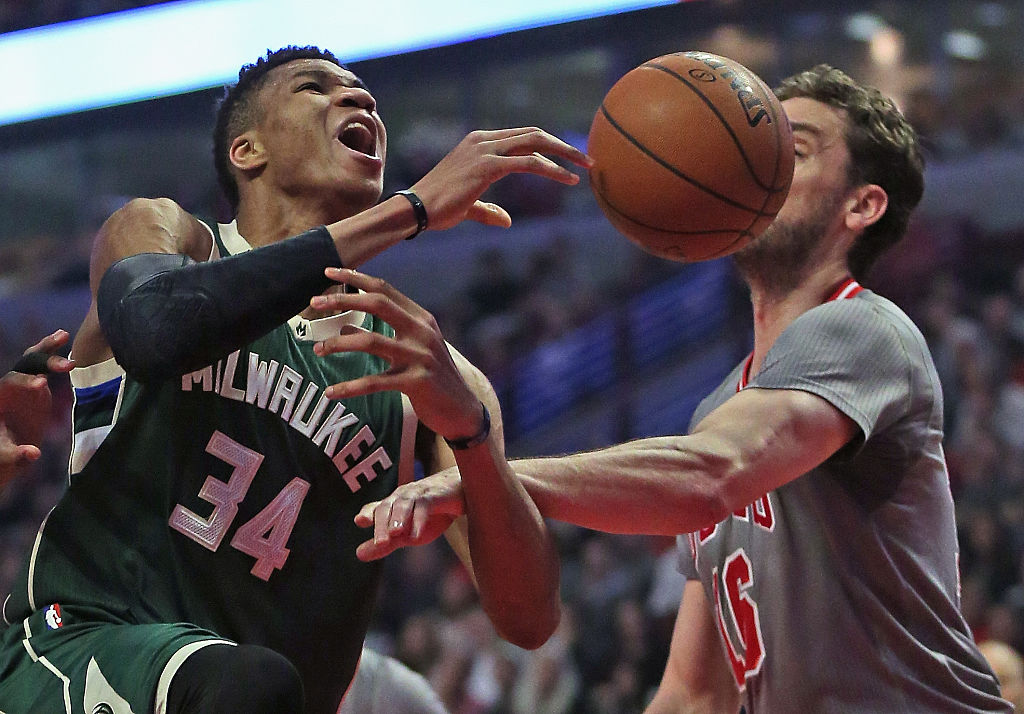 Giannis Antetokounmpo Proves He's Not Musically Inclined in His Downtime
Milwaukee Bucks star Giannis Antetokounmpo shows he is not musically inclined during his downtime as the NBA season is suspended.
With sporting events across the country being suspended, postponed, or canceled due to the coronavirus (COVID-19), many athletes have done a lot of good with their time. Players like Giannis Antetokounmpo, Kevin Love, Blake Griffin, and more have donated money to help aid hourly workers from their respective team's arenas while the games are put on hold.

Like many other athletes whose seasons are on hiatus, Antetokounmpo is trying new ways to help pass the time. After the Greek Freak's attempt of making music, fans around the country are pleading for the return of basketball very soon. Here is what Antetokounmpo and some other NBA stars are doing to help pass the time.
Giannis Antetokounmpo attempts to play the guitar
White the entire country appears to be going stir crazy because the coronavirus has put the entire world on hiatus, Giannis Antetokounmpo showed off his crazy in a video posted by his girlfriend Mariah Riddlesprigger.
Antetokounmpo attempted to play Deep Purple's "Smoke on the Water" on an acoustic guitar and it was far from the great performances we're used to seeing of him on the basketball court. The Greek Freak responded to his guitar-playing post by saying that if anyone wants a guitarist for their group to send him a message because he's free now.
Patty Mills of the San Antonio Spurs also got into the guitar-playing scene, posting a video of himself playing and saying, he too, was free if anyone band needed a guitarist.
Trae Young, Luka Doncic headline NBA players playing video games
While Giannis Antetokounmpo and Patty Mills are trying to pass the time by playing some music, many other athletes are playing a lot of video games.
Atlanta Hawks guard took to Twitter to challenge others to play video games against him. Young has also spent a lot of his downtime practicing his outside shot by tossing rolled-up socks into a plastic trash can, calling it the In House Challenge.
Dallas Mavericks star Luke Doncic asked for some assistance in helping set up streams so fans can watch him play online. Others such as Brooklyn Nets player Spencer Dinwiddie have been spending their time searching YouTube and watching their own highlights to help with NBA withdrawals.
Young, Steph Curry and Donovan Mitchell, who was the second NBA player to be publicly known to have tested positive for the coronavirus, have all admitted to watching their own videos during this stretch.
Some NBA players have been joining the TikTok video craze
Not only has Giannis Antetokounmpo been trying to play the guitar, he has also been one of several NBA players making TikTok videos.
Saying he had too much time on his hands, he created a video with his girlfriend Mariah Riddlesprigger and performed the "I just flipped the switch" trend and the Greek Freak wound up wearing a dress.
Memphis Grizzlies guard Ja Morant wore his full uniform at his house in his TikTok video and pretended he was being introduced before a game. Morant even pretended to high-five his imaginary teammates.
It appears both fans and players are losing their minds a little bit as the coronavirus cancels events and forces social distancing among everyone.