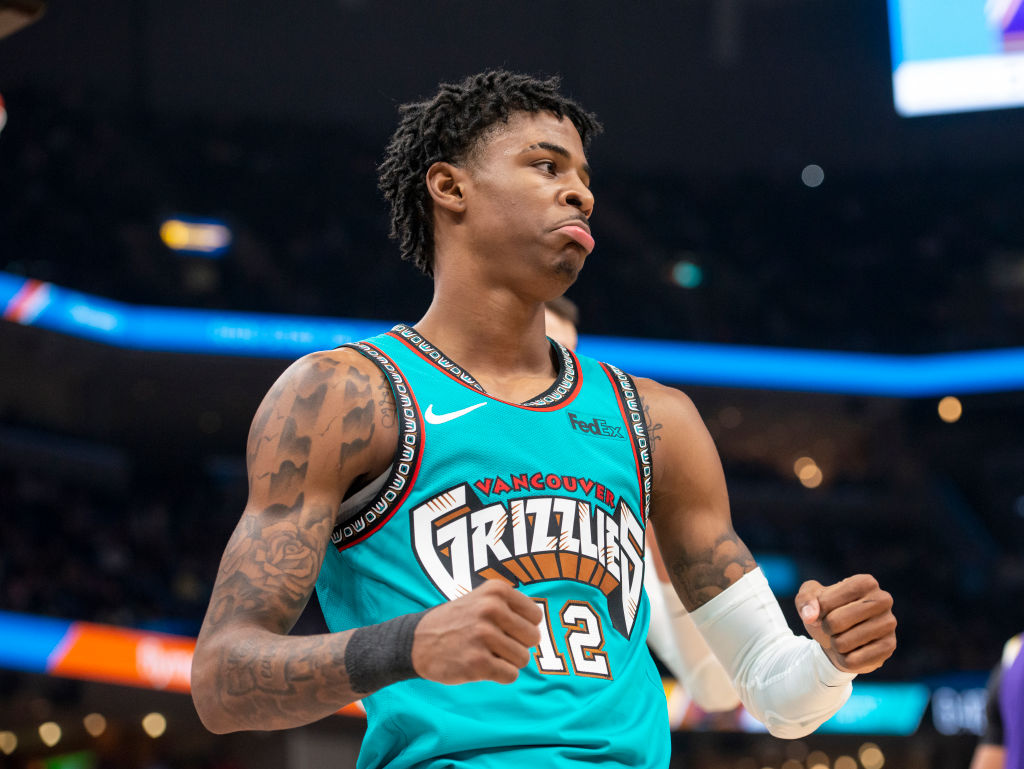 Memphis Grizzlies Rookie Ja Morant Acts Like a Veteran On and Off the Court
Memphis Grizzlies rookie point guard Ja Morant is acting like a veteran NBA player both on and off the basketball court.
He may be just 20 years old, but Memphis Grizzlies rookie guard Ja Morant is playing like a seasoned veteran. Not only has Morant guided the surprising Grizzlies into the eighth playoff position in a loaded Western Conference, but he's also the prime candidate for the NBA's Rookie of the Year.
In a draft class led by Zion Williamson of the New Orleans Pelicans and RJ Barrett of the New York Knicks, Morant has, so far, established himself as the league's top rookie. 

Ja Morant unselfish in his first season with the Grizzlies
While there has been some talk of Williamson, who missed the Pelicans' first 44 games this season with a knee injury, making a late charge for Rookie of the Year honors, Morant focuses on the more important things – keeping his team in the playoff mix.
"I honestly don't care about Rookie of the Year," Morant told Omari Sanofka II of The Athletic on Monday. "They can give that to who they want." Morant's goals have always been team-oriented and right now the young leader of the Grizzlies has his team three games ahead of the also-surprising Sacramento Kings for the eighth and final playoff spot.
Morant's unselfishness can also be found on the basketball court where the pass-first guard, is dishing out assists to the tune of 7.0 per game. He has also shown he can light up the scoreboard by averaging 17.6 points per game in 29.9 minutes per contest.
Morant's career at Murray State
Despite his early success in the NBA, Morant was not highly recruited while in high school. Morant caught his big college scholarship break by accident.
A Murray State assistant coach was in town to recruit another player and noticed Morant, who wasn't even playing in a game. The coach was on his way to get a snack and saw Morant was doing three-on-three drills in a different gym. The coach, James Kane, was intrigued by Morant's athleticism and ball-handling skills and eventually offered him a scholarship.
In his two years at  Murray State, Morant averaged 18.7 points and 8.2 assists per game. It was his sophomore season, however, that opened the eyes of most NBA scouts. Morant averaged a double-double in that second year, putting up 24.5 and 10.0 assists per contest.
Morant drafted second overall
There was no question that Zion Williamson, out of Duke University, was going to be selected first overall in the 2019 NBA draft, and although Williamson is putting together a strong season after missing the first three months with an injury, the Grizzlies found themselves quite a gem in Morant.
Morant was very emotional on draft night when NBA Commissioner Adam Silver announced his name with the second selection at the podium. Morant was his father and said, "He made me who I am today and I'm just thankful for it all."
The Grizzlies also have something to be thankful for as they were fortunate enough to draft a talented and unselfish player who is a building block for the future.