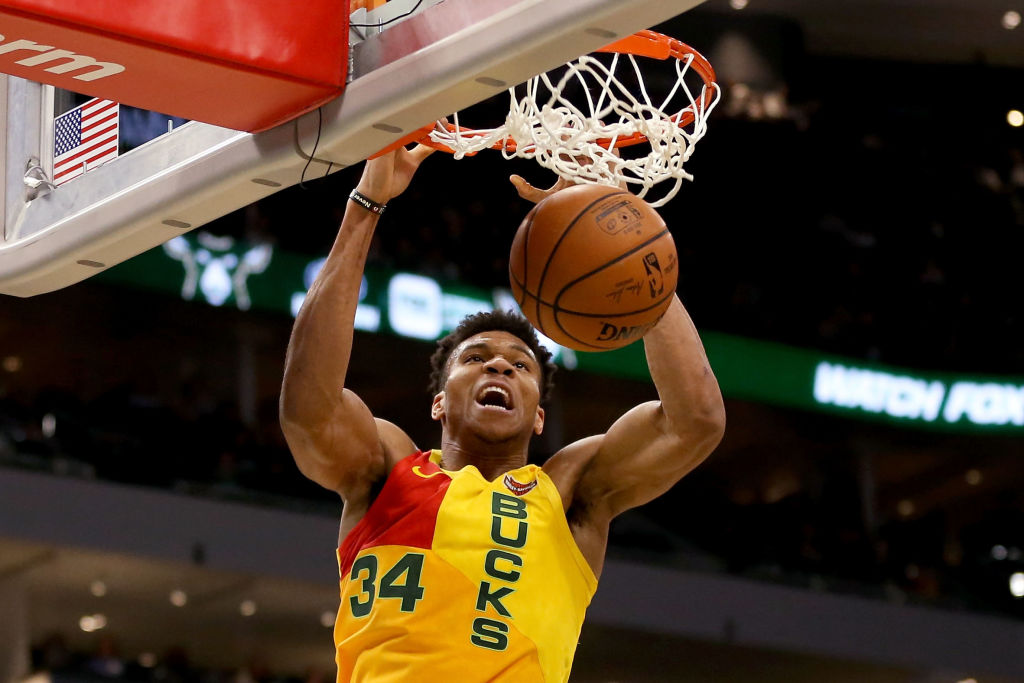 Giannis Antetokounmpo's Social Media, Phone, Bank Accounts, Email All Hacked
Milwaukee Bucks star Giannis Antetokounmpo's social media, phone, email, and bank accounts all were hacked Thursday.
Don't always believe what a professional athlete says. In the case of Giannis Antetokounmpo, don't believe what he said this afternoon. Alex Saratsis, the agent for the Milwaukee Bucks star said Antetokounmpo's Twitter account was hacked Thursday. Antetokounmpo's brother, Kostas, said the star's email, phone, and bank accounts were also compromised.
Giannis Antetokounmpo is a superstar with a low profile
Giannis Antetokounmpo is a superstar in the NBA. The Milwaukee Bucks star is the reigning Most Valuable Player in the NBA and was the co-favorite to win it again this season before the league postponed its season on March 11. Despite all the accolades, Antetokounmpo managed to keep a low profile, and off the court, he appears to be a fun-loving guy.
The Greek Freak is a worker, one who is always trying to improve his craft. He's not concerned with accolades. He'd rather be an under-the-radar type of guy. "I love it," he said in March of his MVP season. It's amazing that I can just work in silence. I'm a low-profile guy. I know that being good, having a great team, and winning in this league (means) that attention comes with it, but I'd rather have quiet days like this."
Off the court, He's equally quiet. He's also very genuine. He'll give his sneakers to a fan before or after games. He'll do a little interaction with fans on his social media accounts. There's no obvious arrogance in him at all. He's a player fans like to root for.
The Greek Freak's Twitter account was hacked
Although he had nothing to do with it, Giannis Antetokounmpo's Twitter account raised some eyebrows Thursday when it announced he was going to play for the Warriors. It got worse from there. Antetokounmpo's account was also littered with racist remarks and other derogatory comments.
At 4:07 p.m. Eastern time, the Milwaukee Bucks had to put out an announcement stating that Antetokounmpo's account was hacked. "Giannis Antetokounmpo's social media accounts were hacked this afternoon and have been taken down. An investigation is underway," The Bucks' Twitter feed said.
Antetokounmpo is one of the more popular NBA players on Twitter with 1.1 million followers. The hacker had said the Greek Freak contacted the coronavirus (COVID-19) and then rattled off some negative tweets about the late Kobe Bryant. The Twitter posts appeared to be up for approximately 15 minutes before being taken down.
Antetokounmpo's brother and girlfriend issue apologies
While Giannis Antetokounmpo hasn't immediately said anything publicly about the hacking, his brother Kostas has. Kostas Antetokounmpo also said his brother's email, phone, and bank accounts were hacked. Kostas responded to each hacked tweet, saying his brother was hacked and didn't write this stuff.
On Twitter, Kostas wrote, "(Giannis) genuinely apologizes for everything that was tweeted and he will be back as soon as possible. The things that were said by this hacker were extremely inappropriate and disgusting!"
The Greek Freak's girlfriend, Mariah Riddlespringer, echoes Kostas' tweet by saying, "Giannis' twitter, phone, email and bank accounts were hacked! He genuinely apologizes for everything that was tweeted and he will be back as soon as possible! The things that were said by this hacker were extremely inappropriate and disgusting!"