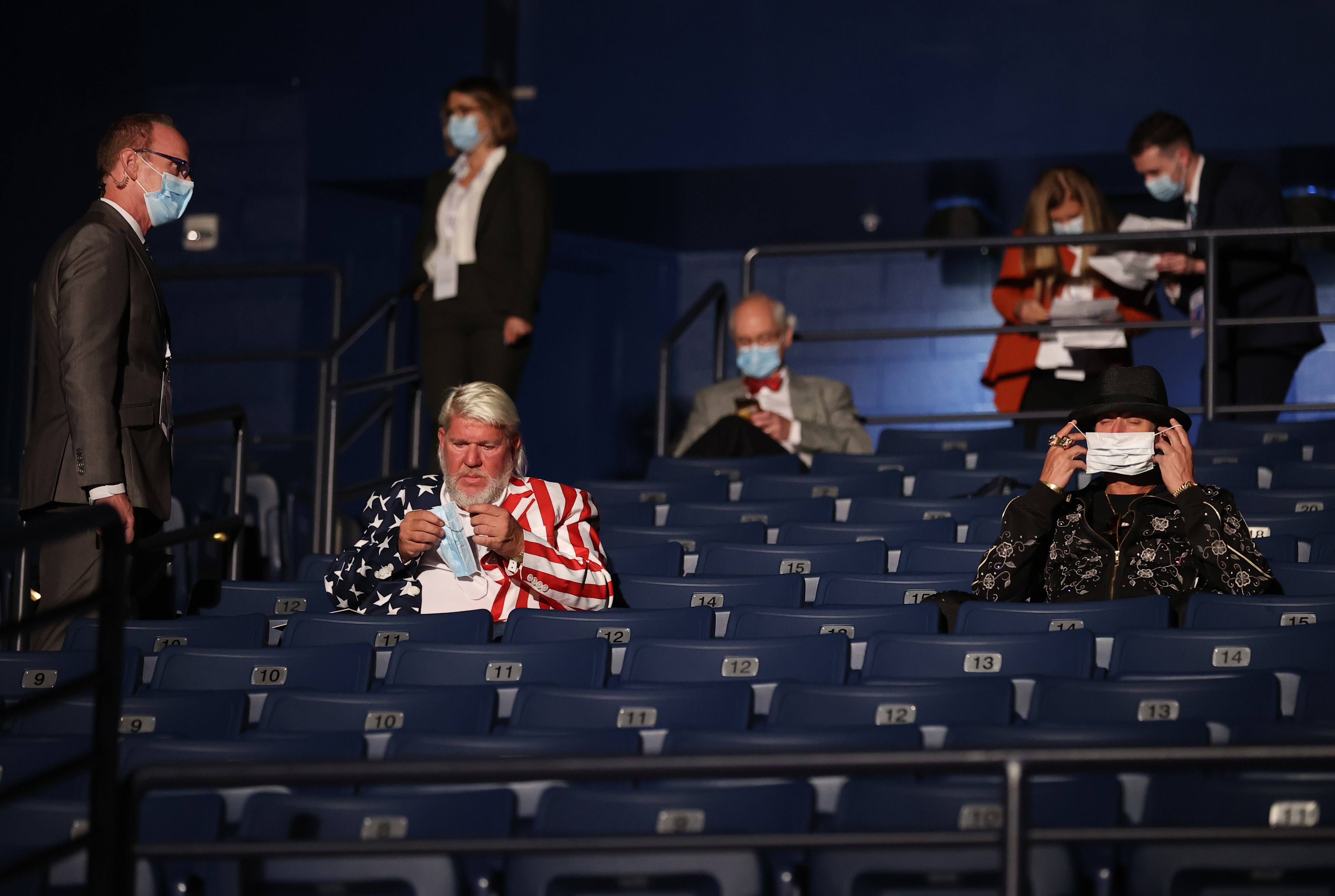 Golfer John Daly Attends Debate and Compares President Trump to Jesus
Two-time major golf champion John Daly has been friends with President Trump for decades. After attending the final presidential debate, the golfer compared Trump to Jesus.
President Donald Trump loves to play golf. It's an opportunity for him to get away from his stressful job and spend time with friends and relax. Sometimes, he plays with friends who happen to be some of the game's greatest players like John Daly.
The two-time major champion winner and Trump have been friends for years. That was never more evident than on Thursday night when Daly showed up to support the president in the final debate before election day all decked out in red, white, and blue. 
President Donald Trump loves to golf
For years, it has been common practice for U.S. presidents to get a little time away from the rigors of the job and play a few hours of golf. President Donald Trump has continued this tradition. 
Trump has the benefit of being the owner of multiple golf clubs, and has taken advantage of this since he took office in 2016. According to the Trump Golf Count website, the president has visited his clubs a total of 283 times as of October 16, 2020. He visits one of his clubs on average every five days. 
While visits to the club are confirmed, it's more challenging to verify actual rounds of golf. The website reports the total number of confirmed rounds of golf for President Trump since inauguration currently stands at 140. By comparison, former President Barack Obama played a total of 308 rounds during his eight years in office.
President Trump and John Daly have been friends for years
Since 2016, President Donald Trump has played rounds of golf with many of the game's biggest names, including Dustin Johnson, Tiger Woods, Jack Nicklaus, and John Daly. Daly, however, isn't just someone who has hit the links with the president since he took office.
Daly and the president have been friends since 1992, the year after Daly captured his first major title at the 1991 PGA Championship. Back in 2016, before the election, Daly offered effusive praise of the then-presidential hopeful. 
"I've known Donald forever, and I know the bad things they say about Donald Trump is not true because I've known him as a friend for so long," Daly told CBS Sports. "I not only consider him as a friend, but if people get to know Donald Trump, I think they'll know what I'm talking about. He's one of the greatest human beings I've ever met in my life. I love him as a dear friend, and you're dang right he'll get my vote."
John Daly attends debate and compares Trump to Jesus
Fast forward four years and President Donald Trump is up for reelection. On Thursday, he faced off against Democratic challenger Joe Biden at the final Presidential debate held in Nashville, Tennessee. One of the select few sitting in the audience was a patriotic John Daly wearing a red-white-and-blue, stars-and-stripes blazer.
Following the debate, Daly attended an after-party celebration and answered questions with a USA Today reporter via text. After saying he called the president "DADDY TRUMP," Daly said he got to spend about 10 minutes before the debate with the president. During that meeting, Trump introduced the golfer to several business leaders at a roundtable where Daly indicated he raised at least eight million dollars. 
According to Daly, during their visit, Trump conveyed "his love for our country" and how "he just wants to help people." The golfer, who has battled bladder cancer this year, said he's confident of the election outcome in a few weeks. 
"Trump wins and it ends cause he's like me and Jesus we love everyone," Daly texted.  
John Daly has never been afraid to share what he thinks. He thinks his friend is in line for a second term as president. The American people will decide in 10 days.