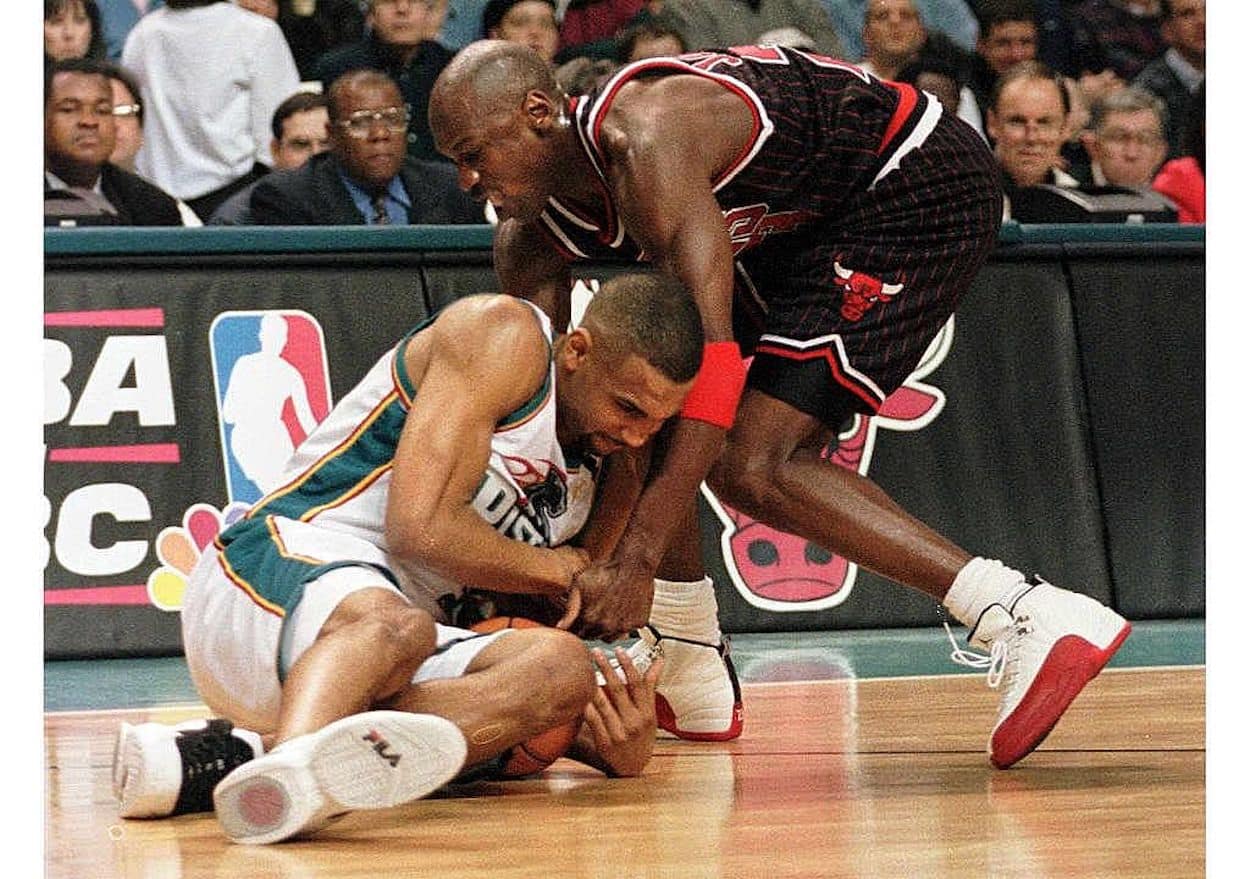 Grant Hill Dared to Trash-Talk Michael Jordan at the NBA 75 Ceremony About Duke's Superiority Over UNC
Although Michael Jordan left UNC a long time ago, he still got the last laugh after Grant Hill threw some Tobacco Road trash talk his way.
During his time on the hardwood, Michael Jordan developed a reputation as a ruthless trash talker. Those who dared to cross him usually paid the price. Grant Hill, however, still decided to take his chances in 2022.
At an NBA 75 event in Cleveland, Hill decided to remind His Airness that the Duke Blue Devils had recently taken down the University of North Carolina Tar Heels. While nothing went wrong at the time, MJ's former squad did end up getting the last laugh.
Grant Hill wasn't afraid to indulge in a bit of Duke-UNC trash talk with Michael Jordan
As even casual observers can confirm, Duke and North Carolina have one of the most heated rivalries in basketball. Those NCAA ties extend even beyond the campus gates; just ask Grant Hill about that.
On February 5, 2022, the Blue Devils traveled to Chapel Hill and defeated the Tar Heels by 20 points. That victory sent Duke fans everywhere into jubilation. Even though the squad promptly lost its next game, falling to Virginia, the 'W' still provided some bragging rights.
"I saw [Michael Jordan] in Cleveland at the NBA 75 ceremony," Hill explained on the Rich Eisen Show. "And as they were coming off and in the back, in the hallway, he came up to me, and Duke, we had just beaten [UNC] in Carolina and blew them out. And, you know, we blew them out maybe a week before, so I was talking all types of trash. I was in his face, and I was like, 'Oh man,' like, you know? I'm giving it to him, and he's like, 'Man, you weren't talking trash when we were good.' And I would say, 'Yes, I was. I was talking trash because when you guys were good, we were good, too.' You know? And, so, we were going back and forth in the hallway, and, so, that rivalry, although there's an incredible respect, a mutual respect, we definitely like to talk trash."
While Hill's timeline was a bit off — Duke played UNC on February 5, and the NBA 75 ceremony took place during the NBA All-Star Game on February 20 — the other details are on the money. As we know, though, MJ and the Tar Heels got the last laugh.
Michael Jordan managed to get the last laugh, even though he wasn't directly involved
As you'll remember from The Last Dance, Michael Jordan had a knack for remembering slights (perceived or otherwise) and using them as motivation for revenge. In this case, though, he didn't even need to get involved. The Tar Heels stepped up and gave His Airness the last laugh.
At the end of the regular season, North Carolina rained on Coach K's parade by upsetting Duke in the home finale. While that would have stung under normal circumstances, that victory came in front of a crowd of former players, alumni, and fans who had shelled out thousands to see Krzyzewski's last hurrah in Cameron Indoor Stadium. The living NCAA legend even began his remarks by calling out his team's unacceptable performance.
That victory was enough to give everyone in Chapel Hill a feeling of superiority, but the season wasn't done yet. The two Tobacco Road rivals ended up meeting in the Final Four, where Hubert Davis' squad literally ended Coach K's career.
According to Hill, Jordan didn't reach out after either of those games to rub it in his face. It is fitting, though, that His Airness still found a way to come out on top.
Trash-talk him at your own risk.
Like Sportscasting on Facebook. Follow us on Twitter @sportscasting19 and subscribe to our YouTube channel.