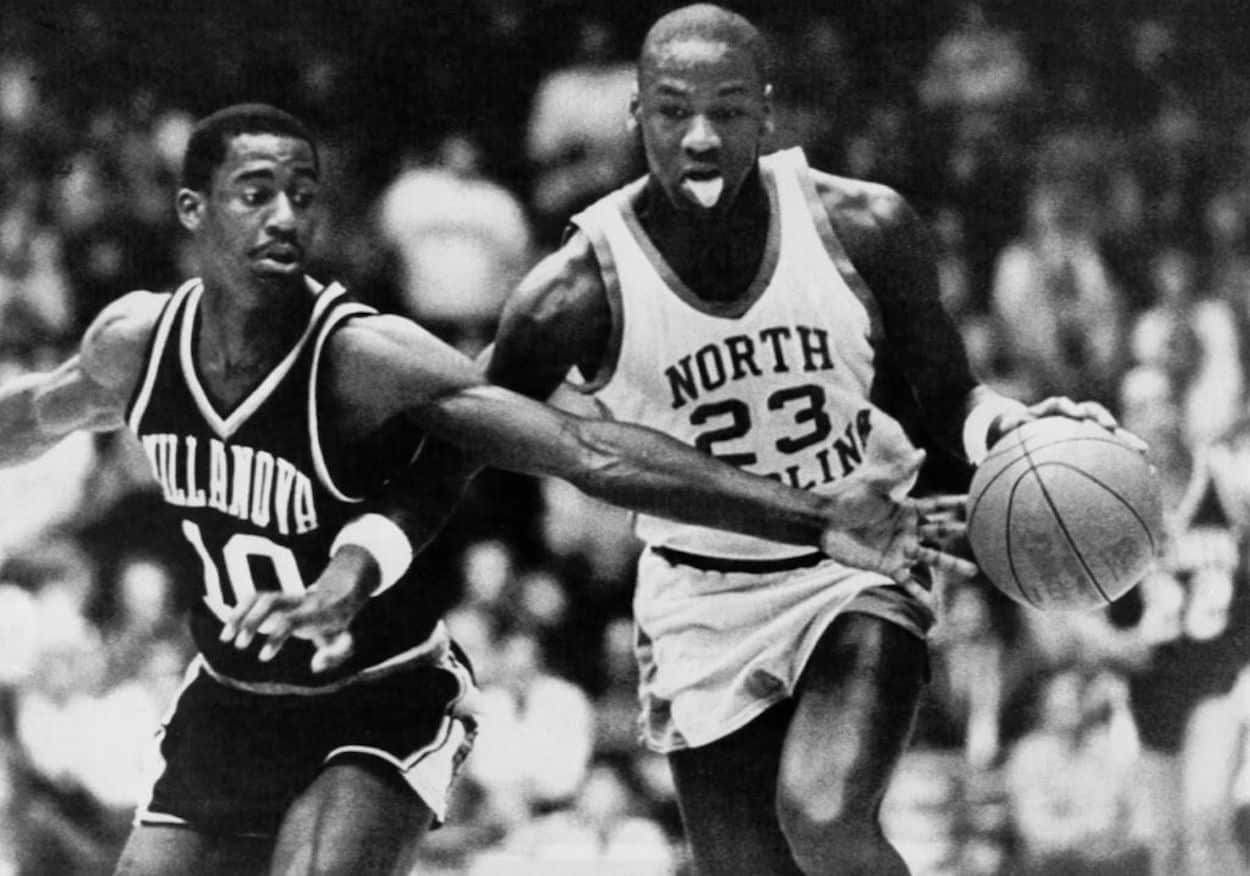 Michael Jordan Refused to Leave the Court During UNC Pickup Games to Prove His Competitiveness
Michael Jordan's famous competitive edge kept him from leaving the court at UNC, even for something as benign as a drink of water.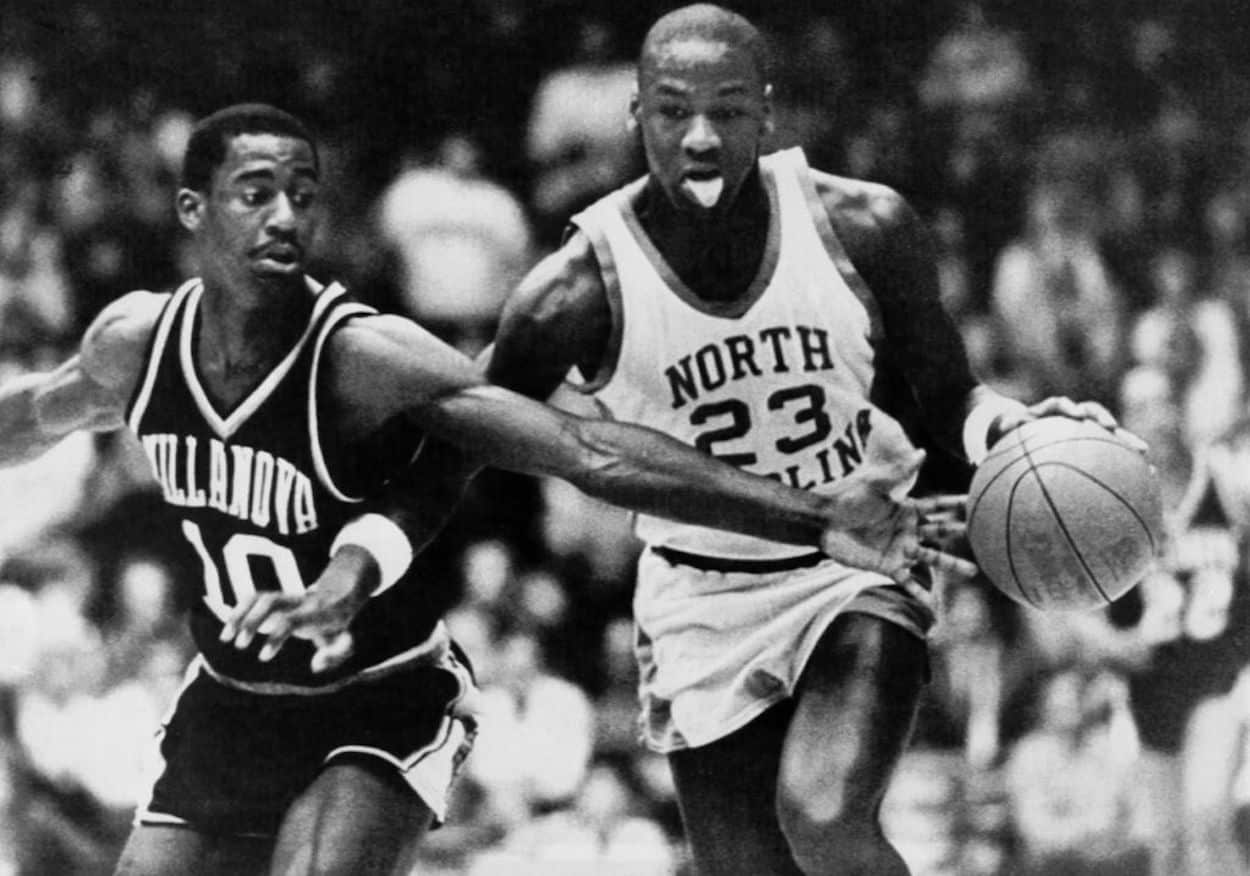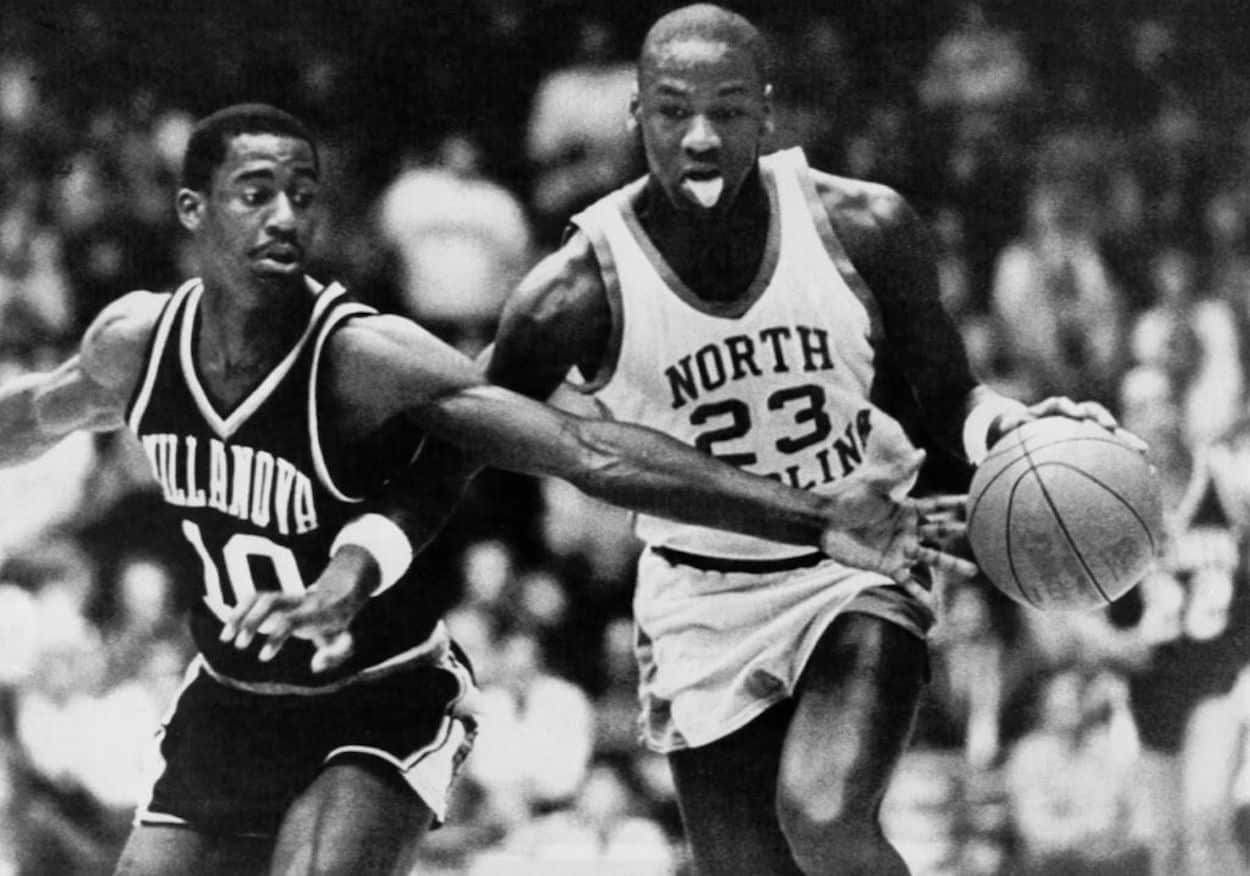 These days, it's almost impossible to think of Michael Jordan as anything other than a Chicago Bull. Before His Airness ruled the Windy City, though, he took his talents to Chapel Hill and suited up for the University of North Carolina Tar Heels. While he wasn't quite the GOAT at that point, MJ still showed some early signs of the man he'd become. Just ask Kenny Smith about that.
During a recent appearance on the All The Smoke podcast, Smith shared some early memories of Mike. Even in college, Jordan was so competitive that he'd intentionally stay on the court, even when his teammates left to get a drink.
Michael Jordan wouldn't leave the basketball court in college in order to prove a point
If you've spent any time inside of a humid gym, you know all about the siren's song of the water fountain. Michael Jordan, however, wasn't going to show any weakness.
"We were playing pickup one day," Smith explained. "The pros go on one end, and the college players go on the other. And then you pick your teams, but you could pick the pros. … So Michael or Sam [Perkins], whoever, they were the senior leaders and junior leaders, they pick the team. And the first day, you know, as a freshman, you just sitting cause they not picking you. So you get on the court at [the] end. About a week later, Michael was picking, and he's like 'I got New York.' They used to call me New York."
As you might expect, that selection proved to be quite the ego boost for Smith. When it came time for a break in the action, though, he got the chance to learn a bit more about Jordan's competitive edge.
"So, every time we win, you know, you go get water," he continued. "And I'm watching Mike, and he's standing in the middle of center court. I walk up, I'm like, 'Yo, what are you doing?' He's like, 'I want them motherf*****s to know that I'm never leaving the court. I'mma be the first to stand here and the last.'"
While Kenny the Jet joked that he immediately joined MJ in standing at center court, he did provide His Airness with a high compliment.
"He was the first dude that I met that could back up his trash," Smith added. "Like every day. Every day. … Always a talker and always backed it up, though."
That episode shows the great duality of Michael Jordan and his will to win
On the surface, Smith's memories might sound like somewhat of a superhero origin story. While that might be true, there's a bit more to the tale than meets the eye.
Based on everything we know of Jordan, those college tendencies did carry over to the pros and make him a living legend. For all of his incredible talent, MJ refused to accept anything less than the best. While that might have made him a less-than-ideal teammate, it did pave the road to six championships and every other accomplishment imaginable.
We can also see a holdover from college-aged Jordan in how His Airness would hold onto his shorts in order to catch a breather on the court. Although his Tar Heels gear was a bit smaller, it's easy to draw the connection between Jordan refusing to leave the court and learning the best possible way to recover during the heat of battle.
With all of that being said, though, hearing that story is almost sad. Thanks to more retrospective pieces, like The Last Dance and Wright Thompson's 50th birthday feature, there's a bit more of a sense that his competitive fire is both a gift and a curse. He has to be the best, even if that means alienating people, pushing himself to the brink, or refusing to drink water.
Through that lens, Smith's story takes on a more human tone. At the risk of trying to get inside of Jordan's head, he probably wanted to drink some water pretty badly. He didn't feel like he could show that level of weakness, though, and refused to budge from center court.
When we're talking about legendary athletes, it's easy to view things like the beats of a children's book, when each struggle turns into a positive experience that strengthens the hero. Michael Jordan, however, is a good reminder that things aren't always perfect.
Everyone, even the NBA GOAT, is a human being.
Like Sportscasting on Facebook. Follow us on Twitter @sportscasting19 and subscribe to our YouTube channel.