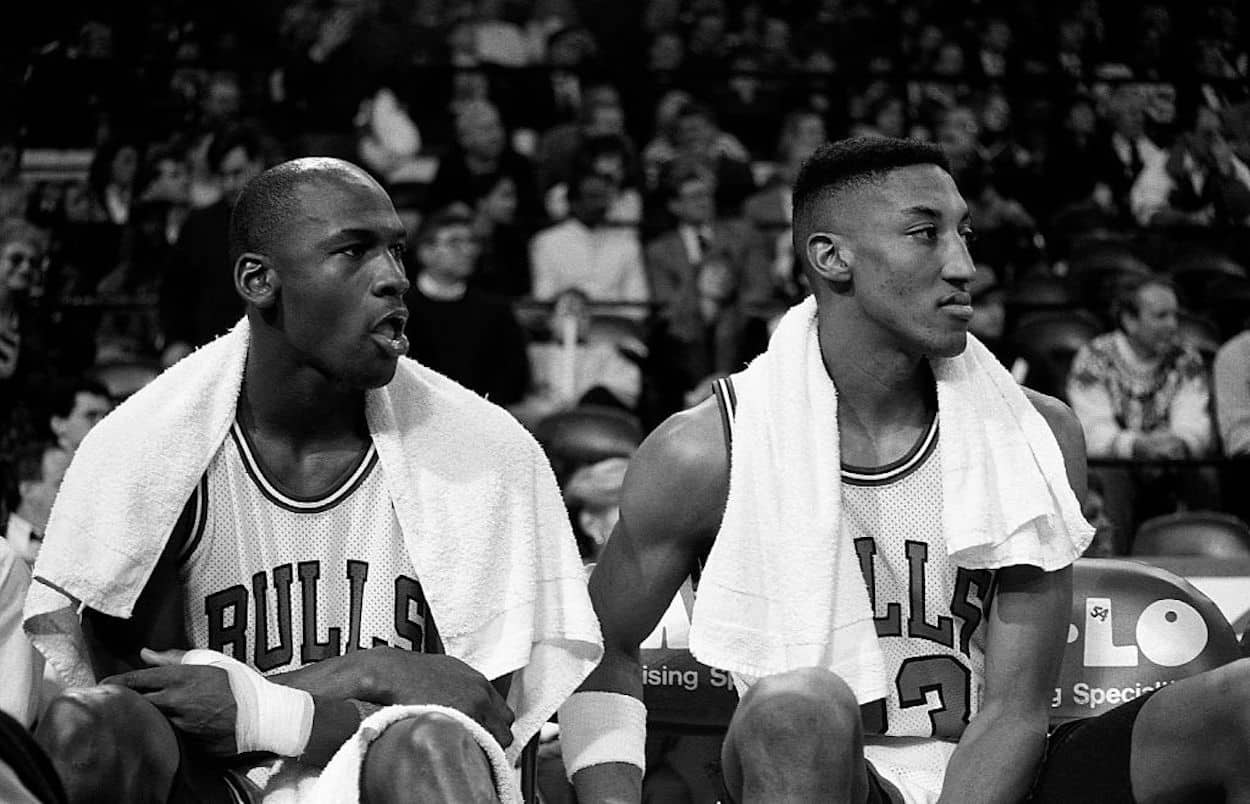 Scottie Pippen's Latest Michael Jordan Comments Show the Challenges of Judging His Airness's Legacy
Scottie Pippen's comments about Michael Jordan may seem contradictory, but they underscore the multiple realities of MJ's career.
While Scottie Pippen and Michael Jordan may be one of the most famous sports duos around, their relationship isn't exactly straightforward. The two men won six NBA championships together, but, around the time of The Last Dance, cracks seemed to be emerging. Things only worsened with each passing interview, as Pip seemed ready, willing, and able to take any possible shot at His Airness.
Now, however, the forward seems to be singing a different tune. In a recent interview, Pippen affirmed that he'd "only" want to play alongside MJ.
Although it's easy to get bogged down in the "he said" element of Pippen-Jordan quotes, the larger dialogue highlights something that's inescapable. His Airness has a complex legacy, and there are multiple sides to that story.
Scottie Pippen said that he'd 'only' play with Michael Jordan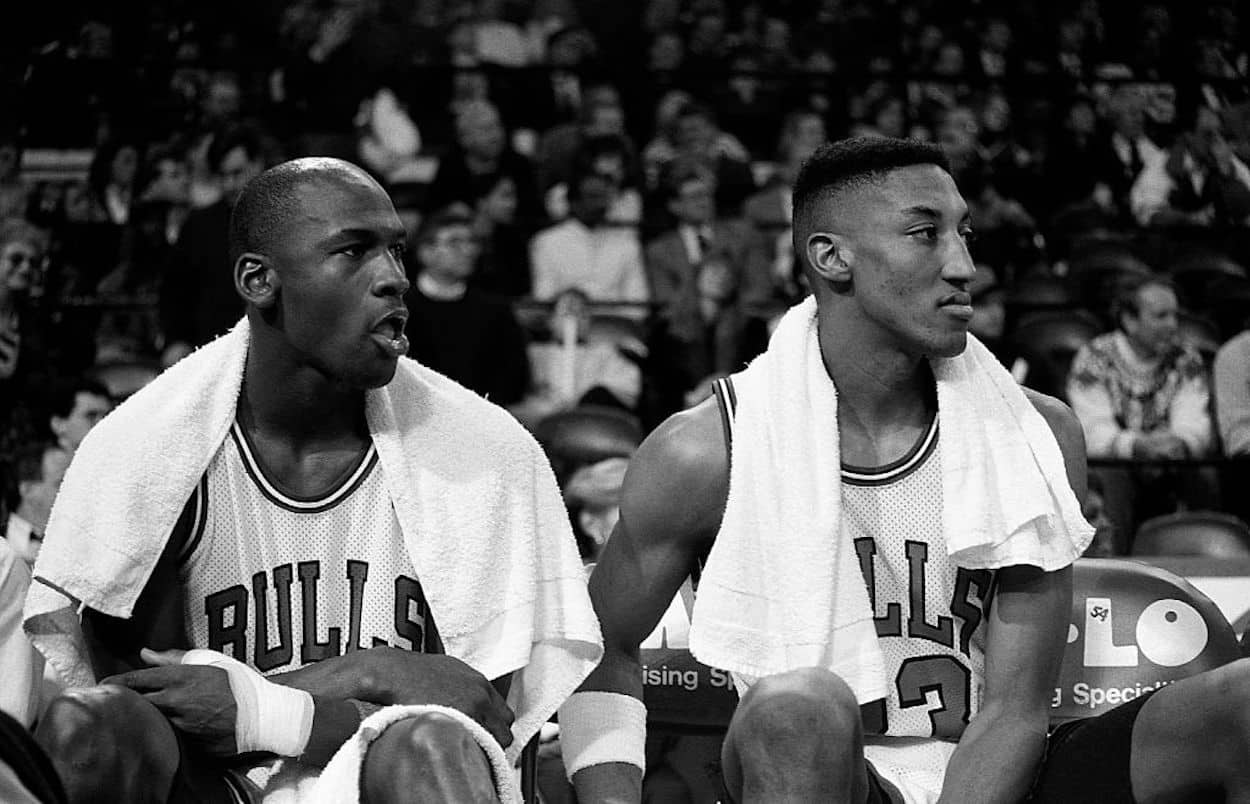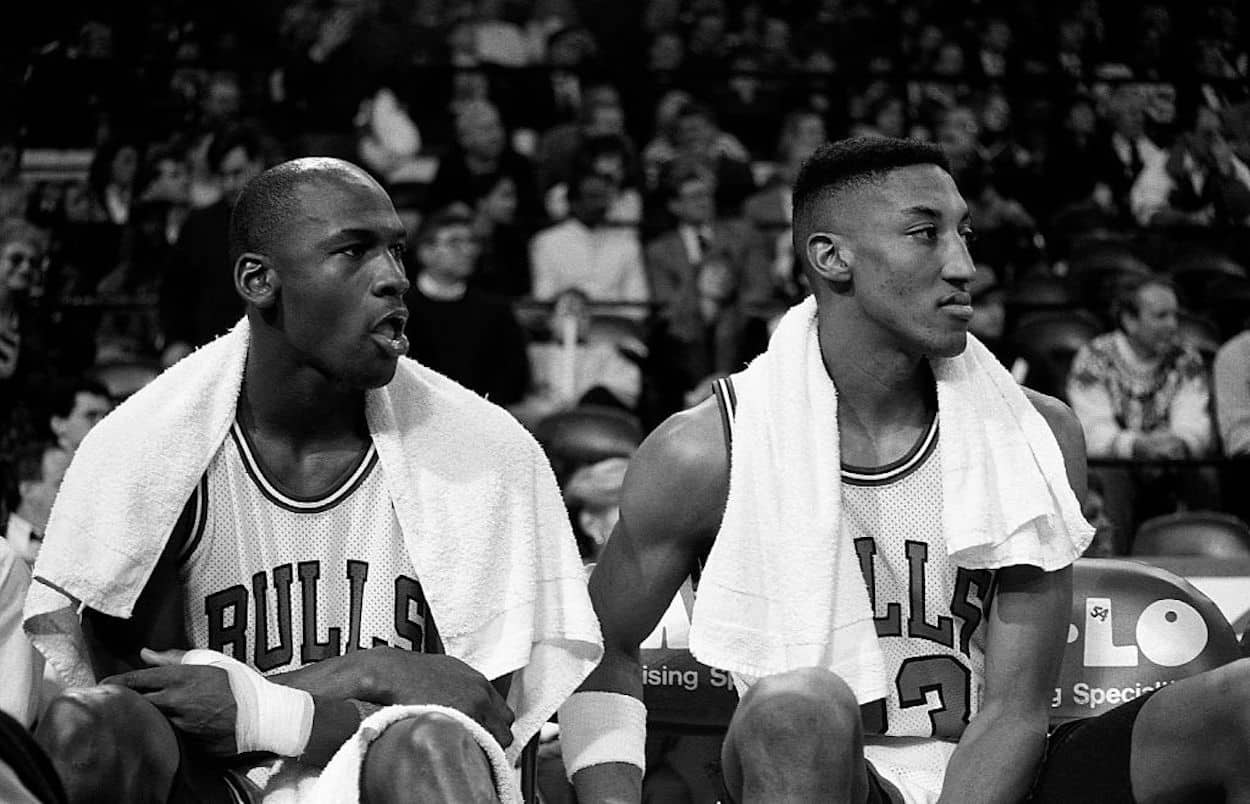 If you took some of his more recent comments at face value, you might think that Scottie Pippen held somewhat of a grudge against Michael Jordan. While there's no way of knowing what does or does not exist inside the former forward's heart, it appears he still recognizes MJ's basketball abilities.
Recently, Los Angeles' KTLA spoke to Pippen. While there was some Lakers talk — he doesn't believe they had the levels of chemistry or collective sacrifice to thrive — that led to some other topics. Pip highlighted the trio of Steph Curry, Draymond Green, and Klay Thompson as a group of leaders who can lift a team to the next level.
In the vein, the former forward was asked about his most famous teammate Michael Jordan. Would Pip still team up with His Airness if given the chance?
"Yes! I would play with only Michael Jordan," Pippen replied.
If you ignore the logistical challenges of that statement — for all their talent, Pippen and Jordan by themselves will struggle against a five-man unit — the implication seems pretty clear. If we're talking about on-court basketball abilities, it's tough to say anything bad about Michael Jordan.
Pip exposed the eternal problem of trying to assess His Airness
Part of what made Pippen's recent comments stand out is their seeming dissonance. How could he be so critical of Jordan but still want to play alongside his former running mate and no one else? While we're not inside Pip's mind to know what he's really thinking, his seemingly contradictory statements do parallel things we've heard before.
As The Last Dance reminded us, Jordan wasn't the greatest guy to be around. He needed to win at all costs, which could lead to him being somewhat of a jerk. The cliche may say that all's fair in love and war, but crushing teammates' confidence and literally punching them during practice are probably out of bounds.
Those may seem like obvious "bad" actions, but things get a bit more complicated when you listen to the Bulls reflect on that time. Steve Kerr, for example, said that the altercation with Jordan helped the two men develop a stronger on-court relationship. That's not dissimilar to what His Airness said at the emotional climax of his ESPN series when he suggested his actions were motivated by a combination of his own need to win and a desire to push his teammates to be their best.
"When people see this, they're going to say, 'Well, he wasn't really a nice guy, he may have been a tyrant,'" Jordan said (h/t Insider). "Well, that's you, because you never won anything. I wanted to win, but I wanted them to win and be a part of that as well. … That's how I played the game. That was my mentality. If you don't want to play that way, don't play that way."
While that logic isn't perfect — saying "This is how I am, and you can leave if you don't like it" doesn't absolve you of responsibility — it does muddy the waters. You can understand Jordan's perspective. You can understand how Kerr might view a scrap as more of a test and less of an assault. That doesn't make it OK, but it does make it understandable.
Beyond that, there's also the fact that Jordan was pretty good at this basketball thing. It would be one thing to have this persona and win a single ring, but His Airness dominated the NBA. He won six championships, claimed just about every individual award imaginable, and changed the global sports landscape. That's the sort of resume that earns you a pass and can trap analysts in a circle.
Jordan was a jerk, but his methods worked. Maybe we shouldn't be so hard on him. Wait, Jordan was a legendary winner but also kind of a jerk. Let's not praise him blindly. And then the cycle starts again.
That's not to say that we should take MJ out at the knees because he was, in many situations, a bad teammate. But, by the same token, his NBA resume shouldn't provide a blank check that overshadows everything else he did. They're both part of his legacy, even if it doesn't fit neatly on the back of a basketball card or a Wheaties box.
In a weird, roundabout, probably unintentional way, Scottie Pippen is highlighting that. Even if it feels a bit weird, you can complain about Michael Jordan's behavior but still want him on your side when the chips are down.
Like Sportscasting on Facebook. Follow us on Twitter @sportscasting19 and subscribe to our YouTube channel.