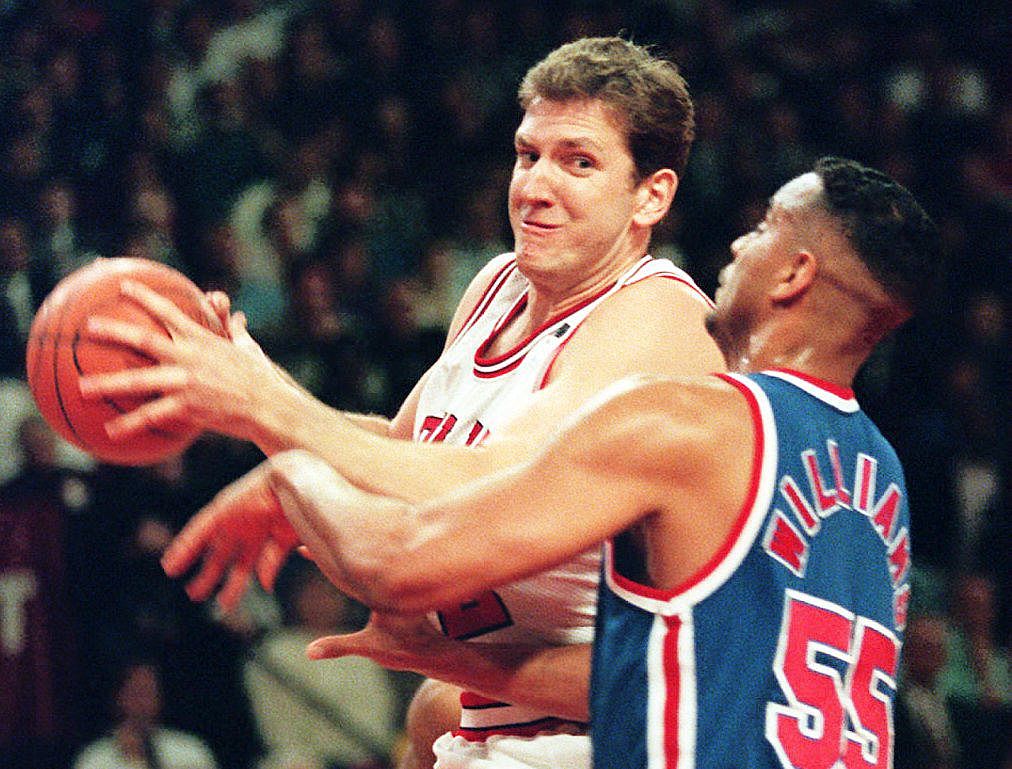 Michael Jordan's List of Punched Players Includes Teammate Will Perdue
Will Perdue says Michael Jordan once punched him during a Chicago Bulls practice.
Other Chicago Bulls players may have been responsible for bringing the donuts or sandwiches to practice, but Michael Jordan apparently was in charge of the punch.
The story of Steve Kerr getting slugged by Jordan has made the rounds for years, but he wasn't the only teammate that 'MJ' went after.
The Jordan Rules: Don't tick him off in practice
The Last Dance documentary has delved into Michael Jordan and his treatment of teammates in practice, described by some as overbearing and demeaning behavior. A 1992 book by Chicago Bulls beat writer Sam Smith exposed some of the altercations between Jordan and his teammates.
Center Will Perdue confirmed to CBS Sports that he was on the receiving end of a Jordan punch, but he said such incidents were routine at Bulls practices. "Stuff like that was common, because that's how competitive our practices were," said Perdue, who was Jordan's teammate from 1988-95.
To be fair, there are scraps between teammates during practices in a variety of sports. But Jordan's name seems to come up with greater frequency than other star players.
Recap of Michael Jordan punching Will Perdue
Will Purdue spoke in detail in 2016 about the time Michael Jordan threw a haymaker at him in practice.
Perdue was on the court with the second unit, which in his words was "kicking the first unit's butt." The reserves were running through a series of plays scripted by defensive coach Johnny Bach to prepare the starters for a game the following night.
One of the plays was a screen-roll in which Jordan was going to be responsible for defending the guy coming off the screen. Jordan could have cut under the screen, but that was probably going to leave his man enough room to get off the perimeter jumper. The alternative was for Jordan to fight his way through the screen.
"So, we kept running this play, and sometimes my screens were illegal," Perdue recalled. "Sometimes they were not. But my job was to make sure I hit him. Well, one time he said, 'If you do that again I'm going to make you pay for it.' Well, Johnny Bach just stood there and goes, 'Run it again.'
"So, we ran it again, and this time I figured I'm going to get my money's worth. I nailed him, knocked him to the ground, kind of stood over him a little bit. He stood up, popped me, and before I could get him, they got us and that was the end of it."
Perdue arrived at the team plane with a black eye the following day but said he did get an apology from Michael Jordan.
Will Purdue had a long, undistinguished career
Will Perdue played 13 seasons for three NBA teams after being drafted 11th overall out of Vanderbilt by the Chicago Bulls in 1988. Perdue started about 30% of his 792 career games but averaged a modest 4.7 points and 4.9 rebounds per game. The 7-foot center shot 51.5% from the field and 57.7% from the free-throw line for his career.
For all that, he earned a touch over $21 million for his career, which included three NBA championships alongside Michael Jordan and stops with the San Antonio Spurs, where he played for another titlist, and Portland Trail Blazers.