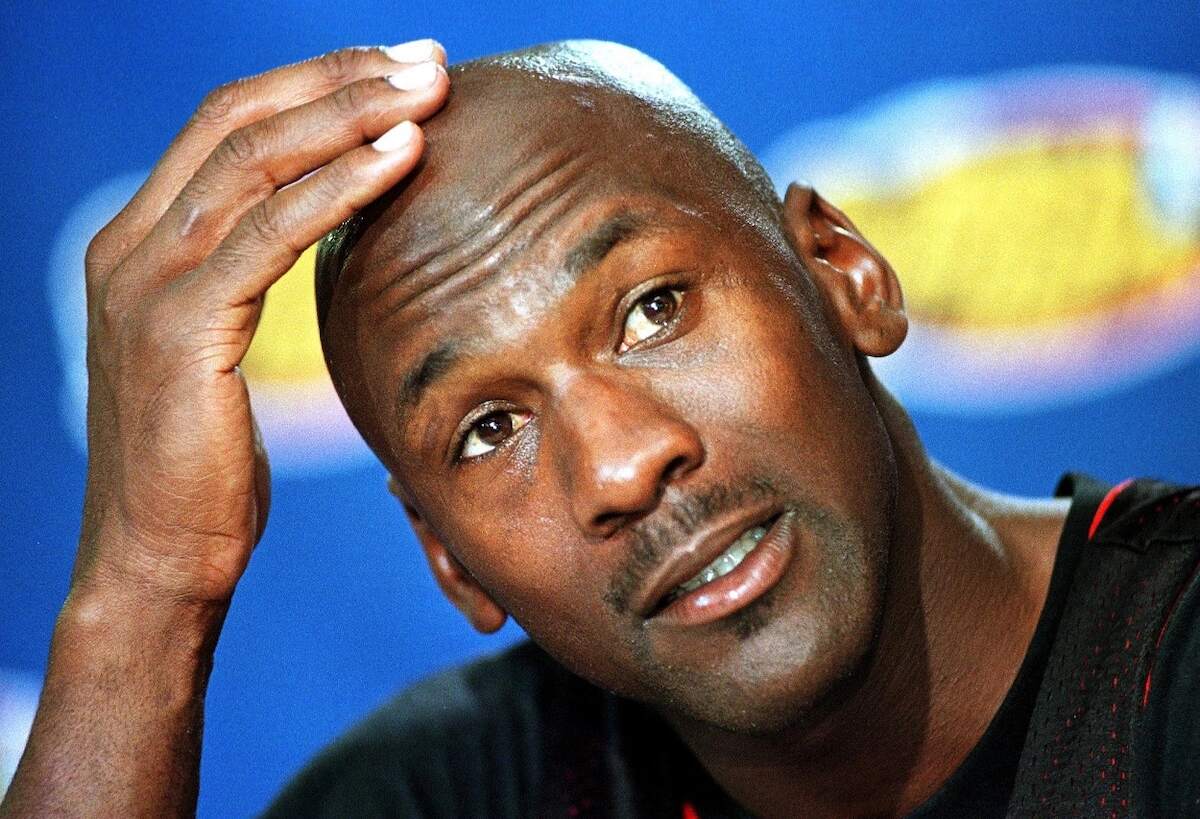 George Gervin Says Michael Jordan Isn't the NBA GOAT, Claims 'He Couldn't Score Like Ice'
George Gervin doesn't consider Michael Jordan the NBA GOAT.
lt's often easy to forget Michael Jordan and George Gervin, easily two of the greatest scorers in NBA history, were teammates for a season with the Chicago Bulls.
Gervin, who won four NBA scoring titles, tied for the third-most in history behind only Jordan and Wilt Chamberlain, played the 1985-86 season in the Windy City, his final season in the league. While Jordan, who'd won NBA Rookie of the Year the season before, wasn't overly pleased with the Bulls trading for Gervin, it turned out to be the right call for Chicago as MJ broke his foot in the third game of the season. The injury kept him out of action for 64 games.
Gervin was 33 when the season began but played all 82 regular-season games. And the nine-time NBA All-Star still had something left in the tank as he averaged 16.2 points per game. It was the lowest average since his rookie year in the ABA with the Virginia Squires, but an incredible feat nonetheless. "Iceman" even dropped a 45-point game on the Dallas Mavericks.
While Gervin was included on the NBA's 50th and 75th Anniversary teams, it's rare to ever hear his name in the ongoing NBA GOAT conversation. But that conversation always includes Jordan, right? And if you're into that sort of thing, it should, given what he accomplished.
Personally, I think the NBA GOAT conversation is pointless as an actual greatest of all time can never truly be calculated. There are just too many variables to consider. And it seems as if George Gervin agrees with me, at least somewhat.
George Gervin says he's not convinced Michael Jordan is the NBA GOAT
In an interview with The Post Game, Gervin discussed his one season alongside Jordan with the Bulls and said that while he's a huge fan of his former teammate, he won't call him the GOAT.
"Everybody says he's the greatest of all time, but I'm not convinced. What criteria are you using to say that? It's easy to say that on ESPN. Stephen A. Smith: 'Greatest of all time.' What do you mean? He got more championships than Bill Russell? He's got more points than Kareem Abdul-Jabbar? What criteria are you using? He's one of the greatest entertainers? Hell yeah.

"But what about Magic Johnson? Magic Johnson's one of the greatest entertainers of all time. And winners. I'm not taking nothing from no one. But a lot of times today, people just throw out greatest of all time. To be the greatest of all time, you got to be really really special, man. He is. But we had some special guys before him too."

George Gervin on Michael Jordan and the NBA GOAT
Those are certainly points with which I can agree. Greatest? Best? Most successful? These aren't all one and the same. So I'm down with Gervin here. But another statement he made in that same interview wasn't quite as strong.
Gervin said Jordan 'couldn't score like Ice'
Just after making the statements above, Gervin had this to say:
"He [Michael Jordan] is one of the greatest entertainers, one of the greatest winners. He could flat-out play, his stats proved themselves, but he couldn't score like Ice. He had his own way of scoring. He didn't score like me. I didn't score as many points as he did, but I didn't shoot as much as he did.

"Mike and Kobe [Bryant] shot more times than anyone in the history of basketball. So that means they missed a lot. He shot 50 percent though (49.7 percent, technically). That kind of makes up for it. At guard. That makes a guy special."

George Gervin on Michael Jordan
At least "Iceman" cooled himself off before that take got too hot. Michael Jordan can't score like George Gervin? Come on.
To his credit, Gervin is technically correct. He didn't shoot as much. During his 14-year career in the ABA and NBA, Gervin attempted 19.4 shots per game and averaged 25.1 points, shooting 50.4% from the floor. In 15 NBA seasons with the Bulls and Washington Wizards, Jordan attempted 22.9 shots per game, averaging 30.1 points while shooting 49.7% from the floor.
But, again, Jordan couldn't score like Ice? Absurd.
As for Kobe Bryant, he averaged 19.5 shots per game over the course of his 20-year career with the Lakers. So that's just a tenth of a point above Gervin's average.
And for the record, Kareem Abdul-Jabbar took more shots than anyone in NBA history, with 28,307. Bryant (26,200) and Jordan (24,537) are fourth and fifth, respectively. Gervin currently sits in 20th if you take his ABA stats into account with 20,583.
Stats courtesy of Basketball Reference
Like Sportscasting on Facebook. Follow us on Twitter @sportscasting19 and subscribe to our YouTube channel.