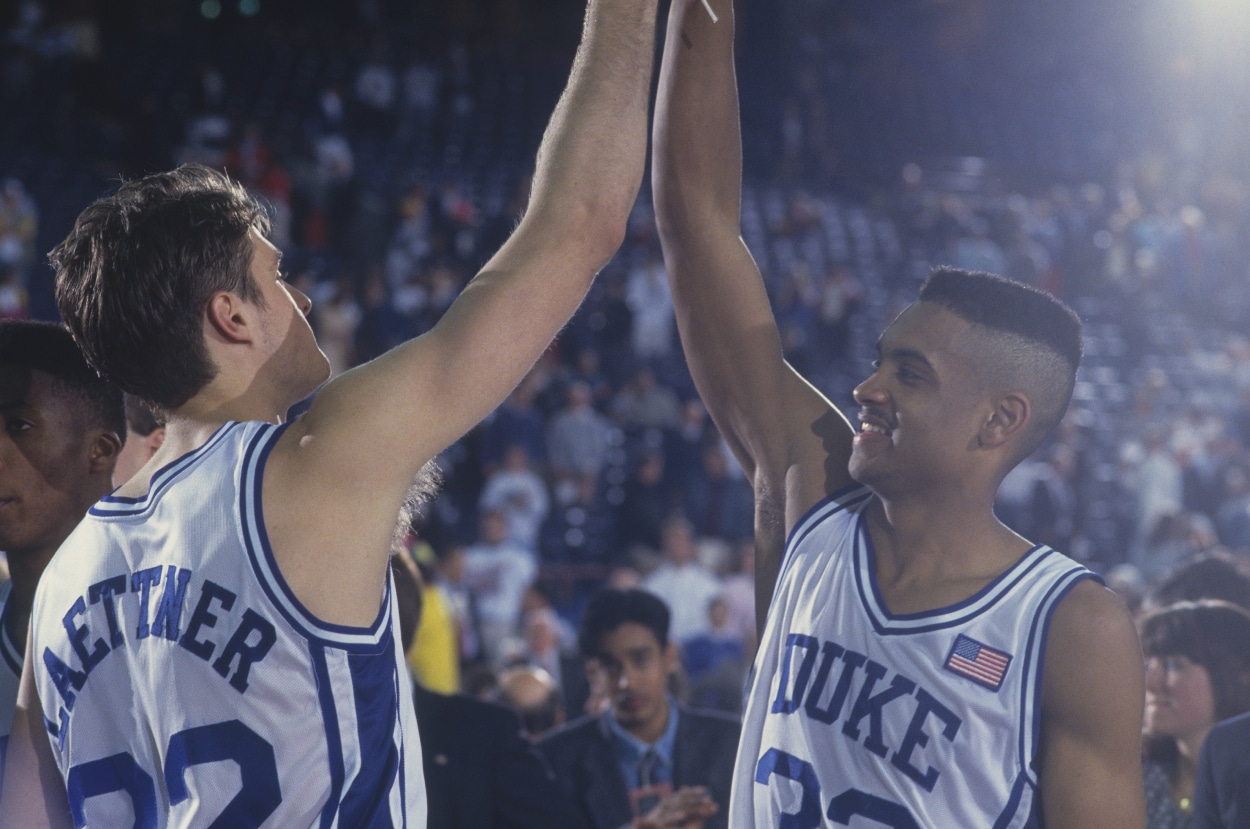 Grant Hill Says He Didn't Realize Duke Teammate Christian Laettner Was Human Until He Watched His Documentary
Grant Hill said he didn't know his Duke teammate Christian Laettner was human until he watched his documentary.
When it comes to hated basketball players, Duke University heads the list.
Seven-time NBA All-Star Grant Hill played with one of those players — two-time ACC Athlete of the Year Christian Laettner. JJ Redick was one of those players. Hill and Redick recently got together and reminisced about their days at Duke.
Hill was a guest on Redick's The Old Man and the Three podcast and said he didn't realize Laettner was human until he sat down and watched his documentary.
Grant Hill, Christian Laettner won two titles together at Duke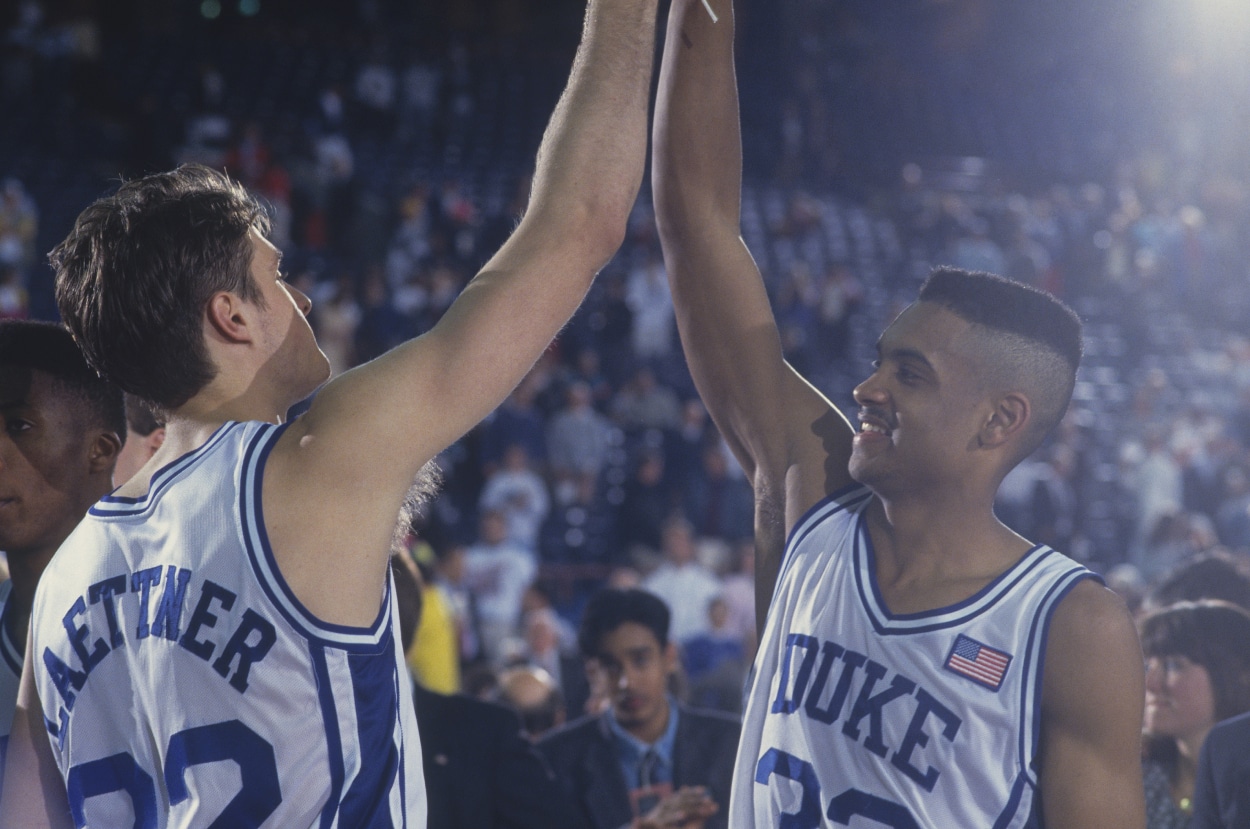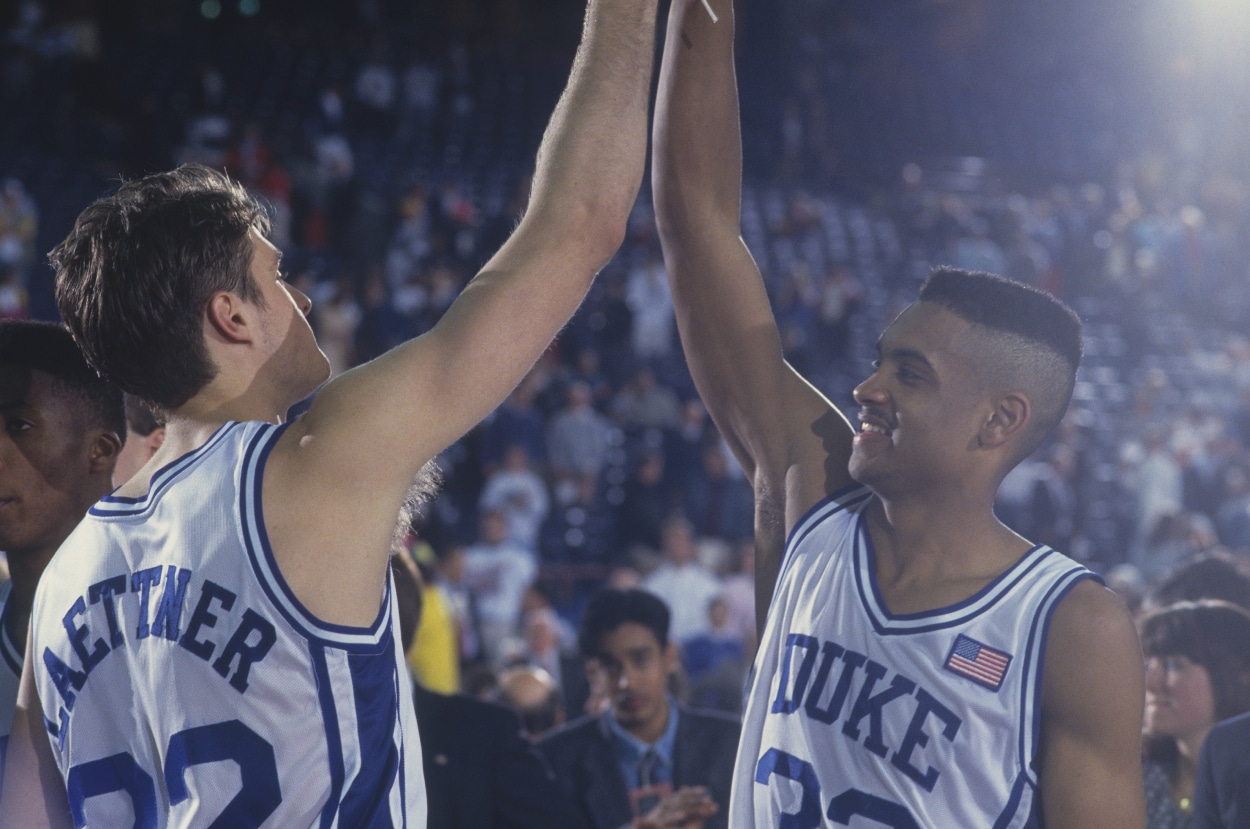 Hill and Laettner teamed up at Duke and won consecutive NCAA titles in 1991 and 1992. Laettner is best known for his last-second turnaround jumper that stunned Kentucky 30 years ago in the NCAA tournament. He's also known for being one of the most hated players in college basketball history.
Laettner may be the first legitimate hated player at Duke. He had an arrogance about him, but he also didn't seem to have a problem stepping on opponents when they were on the floor. The best player on the best team in the country is going to generate hatred.
Redick is right there with Laettner in the hatred department when it comes to Duke players. Hill explained that many of his then-Orlando Magic teammates were anti-Duke and anti-Redick. He recalled watching LSU defeat Duke with his Magic teammates in Redick's final game. Those teammates were elated when Redick and Blue Devils were sent packing by the Tigers. Sure enough, the Magic drafted Redick a few months later.
"We were at Jameer Nelson's house in Chester, Pennsylvania, getting ready to play the Sixers the next day," Hill recalled to Redick. "We're watching the game, and everybody's rooting for LSU. Everybody hates Duke, and everybody hated you. The next year, we draft you."
Hill said he didn't know Laettner was human until he watched his documentary
Laettner, Redick, and Grayson Allen all fall into the category of most hated Duke players. At the time, Hill thought none of that hatred seemed to bother Laettner. Laettner was so disliked that ESPN put out a 30 for 30 documentary titled I Hate Christian Laettner.
Hill said it was when he watched that documentary that he realized how bothered Laettner was by the negativity.
"Christian was like Teflon," Hill said. "I remember we went down to play at LSU. It was Christian and Shaq. Shaq was amazing. Bobby (Hurley) was out. I filled in at point guard. It was my sophomore year. Christian outplayed Shaq. They were both unstoppable. We won the game.
"The crowd was brutal. The big then was they questioned his sexuality. It was very taboo in 1992. We've evolved as a society as it relates to that. They were doing that Florida State chant, basically saying 'Ho-mo-sexual' directed at Christian. He's at the free-throw line and hits a shot and then flicks his wrist to the crowd. I'm thinking this man is insane.
"It was almost like he deflected it from all of us, like I'll take it to protect everybody else. Not until he did his documentary did I realize that it actually bothered him. I'm like, wow, this man is human."
Hill said he had no clue this was the case while he was his teammate.
"He played the role of villain to perfection," Hill said. "Heck, half the time, we didn't like Christian."
Like Sportscasting on Facebook. Follow us on Twitter @sportscasting19 and subscribe to our YouTube channel.