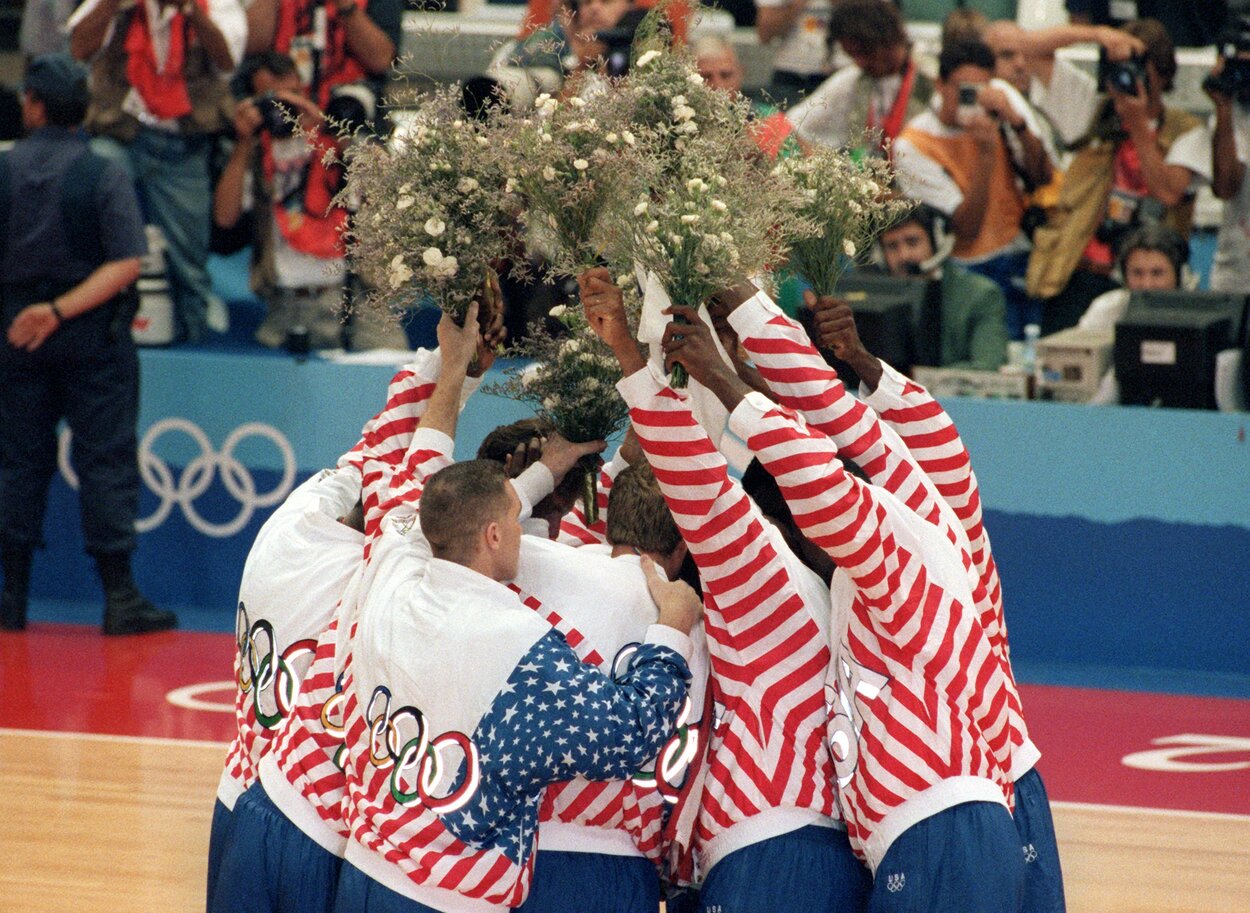 Christian Laettner Wisely Knew to 'Keep Your Mouth Shut' on the 1992 Dream Team
Christian Laettner understood his role on the Dream Team and made sure not to upset any of his All-Star teammates.
The Dream Team is undoubtedly the most impressive collection of talent ever assembled. The United States men's basketball team featured the likes of Michael Jordan, Larry Bird, Magic Johnson, and many more future Hall of Famers. Then at the bottom of the roster, you had Christian Laettner.
Laettner's inclusion on the 1992 Olympic team is one that naturally stands out. While his 11 teammates were all NBA All-Stars, he was but a 22-year-old youngster fresh out of college. So he made sure to not ruffle any feathers during his tenure on the greatest team ever to take the court.
Christian Laettner was a surprising inclusion on the Dream Team
In 1989, one year after the United States lost to the USSR and settled for a bronze medal, FIBA voted to allow NBA players to participate in the Olympics. Naturally, team USA took advantage of the new rule, selecting the likes of Jordan, Magic, and Bird, along with other stars like Karl Malone, Charles Barkley, and Scottie Pippen.
However, the U.S. team didn't want to completely abandon the old amateur system. So they selected Laettner, the 6-foot-11 center from Duke, to join 11 of the best players in professional basketball. The two-time national champion was picked over the likes of LSU's Shaquille O'Neal, who was taken first overall in the draft, as well as fellow NBA newcomers Alonzo Mourning and Jim Jackson.
Laettner's career at Duke is one of the most impressive — and controversial — in college basketball history. The center was the AP Player of the Year in 1992, a two-time All-American, and to this day remains the third-highest scorer in Blue Devils history. Yet throughout his time in school, he was viewed as cocky and arrogant, essentially becoming college basketball's biggest villain.
Laettner knew he had to dial it back
Given his college success and "bad boy" reputation, it could have been easy for Laettner to feel comfortable on the Dream Team. However, in Jack McCallum's book Dream Team: How Michael, Magic, Larry, Charles, and the Greatest Team of All Time Conquered the World and Changed the Game of Basketball Forever, Laettner shared how the experience was humbling for him.
"It wasn't that hard. Sure, I had to use my head and realize what it was. Even though I was one of the best players in college at that time, it's pretty obvious that it's different walking into the room where you're with the best players at the next level. But I'm smart enough and a good enough kid to realize that I'm at the bottom of the pecking order. Keep your mouth shut. Watch. Learn. Pick up the bags, pick up the balls. It was fun and easy. That's how I describe it."

Christian Laettner
"I don't know what it looked like outside, but it was OK within the team," Laettner added. "People only see the cocky, arrogant Christian Laettner. But that's only me when I get up to that level. Once you're up there you have to be cocky and arrogant. But if I'm not at that upper-echelon level, I'm just a good kid with a good personality who knows his place. And my place was very low on the totem pole because Michael and Magic and Larry Bird are all on the team. It was an easy transition. I'm very good at that role. I don't mind that role."
Laettner wound up getting along with his teammates
It wasn't as if Laettner was confined to the bench during the USA's waltz to a gold medal. The third overall pick of the Minnesota Timberwolves actually played in all eight games, averaging 4.8 points in 7.6 minutes. And off the court, he managed to get along with several of his legendary teammates, including Jordan.
"Michael was pretty cool, actually," Laettner said to McCallum. "Later on, he started giving me s***. But it wasn't bad."
Laettner mentioned how he got along very well with Chris Mullin, often playing one-on-one during practice. He also spent time with John Stockton and his family, enjoyed "a few long talks" with Bird, and got to know Barkley, Patrick Ewing, and David Robinson well.
While Laettner's NBA career lasted 13 seasons, it never materialized as it did for his Olympic teammates. The big man averaged 12.8 points across stints with six teams, earning All-Star honors in 1996-97 with the Atlanta Hawks. That All-Star Game happened to reunite him with Jordan, Pippen, and Ewing as Eastern Conference teammates.
Even though he's one of the less-talked-about players on the Dream Team, Laettner's experience was unforgettable.
All statistics courtesy of Basketball Reference.