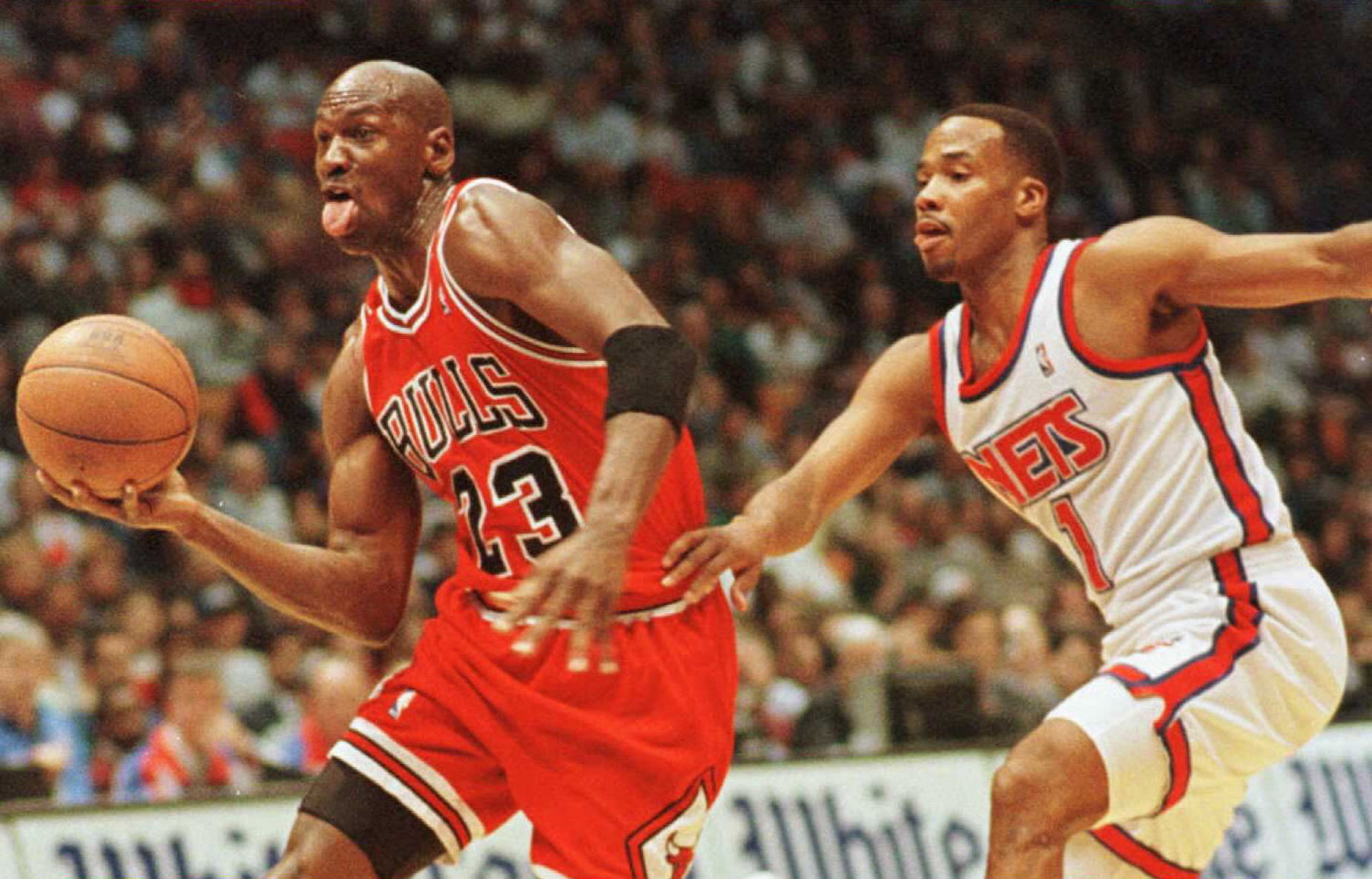 Michael Jordan Once Lost a Ping Pong Match to Christian Laettner and Responded in the Most MJ Way Possible
Michael Jordan's competitive fire wasn't limited to the basketball court. During the 1992 Olympics, MJ didn't take losing a game of ping pong lightly.
While it's been almost two decades since Michael Jordan last hit the hardwood, the forward still stands tall in basketball lore. Beyond his on-court talent, His Airness' relentless will to win became the stuff of legends. That competitive fire, however, wasn't limited to the hardwood.
During his time with the Dream Team during the 1992 Summer Olympics, Michael Jordan lost to Christian Laettner in a game of ping pong. MJ didn't take that defeat lying down, though.
Michael Jordan made a name for himself as a legendary winner
As any basketball fan can tell you, Michael Jordan was an unrelenting winner. That trend, however, didn't start in the pros.
Jordan cut his teeth battling against his brother, Larry, before heading to high school. There, he famously failed to make the varsity team at the first attempt; while that could have dented his confidence, MJ refused to back down. The next fall, he made the top squad and, by the time he graduated, had become a McDonald's All-American.
After graduation, a teenage Michael Jordan headed to the University of North Carolina; as a freshman, he nailed the game-winning shot to clinch the NCAA title. That championship would be the first of many.
Jordan, of course, joined the Chicago Bulls as the third-overall pick of the 1984 NBA draft. While he had some issues getting past the Detroit Pistons, His Airness eventually broke the seal and started a dynasty. Including a stint with the Washington Wizards,  MJ spent 15 professional seasons in the association, averaging 30.1 points per game, taking home six championships, and claiming six MVP awards.
Facing losing to Christian Laettner in a game of ping pong
During the 1992 Summer Olympics, the Dream Team's stars spent plenty of time on the basketball court, playing intense scrimmages and cruising to the gold medal. Michael Jordan and his peers, however, still found time to take part in another competition.
During their downtime in the hotel, the Dream Team started playing ping pong; before long, a bracket was created, and elimination play began. Eventually, Jordan and Christian Lattner met in the finals; MJ may have been a star, but the Duke forward had plenty of ping pong experience.
"So, Laettner and Jordan in the finals," NBA photographer Nat Butler recounted on SLAM's "Respect the Game podcast," according to a The Big Lead. "Like, there was some side action going on, we'll leave it at that. Michael is playing ping pong, sweating, like fourth-quarter-at-the-free-throw-line kind of sweat. For some reason, Laettner beat him."
Michael Jordan responded in the most MJ way imaginable
 While he was in Barcelona to win a gold medal, not compete in a ping pong tournament, Michael Jordan couldn't tolerate losing in any competition. So how did he respond to falling to Christian Laettner in the finals?
"[Jordan] threw the paddle," Butler continued. "He didn't talk for two days to anyone. Come to find out, he had a ping-pong table delivered up to his room. No one knew about it. and he was practicing for the rematch."
Eventually, that rematch took place; if you know anything about Michael Jordan, you already know the reported result. "They had a rematch two days later, three days later," Butler concluded. "It was [something like] 21-4. He destroyed him."
In an appearance on the Dan Patrick Show, however, Laettner said that he couldn't recall losing to MJ on the ping pong table. One thing, however, is safe to assume: no matter who won that rematch, it was probably one of the most intense games of table tennis that the world has ever seen.
Stats courtesy of Basketball-Reference