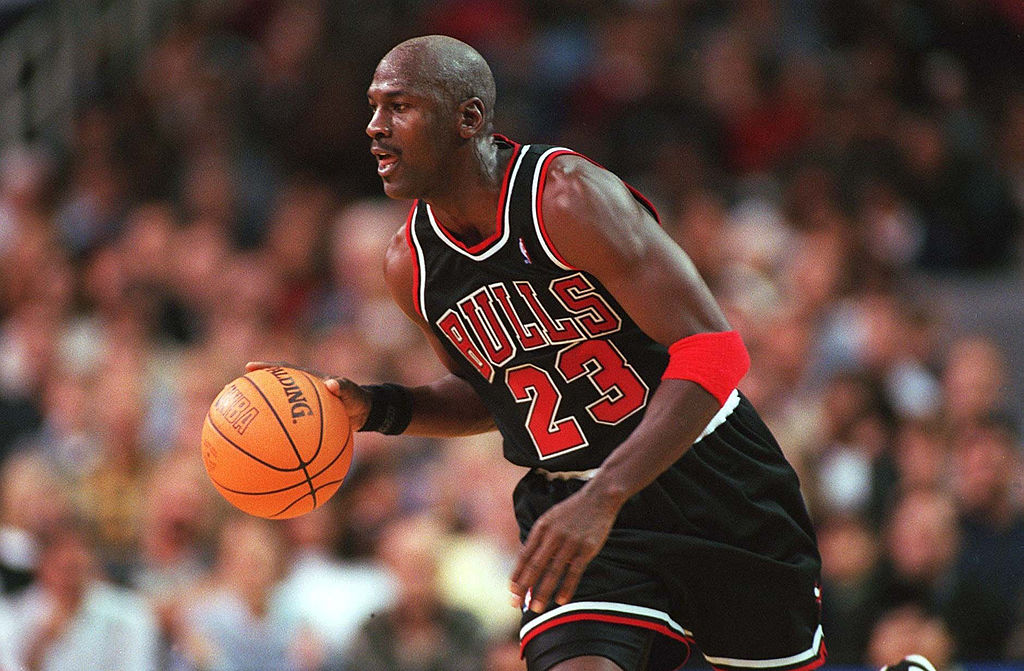 Michael Jordan's Retirement Pick-up Games Revealed His True Character
How much do we really know about Michael Jordan's character? Some guys who played pickup ball with His Airness explained what he's really like.
When it comes to celebrity pro athletes, it's tough to get bigger than Michael Jordan. Due to his incredible ability on the hardwood, His Airness transcended the bounds of sports; everyone, whether they liked basketball or not, was familiar with the Chicago Bulls star. But how much do we really know about MJ's character?
During his first retirement, Jordan played pickup games with a group of average Joes in a downtown Chicago gym. Away from the cameras and the prying eyes of reporters, those moments revealed the true content of the NBA legend's character.
Michael Jordan suddenly retired from basketball in 1994
For an entire generation of sports fans, Michael Jordan's name became synonymous with basketball. In 1994, however, that reality changed.
After making a name for himself at the University of North Carolina, Jordan entered the 1984 NBA draft. The Chicago Bulls selected him third overall, setting the stage for sports history. MJ, of course, blossomed into a star and helped the Windy City club win three consecutive titles in 1991, 1992, and 1993.
At the height of his dominance, however, Jordan made a shocking decision. In October 1993, after the death of his father, His Airness retired from the NBA and embarked on a baseball career. While we can retrospectively debate the merits of that move, it seemed unthinkable at the time.
That reality, however, couldn't keep MJ away from the basketball court. As documented by a SportsChannel Chicago video, he was known to head to the Athletic Club at Illinois Center and hit the hardwood.
Refusing to lose and talking trash, even against average Joes
If basketball fans know one thing about Michael Jordan, it's that he was incredibly competitive. Based on his pickup games at the Athletic Club, it's safe to conclude that's a reality.
Even though Jordan wasn't playing against professionals at the gym, His Airness wasn't going to take it easy. He was there to win and wasn't afraid to break out some of his famous trash talk.
"There was a friend of mine, Dr. Rick Weber, he was in his 40s, and he played in a game where he called out Mike for cheating," Tom Tuohy, a regular at the gym, told Dan Gartland for a Sports Illustrated oral history. "And I'm telling you, Jordan just about rode him and trash-talked him out of the gym. He said, 'I don't have to cheat, old man, to beat you.' All the way to the locker room and taking a shower: 'Now don't slip, old man, and break a hip."
Other players shared similar stories of Jordan's competitiveness. David Boone, for example, scored a basket against the Chicago Bulls star; MJ promptly told him, "You will not score again today," and locked him down for the remainder of the game.
Above all else, though, Michael Jordan simply loved basketball
As the gym's regulars learned, Michael Jordan didn't lose any of his competitive fire when he retired from the NBA. They confirmed another truth, though: His Airness simply loved to play basketball.
"The dude just loved basketball," Ben Terrell explained. "I played with a lot of other guys who came up there, but he was very engaging. If you played with him more than once, he would probably learn your name. He would know what you were good for. Like, oh, this guy is a rebounder, he'll tip it back in, but I won't pass it to him. You had to earn his respect if he was going to pass it to you. But he would definitely learn what you could do. He was very competitive. I don't ever remember him losing a game."
Alex duBuclet, however, said it best. Michael Jordan could have been doing anything, but he wanted to play basketball, even if that meant taking the court with a bunch of average Joes.
"He loved the competition, but there's something special about playing with average folks that he liked. The reason I know that is because he played with us way too often not to like it," deBuclet said. "Michael didn't have to do anything he didn't want to do. He had enough money, he had enough people to chase down if he wanted to go out with women, he had everything you could want. Why would he, with all the money in the world, all the cars in the world, all the women in the world, want to spend three hours or four hours in a gym with a bunch of smelly, sweaty guys who just got off their 9–5 jobs? It's the love of the game."