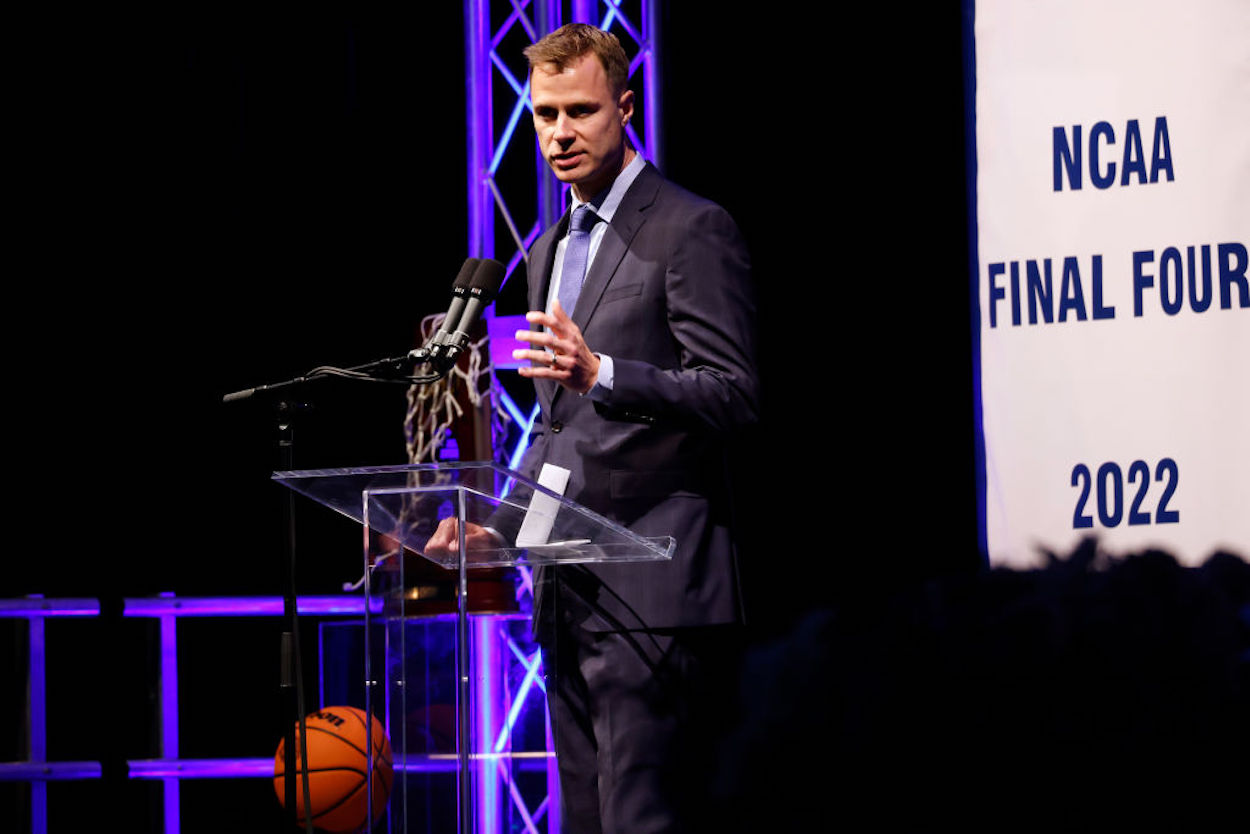 Duke Basketball: Jon Scheyer's First Roster May Be Getting Even Stronger Thanks to Jeremy Roach and Trevor Keels
While the 2022-23 Duke basketball campaign is yet to being, Jon Scheyer may already have two additional aces up his metaphorical sleeve.
Now that the Duke Blue Devils' end-of-season banquet has passed, Coach K's career is officially done. For better or worse, it's Jon Scheyer's program now. The rookie head coach has to navigate through a tricky transition, keeping his squad competing for national honors while learning the leadership ropes. Thankfully for everyone in Durham, it seems like he could have two extra aces up his sleeve.
In modern college basketball, most big-time coaches can assume their top players will be leaving for the NBA at the end of each campaign. The likes of Paolo Banchero, Mark Williams, and Wendell Moore Jr. have declared for the draft, but it seems like Jeremy Roach and Trevor Keels are prepared to remain at Duke.
For a rookie head coach stepping into a high-pressure environment, that could make all the difference.
Jon Scheyer is losing plenty of talent but could have Jeremy Roach and Trevor Keels returning to campus
For a program like the Duke Blue Devils, things turn over pretty quickly. While there are obvious benefits to recruiting top-tier players — they help you win games — those young stars will also enter the NBA after one collegiate campaign.
That reality has become apparent in the past few days. Paolo Banchero, who has a legitimate chance at becoming the first overall pick, confirmed that he's entering the 2022 NBA draft. Big man Mark Williams, who stepped up during the NCAA Tournament, and Wendell Moore Jr. are also planning to enter the Association.
The losses don't end there, though. A.J. Griffin is projected to be a lottery pick, which should be enough to lure him away from Durham. Theo John, who came to Duke as a graduate transfer, is done at the NCAA level; Michael Savarino, Coach K's grandson, is looking to transfer.
You may have noticed two notable names missing from the above list: Jeremy Roach and Trevor Keels. That's because, while there's some uncertainty about their futures, the two guards seem to be coming back to Cameron Indoor Stadium.
"Keels … is a different story, and his return to Durham remains a real possibility, if not a probability," Brendan Marks explained in The Athletic, citing the guard's offensive inconsistency as a potential factor undercutting his draft status. While there's still time for a last-second audible, a scout described Keels as having "more reason to go back to school."
Roach, it appears, will be staying at Duke rather than transferring.
"As for Roach, there was significant chatter before the NCAA Tournament about him entering the transfer portal at season's end. But given his emergence during Duke's Final Four run — Roach's 3-pointer against Michigan State was arguably the program's biggest postseason shot — that plan now seems to have shifted," Marks wrote. "Had Roach left, sources indicate there was some discussion about 2023 point guard commit Caleb Foster re-classifying and enrolling early this summer. And while no final decision has been made yet, it appears Foster will remain in the 2023 class and Roach will return as the starting point guard for Scheyer's first team."
Those moves could take a massive weight off Jon Scheyer's shoulders during his first campaign
Given that he's landing the top-rated recruiting class in the country, you could argue that Jon Scheyer doesn't really need Keels and Roach. In the larger context of his first season, though, the first-year head coach could use all the help he can get.
The largest challenge is obviously replacing Krzyzewski without crumbling under the pressure. It doesn't take a crystal ball to imagine the headlines and hot takes that will flow if Duke suffers through a three-game losing streak. As much as Scheyer needs to win, he absolutely has to keep the bottom from falling out.
While talent is a major part of accomplishing that aim, there's a risk to relying on freshmen. At the risk of trotting out a classic cliche, experience does matter. When you're trying to mount a comeback in hostile ACC territory, there's something to be said for having an experienced leader on the court. As guards, Keels and Roach will literally be the ones with the ball in their hands. They know when to push the pace and when to take a deep breath.
Circling back to the public pressure that could mount on Scheyer's shoulders, let's take a stroll down Tobacco Road and consider the University of North Carolina. Armando Bacot and Leaky Black will both return to Chapel Hill; R.J. Davis and Caleb Love could go pro but are yet to make an official announcement. Even if the latter two players leave, the Tar Heels will be in a strong position to build on their 2021-22 campaign.
While Duke's success isn't determined by two (or more) games against their biggest rival, it's just another place where Scheyer could feel the heat. If he's going through a tough stretch, then gets demolished by a top-ranked Tar Heels team, no one in Durham will be happy.
On the whole, trying to replace Coach K is an unenviable task; it's only made tougher by UNC being in a strong position eight miles away. Having Keels and Roach on the roster, however, will make Jon Scheyer's life that much easier.
Update: As of April 23, Roach has confirmed that he'll be returning to Duke. Keels, on the other hand, is entering into the NBA draft.