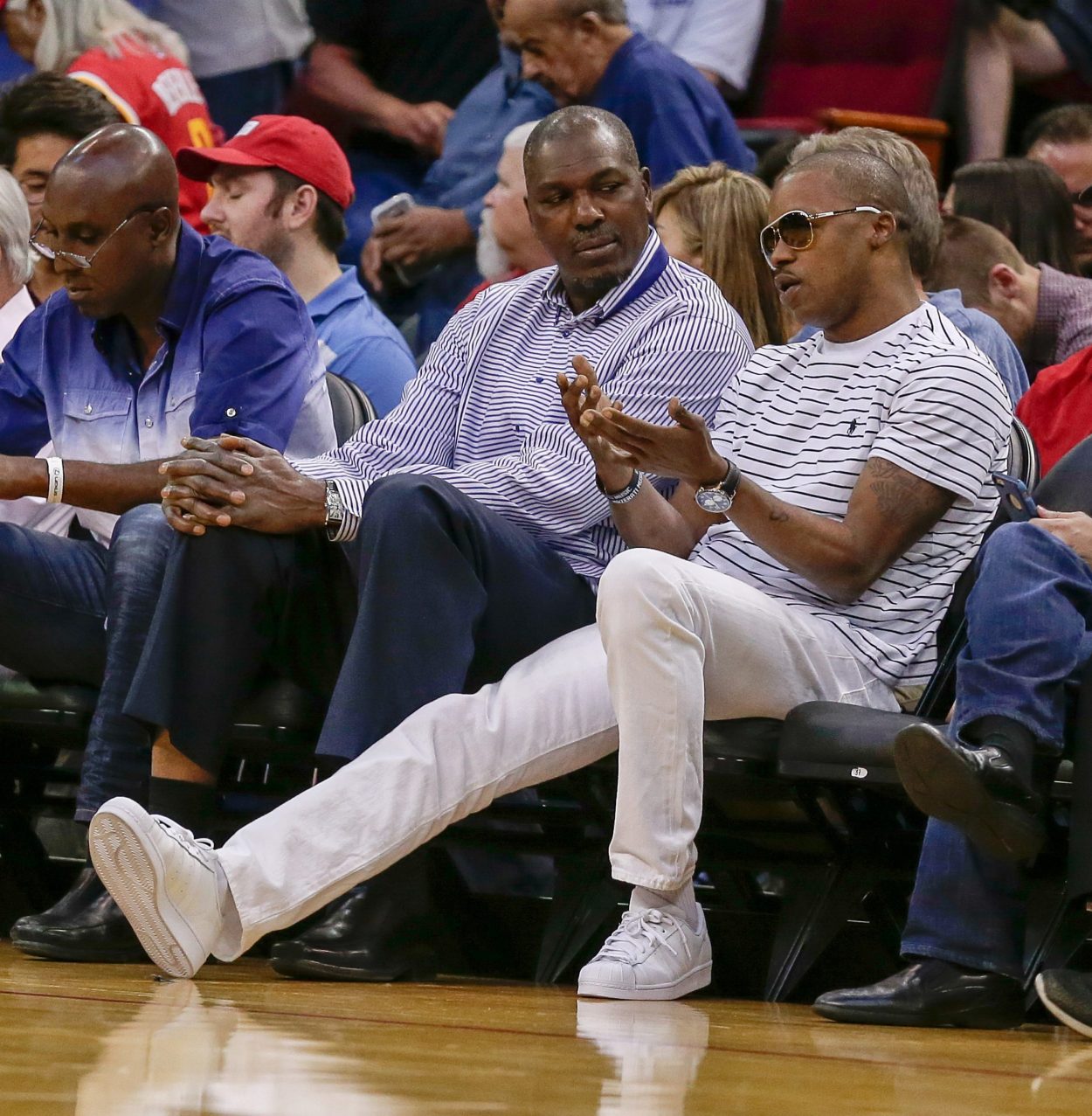 Hakeem Olajuwon's Incredible Post Footwork Influenced 1 of the Greatest Crossover Artists in NBA History
Hakeem Olajuwon gave opposing centers nightmares with his sensational arsenal of post moves. His footwork on the low block became inspiration for a future teammate and top crossover man.
Houston Rockets legend Hakeem Olajuwon left one or two opposing big men looking for their dignity with his patented "Dream Shake" and arsenal of moves on the low block. He also served as an inspiration for one of the best crossover men in NBA history.
Steve Francis and Hakeem Olajuwon shared the floor as Rockets teammates, with Dream taking on a mentorship role for the young guard. Perhaps unbeknownst to Olajuwon, Francis relished the chance to learn from the man he emulated in devising one of the best crossovers the NBA has ever seen.
Hakeem Olajuwon carved out a Hall of Fame career with exceptional post moves
Hakeem Olajuwon took one or two ankles in his day. He might have been the craftiest post player in the history of the game.
Olajuwon utilized a series of shimmies and shoulder fakes to create separation from his defenders and get off clean looks. He could turn off either shoulder and finish with both hands, also deploying a deadly fadeaway jumper later in his career.
Dream's footwork left plenty of centers bamboozled. He convincingly up-faked defenders into the air. Not even strong defensive players like David Robinson could avoid being put on highlight films.
Olajuwon scored close to 27,000 points thanks in part to the "Dream Shake." Moreover, he inspired generations of players who came after him, including one of his future teammates.
Steve Francis said Olajuwon became the inspiration for his devastating crossover
Steve Francis had the privilege of spending the early part of his NBA career playing with Hakeem Olajuwon, the same man whose enviable body of work on the low block led to the formation of Francis' crossover.
In a piece for the Players' Tribune, Francis said he watched Dream operate in the post and focused on his footwork. Although Allen Iverson established himself as a trailblazer for Steve Franchise, the three-time All-Star said his crossover directly resulted from the film study of Olajuwon.
"People probably won't believe this, but Hakeem was one of the biggest influences on my game when I was a kid. I used to watch his footwork, and I'd imitate him. My crossover? That's not MJ. That's not Iverson. That's Hakeem. Look at my footwork and you'll see Dream."

–Steve Francis (2018), via the Players' Tribune
All the hours pouring over tape of Olajuwon paid dividends for Francis.
The 1999 No. 2 overall pick established himself as one of the best point guards in the NBA at the turn of the century, primarily thanks to his incredible shiftiness and devastating crossover. Stevie Franchise could change directions on a dime and constantly kept defenders off balance. He routinely left opposing guards in his wake and kept the ball on a string as he slashed to the basket.
Unfortunately for Francis, his best years came as Olajuwon's career wound down. Still, Dream's past body of work and the influence on Francis speaks to his reputation as arguably the greatest center in NBA history.
Is Olajuwon the greatest center ever?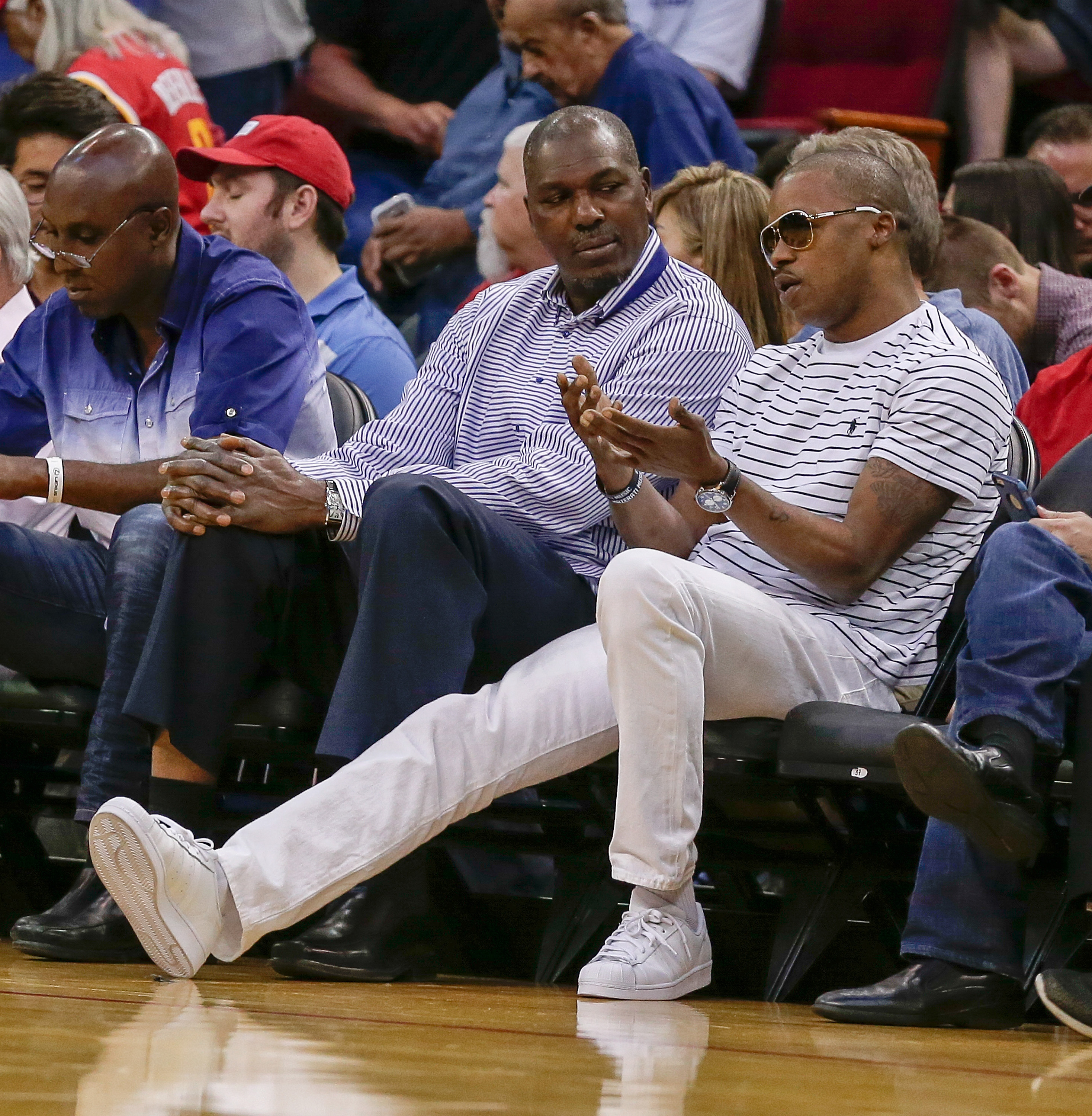 Wilt Chamberlain, Bill Russell, Kareem Abdul-Jabbar, and Shaquille O'Neal offer pretty fierce competition to Hakeem Olajuwon in the "greatest center ever" debate. Still, Dream has a strong case.
Olajuwon ranks 17th all-time in value over replacement player. He is a former league MVP with a pair of championship rings. However, the separator could be his defensive resume.
Dream made nine All-Defensive teams and won three block titles. He earned back-to-back Defensive Player of the Year Awards in 1993 and 1994, though his best seasons might have come earlier in his career. Olajuwon led the NBA in defensive win shares in four consecutive seasons from 1987 to 1990.
The Nigerian dominated on the defensive end, and his versatile offensive game inspired guards like Steve Francis. If Olajuwon isn't the best center ever to grace the hardwood, he is undoubtedly among the most influential.
Stats courtesy of Basketball Reference.