Here's the Only Reason Stephen A. Smith's Whispers of Jaylen Brown for Kevin Durant Talk Make Any Sense for the Boston Celtics
It always seems like when there's trouble with the Brooklyn Nets, Jaylen Brown and the Boston Celtics somehow get involved. It happened over the summer when Nets star Kevin Durant publicly requested a trade before pulling back. It's happening again after the Nets traded disgruntled guard Kyrie Irving to the Dallas Mavericks on Sunday.
What does the Irving trade mean for Durant? Will it have a domino effect, with Durant now being on the block? On Monday's edition of ESPN's First Take, Stephen A. Smith told listeners to "keep an eye" on that Durant to Boston talk, with Brown, again, being involved.
Jaylen Brown for Kevin Durant only makes sense for the Boston Celtics on one condition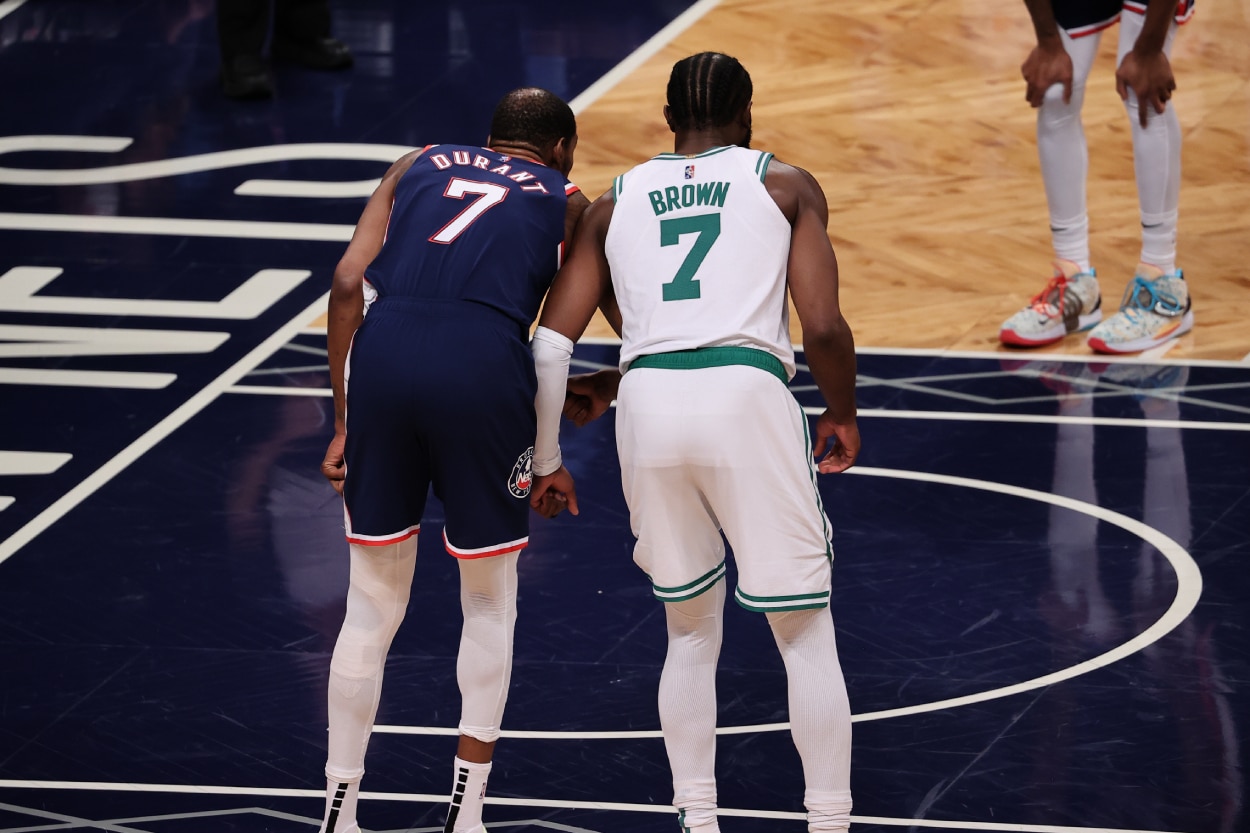 Let's just be smart here from a Celtics standpoint. The Celtics have had the best record in the NBA for the better part of the 2022-23 NBA season. They're fresh off an NBA Finals appearance, and they're the favorites to win it all this year.
Led by the young duo of Brown and Jayson Tatum, the Celtics are set up to win now and down the road. After coming up short against the Golden State Warriors in the championship round last season, the Celtics addressed their biggest issue — depth. They added veteran guard Malcolm Brogdon via trade, and he's the leader of one of the best second units in the league.
Trading Brown for a 34-year-old Durant would seem foolish for the Celtics. Durant still has a lot left in the tank, but why break up a good thing if you're the Celtics?
There's only one reason why the Celtics would even consider a Durant-for-Brown deal, and that would come down to a decision on Brown's part. After this year, Brown has one year left on his four-year, $106 million extension he signed before the 2020-21 season.
The only reason the Celtics should entertain moving him is if he's planning to test free agency after next season. Brown is a talented player, but he's second-best to Tatum. What if Brown's intentions are to hold off on signing an extension with the Celtics so he can become a free agent and play for the highest bidder? If that's the case, you can't risk him walking and getting nothing in return. You'd have to seriously consider moving him.
Maybe Stephen A. Smith and the Celtics know something we don't
With the NBA trade deadline three days away, rumors will certainly swirl. After the Irving trade, talks will heat up throughout the league.
Durant for Brown isn't an insulting offer. It's just not smart on the part of the Celtics. Why mess with something that isn't broken?
The Celtics, however, have to look beyond this year. What if they've heard Brown's intentions are to go to a team where he can make more money and be the go-to guy? Brown can't be faulted for wanting to test free agency. The Celtics can't be faulted for covering all bases to make sure he doesn't leave without Boston getting compensation.
There's no way anyone can think the Celtics are pushing for a Brown-for-Durant deal. The only way the Celtics initiate any such talk, as Smith suggested they're doing, is if they believe Brown doesn't want to remain in Boston.
"I'm hearing Boston is making some calls," Smith said on First Take. "Keep your eye on that, Jaylen Brown."
If what Smith is reporting is true, there might be a lot more going on with Brown behind the scenes we don't know about.