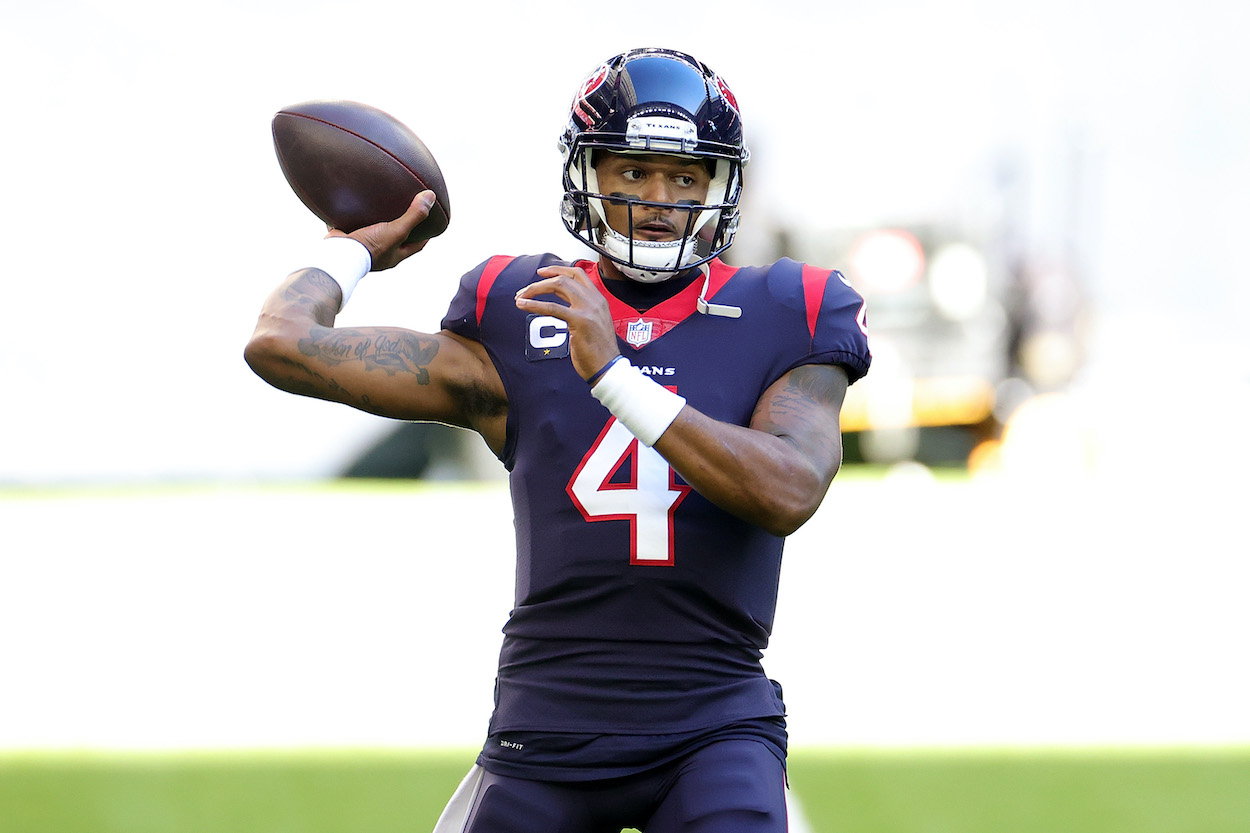 The Houston Texans Have a $21.6 Million Reason to Hold Off on a Deshaun Watson Trade Until June
Deshaun Watson clearly wants out of Houston, but the Texans would be smart to wait until June 1 to send the Pro Bowl QB packing.
The Houston Texans are in the midst of a mass exodus.
Houston said goodbye to one of its all-time greats in J.J. Watt last week after the five-time Pro Bowler asked to be released from his contract. Now, the attention shifts to star quarterback Deshaun Watson, who requested a trade shortly after the season came to an end. Watson doesn't want to play another snap in Houston, so the Texans could be forced to trade him before the 2021 season gets underway.
But they shouldn't be rushing to make a deal just yet. The Texans actually have a $21.6 million reason to hold off on trading Watson until the clock strikes 12:01 on June 1.
Deshaun Watson wants out of Houston
After four seasons with the Texans, Deshaun Watson's time in Houston seems to be coming to a close. It only took his former head coach trading away his favorite weapon for an aging running back, years of incompetence along the offensive line, and the franchise waving goodbye to maybe the greatest player to ever don a Texans uniform, but Watson has finally requested a trade.
A few weeks after Watson made his feelings known, Texans CEO Cal McNair shot down the idea of the team trading its star QB.
"There is a lot of misinformation out there, I'll leave it at that," McNair told Adam Schefter of ESPN. "…Deshaun is our quarterback, he is a Texan, and we expect him to remain a Texan."
But as much as McNair wants to believe Watson will be back under center in blue and red next season, the decision might not be up to him. Watson could easily hold out of the team's mandatory minicamp if he doesn't get his wish by spring.
What are the Texans' options with Deshaun Watson?
The Texans find themselves in a precarious position in regards to the Deshaun Watson saga. Houston entered the offseason under the notion that Watson would be its starting quarterback moving forward and that the franchise could start to rebuild the roster around him.
But Watson's trade request threw a wrench into the Texans' plans. Now, they have to decide whether to honor Watson's request or call his bluff and hold off until the season starts.
The Texans can simply do nothing and hope their star QB reports for camp. This would be the riskiest option considering Watson might do whatever is necessary to never suit up in a Texans uniform again. He would face approximately $3.3 million in fines if he doesn't report to the team before the regular season gets underway, but that's a small price to pay for a player who recently cashed over $29 million just last year.
The easiest decision for Houston might be to just shop Watson while the iron's hot. The Texans could receive a more enticing trade package if they ship away Watson before the 2021 NFL draft in late April, but they would be wise to wait until June.
The Texans have a $21.6 million reason to trade Deshaun Watson after June 1
Multiple teams have inquired about a Deshaun Watson trade this month, but the Texans should be patient if they do decide to make a deal. If Watson is traded before June 1, Houston will take on a $21.6 million dead cap hit in 2021. But if Watson is traded after June 1, that cap hit drops from $21.6 million to $5.4 million in 2021. Houston can save over $10 million in cap space this year if they wait until June to trade Watson.
The Texans would still incur a $16.2 million dead cap hit in 2022 in that scenario, but it would be far less crippling than a $21.6 million cap hit this season.
If your favorite team is in the Deshaun Watson sweepstakes, you might want to pause your excitement until June.
All contract figures courtesy of Spotrac