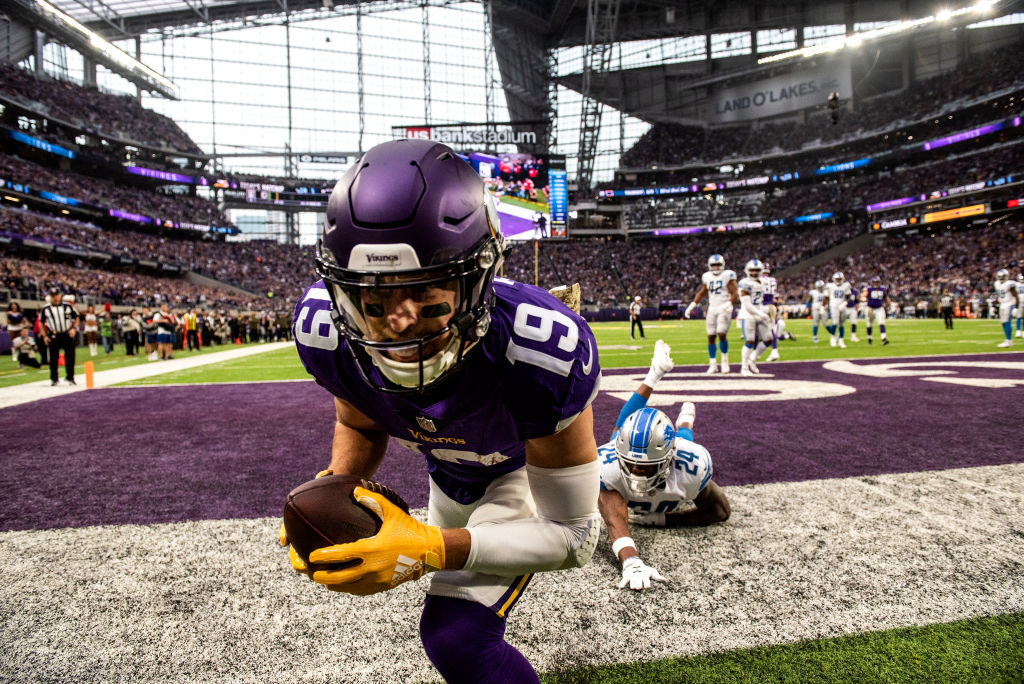 How $500 Turned Adam Thielen's Division III College Basketball Hopes Into NFL Stardom
How $500 turned Adam Thielen's Division III college basketball aspirations into becoming an NFL star with the Minnesota Vikings.
Coming out of high school, it looked like if Adam Thielen wanted to play sports at the next level it would have to be basketball. Although he was a multi-sport athlete at Detroit Lakes High School in Minnesota, basketball was the sport Thielen focused on. Thielen was prepared to take his athletics to the Division III college basketball level until $500 made him change direction which eventually led him to the Minnesota Vikings.
Adam Thielen's NFL career
Adam Thielen has spent all of his six seasons in the NFL with his hometown team, the Minnesota Vikings. Thielen is a 6-foot-3, 200-pound wide receiver who went undrafted in the 2013 NFL draft. He wasn't even invited to the NFL Combine to show off his skills
Thielen, however, was invited to a regional combine held in Chicago and he performed well enough to open the eyes of a few NFL scouts. After he went undrafted, Thielen attended a rookie evaluation tryout with the Minnesota Vikings. In May of 2013, Thielen was signed to a three-year deal with the Vikings but then was waived during the final cutdown period. He was assigned to the practice squad.
In 2014, Thielen earned a spot with the Vikings and his career took off in 2016 after making a combined 20 catches in his first two seasons. In 2016, Thielen caught 69 passes for 967 yards and five touchdowns. The following two seasons, Thielen made the Pro Bowl after posting 1,000-yard seasons in both years. He had 1,373 yards and nine touchdowns in 2018. He was hampered by injuries in 2019, limiting him to 10 games.
Thielen was a multi-sport star in high school
There's never been a question about Adam Thielen's athletic ability. The biggest question has been: how far would it take him? Thielen was a four-sport athlete at Detroit Lakes High School in Minnesota. He excelled in football, basketball, baseball, and golf. He guided his team to a golf state title, and according to The Star Tribune, he's the best golfer on the Minnesota Vikings.
Thielen knew he wanted to play sports at the college level. The problem was that no schools were showing any interest. His original plan was to attend Division III Concordia-Moorhead and at least try to play basketball. Ideally, he would play both basketball and football.
"(Basketball) was my main focus in all of my high school years," Thielen told The St. Cloud Times. "I didn't get quite the recruiting interest I was looking for. I really didn't lift and work out for football until I got into college. I thought I'd play college basketball or both." Those plans changed with a little-known Division II college popped up at the very last minute of Thielen's high-school career.
Minnesota State-Mankato steps up
In the summer after Adam Thielen graduated high school, he played in the Minnesota Football Coaches Association All-Star Game. He played well enough to draw the attention of Division II Minnesota State-Mankato. Thielen told the St. Cloud Times he remembered the conversation with the recruiter. "Hey, we'll give you $500 if you come here," Thielen recalled.
"I didn't even know there was such a thing as a $500 scholarship," Thielen was quoted in an article in SB Nation. "And that wasn't even going to be enough to cover my books. But it was better than what I was being offered by anybody else, which was … nothing. So I didn't even hesitate."
Thielen had a modest career at Minnesota State-Mankato. During his senior year, he broke out and had better than 1,000 receiving yards and eight touchdowns. Thielen told the St. Cloud Times he still loves it when people doubt him. "I've always kept the mindset that I could achieve my goals, though I knew it was never going to be easy," he said. "I've been driven to try to prove people wrong."