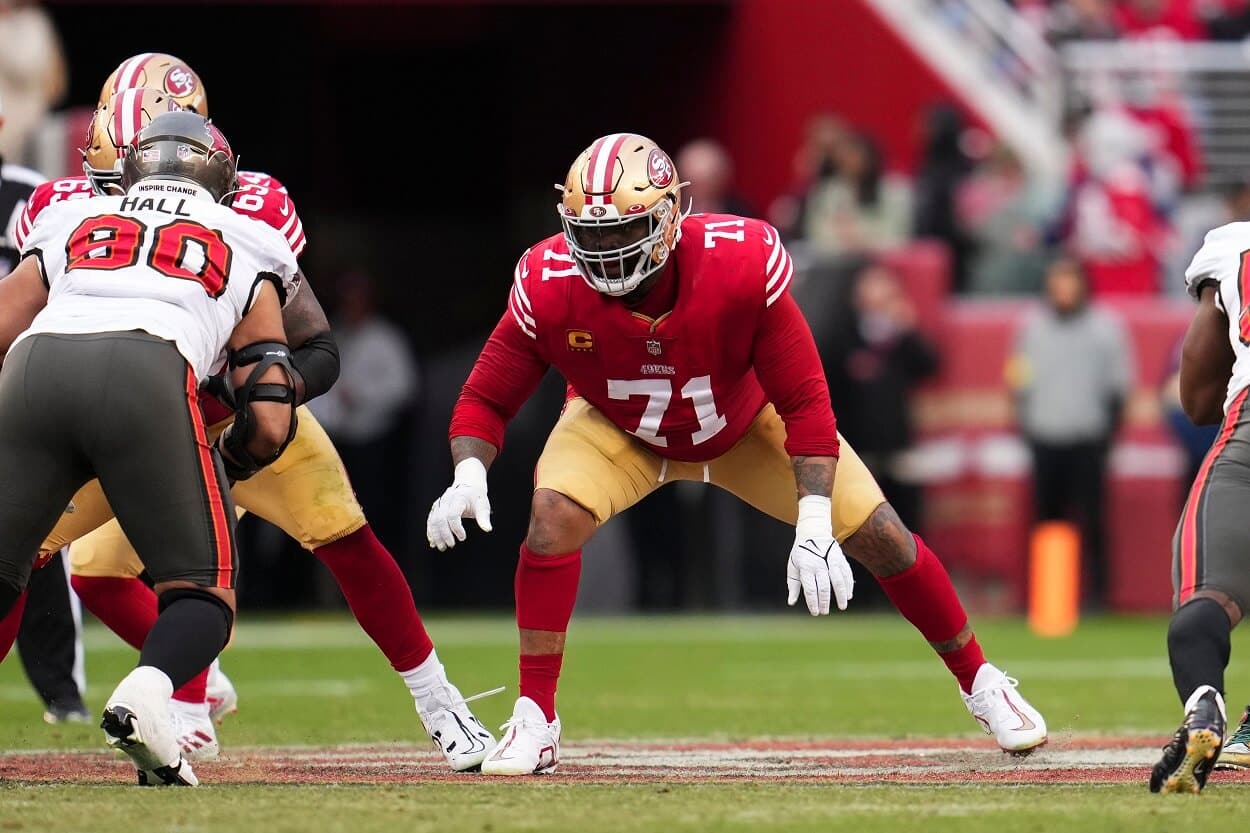 How to Best Evaluate an NFL Offensive Lineman
Breaking down the best ways to evaluate an NFL offensive lineman.
Outside of kickers, no NFL players get overlooked more than offensive linemen. Ironically, though, there may not be a more important position group than the one that generates zero buzz in fantasy football circles. 
For decades, linemen simply got judged by individual awards like Pro Bowl selections and All-Pro honors. However, thanks to technology, there are more ways than ever to evaluate how effective a tackle, guard, or center is compared to his peers. 
So, how can we use all the data available to determine just how good an NFL offensive lineman actually is? Scouts and professional talent evaluators obviously have access to even more information, but here's what you can use to make your own assessments.
Pro Football Focus metrics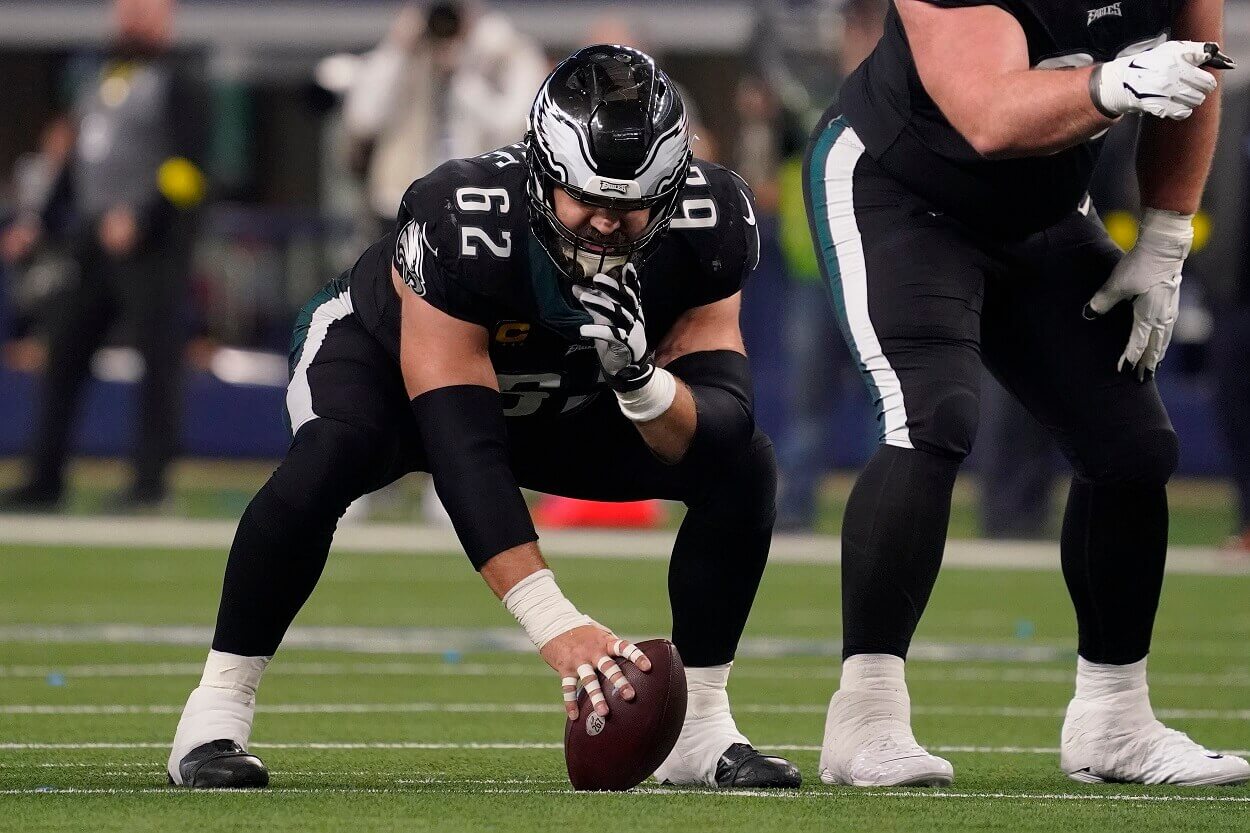 Considered the gold standard of football analytics, Pro Football Focus data can provide helpful context for evaluating a player's performance. With weekly analysis and statistical breakdowns, including thorough tracking of snap percentages, alignments, and other usage data, the site offers fans and experts the ability to learn more about the game's nuances. 
When it comes to judging offensive linemen, it can be useful to look at PFF data over the course of time. For instance, has a player consistently posted a high grade for multiple seasons? Or has his performance varied greatly? 
PFF's grading system is quite granular, but the player rankings provide a general snapshot of who's the best in the business at his respective position. For example, San Francisco 49ers star Trent Williams earned an elite 93.0 grade for the 2022 season, and many still view the well-respected veteran as the league's best left tackle. Meanwhile, Philadelphia Eagles center Jason Kelce, who should earn a bust in Canton one day, has consistently earned a grade of at least 80.0 throughout his career. 
The only downside to relying solely on PFF grades, rankings, and data is that it's impossible to know exactly what's supposed to happen on a play-to-play basis. Plus, using a single number to quantify a player's performance can be too simplistic, especially if you don't watch the tape.
Pass-blocking and run-blocking metrics
Pass-blocking metrics are probably one of the best ways to judge an offensive lineman's effectiveness. After all, modern-day linemen must be able to move their feet and utilize their hands to keep their quarterback out of harm's way. While it's certainly important to focus on how many sacks a player surrenders, there are other metrics worth monitoring, too. 
For instance, how many quarterback hits and hurries does a lineman allow on a per-game basis? Just because a defender fails to record a sack doesn't mean an offensive lineman deserves a good grade. In fact, you have to dive much deeper to truly see who's effective at keeping pass rushers at bay. 
ESPN Analytics uses player tracking data from NFL Next Gen Stats to determine "pass block win rate," a metric that conveys the rate linemen can sustain their blocks for at least 2.5 seconds. Longtime Eagles star Lane Johnson led all tackles in 2022 with a 95% mark. Kansas City Chiefs standout Joe Thuney took the No. 1 spot among guards with a 99% pass block win rate. Teammate Creed Humphrey ranked first amongst centers with a 98% rate. 
ESPN also assesses run block win rate to measure a blocker's performance in the running game. Ultimately, taking a look at both PFF data and metrics provided by other sites can give you a fairly accurate portrayal of how well a lineman performed.
Penalties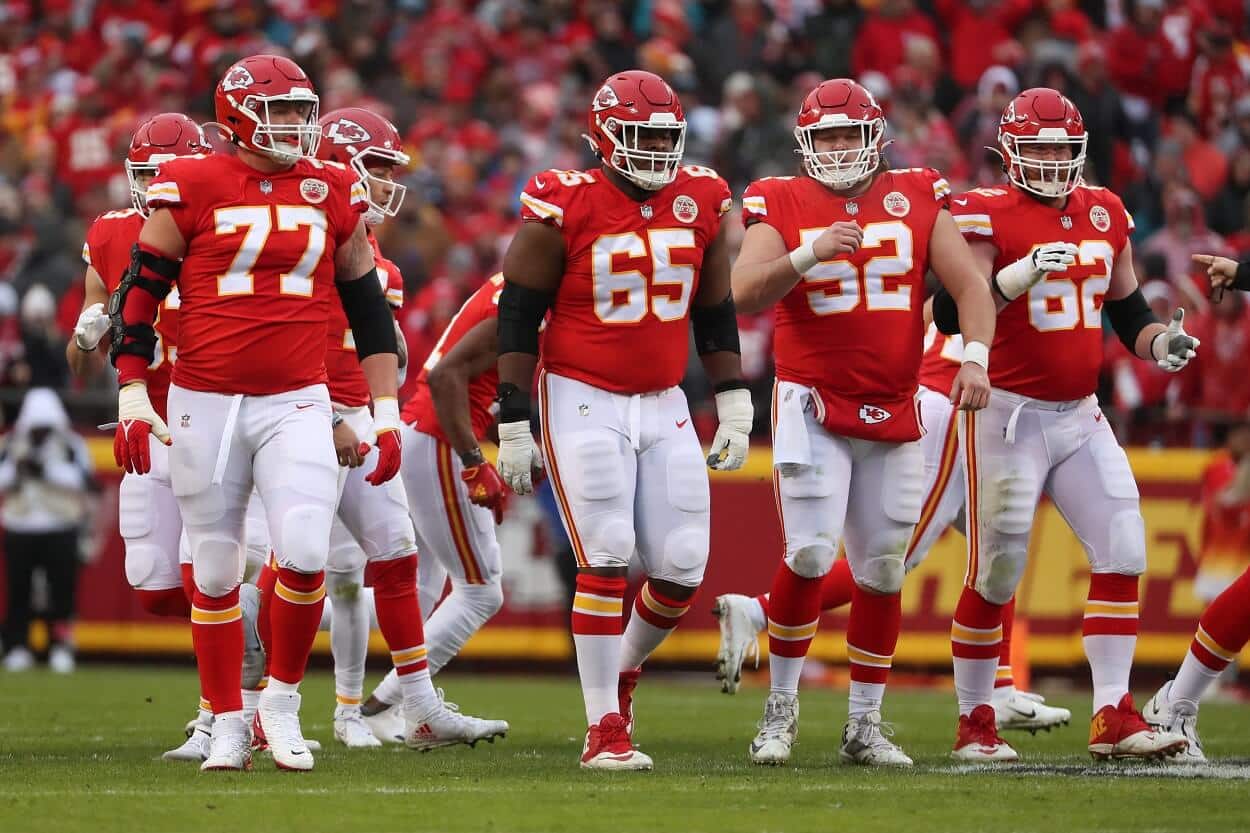 Having great length, size, and strength matters in the trenches. But an elite NFL offensive lineman also needs to have discipline, coordination, and toughness. One way to measure a player's effectiveness is to look at the number of penalties he commits. 
Poor discipline and fundamentals will often result in routine flags for holding and false starts. While it's not uncommon for younger players to rack up penalties as they transition from college to the pros, the best linemen often fly under the radar because they simply do their job and execute their assignment on a snap-to-snap basis. 
Just take a look at the 2022 All-Pro Team to see how much discipline matters. The NFC's starting tackles (Williams and Johnson) totaled just 11 penalties during the 2022 season, per Pro Football Reference. On the other hand, Tampa Bay Buccaneers tackle Donovan Smith committed 12 in just 13 games. 
Kelce and Humphrey, the two All-Pro centers, combined for merely four holding penalties. Considering how often their respective teams throw the ball, that speaks volumes about their talent, technique, and ability to anchor against strong, athletic defensive tackles.
The 'eye test'
This part is totally subjective, but it does require some knowledge of what to look for. While statistics can tell part of the story, sometimes you just need to let your eyes see for yourself. 
When it comes to NFL offensive linemen, look at how quickly and powerfully they fire out of their stance in the run game. Do they get their hands inside a defender's chest quickly? Do they have the ability to move laterally? Are they fast at diagnosing blitzes and stunts? Do they end up on the ground a lot? 
All of these questions are pertinent in evaluating an offensive lineman's effectiveness. You can also keep an eye out for how often a player is left in one-on-one situations on obvious passing downs. Teams that trust their tackles can deploy tight ends as receivers rather than blockers. And if a guard can handle a defensive tackle on his own, that frees up the center to help elsewhere. 
Be careful about getting totally caught up by a player's sheer size or movement skills. Physicality and agility will only get someone so far in a league where defensive linemen and linebackers are more athletic than ever. Ultimately, it takes more than a massive frame and quick feet to make an All-Pro team.
As you'll see with many of the NFL's best offensive linemen, it requires a special combination of physical talent, toughness, and technique to ascend to the top.