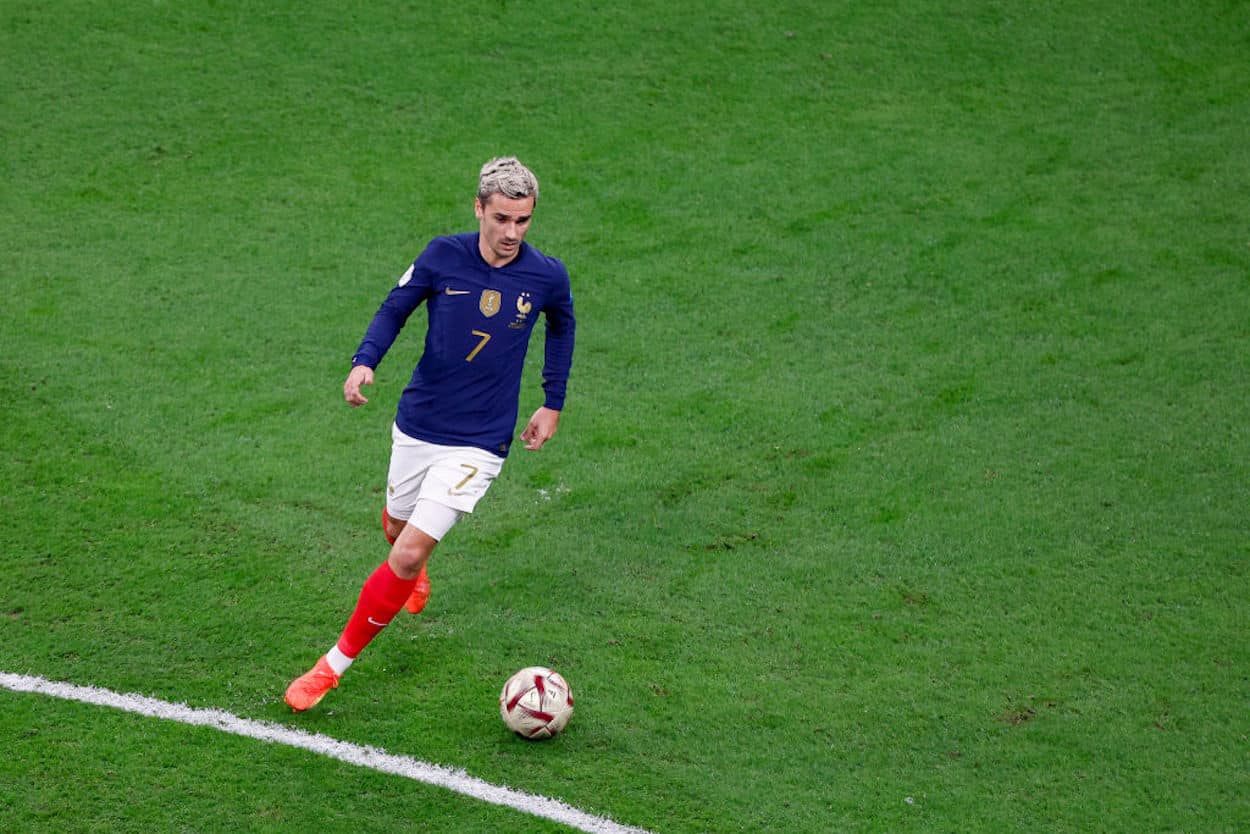 How Good Is Antoine Griezmann? 3 Different Perspectives Point to the Same Answer
Antonie Greizmann might not always score the goals you'd expect of a center forward, but that doesn't tell the whole story of his value.
While there are obvious benefits to being on a team with a stacked roster, there can also be some drawbacks. As a real-time example, consider Antoine Griezmann at the 2022 FIFA World Cup. The Atletico Madrid man is winning matches and moving toward a second consecutive title, but he's not exactly stealing the show. When you're playing with Kylian Mbappe, after all, it's hard to garner that much attention.
And while that reality may lead some soccer fans to ask, "How good is Antonine Griezmann?" don't be misled by the lack of goals and media coverage. The French forward is doing what he's always done and using his versatility to be a key part of a collective success.
Let's break it all down.
How good is Antoine Griezmann? Goals don't tell the whole story
No matter the sport, there are always some base-level counting numbers that can provide an overview of a player's performance. When you're talking about a soccer attacker, those stats are usually goals and assists. For Antoine Griezmann, however, those two metrics don't capture everything he does.
If we go back to his time at Real Sociedad, the Frenchman has scored 170 goals and dished out 63 assists across 474 league appearances. While that total, which works out to just under one goal-involvement every other match, is respectable, you wouldn't say Griezmann is producing like a world-class striker.
At the risk of just completely denying conventional soccer wisdom, a forward is on the pitch to do more than just score goals. Sure, putting the ball into the net is important, but very few elite teams want a mannequin up front. Modern strikers largely need to press, get involved in build-up play, and do other things.
If we look at Griezmann's other numbers, we can see exactly what he does. Based on FB-Ref's percentiles, he scores less than most forwards but excels at assisting, creating chances, passing, tackling, and intercepting (at least by positional standards). When you compare him to midfielders, his attacking numbers universally jump to the 90th percentile and above, while his more defensive metrics plummet.
What does that all mean? The numbers (along with some eye test elements that we'll get to shortly) suggest that the Frenchman is a versatile and talented player, albeit one that doesn't cleanly fit into a positional box. In fewer words, he's good, even if the counting numbers don't 100% show that.
That versatility has been on display at the World Cup and earned some praise from Paul Pogba
When you think of Antoine Griezmann, you probably imagine a striker. If you look at France's World Cup formations, it seems like he's playing something of a number 10 role. In reality, though, he's doing a bit of everything.
At the World Cup, Kylian Mbappe has taken on something of a free role. While Didier Deschamps may ask him to track back, the star forward doesn't have that much defensive responsibility. That's great for launching counter-attacks but does require the left-most midfielder (usually Adrian Rabiot) to shuffle over and cover his space.
That, in turn, pushes Griezmann into a deeper midfield role, where he's tackling, intercepting passes, and handling more ball progression than you'd traditionally expect from an attacking player. His performance against Morocco was so striking that Paul Pogba even dubbed him "Griezmannkante" on Instagram, alluding to the injured N'Golo Kante's fantastic work rate and ability to mop up seemingly every loose ball.
With that being said, though, Griezmann is still taking care of his attacking business. While he's yet to score a goal, he's taking up invaluable positions between the lines and getting involved in the final third. He leads the tournament in both assists (3) and expected assists (3), which suggests he hasn't been the beneficiary of incredible luck.
The answer to 'How good is Antoine Griezmann?' may be subjective, but his value is clear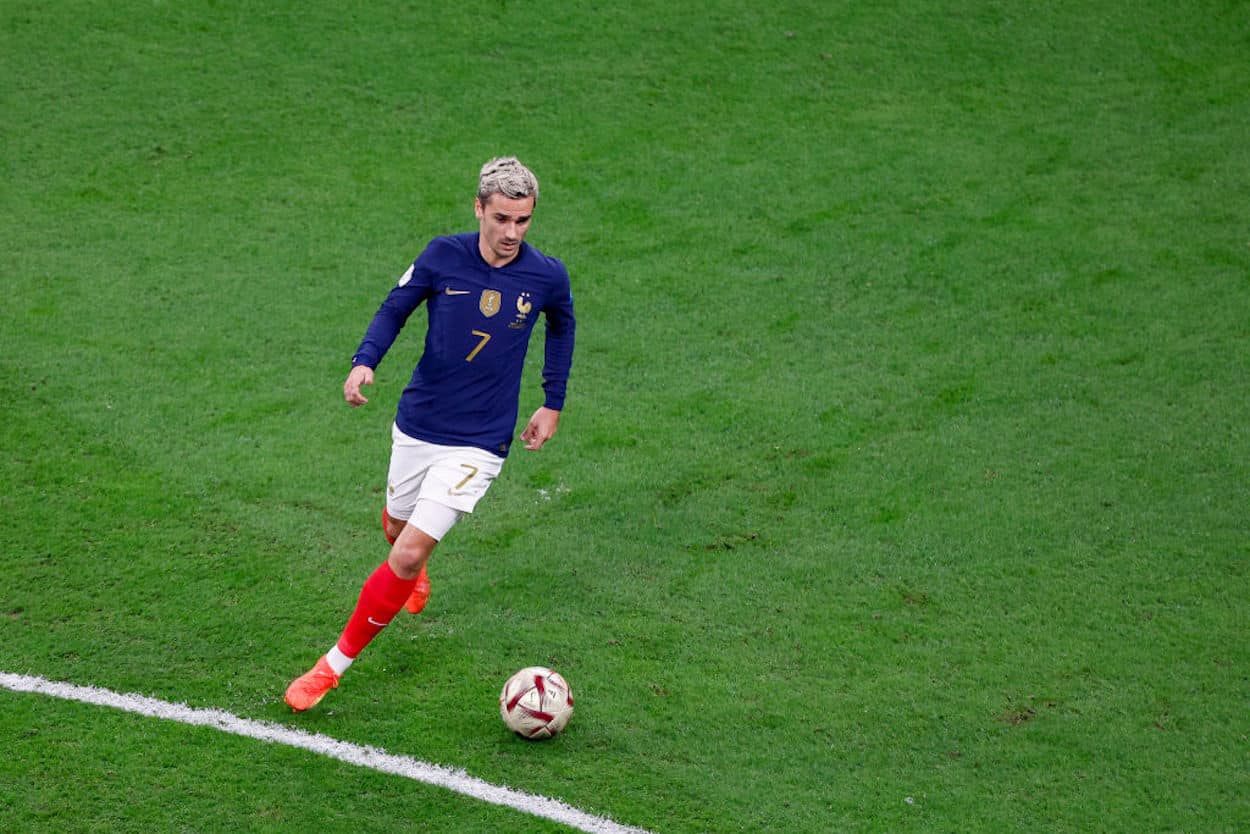 While I've made my case for Antoine Griezmann, I'll concede that nailing down exactly how good a player is can be a tricky question. I may value the Frenchman's ability to drop into midfield, while you argue that means he isn't actually doing his job on the pitch.
With that difference of opinions established, though, I think we can default to a larger, less subjective truth: Griezmann has been a valuable member of multiple good teams.
Trophies aren't a perfect metric — you can be carried to a title by teammates, circumstances, or both — but there's something to be said for a player who keeps finding success. And while his recent years in Spain haven't been the happiest, Greizmann does have an impressive resume. He won the second division with Real Sociedad, captured European honors with Atletico Madrid, and secured a Copa del Rey with Barcelona. He also won a U-19 European title with France, in addition to a UEFA Nations League and a World Cup.
At the risk of defaulting to conventional wisdom, you don't keep finding yourself in those positions without being a valuable player. Successful squads include quality players, and while there can be room for a questionable managerial choice, the wisdom of the crowd is a real thing. If you keep getting selected and keep winning, you have to be doing something right.
So, whether you're looking at the numbers (albeit the ones beyond goals), his work on the pitch, or the success of his teams, it's safe to say that Antoine Griezmann is a quality player. He's no longer a young man, though, so be sure to appreciate him while you still can.