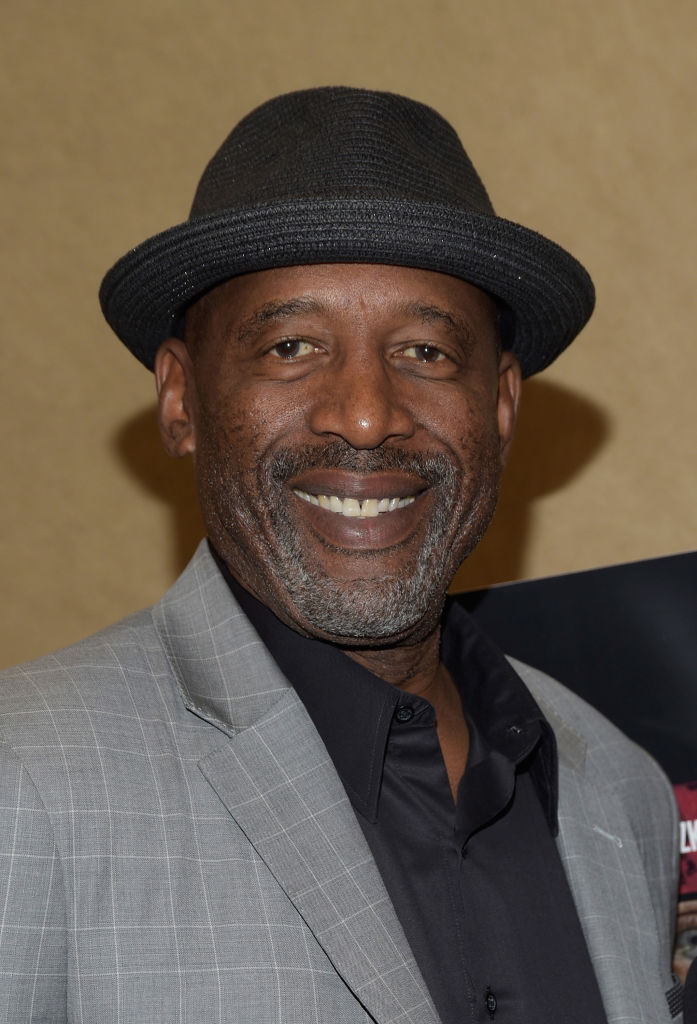 How James Worthy's Dad Convinced Him to Wear No. 42 for the Lakers
James Worthy had a Hall of Fame career with the Los Angeles Lakers wearing No. 42. How did the three-time NBA champ come to wear it?
James Worthy is one of the best athletes to ever wear the No. 42, joining the likes of Mariano Rivera, Ronnie Lott, Pat Tillman, and, of course, the late, great Jackie Robinson.
With today being April 15, which has been Jackie Robinson Day in Major League Baseball for quite some time now, I thought I'd take a different approach to this special day and dig into why James Worthy wore No. 42 with the Los Angeles Lakers. And it didn't surprise me a bit to find out that there is a Jackie Robinson connection, although it didn't come from "Big Game" James himself, but rather through his father and grandfather.
In the history of the NBA, 165 players have worn the No. 42, including Worthy's former coach Pat Riley. Here's a look at how the best of the bunch came to wear the famous number.
James Worthy wore No. 52 at North Carolina
While most may remember James Worthy wearing No. 42 with the Los Angeles Lakers, he actually wore No. 52 when he played for North Carolina, a number that has since been retired. Worthy is one of just eight Tar Heels to have his jersey in the rafters, a list that also includes Michael Jordan.
Worthy began his career at Chapel Hill in 1979 following a stellar senior season at Ashbrook High School, where he earned All-American honors. Worthy made an immediate impact at North Carolina but his freshman season was cut short when he broke his ankle. But he came back strong in the 1980-1981 season, averaging 14.2 points and helping lead the team to the NCAA title game, losing to Indiana.
However, alongside Jordan and future Lakers teammate Sam Perkins, James Worthy led UNC back to the title game in 1982 and won the national championship. Worthy won numerous awards his junior year, including First Team All-American honors and the NCAA Tournament's Most Outstanding Player. He would continue his success in the NBA but had to choose a different number to wear.
No. 52 wasn't available with the Lakers so he chose No. 42 because his dad loved Jackie Robinson
The Lakers made James Worthy the top overall pick in the 1982 NBA draft. Never before and not since has the defending champion made the top selection but a trade with the Cleveland Cavaliers and a lucky coin toss made it possible and Worthy was the obvious choice.
He was a perfect fit alongside Magic Johnson and Kareem Abdul-Jabbar but there was just one problem: James Worthy couldn't wear No. 52 as it already belonged to Jamaal Wilkes, who would later see that number raised to the rafters. So Worthy actually talked things over with his father and later told Fox Sports why he decided to go with No. 42.
"I had worn No. 52 since high school and when I got to Los Angeles, Hall of Famer Jamaal Wilkes had it. I was talking to my dad and I said, 'You know, 52 is out of the question,' and I thought about 50 or 51.

"My dad was a big baseball fan and so was my grandfather (the late Ager Worthy). They had always told me stories about the old players and the old Negro Leagues, about Satchel Paige and some of the great players. My dad had told me about Jackie Robinson and said, 'Why don't you wear No. 42 to recognize Jackie?'''

James Worthy on how he chose No. 42
It took James Worthy less than an hour to decide to wear No. 42 and the rest is history.
James Worthy's No. 42 was retired by the Lakers following a Hall of Fame career
Wearing No. 42, James Worthy had a great career with the Lakers. It didn't take long for him to become an important piece of the puzzle during LA's championship runs in the 1980s. Worthy won three NBA titles, winning 1988 NBA Finals MVP, and was a seven-time NBA All-Star, also earning two All-NBA Third Team selections. His 16,320 points is good for sixth on the all-time Lakers scoring list.
James Worthy retired from the NBA in 1994. In 1995, the Lakers honored him by retiring his No. 42 jersey and the following year, he was named one of the NBA's 50 greatest players as part of the league's 50th-anniversary celebration. He was inducted into the Hall of Fame in 2003.