How Many Holes-in-One Have Been Made on the 16th Hole at TPC Scottsdale?
The Waste Management Phoenix Open at TPC Scottsdale has gone by a variety of names over the years. "The Greatest Show on Grass," "The People's Open," and "The Biggest Party in Golf," are just a few of the monikers given to the most electric event on the PGA Tour, and they all stem from the 16th hole.
The famed par 3 is the only hole on Tour that features a full outdoor stadium of bleachers and boxes to create a college football-like atmosphere on the golf course. It isn't an intimidating tee shot by itself at just about 160 yards, but the 17,000 fans surrounding the hole can make even the best golfers shake in their spikes.
So, how many players in the history of the WM Phoenix Open have conquered the nerves and made a hole-in-one on the 16th hole at TPC Scottsdale?
A history of holes-in-one on the 16th Hole at TPC Scottsdale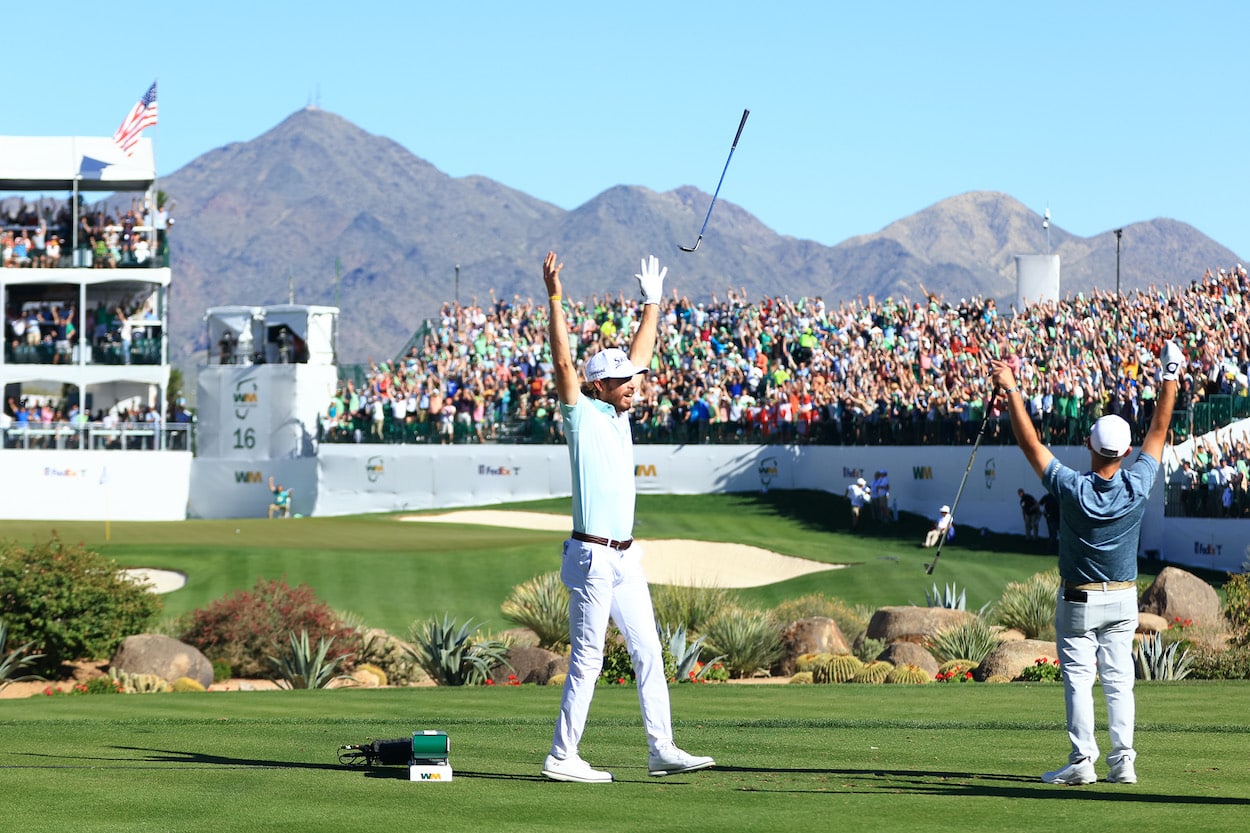 If you play the 16th hole at TPC Scottsdale Stadium Course in the middle of the summer, you might not understand what all the fuss is about. It's a simple par 3 that measures anywhere from 130 to 170 yards and features a semi-flat green with a few surrounding bunkers. Easy enough, right?
Well, when the PGA Tour comes to town, the 16th morphs from a simple par 3 to the loudest hole in golf. Tens of thousands of inebriated fans pack the bleachers every year in hopes of witnessing a hole-in-one.
Since the WM Phoenix Open moved to TPC Scottsdale in 1987, there have been 11 holes-in-one made on the 16th hole. Tiger Woods' earth-shaking ace in 1997 might be the most famous of the bunch, but Sam Ryder's hole-in-one last year was the most chaotic, as it sent the crowd into a frenzy that resulted in hundreds of beer cans sprawled across the green.
Check out the full list of holes-in-one on the 16th at TPC Scottsdale, and comment below which one was your favorite!
Hal Sutton – 1988, third round
Brad Bryant – 1990, first round
David Edwards – 1990, third round
Jay Delsing – 1991, first round
Tiger Woods – 1997, third round
Steve Stricker – 1997, fourth round
Mike Sposa – 2002, second round
Jarrod Lyle – 2011, third round
Francesco Molinari – 2015, third round
Sam Ryder – 2022, third round
Carlos Ortiz – 2022, fourth round