How Many Rings Does Stephen Curry Have?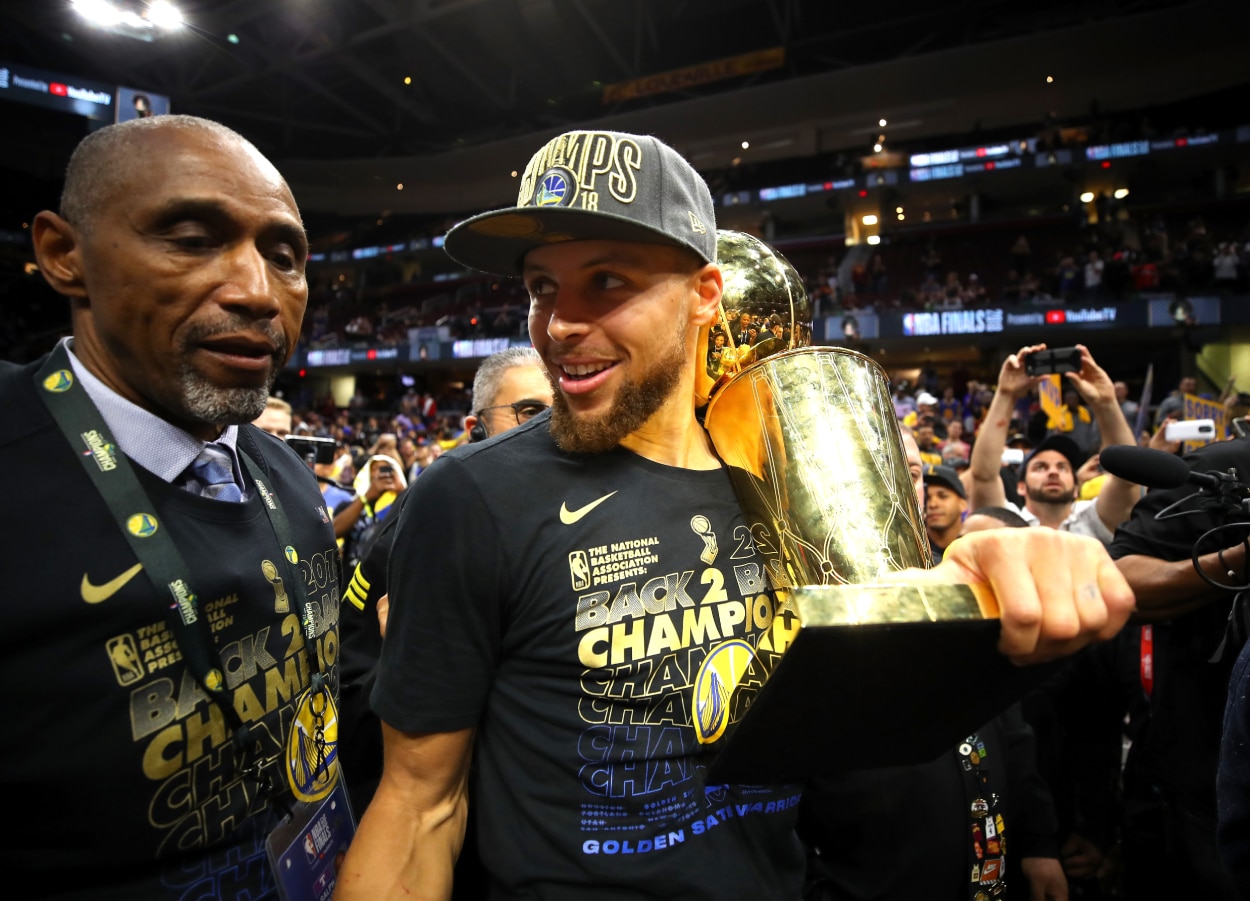 Golden State Warriors star Stephen Curry has solidified his legacy as one of the greatest players in NBA history. He's the league's all-time leader in three-point field goals, and he has won two MVP awards.
Curry has also played on some great teams over the years. So, since rings are the only achievements people care about, how many championships has Curry won in his career?
Here's a look at his titles.
Stephen Curry has won three NBA championships
To answer the question mentioned above: Stephen Curry has won three NBA championships.
He and the Warriors made their first NBA Finals appearance in 2015 when they faced LeBron James and the Cleveland Cavaliers. James, who played without fellow stars Kyrie Irving and Kevin Love for most of the series due to injuries, gave the Warriors a tough fight, but Curry and company won in six games to claim their first championship together. It was also Golden State's first title in 40 years.
Steph, who won his second consecutive MVP award in 2015-16, followed up his first championship run by leading the Warriors to a record 73-win season the following year. However, after claiming a 3-1 lead over James and the Cavs in the Finals, the Dubs fell to Cleveland in seven games.
Despite the loss, Golden State's title window was far from over.
The Warriors added Kevin Durant during the 2016 offseason, and they went on to win two straight championships in 2016-17 and 2017-18. They beat the Cavs in five games that first season before sweeping them in 2018.
Curry's squad then reached the Finals again in 2019, but injuries to Durant and Klay Thompson resulted in a 4-2 loss to Kawhi Leonard and the Toronto Raptors.
So, all in all, the two-time NBA scoring leader has played in six Finals (including the 2022 season), and he has won three championships. Considering the depth of the Warriors' roster, he will likely have many opportunities to win more in the future.
Looking at Stephen Curry's NBA Finals stats
So, since Curry has three championship rings, what do his Finals stats look like?
Here are his numbers and all-time Finals rankings as of June 6, 2022.
| | | |
| --- | --- | --- |
| Category | Total | All-time NBA Finals ranking |
| Points | 804 | 13th |
| Assists | 183 | 13th |
| Three-point field goals | 133 | 1st |
Through his first 28 Finals games, Curry averaged 26.5 points, 6.2 assists, and 5.7 rebounds. He had also had multiple legendary performances, including a 47-point night against the Raptors in 2019. To say he has been special would be an understatement.
No matter how many titles Stephen Curry ends up with when his career is all said and done, he has already proven he's one of the greatest players to ever live.
Stats courtesy of Basketball Reference
RELATED: NBA Finals: Who Has Made the Most 3-Pointers in Finals History?